Halo: The Master Chief Collection – Xbox One review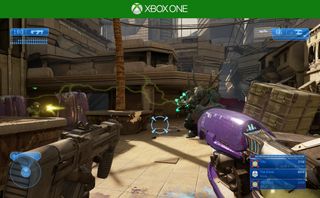 Videogame re-releases are not an uncommon thing, especially early in a new console's life cycle. They help boost a fledgling system's software library and make older games available to new players. That last bit is important, because most game systems are not backwards compatible. Re-releases preserve games and keep them alive for existing fans and new generations of players.
Halo: The Master Chief Collection goes a step beyond most re-releases by compiling the four numbered Halo games into a single Xbox One release. No longer do players need to drag out their original Xbox consoles to enjoy Halo CE and especially Halo 2, nor do they need an Xbox 360 for Halo 3 and 4. Master Chief Collection packs them all in one bundle with plenty of new features. Don't miss our detailed review, featuring our best ever video review for a console game!
Four games, one slick interface
The Master Chief Collection consists of a 45 Gigabyte main download/disc installation which contains the four campaigns, and a 15 Gigabyte update that adds the online multiplayer mode and several extras. While players wait for the main game and update to install or download, they can play the campaigns as they are installed.
A well-considered menu interface makes choosing games and modes a breeze. Players scroll left and right to switch between modes, entering nested submenus by pressing the A button or down on any selection. The primary modes are:
Campaigns: Choose between the story modes of Halo: Combat Evolved Anniversary, Halo 2 Anniversary, Halo 3, and Halo 4. All four games are unlocked from the outset. You can even select from every individual mission and all four difficulty levels straight off. These campaigns can be played in single-player, 2-player split-screen co-op, and online co-op.
Multiplayer: See Multiplayer section below.
Playlists: Play through select campaign missions with predetermined difficulty and settings. Each game has its own specific playlists, plus there are seven cross-game playlists. Some playlists don't support co-op, annoyingly. Still, playing missions and games outside of their standard order is a cool and unusual way to experience these four Halos.
Options & Career: Customize multiplayer armor and colors for all four games, loadouts for Halo 4, your cross-game player ID and clan tag, view stats for individual games and the entire collection, leaderboards, and access your personal custom game types, map variants, and saved films and screenshots. Some player customization items must be unlocked by completing campaign and multiplayer games.
Extras: Watch the Halo: Nightfall live-action series, watch in-game cinemas and terminal videos from the collection, and (eventually) access the Halo 5 beta. Both Nightfall and in-game videos play through the separate Halo Channel Xbox One app (which also offers the "Remaking the Legend" Halo 2 documentary).
My only gripe UI-wise is that after completing a campaign mission, players can't immediately choose to return to the main menu. The game always starts the next mission before it allows users to quit.
A comparison between original and remastered graphics in split-screen mode. All screenshots from Halo 2: Anniversary
Halo 2 Anniversary
Just as Microsoft and 343 chose to remaster the original Halo: Combat Evolved with new graphics, sound, and features on Xbox 360, so have they done with Halo 2 on Xbox One. Halo 2's Anniversary graphics run at a resolution of 1328x1080 (slightly less than full 1080p) at 60 frames per second.
At any time in Halo 2 and Halo CE, players can toggle between the remastered and original graphics and sound by pressing the View (Back) button. The remastered visuals sometimes make enemies harder to see (especially cloaked enemies), but on the whole they represent a significant improvement. Experiencing the different interpretations and technological progression between console generations is genuinely interesting. It's great that Microsoft and Co. have chosen to preserve the original looks and sounds along with their remastered versions.
The Halo 2 campaign also boasts revamped and extended movie sequences courtesy of Blur Studios. These mostly impress, though Sergeant Johnson's new face doesn't mesh as well with his voice as it should. The new cinematics add a bit of flavor and depth to the game's story, but they do nothing to address the game's anticlimactic boss battle and ending. That's Halo 2 for you; it always ended a little too soon.
Blur has also added an all new prequel movie that can only be viewed in single-player. The movie technically takes place after Halo 4, with the Arbiter basically relaying the events of Halo 2 to Jameson Locke (a playable character in Halo 5). It's an insubstantial tease for Halo 5, and you can always skip it if the sequel teasing bothers you.
Playing through Halo 2 Anniversary ten years after the original is an extremely nostalgic experience. If you owned Halo 2 before, it's hard not to think back to your experiences and life situation from back then. But Halo 2's campaign also happens to be one of the most enjoyable first-person shooter campaigns around, even after all these years.
Some missions put players in Master Chief's shoes as he struggles to defend Earth and stop the Covenant from activating the second Halo. Others star the Arbiter, a covenant Elite tasked with recovering the key that will allow his leaders to fire the Halo. Both characters play a little differently thanks to their unique starting weapons and the Arbiter's (mostly ineffectual) cloaking ability.
Together, the two leads' missions make for an exciting and varied campaign, despite the weak ending. The Halo 2 campaign also features my all-time favorite Halo level, "Delta Halo."
Local multiplayer
The process for playing local multiplayer is slightly more complex than it should be, but you get used to it. At any time on the main menu, the primary player can press the X button to bring up the "My Game Session" menu. This is essentially the in-game party feature pioneered in Halo 2 and operates independently from the Xbox One's Party app.
At that point, local players can press A to sign in. These players can participate in campaign co-op (2 players), offline competitive multiplayer (4 players), or join in online games (4 players?). People without Xbox Live Gold can still get a lot of multiplayer fun in, as long as they own multiple controllers.
Master Chief Collection does not support System Link (LAN) play, unlike the original releases of Halo 1-4. Considering the series pioneered system link play on consoles, it's a shame that option was forgotten in this otherwise superior collection.
Online multiplayer
When Halo 2 arrived on the original Xbox in 2004, it revolutionized online multiplayer for consoles with its robust online mode and brilliant party system. Master Chief Collection carries forward many of those innovations while expanding on them in many ways.
The collection offers over 100 multiplayer maps, consisting of six remastered Halo 2 Anniversary Maps, as well as every original multiplayer map from all four games. The Halo 2 Anniversary maps are brilliant, with new visuals, design touches, and interactive features.
I can't help wishing the collection has remastered all of Halo 2's maps, but the presence of the original maps from Halo 2 and its brethren makes the small pool of revamped maps easier to swallow. At present, the maps are divided between 10 matchmaking playlists. Some lists focus on specific games, while others mix maps from multiple games.
Players can also join their friends for Forge Mode, which does not support matchmaking. In Forge, players can edit and play in custom maps from Halo 2, 3, and 4. Forge was originally introduced in Halo 3, so Forge support for the Halo 2 maps is a cool bonus.
Halo 4's Spartan Ops co-op missions will be added by title update in December. In my opinion, these missions are mostly forgettable, so waiting for them to be added to the collection is no big deal.
At launch, matchmaking is unfortunately mostly broken, with many players like me unable to find games within a reasonable time frame. Even joining friends for a custom game is extremely buggy and difficult, which really sabotaged our launch day multiplayer Twitch session. Once we finally got everyone into the same game, we had a blast, until people were dropped again. The developers will surely fix these problems within the days or weeks to come, but it's extremely regrettable that multiplayer wasn't truly ready at launch.
Update: After months of poor matchmaking performance, the March 4th, 2015 update has finally fixed the bulk of the game's multiplayer issues.
Achievements
The collection includes an unprecedented 450 Achievements worth a total of 4500 GamerScore. Some are dedicated to individual campaigns, some to online multiplayer, and others are cumulative across games. It will take months or years to earn the full set, not to mention mad skillz.
You'll find Achievements for beating each level of campaign, completing campaigns on each difficulty, and even beating missions with certain skulls enabled. Each campaign mission also has Achievements for beating its par time and score, encouraging replay and practice. All four games have Achievements for discovering their terminals (these are new to Halo 2), adding a collectible element.
Each game has a number of Achievements dedicated to Legendary, the highest difficulty mode. These will be truly challenging and time consuming, even when playing with co-op partners (when allowed). The Achievements for speedrunning each game's Legendary difficulty will simply be impossible for all but the most dedicated players. I could live without their inclusion.
Overall Impression
Whether or not you've played past Halo games, Halo: the Master Chief Collection is a must-buy for anyone who enjoys first-person shooters on consoles.
This is the best the four main Halo games have ever looked. Each game runs at a super smooth 60 frames per second, and three of the four hit the magical 1080p resolution. Halo CE and Halo 2 each offer their gorgeous Anniversary Editions, while even Halo 3 and 4 benefit from improved lighting effects and resolution bumps (though Halo 3 ends up looking the most basic of the four). Halo 2 Anniversary also sounds utterly fantastic thanks to newly recorded music and sound effects.
In a time when FPS games often come with underdeveloped campaigns, this Halo's selection of four lengthy campaigns that tell a mostly coherent narrative (Halo 3's has always been spotty) with full co-op support is just unparalleled. Throw in the incredible selection of multiplayer maps and game types and Master Chief Collection simply becomes the most complete FPS package on Xbox One – or any console.
Get the Windows Central Newsletter
All the latest news, reviews, and guides for Windows and Xbox diehards.
Paul Acevedo is the Games Editor at Windows Central. A lifelong gamer, he has written about videogames for over 15 years and reviewed over 350 games for our site. Follow him on Twitter @PaulRAcevedo. Don't hate. Appreciate!