Our Halo: The Master Chief Collection "Let's Play" Twitch session has ended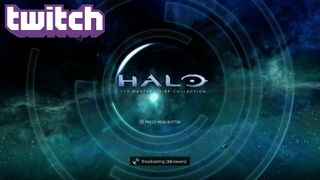 Halo: the Master Chief Collection, the compilation of all four numbered Halo games, is finally available on Xbox One. Our detailed review won't be live until tomorrow, but a lot of players already own the game and are enjoying it right now.
In celebration of the Master Chief Collection launch, Windows Central is hosting a special Twitch streaming event. Tonight you can both tune in to watch us play and chat with our staff and your fellow readers, and you can also actually play with us during the session! We'll be inviting stream viewers into our custom multiplayer games for some serious Slayer and other game types.
Update: The stream has ended. We managed to play a few games, but the broken multiplayer prevented us from enjoying the game as much as we hoped. Fingers crossed that 343 will get everything working right soon!
Watch live video from EastXTwitch on www.twitch.tv
Halo multiplayer Twitch session details
Once the event starts, we'll be playing with you guys and streaming Halo: the Master Chief Collection for 90 minutes.
To watch or play along with us, just follow our my channel Twitch.tv/Eastxtwitch and then join us in the Twitch chat during the stream! You can watch the stream right here in this post, but you need to actually participate in the stream in order to receive a multiplayer invite. And obviously, you must own Halo: the Master Chief Collection if you want to play with the staff.
Tune in for your chance to play with the following Windows Central staffers. List subject to change.
Daniel Rubino – Daniel Rubino
Paul Acevedo – EastX
Sam Sabri – Generalsham
Master Chief Collection's online multiplayer features are in a rough state at launch. Hopefully you guys can join us without too many issues.
Halo: the Master Chief Collection – Xbox One – 59.1 GB – $59.99 – Amazon Link

(opens in new tab)

– Xbox.com Link

(opens in new tab)
How to view the stream and play along with us
To participate, just follow me at Twitch.tv/Eastxtwitch and tune in during the stream. You can watch the stream right here in this post, but you need to actually participate in the stream chat to be invited to our multiplayer session.
What's the best way to experience Twitch? If you don't have a PC, you can get the Xbox One or Xbox 360 Twitch app and watch from the comfort of your couch. Or grab the unofficial app Livegaming for Windows Phone. It has plenty of great features, including the ability to chat along with your fellow viewers. Annoyingly, you'll have to add our channel to your favorites from the Twitch website, outside of the app.
Feel free to show up a few minutes before the stream starts to help with testing. The stream should last about 90 minutes. And don't forget to leave a comment on this and all of our Xbox One gaming stories!
Download Livegaming for Windows Phone (free)
Weekend streams resume this Saturday with Pinball FX2!
Regular readers and viewers know that we stream gameplay from a different downloadable Xbox One title every week. These streams are a great chance to see a game you might have missed, plus you can meet and chat with your fellow readers and select members of the Windows Central staff.
This Saturday, November 15 I'll be streaming Pinball FX2 from Zen Studios. Watch the stream to see the new South Park tables and maybe even additional tables. Will I beat my high scores and those of Daniel Rubino, our resident pinball expert? Tune in at 8pm Central (6pm Pacific, 9pm Eastern) to find out!
We also love to give out prizes during our weekend streams, and this weekend will be no different. This time you can win South Park Pinball tables for Xbox One, Playstation 4, and Steam. The odds of winning are great, so don't miss your chance to score free pinball tables!
South Park Pinball (Pinball FX2) – Xbox One – 104 MB – $4.99 – Xbox Link

(opens in new tab)
Paul Acevedo is the Games Editor at Windows Central. A lifelong gamer, he has written about videogames for over 15 years and reviewed over 350 games for our site. Follow him on Twitter @PaulRAcevedo. Don't hate. Appreciate!
Going to kill* you all. *In Halo, no IRL.

Reminder: Online mode is borked right now! We're hoping custom games will work out alright.

I gave up, couldn't join a single game.

Aww, but did you try custom games?

Played 2 custom games, no matter what place I finished it showed -1

Yeah, you were right. Still pretty broken.

Paul isn't gonna invite me because he's too scared of my no-scopes G0MEZZ34

I'll try to watch from my phone. I'm away in Fort McMurry...

What are you doing in Fort McMurry?

Volunteering at a casino for a school

Looking forward for tonight and Saturday night streams!

If my net is not messing up like last time I'll join in the broadcast

Lovely Telco day today. On the phone with Verizon for 2 hours. At a cricket store for one. In a tmobile store for one. Plus driving. Time to unwind...

My wife is watching Parenthood right now... Hopefully I can participate in a bit. Sounds like a lot of fun - techpastorm would love to join up with this!

I'm sorry, but I have never understood the desire to watch someone ELSE play a game. I don't get it. I guess that's also why I hate sports so much. Passionately.

Good thing you showed up to tell everyone... To actually adress the concern (is it even that?) the whole thing with Twitch is the community of people commenting live, and the ability to either see if a game is up your alley (you get a better idea than a press video) or you get strategy by watching others play. See what seems to work for others an incorporate (especially for MP games)

I've always been FAR more interested in seeing actual gameplay footage than the gussied up commercials and trailers they make, which are 95% not game footage. However, the live multiplayer generation has left me behind... I'm campaign only, so most of these streams don't really appeal to me either, other than to see how good the graphics are.

Most of our streams aren't multiplayer focused, you know. We've only done three like that and probably 8-10 single-player ones. But like the others said, it's not just watching someone play a game that makes Twitch fun. It's the social experience, meeting each other and having a gaming themed chat.

I'd play with you guys, but I'm playing without the update. Campaign is fine, but the game crashes in the menu alot.

You didn't miss much this time since multiplayer is still somewhat busted. Hope you get the update installed soon.

Sorry everyone, but I never got a chance to no scope anyone. Maybe next time. I'll make EXTRA sure to get some no scoping going on, maybe even give Daniel an extra no scope for quitting early.

We get it, you like no scoping..

Thanks to the guys at Windows Central. Game issues out not you guys do try your best to keep at it.

What's up with multiplayer?? I can't even join a game.....

Yeah, it's just broken right now. We posted a story about that earlier. The multiplayer mode simply wasn't ready for launch.

It's incredibly frustrating. I don't get it. Microsoft's forte is online gaming, one area where even Playstation owners admit that Xbox Live is a better network than PSN. After the disaster that was the Driveclub launch, Microsoft was in a good position to reiterate that to consumers. Instead, they dropped the ball big time, and with their most important game of the season to boot. Things you can't afford to do when you're product is getting outsold by your competitor's product.

Huh. One dollar per gigabyte.
Windows Central Newsletter
Thank you for signing up to Windows Central. You will receive a verification email shortly.
There was a problem. Please refresh the page and try again.