Review – Titanfall Limited Edition Controller for Xbox One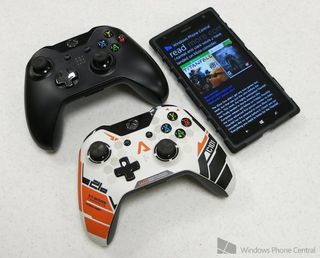 The Xbox One's first killer app Titanfall launched earlier this week, and appears to be selling like hotcakes. The release of a big new console game often inspires players to pick up a few accessories, and Titanfall is no different. In addition to deluxe third-party headsets, Microsoft has just released its own Xbox One Stereo Headset as well as the Titanfall Limited Edition Wireless Controller.
Nobody needs a new controller just for Titanfall; it's an online-only game without support for local multiplayer. But the Limited Edition Controller is extremely stylish, and you probably need an extra controller for other multiplayer games anyway. We've got lots of photos, a hands-on video, and even a list of local multiplayer Xbox One games in our detailed review.
If looks could kill
The Titanfall controller is structurally identical to a normal Xbox One controller. It does not add any new features like rapid fire. The excellent, clicky d-pad, slightly taller-than-average analog sticks, triggers with satisfying internal vibration, and stiff bumper buttons are all identical the controller I described in our Xbox One console review last year. You won't get a competitive advantage by picking up this controller – just a unique appearance.
The body of an Xbox One controller consists of several distinct pieces of plastic: the face, two side pieces, the rear and battery compartment, and a glossy black area at the top that houses the Home button. The glossy Home button area and black rear piece on the Titanfall controller are both identical in color to the standard controller. So are the buttons, triggers, sticks, and d-pad. Note that the d-pad is glossy black, not chrome like the Day One Edition controller.
The front and sides are where the Titanfall controller stands out from its standard brethren. All three pieces are made of a dull white (almost light gray) plastic instead of black. In the front center you'll find an orange A printed in the same font as the Titanfall logo. Spreading out asymmetrically from there are gray hexagons and dots and some small orange designs.
At the bottom center of the face, just above the headset port sits a black stripe with a (non-unique) serial number and warning text in white. This makes the headset jack feel like the receiver where you'd insert a magazine on an actual gun. And the Xbox One headset adapter does look mighty cool when connected there.
The left hand grip bears mostly orange livery with simulated manufacturer's text in black. The right grip hosts black livery with the designation "C101" in white. Those letters refer to one of Titanfall's guns, which we'll get to in a bit. On the actual sides of the controller, just past those large patches of livery are lines of thin, matching colored stripes. And right above those lines: trigger button labels.
Titanfall, Wipeout, or Remember Me?
When Microsoft first announced the Titanfall controller back in January, I worried that the paint job looked a little too busy. Blame the little gray hexagons on the front. But in person, it's actually quite slick. That said, I do have to question just how much the controller design evokes the imagery of Titanfall.
Nothing on the packaging or marketing materials shows anything from the game resembling the controller's color scheme. The box (quite lovely on its own, by the way) just depicts a dark and partially silhouetted Titan mech with a pilot crouched on its arm. Neither the Titan, the soldier, nor his gun have a lick of white or orange on them.
Ostensibly though, the controller's color scheme is based on the in-game R-101C Carbine assault rifle. Hence the "C101" on the right grip. But the official image of the R-101C Carbine actually uses a green and brown control scheme. Way to sell the connection, guys! In fact, the production image for the C.A.R. SMG weapon resembles the Titanfall controller's colors far more closely.
Perhaps somebody got their reference images mixed up during the controller design phase. If Titanfall had allowed players to swap weapon skins, we could make the R-101C more closely resemble the controller. That would be a fun feature, as Gears of War players already know. But I'm told weapon skins are not swappable.
Xbox One games with local multiplayer (non-Kinect)
Even though Titanfall only supports a single controller during gameplay, anyone who games with friends or family could always use an extra controller. The Xbox One's software library is still quite young, but a number of games support local multiplayer and/or split-screen already.
Call of Duty: Ghosts
FIFA 14
Killer Instinct
LEGO Marvel Super Heroes
The LEGO Movie Videogame
LEGO The Hobbit (coming in April)
Madden NFL 25
NBA 2K14
NBA Live 14
Rayman Legends
Skylanders Swap Force
Value proposition
We've already established that the Titanfall controller functions identically to a normal Xbox One controller. Yet it costs five dollars more. So what do you get for your extra five bucks?
Besides the unique paint job, the only differentiator included with this controller is the Titanfall-themed packaging. The box actually does look very nice. I can see people with more shelf space than I have proudly displaying it as evidence of their Titanfall love. Considering the Limited Edition nature of the controller, attractive packaging is certainly a smart idea.
Yet the absence of digital incentives feels like a missed opportunity. The Gears of War 3 Xbox 360 controller came with five in-game weapon skins. On Xbox One, even the Day One Xbox Live Gold subscription card included an exclusive Dark Jago skin for Killer Instinct. A multiplayer-centric game like Titanfall would have benefited from character or weapon skins just as much as those games. At least Microsoft could have thrown an extra month of Xbox Live Gold into the Titanfall controller package.
Instead we get a pretty controller and a collectible box for a small additional cost compared to the regular controller's price of $59.99. It does cost more to create and distribute an accessory in a unique color like this, as evidenced by Microsoft's decision not to mass produce that Titanfall-colored Xbox One console that leaked awhile back. Fans of Titanfall and/or distinctive controllers just have to pony up a little more to cover Microsoft's extra manufacturing cost.
Overall Impression
Our Stereo Headset review is coming soon!
Regardless of its price tag, the Titanfall Limited Edition Wireless Controller for Xbox One is quite a looker. If you only have one controller to begin with or just need an extra controller or two in order to reach the local multiplayer sweet spot of four, definitely consider grabbing this one. As a Limited Edition controller, it won't be readily available in stores come next year.
Visually distinct controllers are actually useful to own because they make it easier to tell each person's controller apart during local multiplayer sessions. We usually have to wait until a year or two into a console's lifespan before differently colored controllers become available, so kudos to Microsoft for releasing this one so early.
Windows users: check out our guide to using the Xbox One controller with PC and Windows 8!
Titanfall Limited Edition Wireless Controller – Xbox One – $64.99 – Amazon Link

(opens in new tab)
Paul Acevedo is the Games Editor at Windows Central. A lifelong gamer, he has written about videogames for over 15 years and reviewed over 350 games for our site. Follow him on Twitter @PaulRAcevedo. Don't hate. Appreciate!
I bought it though I have no xbox- Microsoft said they're going to release drivers for it for windows. Don't make a fool of me Microsoft. While I have a few wired 360 controllers, sometimes wireless is nice. However I'm the kind of guy who can feel the lag with the wireless controller vs the wired, so the x1 controller's optional wired is something I like.

Can you try this workaround and tell us your experience? http://lucasassis.com/?p=421

It works, (I've spent the last hour or so tinkering with it,) but my particular games read it all screwy. (Could try to shell it as an Xbox 360 controller instead of just a directinput controller, using something other than x360CE, but I'm just going to wait for official drivers... Spent too long doing this with a DS3 controller and it's too much work for my taste.) But yes, everything aside from the d-pad seems to work.

Ha, I did the same. It's certainly nice looking, just sitting there. I did have an Xbox One, but set it up back a week or two ago when some Live services were down for an entire day at the same time that Time Warner Cable was pushing an update to their "Xbox Live backend," all of which screwed up the initial update. I'll likely pick up another one soon, at a time that Xbox Live isn't down, or I'll just wait for the white one to come out. Hopefully it's not a "holiday" thing that we won't see until November.

Man, I also can't wait for Microsoft to add PC support for these babies!! :D

I would have been awesome to see MS add native support for XB1 controllers in WP 8.1 I guess it will be another missed opportunity on the platform :c

You would use a controller with your phone as a screen? That's crazy!

I'm thinking of using it like a MOGA controller for WP8 games. It would seem like such an obvious and killer feature to add, especially with XBL branding on exisiting games, and MS's attempts to unify Desktop, phone, and gaming systems.

On a general level, I like that this became the subject of a review.

I won one at the MS store Titanfall launch. I'd pay the Xtra 5 bucks for it.

Sweet! Congratulations. :D

Love mine. Got it a week before launch, it's my dedicated Titanfall controller. Also, the texturing does feel better vs the standard controller.

The Xbox One's software library is still quite young, but a number of controllers support local multiplayer and/or split-screen already.

Shouldn't that say, "...number of

games

support local...?"

A review of that Xbox One Stereo headset next?

Quite a long review for the conclusion that you pay more for a different "color".

Sometimes the journey is more the point than the destination.

People complain when you guys post Windows stuff (personally I don't mind because I see WP & W as inextricably linked), but all this Xbox stuff does seem a bit off-topic to me. But wow, I'm impressed anyone can write more than 20 words on a controller that's just got a skin on it, let alone this marathon post. It's like writing separate 2,000 word reviews for each colour of Nokia 920. I'm not a gamer, so see no point in this, but appreciate for some people this is of interest, just not sure wpcentral is the place for it.

I hate how everything is referred to as an 'APP' these days.

Looks nice but I have 2 controllers . I'm good

Too bad amazon doesn't have it in stock and it's all through overpriced third party sellers. :|

Yeah, that is annoying. Amazon got shorted on their Xbox One Media Remote order too.

Indeed my media remote is just about to ship now. Although they still show it as not in stock.
Windows Central Newsletter
Thank you for signing up to Windows Central. You will receive a verification email shortly.
There was a problem. Please refresh the page and try again.