Halo: The Fall of Reach CGI film hits Blu-ray, DVD, and VOD to help explain Master Chief's origins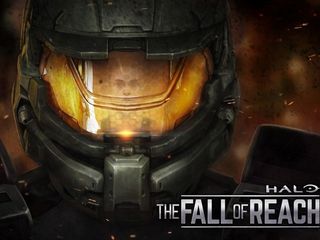 If you didn't buy the Digital Deluxe Edition, Limited Edition or Limited Collector's Edition of Halo 5: Guardians, you could not see the entire version of Microsoft's CGI animated film Halo: The Fall of Reach. That film is now available via Blu-ray, DVD, and VOD formats.
Here's the brief summary for the movie, which was created by the Vancouver-based CGI studio SEQUENCE:
You can buy the Blu-ray and DVD dics versions via Amazon, and it's available for VOD purchase or rental from a number of different services and platforms.
Buy Halo: The Fall of Reach for Blu-Ray and DVD at Amazon (opens in new tab)
Source: Xbox Wire (opens in new tab)
Are the VOD formats going to be uncut? I couldn't watch the combined live action series on Netflix because of poor cutting.

What do you mean by "poor cutting"? You want it as a seamless film--no episodic breaks? Or you like when they're broken up? Which live-action series on Netflix are you talking about? Forward Unto Dawn? If you like it episodic, watch it on the Halo Channel instead. It's broken up nicely and also has a really great interactive interface where you can pause it and press X to learn more about the characters.

Yes. Forward unto Dawn.
The Netflix version has been poorly edited. If you watched them when they when they were first released you will know what I'm talking about. I am not sure if the combined ones are still on youtube. Will probably have to try other sources.

Doesn't show up on Microsoft Movies & TV when I search for it.

I don't believe you can buy it on the Halo Channel. You can only watch the complete series on the Halo Channel if you've purchased the pricier editions of Halo 5, the game. But now you can buy it on Blu-Ray, DVD, and on VOD via Amazon Prime, so why the heck isn't it on Microsoft Movies & TV for purchase too?

Yeah, that is a weird oversight. The Microsoft Movies & TV app is usually right in line with DVD releases. Noticed it wasn't on Vudu either so maybe the digital streaming rights are delayed for some reason?

No, because it's already on Amazon Video for purchase.

the animation style is pretty poor to be selling to people, getting it free with the game made it ok

The animation isn't 'poor'; it's just a different style, unique to the animation company that made it. You can rent this now at Redbox for $1.50. That's pretty cheap.

It is a choice but an odd one. The CGI looks like original Xbox era cut scenes. Which is in line with Halo: Combat Evolved but looks a little strange as a movie by itself. There's a stiffness to the movement that CGI animation overcame a decade ago.

Loved the book, really wanted them to make a live action version instead (movie or show, like Foward Unto Dawn and Nightfall). I didn't care too much for the animation in this, but it was still cool to see it.

Everyone keeps praising the book so I just bought it now and will give it a shot. It'll be my first Halo book.

I didn't but any special edition of the game. Just the regular edition and I watched all of those eps in the Halo channel. Pretty good series if you're into the halo universe. Better than some of the live action series.

If you didn't buy the special edition of Halo 5 the game, when did you watch all three episodes on the Halo Channel? I tried doing it a few weeks ago and it only showed the first episode and then told me to buy the special edition of Halo 5 to watch the other two episodes.

Yea you're right it was just the first ep available. I stand corrected.

I'll have to try this. Thanks!

Sorry this is off topic, but I got Nightfall with The MCC Digital Edition and wondered how you're supposed to watch it? I see it is installed. It would have been nice if it was added as a purchased item to the Movies/Films and TV app but from what I read it's in the Halo Channel somewhere - Not a big deal as long as I can watch it, but in the Films and TV app would have been great,

At least the Halo Channel is available everywhere M&TV is ;)

You can watch it in the Halo Channel, which has apps on Xbox One, Windows, and Windows Phone. It's nice there because it has an interactive viewing feature that really complements the on-screen story.

At least it's on all my main platforms, and you make a good point about interactivity that you wouldn't get in a standard movie/tv show app - If I want to watch it on the bedroom TV I could always use Miracast on the Roku stick to show it from my phone or a tablet (Which I'd have to do anyway with my current setup as there's no Movies & TV app from MS on the Roku Stick)

I honestly thought there was going to be more to this but it's just a brief couple of chapters...I hope there's another "season" lol =p

From what I've heard, there definitely needs to be. People who read the book say this animated series doesn't even cover the final third of the book, making it a misleading title.

I remember when Halo came out and read The Fall of Reach novel. Everybody notes the influence of Aliens for the UNSC gear and vehicles but Master Chief's origin was clearly patterned after the Kurt Russell movie Soldier. It was released a couple of years before so that works out.

BR torrent is in the air...

Anyone know if there's a pack-in code for a Halo-related item on the Xbox store included with the DVD/Blu-ray? The Blu-ray of Forward Unto Dawn included a shirt for your avatar.

You get to see Master Chiefs face when he was younger and up to when he puts on his armor for the first time. That was pretty cool.

It's available for rental from Redbox. http://www.redbox.com/movies/halo-the-fall-of-reach
Windows Central Newsletter
Thank you for signing up to Windows Central. You will receive a verification email shortly.
There was a problem. Please refresh the page and try again.