Halo: ODST and multiplayer map Relic, coming to The Master Chief Collection this Friday
A couple of weeks ago, 343 announced that the new re-mastered version of Relic and the updated version of Halo: ODST will be making its way to The Master Chief Collection as part of May's Content Update.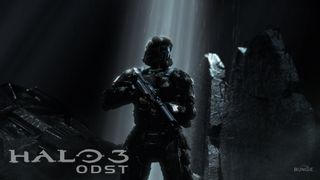 Well, it looks as if the studio has stuck to its word and ODST will be dropping on the Xbox One this Friday, May 29 according to the game's page in the Xbox Store (which has since been pulled down).
This updated version of Halo: ODST will sport a resolution bump to 1080p as well as an increased framerate at 60fps. No word has been given on if the graphics have been updated as well. The game will be given to early adopters of The Master Chief Collection that bought the game before December 19, 2014. For those who missed the early adopter period, you will be able to purchase ODST but for an as yet undisclosed price.
Halo: ODST's campaign (which is arguably the best of the Halo series thanks to its atmosphere, music, and story-telling) puts you in the role of a rookie Orbital Drop Shock Trooper who has lost his teammates during a drop to New Mombasa. Since the Rookie is no Spartan, he must rely on stealth and health kits to make his way through the dangers of the dark city in order to find members of his team.
One thing that will be lacking in this new version of ODST is the Firefight game mode. This was Halo's first take on the survival mode which became a hit for shooter games during the last generation.
As for the Relic map that is also coming with the May Content Update, I'm sure that the map will launch this Friday as well. That map will be available to all Master Chief Collection owners for free even if you got the game after December 19.
So, if you've never played Halo: ODST I strongly advise you to do so once when it comes out this Friday. The game is shorter than most Halo campaigns, but the story-telling and atmosphere give it a little edge (in my opinion) over the other campaigns that we have played through with Master Chief.
So if you're excited for the game releasing this week or you despise the fact that I enjoy ODST's campaign the most, fire off in the comments below!
Source: Reddit
Windows Central Newsletter
Get the best of Windows Central in in your inbox, every day!
http://www.xboxachievements.com/forum/showthread.php?t=621713

I also found the ODST campaign more enjoyable than most Halo games, particularly the atmosphere created by the night-time setting and eerie background music.

I'll buy it when it's on PC

Then, you won't buy it :)

I wont buy it at all. I'll download it for free, since I've owned the Xbox One EXCLUSIVE Halo Master Chief Collection since launch. B-)

Same here, although as the matchmaking issues continued way into January I think they could be a little more generous and extend the freebie period.

Agree 100% with the article. ODST's campaign is amazing!

Great. Always found ODST campaign to be more immersive and fun to play than the others.

The game will be given to early adopters of The Master Chief Collection that bought the game before December 19, 2014.

I'm one of the people who also got another extra month for XBLive. This means am an early adopter right? :D Anyway Am still on Halo 2 campaign.

Also if you like Firefly, you should probably play ODST... ;)

I think he is referring to FireFly the TV series.

Don't think that's being ported.

Nathan fillion>> Sergeant Edward Buck

I always want to play halo, but it seems like I have to start from the first to fully get the story....THATS the problem! Every time I start it goes like Meh, aren't they gonna do a remake?

That's what the master chief collection is for. It essentially has every Halo game there is (besides Reach)

And Wars. And Spartan Assault. And Spartan Strike. B-)

It would be sooooo cool if they could add halo warsss to the collectionnn whew

If you want to make an iPhone of your friends to lag, just send him:
Power لُلُصّبُلُلصّبُررً ॣ ॣh ॣ ॣ 冗

I've played Halo 3: ODST on my Xbox 360 and its awesome! I cant wait for the Xbox One release!

I never really cared for the ODST campaign. Halo 4 was the best IMO. I'll still download it, maybe playing through it again will change my mind. :)

Still undisclosed price? Urghh.

I really want a remastered Reach to be released. That as the first Halo game I played, and I think even the first Xbox game I played. It may not have been the best game out there, but it'll always be special to me and the loss of my 360 means I won't be able to play it again!

Awesome. I'm looking forward to this.

Is this what Paul is playing on Saturday night?

I really think this is a great example of a company truly making amends for a mistake hurting its customers.

I'm with you Jonathan. I loved the story of ODST. It's a standout experience. I highly recommend it to anyone that hasn't played it. I do strongly wish to see Firefight added back into this game. It's version of Firefight was in my opinion, the best version above all else.

8.1gb download - 8.1- Windows 8.1 - halo coming to Windows confirmed

I love all Halo games, but the campaign from ODST was the best in my opinion as well.

Odst is the only one I've never played, im super excited to play it!

ODST and reach were pretty close for me. Reach had an intriguing story aside from the contiuinty issues with the canon

I've played Reach but not ODST... Interesting, I'll get it though.
Windows Central Newsletter
Thank you for signing up to Windows Central. You will receive a verification email shortly.
There was a problem. Please refresh the page and try again.