How well does Halo Wars Definitive Edition run on Surface Book?
For those of you lucky enough to have Halo Wars 2 Ultimate Edition pre-ordered, Halo Wars Definitive Edition keys should be rolling out in waves.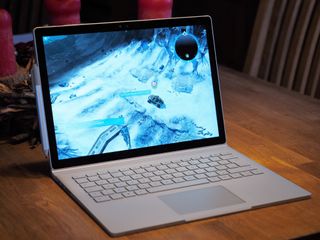 Halo Wars Definitive Edition is an Xbox Play Anywhere HD-remaster of the Xbox 360's Halo Wars, which was a real-time strategy game (RTS) simplified for console play. Like Halo Combat Evolved before it, Halo Wars hoped to bring RTS to an entirely new audience by placing it on a console, which was something very few games had done successfully before. Halo Wars became somewhat of a cult hit in the series, earning a legion of dedicated fans that contributed to reviving the spin-off for a sequel.
Halo Wars Definitive Edition grants the game new visuals, higher resolutions, and new effects. Best of all, it brings the Halo franchise back to PC, hot on the heels of Halo 5's Forge mode. Halo Wars DE will launch as a standalone game sometime after February 24th, but you can jump in right now by pre-ordering Halo Wars 2: Ultimate Edition. (opens in new tab)
We've covered Halo Wars 2 before, and we'll have more to share on this intriguing iteration in the franchise soon, but for now, let's take a look at how Halo Wars Definitive Edition UWP runs on various PCs!
See at Windows Store (opens in new tab)
Halo Wars Definitive Edition on PC
As mentioned, Halo Wars Definitive Edition is built for the Universal Windows Platform, granting it cross-save, cross-purchasing features with Xbox One. UWP games have historically had issues with certain hardware set-ups. Microsoft has fixed a lot of the common problems, but it's a shame that Halo Wars DE doesn't support DX12, making it potentially less optimized for lower-end setups.
Halo Wars DE isn't a visually intensive game, generally. It's not as detailed as Halo Wars 2 will be, and even with the enhancements, the game still looks a little dated on max settings. It was originally released back in 2009, after all. Large skirmishes impact performance, but the good news is that Halo Wars DE is totally playable on the Surface Book, and thus likely similarly equipped non-gaming PCs.
Halo Wars DE vs. Surface Book
First, we tested Halo Wars DE on the launch edition core i7 Surface Book. The relevant specs are below, but feel free to check out the full Surface Book specs over here too.
| Category | Specification |
| --- | --- |
| Software | Windows 10 Pro |
| Processor | 6th Gen Intel Core i7 (Dual Core) |
| Memory | 16GB RAM |
| Graphics | NVIDIA GeForce graphics (based on 940M with 1GB VRAM) |
Considering Killer Instinct runs fairly well on the regular Surface Book, I expected decent performance out of Halo Wars... but initially, I was only getting around 10-20 frames per second (FPS) in regular play, on the lowest of the low settings.
I was ready to call it a day and just conclude that Halo Wars DE was poorly optimized, but I found that wasn't the case. By default, Halo Wars was using the Surface Book's integrated Intel HD graphics, instead of the custom 940M d-GPU. After a quick tweak in Nvidia control panel to force Halo Wars to force the d-GPU, the performance gains were considerable, giving me anywhere between 55 and 60 FPS.
Halo Wars DE doesn't allow you to set resolution manually. It only allows you to switch between "high" and "low" resolution, and we lack the tools to calculate exactly what resolution it's providing in these situations. You can also control visual features like multisampling and shadows, allowing you to tailor your experience if you're on lower-end GPUs like the Surface Book's.
It's a shame that Halo Wars DE isn't better optimized for integrated graphics like those found in the Surface Pro line considering how visually dated it is, but Halo Wars DE is deemed to be "early access" right now. There's certainly room for improvements and updates.
Halo Wars DE vs. Surface Book with Performance Base
We were also interested in how well Halo Wars DE would perform on the Surface Book with its Performance Base. The Performance Base notably increases the convertible's battery life, but also throws in a much beefier d-GPU.
| Category | Specification |
| --- | --- |
| Software | Windows 10 Pro |
| Processor | 6th Gen Intel Core i7 (Dual Core) |
| Memory | 16GB RAM |
| Graphics | NVIDIA GeForce 965M (2GB VRAM) |
We encountered the same issue on the Surface Book with Performance Base, where Halo Wars DE was defaulting to the on-board graphics. But when the game was pointed at the Performance Base's 965M GPU, as you might expect, it ran far better than on the regular Surface Book, even on higher settings.
The Performance Base' 956M allowed 45 to 55 FPS with all of the game's settings on high, making it not only playable, but far sexier to look at.
When it comes to Surface gaming on the go, quite obviously, the Surface Book with Performance Base is the clear winner, but for similar money, you could pick up the New Razer Blade, which utterly dominates the Surface line for gaming.
Halo Wars DE vs. Razer Blade (2016)
Naturally, we tested Halo Wars DE on a real gaming laptop, the New Razer Blade from 2016. Strangely, Halo Wars DE again defaulted to the Razer Blade's integrated graphics, which is something that will no doubt get patched out before it launches proper. Here are the relevant Razer Blade's specs.
| Category | Specification |
| --- | --- |
| Software | Windows 10 Pro |
| Processor | 6th Gen Intel Core i7 (Quad Core) |
| Memory | 16GB RAM |
| Graphics | NVIDIA GeForce 1060 (6GB VRAM) |
With fully maxed out settings, the Razer Blade naturally made short work of Halo Wars DE, running it flawlessly at 60 frames per second.
Wrapping up
As an Xbox Play Anywhere title, games that are well optimized to run on as many machines as possible will become incredibly valuable when Windows 10 for ARM arrives. The Snapdragon 835, which will power Windows 10 on ARM experiences, is far more powerful than the Snapdragon 820, which was shown running World of Tanks Blitz quite competently in Microsoft's announcement video.
Gaming laptops with GTX 10xx series cards and quad-core processing will always dominate setups like the ones found in the Surface Book, but if you value the 2-in-1 nature of the versatile Surface Book, it looks as though it will at least be viable to some degree for playing many upcoming Xbox Play Anywhere titles.
More
Jez Corden is a Senior Editor for Windows Central, focusing primarily on all things Xbox and gaming. Jez is known for breaking exclusive news and analysis as relates to the Microsoft ecosystem while being powered by caffeine. Follow on Twitter @JezCorden and listen to his Xbox Two podcast, all about, you guessed it, Xbox!
@Jez - Inside the Nvidia control panel, how do you find the windows stores apps to tell the system to use the GPU instead of Intel graphics? The only way I have been able to accomplish this is by changing the global setting for all programs to use the Nvidia GPU and that is not optimal. Thanks in advance!!

It's under the Nvidia Control panel under 3D performance. Then you want to select to use your Nvidia Graphics card for all programs or you can change it between certain games. I would recommend setting it to use it at all times as the Nvidia chip will beat out the performance of that intel gpu any day.

I understand that you can pick what each program/game uses but it never lists any UWP app, only x86 ones and I've never been able to to use "browse" to show it where the apps are because the folder where the apps are is locked down and not accessible

Then change it for all and it will be used.

Did you ever figure this out? It is driving me crazy.

No I did not. I gave up. Sorry man.

Boo. I'll let you know if I find anything.

Try this: http://www.windowscentral.com/how-force-your-surface-book-use-its-dedicated-gpu-games

Hey, Jez! I am still having issues with UWPs showing up in the list of applications. Any more insight you have would be appreciated.

It only allows you to switch between "high" and "low" resolution

Wow amazing. Those Windows Store Games are truly nextgen stuff.

Yeah, that's an incredibly limited options menu. Never seen a PC game that doesn't offer incremental resolution options.

That's not a limitation of windows store games, for some reasons it is just on this game that I can tell. All my others have normal resolution selection options.

Sure, but it's from Microsoft. Not really a good idea to promote your own plattform with such lazy / poorly done ports

I thought this game was available?

I played through the campaign on my i5 8GB ram SP3 on low settings. I was plugged into a 25" 2K monitor and it looked and played just fine for me.

>simplified for console play
Windows Central Newsletter
Get the best of Windows Central in in your inbox, every day!
Thank you for signing up to Windows Central. You will receive a verification email shortly.
There was a problem. Please refresh the page and try again.