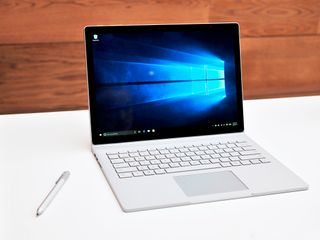 Microsoft unveiled a whole new product category during its Windows 10 Devices, its first ever 2-in-1 laptop the Surface Book. With a 13.5-inch Pixel Sense display and a number of configuration options, the Suface Book is something that will entice many. With the ability to pick between an Intel Core i5 or i7 processor, the addition of a discrete GPU for performance improvements, and the option to use it without the keyboard there is certainly a lot to know about the new product.
Pre-orders for the Surface Book have already begun, with the new laptop becoming officially available on October 26. Here are all the details of the all-new Surface Book.
Pre-order the Surface Book from $1499 at Microsoft (opens in new tab)
Swipe to scroll horizontally
Category
Specification
Display
13.5-inch Pixel Sense display
Contrast Ratio: 1800:1
Display Resolution
3000 x 2000 at 267ppi
Aspect Ratio: 3:2
Software
Windows 10 Pro
Processor
6th Gen Intel Core i5 or i7
Storage
128GB, 256GB, 512GB Solid State Drive (SSD)
Memory
8GB or 16GB RAM
Graphics
i5: Intel HD graphics (non-GPU), i5/i7: NVIDIA GeForce graphics (GPU)
Rear Camera
8MP with autofocus, 1080P recording
Front Camera
5MP
Full HD (1920 x 1080)
Windows Hello face-authentication
Speakers
Front-facing stereo speakers with Dolby audio
Ports
Two full-size USB 3.0, Full-size SD card reader, Surface Connect, Headset jack, Mini DisplayPort
Sensors
Sensors, Ambient light sensor, Accelerometer, Gyroscope, Magnetometer
Security
TPM chip for enterprise security
Battery Life
12 hours of use
Pen
Surface Pen
1,024 levels of pressure sensitivity
Magnetic storage
Power Supply
36W power supply with USB chargin port
65W power supply with USB charging power (discrete GPU SKU)
Weight
1.6lbs
Dimensions
Laptop: 9.14 x 12.30 x 0.51- 0.90 in ( 232.1 x 312.3 x 13 -22.8 mm)
Clipboard: 8.67 x 12.30 x 0.30 in (220.2 x 312.3 x 7.7 mm)
Jared started off writing about mobile phones back when BlackBerry ruled the market, and Windows Mobile was kinda cool. Now, with a family, mortgage and other responsibilities he has no choice but to look for the best deals, and he's here to share them with you.
Also, please tell us which geforce card

Where did you get that from? It's listed as something called an 8G almost everywhere.

I don't understand this move. This will just further confuse customers. Should they get the surbook or the surpro 4?

I don't think that is fair. There is no confusion over Mac Book Air and Pro. This is a laptop with touch, that just so happens to have a removable display.

I'm not confused because I'm getting both LOL!!!

How will there be confusing, you either want a kickstand tablet or a laptop/hybrid. You either want to pay the $600 difference or not.

Not really. All the Book is, is an even higher class of surface with a better keyboard. I think price will be the deciding factor for most people. Posted via the Windows Central App for Android

Di you think the book could also accept the type cover? That would be... Epic.

But without the kickstand it won't actually be useful.

Yeah, that wouldn't work well at all, as the Surface Book's keyboard dock IS it's kickstand.

My engineering school requires students get a laptop and my financial aid just kicked in, so I pretty much have to buy this. Yup. Have to.

Ah, the days when I could spend money recklessly just to pay for it for the next 20 years...good times. Posted via the Windows Central App for Android

I need a reason to buy it too... It's so amazing! That's my reason

It's not clear for me the NVIDIA GPU model. I've always wanted a Surface laptop but this is beyond what I expected, well done Microsoft, well done.

Any details on which specific Nvidia GPU is inside?

960M* not 950. Pretty remarkable what they were able to pull off in such a small form factor.

Didn't expect ms to release the surface book , the specs are good and really liked the new hinge mechanisms.

I really want this + 950XL

I was all set for an SP4 but this has my interest. The most important part for me will be how it works as a tablet (or 'clipboard' as MS is calling it).

This is insane. Pretty much destroys macbook on every single level. And has an amazing os to boot.

And look how gorgeous it is. I wish Windows Central uploaded a shot of the back of the laptop, with that Microsoft logo. I actually love how a Macbook looks, but this is the perfect "in your face" for the Apple. Amazing stuff.

Loving Microsoft right now!

They just need to tighten the OS, especially since they make both hardware and software (wink!).

Damn... this is great surprise indeed. No one even predict this after all the hu ha about L950, L950XL, Surface Pro 4, Band 2, Hololens before the event. Nice specs too!

Does any know the gpu specs besides it being NVIDIA?

960m . That's all till now.

Is there windows hello support in surface book? how? fingerprint or face?

Damn I have not expected this.. So beautiful so cool so sexy but still so powerful... Speaking about problems of 1st World I badly want it

How is this lighter than the SP3 and 4? Surely that is without they keyboard attached.. Right?

So the Windows store shows specs that list a 1tb version. But preorder doesn't show option. Does this mean a 1tb is coming?

Not exactly "complete" specs. We still don't know what the specific GPU is.

Buying this. No matter how much the wife will bitch..

I like the specs, I don't know about that visible gap when it's closed though... makes me feel like dirt and debris will just get stuck in there and scratch the screen. Or worse, some pressure from the top might cause it to bend the locking mechanism... I trust Microsoft to have tested this thoroughly, but I'll have to test it out myself before I'm convinced that was a good design.

Ultimate pricey shit and confusing because of surface

Oh noes! An alternative device. Oh noes, how dare they provide choices! :O

Holy sheet. I was going to wait to upgrade my SP3 for next year but I really, really like this thing. It is awesome.

Shut. Up. And. Take. My. Money

In the presentation they mentioned up to 1TB

Price points a bit on the steep side, and my i7 yoga pro 2 wasn't that cheap in comparison.

GORGEOUS! COOL COOL COOL!

GPU is suspected to be the 960m cuz that's the only one that is specced with gddr5. The lower ones use lower ram. I am curious though. Since the gpu is in the keyboard, if you detach the screen does it revert to the Intel graphics until its redocked back with the keyboard?

Really stunning 2 in 1. I knew Apple was SCREWED when they released the new Macbook and all they had to say was how thin & pretty it was. Seriously?! By the time they get around to amalgamating iOS and OSX and leverage the iPhone's popularity Windows will be MILES ahead. They're too focused on this "Apple as a luxury brand/lifestyle" crap to notice that the future is all about having your OS & services on as many computers as possible no matter what form they take. WELL DONE MS!!

Just have to mess up my girl's beauty parlor budget next month and I could get this one!!!!

I am thinking, i have a Lumia 630 now and i want a upgrade. But i also want a new laptop
Which do i buy first, the Lumia 950 or the Surface Book ? ​

Hard to say with this little information. The Lumia 950 you could buy with the Microsoft Display Dock truning it into a (desktop) PC. I need both since my phone subscription is about to end and my desktop is dead, Good luck with making the right choice!

you got the weight wrong: Starting at 3.34 pounds (1,516 grams) including keyboard (http://www.microsoft.com/surface/en-us/devices/surface-book#techspec-block)

Hopeless! Incomplete... Where is the wireless specs - eg wifi, bluetooth, nfc?

What the deuce is a "Surface Connect" port?? Proprietary for the dock? Or what?

So no USB Type C on this thing?

Hi I am Shanmuga Subramanian, from Chennai, India. 1. Nokia Booklet 3G Nokia was announced on 24 August 2009, It has Windows 7 OS. I am very much excited to get this, but it has not come to Indian Market. 2. Nokia Lumia 2520 Nokia was released on November 21, 2013. It has Windows RT Tablet. Even this I am expected to get but it also not come to Indian Market and later it is discontinued on February 2, 2015, becuase of Microsoft stop making Windows RT Tablet. 3. Surface Book Finaly Microsoft announced on 6.10.2015. OS is Windows 10. All other features are as per technology advancement. It will hit the Indian Market ? What will be the price in India? US $ 1,499.00 (INR Aprox 97,458). I will hope it will hit Indian Market with good price.

When will this be available in India ? I want to buy the 16GB version of Surface Book. And no, will not buy, if they increase the price for Indian markets the way Apple does.
Windows Central Newsletter
Thank you for signing up to Windows Central. You will receive a verification email shortly.
There was a problem. Please refresh the page and try again.