Xbox Play Anywhere FAQ: Everything you need to know on Xbox One and Windows 10
Curious about just what Xbox Play Anywhere is all about? Let's explain.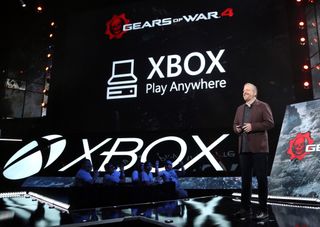 Formally announced as a part of Microsoft's E3 2016 press conference, Xbox Play Anywhere (XPA) launched on September 12 with its first XPA-branded title, ReCore, following similar cross-purchasable games like Killer Instinct. Since its debut, the program has continued to expand on Xbox One and Windows 10, with a range of both first-party and third-party games already onboard. And while the idea behind XPA is relatively straightforward, there are some discrepancies to be considered. Here's everything you need to know about Play Anywhere and its benefits to you as a gamer.
What is Xbox Play Anywhere?
Put simply, Xbox Play Anywhere allows gamers to buy a single digital license for supported titles, for use on Xbox One and Windows 10. Save data and achievements all also automatically synchronize between devices if Xbox Play Anywhere is supported, allowing you to take your games on the go effortlessly.
Do all Xbox games support Xbox Play Anywhere?
No. XPA is an additional feature for games implemented by choice and isn't forced on any Xbox One or Windows 10 titles. That being said, a majority, if not all of Microsoft's upcoming in-house titles support the program. Third-party adoption is increasing, although at a slower rate.
Which games will support Xbox Play Anywhere?
As of publication, nearly 30 games currently support Xbox Play Anywhere, with several more expected to be on the way in the months ahead. All of Microsoft's biggest releases since mid-2016 have supported Play Anywhere, including Gears of War 4, Forza Motorsport 7 and Halo Wars 2. Several ID@Xbox games have also offered support, such as Cuphead, Ruiner, Fable Fortune, and Astroneer. For a full list of supported titles, check our ongoing list linked below.
Complete list of Play Anywhere games for Xbox One and Windows 10
How does Xbox Play Anywhere work?
When purchasing titles that support XPA, their licenses will be automatically bound to your Microsoft account. After purchasing on Xbox One or Windows 10, logging into the same account on any device will allow you download your game for free. Your progress and achievements will also automatically transfer via the cloud.
How to download your Play Anywhere titles on Xbox One and Windows 10
Does Xbox Play Anywhere work with physical copies?
No, it does not. Due to issues which authenticating licenses across platforms, you'll need a digital copy attached to a Microsoft account for the feature to be available. This was explained in more depth by marketing chief for Xbox, Aaron Greenberg.
If you want to take advantage of Xbox Play Anywhere you need to have a digital copy of the game, either by purchasing it directly from the Xbox Store on your console or by using a pre-paid code from a third-party retailer.
What sort of PC do I need for Xbox Play Anywhere?
Playing games on PC has traditionally been a taxing affair, and Play Anywhere titles will be no different. Unlike Xbox One Streaming, all processing is handled onboard your PC, meaning you'll need the appropriate hardware to do so.
Since you're not paying extra for the Windows 10 copy, you'll be no worse off but make sure to check PC hardware requirements through the Windows Store prior to downloading.
Is there cross-play multiplayer with my friends on Xbox or PC?
Not necessarily. Games like Gears of War and Forza already have cross-play between platforms, while titles such as Halo Wars 2 have limited cross-platform implementation. This decision is entirely on a developer's behalf and can vary between genres and studios.
Do I have to use a controller with Xbox Play Anywhere games?
No. On the Xbox One (right now) the controller is your only option, but on PC you can use keyboard and mouse or a controller as long as support is built in.
Do I get double achievements by playing on PC and Xbox?
Just as your game save data is shared between the two, so are your achievements.
Have any questions about Play Anywhere not on this list? Make sure to drop your queries in the comments, and we'll be sure to keep you updated.
Updated September 29, 2017: Added the latest details and tips for Play Anywhere one year after launch.
Windows Central Newsletter
Get the best of Windows Central in in your inbox, every day!
Matt Brown was formerly a Windows Central's Senior Editor, Xbox & PC, at Future. Following over seven years of professional consumer technology and gaming coverage, he's focused on the world of Microsoft's gaming efforts. You can follow him on Twitter @mattjbrown.
I can't wait for this to take off! Posted via the Windows Central App for Android

It sucks that neither amazon or Best Buy give the 20% discount off the digital titles as they do with the physical games for their respective memberships. Oh well, can't always have your cake and eat it too lol

its quite retarded really. the price tag 59.99 also reflects the shipping cost, disc, packaging (plastic case, manual booklet, and art print) of the game, but now that most games are going digital, the game should go down at least 10 dollars less.

In the past I would have agreed with you but paying the extra couple dollars does come with some benefits that's worth it.
*With a digital copy I can have two Xbox at home and share a copy of the game and two ppl can play the same game.
*With a digital copy I will be able to use the Play Anywhere feature which it worth it alone.
*With a digital copy, when I visit family members who has an Xbox and don't need to take physical disks with me.
*And lastly, you never have to worry about scratching your disk. Posted via Spaceship One

There are benefits, but the games are tied to your Xbox live account, so that other person would need to have your account to play it. Also, 2 people can play sure if you give them your account access, but they can not play at the same time

The great thing about game sharing is that you can play on your xbox and as long as you make your friend/family member xbox your home xbox box then they can play too at the same time. And for icing on the cake if it's a play anywhere title then a third person can play on your home pc signed in as anyone. I know this because I've tried it and it works like a charm. With Forza Horizon 3 I can play in my living room while my son plays in his room and my wife plays on PC co op campaign. I love it. :)

Hey, thanks for that info, I bought a new laptop that is able to run FH3, just waiting for it to arrive and I was wondering if my bro and I would be able to play at the same time with one copy of the game, he on the Xbox and me on my laptop.

This is what me and my son do with Gears for War and Forza its brilliant only costing us once and offering true multiplayer in house.

I'd like to play GOW4 with my son at the same time too, but I'm not quite sure how to do it. I'm on the Xbox. My son on PC. The digital game is attached to my account. So, we're both signed on to the game under the same gamer tag (mine). How can one gamer be 2 different characters to play at the same time? Can I play as JD and my son as Del thru the co-op campaign mode or any other modes? Right now, if I want to play with my son at the same time, our only option is split screen local. Can you shed some light on this? Thanks.

Hey I'm not sure if this will work but try going on your Xbox and making it your home xbox in the settings under personalization. This should enable you to make other accounts on the Xbox that can run off your games and your Xbox live subscription so long as they are used on that specific xbox. This will enable you to be able to use a different account so you can still log into your account on the pc while playing with your son however he will have to use your account on the pc. Let me know if this works please.

I have a GOW4 disc, so I can't play anywhere. The game has to be digital for that feature to work. Had I known that before, I would have bought the digital version. I thought play anywhere means only the owner of the game can do that (switch from console to pc and vice versa without losing play progress). I didn't know game sharing was possible as noted by other commenters on this thread (by downloading the digital game to your Xbox and designating it your home console, as you suggested). I just might sell my GOW4 disc and buy the digital version to take advantage of this great feature. Thank you for the advice.

For me this takes the stress off of having to choose which version to buy, PC or Xbox. I like the fact that I can switch between desktop and couch. All for one price too.

I've got a question not covered here. Can the same game be played at the same time on a PC and on an Xbox One with the same profile? What about 2 PCs with same profile? (I think this one is a no.)

You're probably right. It syncs to your account, as does your game progress. Can't progress twice at the same time.

i would guess that pc and xbox could play at the same time in the same way 2 xboxes can (pc would have to be your account and xbox would have to be your home xbox and another account).

There has been talk that Ark Survival Evolved will let you host a dedicated, private server on Windows 10 PC and let you play on the client side on Xbox One. It would be real great value to see the 2 for 1, play at the same time be realized for this to truly work.

Halo Wars 2 won't have cross platform play (at launch at least). Maybe another question should be "Can I pre load via the Windows Store like I can on Xbox?" And as far as I'm aware the anwser is no.

Waiting for Halo Master Chief Collection to be announced as Xbox Play Anywhere; huge mistake by Microsoft not to include it in the initial list of supported games, and even bigger if they don't plan to do it in the near future. @Windows Central Can you confirm with Microsoft whether their policy here is the same as it used to be/is on Windows Phone so that when a game/app is pulled by the developer for whatever reason you will lose access to that game without any automatic compensation/refund? Because I am not willing to invest in any games from the Windows 10 store if this is still Microsoft's policy, and if they are not treating purchases the same way Valve does in Steam that the game is yours regardless of what the publisher/developer decides to do in the future.

Halo won't be on the PC at this time. That much has been made abundantly clear. It's one of the titles Microsoft uses to continue to sell consoles right now. Xbox games and Windows Phone apps are two different beasts.

well, I'm all at Multiplayer with Halo5. Haven't tried the single player yet and I bought the game when it came out. Now PC will have the Multiplayer part of Halo5 as well. ​I really hope PC and Xbox One will have cross-play if both is using xbox-controller.

I'm actually waiting for MCC to be a free game with gold. it's currently only seven dollars at cdkeys, but it's so old, I see it going free soon.

And they couldn't just verify discs by putting that in my bd drive on my pc? Or even if it's been played within the last 48 hours or something on xbox? Posted via the Windows Central App for Android

And open up for more piracy? no, no they can't.

It's all about going digital and getting rid of discs. They screwed up with the Xbone launch by trying to force people to go digital, now they're going about it the right way by offering incentives and making people want to go digital. They don't want you buying discs anymore, there's not as much money in them cause they can be shared an unlimited amount and resold. You may be able to share digital games, I'm not sure, but you definitely can't resell them Posted via the Windows Central App for Android

Actually the EU has some legal precedent about re-selling digital goods, so you never know in the near future companies might be forced to put in systems to allow resale of digital goods.

No, they can't. Discs don't attach to your account in the same way as digital does. Because you can just give a disc to your buddy to install and share it around. All the disc does is say that a copy of the game was bought. The way the system has been implemented for better or worse leaves us in this position.

that's true; however, doesn't most game come with a key of some sort that can only be used once?

I wonder if they will bring previous XBO/Win10 releases, such as Gears of Wars Ultimate, to the program.

I hope they do. As much as I prefer to game on my Xbox, Gears would be nice to have on PC.

Already there, but not as Play Anywhere

As far as I'm concerned, if it won't play on Windows 10 mobile, they should call it play almost anywhere.

Don't think W10M is even considered by anyone when it comes to Xbox games.

Were still a ways away from native decoding of AAA games on a phone, it technically could be done right now but would require a dock with a powerful AMD/Nvidia GPU and having a really good CPU in your phone realistically an x86 one would be required along with a cooling system though UWP based games theoretically can run on Arm if the dev supported it. But running AAA titles on current Arm hardware is out of the question, Microsoft would have to pair a custom high performance Arm CPU along with AMD GPU to get anything approaching passable performance.

But what about light weight games like 2D plataformers they can be played on a surface book very well, they also could be played on a soon Surface Phone, Microsoft just have to put some kind of warning on store before downloading telling that the hardware ins't enough to play that certain game, but if it is UWP, Universal, Play Anywhere, then i guess they should at least honnor those names they put in and make those apps/games available on all plataforms as it should and make it up to us decide where to play, of curse since we have enough hardware be it on PC or Mobile or One or Scorpio, just as it is on PC for example: when we are on a Low end PC the store wont let us download a certain game that demands a High end or a Mid end PC, so it should be on phones to, there are plenty of phones today way stronger that some PCs, take Minecraft Story Mode for example its only available on PC and it recomends a core 2 Duo 2GHz and 3GB or RAM, phones already have this hardware and more, so why a PC with less hardware than the recomended can download and play the game and the phones can't? the answer should be x86 something that Phones aren't yet, so i wonder if with a Surface Phone we will be albe to do such thing, if microsoft will be doing it x86, i guess it should be easy its just take the Surface Book and make it 6 inch... :P

You can't play it on atari either, or Nintendo, or Windows 8. Should those all be qualifiers of making it almost anywhere too? You can't play Gears 4 on an ASUS transformer with Windows 10, does that mean it doesn't count? It's a hard ware issue, don't be foolish.

I mean, if you're expecting to play Forza Horizon 3 on your phone you're way off.

One more thing I NEED to know. I bought Ark on Steam. Any chance I'll get a code for Xbox? Or am I SoL because I bought it on Steam and not through the Windows store (not that I could)

No chance, they are completely separate. Steam is pretty much the vocal domain of the anti-Microsoft PC userbase (even if all it's users don't feel that way) so don't expect any co-operation, particularly now as MS believes being Steam Lite is the way to go for Xbox (it is a good idea) but the PC userbase is ultra hostile to any encroachment with loyalty to Valve only despite the fact Valve having being doing a very good job of late.

Lol, what are you trying to say exactly? Steam is the defacto distribution platform for PC, using that has nothing to do with making anti-Microsoft statements. Valve is mostly praised for their genuine attempts at making PC gaming better although they did drop the ball occasionally, e.g. with Greenlight or Payed Mods. So it is basically the opposite of what you are claiming. You can however, expect some good laughs if you admit buying stuff on the Windows Store. So best to keep that information to yourself or make sure you don't do it.

You have to buy from Xbox. Be that on Windows 10 or on Xbox One. This isn't play anywhere with your Steam buddies am afraid.

I assumed as much, was just hoping since when I bought Ark there was no other place I could get it.

Does Ark on Steam let you host a dedicated server and play on the same machine?

When does Ark Survival release on Windows 10? Anyone know the date?

Are the game preview games (like ARK and Slime Rancher) currently available on windows 10 with Xbox anywhere? Or only once they are officially released?

Game Preview is coming to Windows 10. But ARK hasn't been discussed as a title for it at this time.

Please have day one 21:9 support for all these games:)

They could just add a serial number you use to associate a game with your account. It's not that hard really, many MMOs, Blu-Ray movies, etc. have been doing it for a while.

What's your point? MMOS use DRM through an active subscription and are completely digital(You're only forgoeing the need to download some of the game when you buy the disc), and Blu-Rays get pirated like crazy.

Xbox Anywhere is a very good idea but MS really need to be very aggressive in courting third parties to get them on-board and that digital pricing is competitive. If they don't what will happen is that it will wind up a Microsoft games only zone and no-one will go near it other than some Xbox fans. In order to win over the sometimes hostile PC games user base MS has to really up it's game, otherwise they are going to get trashed by them at every opportunity, Eurogamers digital foundry for instance did a lot to undermine Microsofts first efforts as they weren't deemed up to the usual PC standards, that is then parroted around various gamer sites like NeoGAF and many other media outlets. All the tech bells and whistles PC gamers expect, standardized modding system, sales/offers, more advertising, more third party titles, port older titles in a franchise to Xbox Anywhere and give them away free with ordering the newest one etc. they do all that then they stand at least a chance of taking on Steam.

Do PC gamers care about Xbox? Probably not. That's why they PC gamers ;-)

Of course they don't, yet they are expected to pay Xbox prices to get their PC version. PC games are normally at least ten euros cheaper than console versions at where I come from, twenty to thirty if you are looking a bit further. There is no alternative reseller or physical PC copy for any of the current "Play Anywhere" titles, you can't "Buy Anywhere" but at console price in that Windows Store. I hope Microsoft has a plan to improve on that, because the current direction is anti-consumer for gamers that have no interest in Xbox.

I need to know Im broke lol but I want some of these games and and need to update my computer

I like the idea, plus as much as it costs to make AAA games, there should be more opportunities to buy games

I meant that each disc could come with an activation code that unlocks the game on one MS account. But I see your point, and MS would need to restrict use of the Xbox disc to your account as well to avoid people taking advantage. We'd be back to what they originally intended at launch and we all know how people feel about that.

Why not offer the PC version ? Just put your Xbox one disc in a blu-ray drive(on the PC) and needs to be in the drive to play the game, just like any PC off the shelf game.... I see in some cases it would be cool but, not in every case. Day to day games (like the ones you playing all the time), you might prefer to sit in front of your bigger screen TV, than a PC monotor, as other games, it does not matter. In most cases so far, After buying extra copies on the PC, after playing on the console, I dont find myself playing them again. Time to time maybe but, never going over it again. I coudl see this to be a big deal if I travel a lot, and kept a bad A$$ laptop with me all the time, then I could game on the go but, day to day, I dont need it... And make sure you have a good gaming machine...Rise of the Tomb rader, and Forza on the PC, took a hefty machine to run very nice. Your 3-4 year old PC might not be able to handle it...more like wont. Although this feature sounds awesome, it's only so usefull and it's a ok, feature....

They need to get real with the price of digital games.
As a big fan and Long time 360 user( new to the One) I'm pretty disillusioned with, crazy long install times, a cluster kcuf UI, being harassed through games to make purchases and now mind bending prices for digital games.
My son and I have had years of enjoyment on the 360 that represented great value for money, but the One is just a price gouging tool that for us both is wearing thin.
Just give us good quality games at reasonable prices and stop the gouging all ready. The cost of digital games must be half the price of physical games, yet they charge more. PASS ON THE SAVINGS, YOU GREEDY BAS TARDS!
Im not buying into the BS at current pricing structures. Presently, the One is only about creating a platform to gouge the consumer and the focus has totally gone away from being a quality GAMING console.
Bitterly disappointed, please now down vote me for speaking the truth.......and no, Im not a Sony troll, hate that platform even more.
JUST GIVE US QUALITY DIGITAL GAMES AT FAIR PRICES MS, DIGITAL GAMES CURRENTLY ARE A CON JOB RIP OFF!

Step 1. Step away from the ledge. Step 2. Realize that prices of digital games have ALWAYS been this expensive on Microsoft platforms. $60 for new titles (same as retail) and $5 - $30 for "indie" games. The Xbox 360 digital marketplace was no different. Also, realize that this pricing structure is MIRRORED EXACTLY on Sony and Nintendo platforms. Are they greedy explatives as well? Step 3. Recognize that the margin on physical retail titles is only a few dollars and that the majority of the cost is the game's development and marketing. If saving $5 is so important, pick up a used disc at GameStop. Step 4. Get Xbox Live. Get 4 free Games With Gold titles each month. Step 5. Shop the weekly "Deals With Gold" section to find discounts on newish and older titles. Step 6. Use Bing Rewards to earn points towards Xbox digital gift cards to help reduce the cost of digital purchases. Step 7. Watch for frequent digital sales on the marketplace. Publishers often mark down titles when sequels are released or when an older title is added to the backwards compatibility list.

I mean hes right to a point. The thing is I dont mind paying $60 for a game but build a decent game with decent replay value. I bought destiny and the dlc's my total investment on it is about $150 but ive been playing the game for 2 1/2 years now. To me thats great value. On the other end of the spectrum I bought battlefield hardine for $60 and a season pass so about $90 and played the game for less than a month. Tired of developers taking there money and pulling the plug on games.

Can someone other than the person who bought the game play it on a computer where it is installed? On the XB1 (and the 360), I can buy a game on the console and anyone else in my family can also play it. The game is associated with the console as much as it is associated with the account. Any guess on whether my family members will be able to play games I purchase on the PC?

Absolutely NOT associated with the hardware (console). Its linked to the account. Sign into the console using a different account and the game isn't available unless its disc based.

You are absolutely wrong. Here's what you apparently are not familiar with. Every account is associated with a specific console, called the account's home console. Any digital (non-disc) purchases I make can be played by ANYONE on my home console, even if I'm not logged in at the moment. In addition, I (and only I) can play my digital purchases on other consoles such as a friend's console. See http://support.xbox.com/en-US/games/game-setup/my-home-xbox. This is not just theory, my family and I do it all the time. We purchase nearly everything through my account, but it's my kids that play the most. They play under their own profiles while I am not logged into the console. My question is whether there will be the concept of a home PC just as there is the concept of a home console. If I buy a game for PC, can my kids play it without logging into my Windows account? I hope so.

Wow. Concise unambiguous answers from MS. Thats gotta be a first (and a welcome one).

So with these titles if i buy them on my xbox one can i then play them on my pc? Or does it only work if i buy it on my pc?

It is a buy once, get both platforms deal. It doesn't matter if you buy for PC first or Xbox first, you only buy once and you get both.

so far i love it on fallout shelter

It actually works well for me most of the time https://www.youtube.com/watch?v=pwI19Imio7Q&t

My hard disc copy of horizon 3 says Xbox play anywhere on it. You mean I can't load it on my pc?

Is it possible to play such a game on Xbox and PC without syncing progress?

Xbox Anywhere is Microsofts greatest features and also one of it's most under utilized. The Xbox PC app needs a better games stroefront that covers Xbox console/pc/cpc for the future along with a catagory or filter that shows Xbox Anywhere titles. If MS can get Xbox Anywhere off the ground and get native AAA games on cell pc's, they have a foot in the door in pushing back into the mobile market. I don't think MS is giving the program the resources it's needs or it's taking it's sweet time about the whole project.

Anybody know if games play well on SP4 M3? If so what may the limit be? I know it's a stretch haha.

Now, if only Cuphead would download/install on my SP4. Ridiculous.

In case anyone wonders some of these play anywhere titles also support the PC game streaming feature on the Nvidia Shield. For sure GOW4 and Recore. And some UWP games like Minecraft. It can get funky, but so can streaming steam games

yeah, finally i can comment here using the windows 10 app on desktop...lol
Windows Central Newsletter
Thank you for signing up to Windows Central. You will receive a verification email shortly.
There was a problem. Please refresh the page and try again.