How to download your Play Anywhere titles on Xbox One and Windows 10
Experience cross-platform play with your Xbox Play Anywhere titles!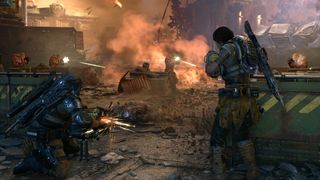 As a part of the ongoing Windows 10 and the Xbox One convergence, Microsoft is attempting to merge the gaming experiences across the two platforms. With almost every first-party Xbox exclusive also making its way to Windows 10, a range of new features is being offered as a part of the Play Anywhere initiative.
The Play Anywhere program merges purchases, saves, and achievements across two platforms via Xbox Live. While this gives players more flexibility when gaming on the go, this also provides two copies of select titles, for the price of one.
If you've purchased one of the select titles that support the program, the equivalent version on the other platform can be installed for no additional cost. Here's how to find your Play Anywhere titles after purchasing them on different devices or platforms.
Download a Play Anywhere title through Windows 10
Ensure you've installed the Windows 10 Anniversary Update on your Windows 10 PC.
Open the Windows Store.
Search for your game using the search bar.
Select the game once it appears under the suggestions.
Click Install on the listing that appears.
Download a Play Anywhere title on your Xbox One
Open My Games and Apps.
Scroll down to the Ready to Install tab.
Find the title you wish to download from the list.
Press A over the title to start downloading your game.
After following these steps, your game should begin downloading. Other Play Anywhere features, such as cross-platform saves and achievements, will automatically sync when connected to Xbox Live.
Windows Central Newsletter
Get the best of Windows Central in in your inbox, every day!
Matt Brown was formerly a Windows Central's Senior Editor, Xbox & PC, at Future. Following over seven years of professional consumer technology and gaming coverage, he's focused on the world of Microsoft's gaming efforts. You can follow him on Twitter @mattjbrown.
will they appear on the purchased section on the W10 store?

I purchased an XBOX ONE S last week with a Forza Horizon 3 disc. Is there a way for me to convert this to digital so I can take advantage of Play Anywhere?

.... Who the hell would down vote someone for asking a legitimate question? Are you mad because you don't know the answer?

My understanding is that Play Anywhere only applies to digital purchases, so the answer to your question would be no. If anyone can prove I'm wrong please do so - it would be beter if this was not the case but unless you can use the disc in a PC I'm assuming that PC installs are digital only

Sad to say, no. I wish Microsoft would enable it, if you dropped your Xbox one disc in the PC (it should be able to read part of the disk if it's a blu-ray drive).... Again like a lot of PC pysical games, you need to have the disc in the drive to play the game. I am sure it would not be hard for Microsoft to enable this. One disk, you can only play in 1 place at a time.

Thanks for the answer guys. Not what I wanted to hear but I'm sure I'll enjoy the game regardless.

i have error code 0x80070490 - how to fix that? i cant install my games (only play Anywhere)

Is there still a way to purchase a Play Anywhere game from my PC and have it automatically download & install on my Xbox at home? This used to work with Xbox specific titles in the Xbox SmartGlass app, but when I bought Forza Horizon 3 in the new Xbox app it switched me to the Store app on Windows 10 to complete the purchase and I couldn't find a way to kick off the install on my Xbox at home.

The game has to be play anywhere compatible matey, to get ark on the PC you would have to purchase it again for PC, Hope this helps :)

umm ark is part of the play anywhere program...

Do you need xbox live to play games on your pc? I have a high end pc but not an xbox one.

Nope! You'll need an Xbox Live account, but those can be created alongside any Microsoft account!

So I purchased Forza Horizon 3 digital copy from gamestop and entered it into my microsoft account. When I go into the Windows 10 store to download the game it says "you own this game" so I can click on manage. When I click on manage it take me to "My downloads" and when I search for it nothing comes up. How can I get the install to work so I can download it on my computer?

if i bought a xbox one game after the play anywhere launched that is part of the play anywhere roster but is not released for win 10 play anywhere yet (aka Ark/slime rancher) would i still get it on win 10 when it does become available or do i have to buy it again after its released?

My install button wont let me click it

Same question as asked before but; if I bought ark for Xbox one before it was listed for play anywhere can I still download to windows 10. Am I correct in saying that I could potentially play as a 3rd player on ark with others playing the game on Xbox console under same account? I have tried to look for the download in the windows store but it isn't there. The Xbox store just says I already own. Any advice???

I bought Forza 3 electronic edition and this downloaded as expected on windows platform, only propblem was that my grophic card now says it wont run directx 12 which is a real bummer! This leads me to believe that Ark will work once it it is officially released onto the microsoft store. i only hope it doesnt need Directx 12 otherwise I'm all outa luck.
Windows Central Newsletter
Thank you for signing up to Windows Central. You will receive a verification email shortly.
There was a problem. Please refresh the page and try again.