Hands-on with the Celkon Win 400 as it officially launches in India for ₹4,979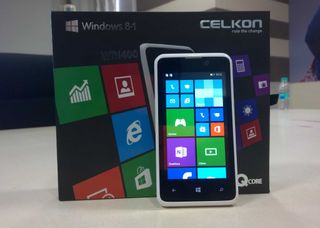 In a press event in Hyderabad today, Celkon Mobiles, one of India's largest domestic handset makers, officially launched the Celkon Win 400, the company's first Windows Phone device.
The dual-SIM entry-level Windows Phone device packs a 1.2GHz Qualcomm Snapdragon 200 quad-core processor with 512 MB RAM. The Win 400 will be available in online and offline stores in two color variants – black and white – starting today at a price of ₹4,979 ($80).
Murali Retineni, Executive Director, Celkon Mobiles, had this to say during the launch of the Celkon Win 400:
Design
For a sub-₹5,000 smartphone, you expect mediocrity and 'good enough' build quality. On unboxing the Win 400 with a similar expectation, I was surprised to find a nice looking, decently built smartphone. It's all plastic of course, but doesn't look too 'cheap', and the design and the minimal aesthetics work well for it. I used both the colors, and particularly liked the white one.
The 4-inch WVGA display is decent, and although the touch isn't the best in budget phones, it works quite well and the navigation and scrolls are smooth.
Hardware
Like all budget Windows Phone devices, the Win 400 is powered by the Qualcomm Snapdragon 200 1.2 GHz Quad-core processor. The RAM is a modest 512MB and the internal memory is just 4GB (expandable using microSD card), but I wouldn't complain about those specs in an entry-level phone when more expensive phones with similar specs are available in the market.
For the little that I played with the device, I didn't notice any lags or delays in scrolls or browsing webpages. Yes, there's a few seconds of loading/resuming when firing new apps or switching to ones in the background, but that is understandable for most budget to mid-range devices.
I'm not sure of the 1500mAh battery, but the company asserts that it lasts an entire day easily.
Camera
For most budget smartphones, camera is the least of my considerations. Not because I don't go clicking around and share my meals on Instagram, but because most of these devices have a shoddy camera. The Win 400 has a decent 5MP auto-focus snapper at the back though. In good light conditions (and that's the only time I've got with the device), the photos are bright and colors are true. There's little graininess when you zoom into the photos or see them on a larger display, but for most social sharing, it works fine. There's flash as well, but I haven't tried it just yet. There's a 1.3MP front camera, that is decent for an occasional selfie, but I wouldn't expect much from it.
Software
The Win 400 sports the barebones Windows Phone 8.1 experience with no first-party apps built in. There's only one third-party app (Truecaller) bundled in. Of course, there are Microsoft services like the MSN apps, Skype, OneDrive, and OneNote.
Out of the box, the phone has only 1.66GB of free memory. A memory card is a definite need for most practical purposes.
Summary
It's early to make a judgement, but for the price, the Celkon Win 400 looks like a great device. It's moderately powered and has a decent build quality, and looks quite okay – things that make a great affordable phone. I'll take it for a spin for a few days, and see how it performs in the real world.
What are your thoughts on the phone, its design and internals? Let us know in the comments.
Get the Windows Central Newsletter
All the latest news, reviews, and guides for Windows and Xbox diehards.