Hands-on with the Celkon Win 400 as it officially launches in India for ₹4,979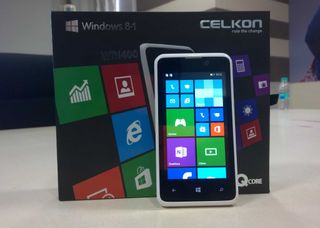 In a press event in Hyderabad today, Celkon Mobiles, one of India's largest domestic handset makers, officially launched the Celkon Win 400, the company's first Windows Phone device.
The dual-SIM entry-level Windows Phone device packs a 1.2GHz Qualcomm Snapdragon 200 quad-core processor with 512 MB RAM. The Win 400 will be available in online and offline stores in two color variants – black and white – starting today at a price of ₹4,979 ($80).
Murali Retineni, Executive Director, Celkon Mobiles, had this to say during the launch of the Celkon Win 400:
Design
For a sub-₹5,000 smartphone, you expect mediocrity and 'good enough' build quality. On unboxing the Win 400 with a similar expectation, I was surprised to find a nice looking, decently built smartphone. It's all plastic of course, but doesn't look too 'cheap', and the design and the minimal aesthetics work well for it. I used both the colors, and particularly liked the white one.
The 4-inch WVGA display is decent, and although the touch isn't the best in budget phones, it works quite well and the navigation and scrolls are smooth.
Hardware
Like all budget Windows Phone devices, the Win 400 is powered by the Qualcomm Snapdragon 200 1.2 GHz Quad-core processor. The RAM is a modest 512MB and the internal memory is just 4GB (expandable using microSD card), but I wouldn't complain about those specs in an entry-level phone when more expensive phones with similar specs are available in the market.
For the little that I played with the device, I didn't notice any lags or delays in scrolls or browsing webpages. Yes, there's a few seconds of loading/resuming when firing new apps or switching to ones in the background, but that is understandable for most budget to mid-range devices.
I'm not sure of the 1500mAh battery, but the company asserts that it lasts an entire day easily.
Camera
For most budget smartphones, camera is the least of my considerations. Not because I don't go clicking around and share my meals on Instagram, but because most of these devices have a shoddy camera. The Win 400 has a decent 5MP auto-focus snapper at the back though. In good light conditions (and that's the only time I've got with the device), the photos are bright and colors are true. There's little graininess when you zoom into the photos or see them on a larger display, but for most social sharing, it works fine. There's flash as well, but I haven't tried it just yet. There's a 1.3MP front camera, that is decent for an occasional selfie, but I wouldn't expect much from it.
Software
The Win 400 sports the barebones Windows Phone 8.1 experience with no first-party apps built in. There's only one third-party app (Truecaller) bundled in. Of course, there are Microsoft services like the MSN apps, Skype, OneDrive, and OneNote.
Out of the box, the phone has only 1.66GB of free memory. A memory card is a definite need for most practical purposes.
Summary
It's early to make a judgement, but for the price, the Celkon Win 400 looks like a great device. It's moderately powered and has a decent build quality, and looks quite okay – things that make a great affordable phone. I'll take it for a spin for a few days, and see how it performs in the real world.
What are your thoughts on the phone, its design and internals? Let us know in the comments.
Affordable windows phone. But I'll go for lumia 530 instead of this. 530 is missing led flash and front camera.

You don't have to wait too long dude...... 535 is already available in my local Nokia priority shop for a paltry 8800 Indian rupees.... That is even less than the online price....... :)

I already have 925 so I'll go for 530 for low price ;)

Y 2?? Wait for new flagship with w10

New job new sim card so 530, cheap and good looking

Flagship in India lol. Still 930 isn't available on flipkart

Already wait till the 535s hit the stores, then the cost of 530s will have a considerable drop.

I didn't expect this good.

It wont be that bad too :) I hope

Good to see local support for WP devices. Hope this momentum will increase day by day :)

It's even better than Lumia 530! Of course it will miss the Lumia collection apps & camera quality, but at this price it's definitely better than 530.

But those apps can be downloaded

First Download Lumia system updater app from app store>>open it>>will see list of Lumia apps>>download one by one :)

Thanks a lot. Will try on my father's Xolo winQ900s.

Do let me know if it works. It worked on my friend's micromax wp device. Good luck bro :)

G to shop and ask them to show you - easier that way.

Shopkeepers don't have a clue

Nice. I do wish 8gb was the absolute minimum of memory for Windows Phone though

You don't need 8gb. WP apps can be installed in SD card.

and with Denim, WP 8.1.1, you can even download the full OS update in the SD

Yes,after Lumia denim, you can Download OS update on pc.

Look at the label on the box...... Windows 8.1 LOL :D

I believe this marketing ad has been approved and initiated by MS with the forthcoming one OS for all devices.

What is it exactly to laugh?
They're going to merge both the OSs. So its fair enough to write win8.1 instead of win phone8.1
Even the htc's one m8 is considered a "Windows" device, not a "windows phone".

Same bullshit low end phone..

Don't underestimate the role of low end phones :)

Don't underestimate the power of low end phones ;)

L635 is way much a better buy still waiting for 535 to hit us markets so I didn't pick up l635

I reckon that the Lumia 530 does not have a proximity sensor while this one does. That is a glaring omission from Nokia imo.

Nice...so Windows has breached the sub 5k market...now get more sub 10k handsets from local manufacturers n you are talking market share...would be great if Microsoft could get Xiaomi on board !!!

Abishek : How's the front cam, and back cam. Compare the perfomence with 530,


Good price, but I'll try to stay away from phones with 512mb ram, I have a really bad feeling about them

Sure You have not hands on a Windows phone with 512 MB ram; it is much fluid then 1 GB ram with Lagdroid OS.

It's better than Lumia 530, yeah it miss Lumia apps and brand, but it's better than links 530, miss the front cam on my Lumia 525 sometimes, looking for upgrade but waiting for WP 10 devices

i think its better to cover the IMEI in the pictures
Windows Central Newsletter
Thank you for signing up to Windows Central. You will receive a verification email shortly.
There was a problem. Please refresh the page and try again.