Find my car - hands on with HERE Drive's new feature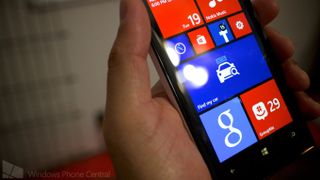 In an update last Thursday, HERE Drive added several new features including 'Find my car.' It does exactly what it sounds. It helps you locate your parked car using maps or LiveSight. We tested it over the weekend and put it in front of the camera. Check out our hands-on video with the new feature after the break.
The new 'Find my car' feature does not require you to manually save your car's location. It automatically saves the location of your parked car based on when you stop moving. When you arrive at the destination, just do what you normally do; turn off the navigation, leave the car, and go on your merry way.
When it's time to go back, the 'Find my car' option is accessible from HERE Drive's main menu. You can also pin it to the home screen. A map is shown on top along with the distance. There are options called Point me there and Walk there.
'Point me there' activates Livesight, which uses augmented reality technology. A live camera view appears with a compass and a marker pointing to your car's location. It also shows your distance to your car. You can use this to walk there, or you can try the other option, 'Walk there.'
'Walk there,' on the other hand, activates walk navigation with turn-by-turn directions. This screen should be already familiar to you because it's HERE Maps.
'Find my car' also lets you add and see details such as photos and notes. This could be very helpful in huge parking lots. You might want to include parking lot numbers or levels.
Overall, we're fans of 'Find my car'. There are similar apps available from the Windows Phone Store, but they usually ask you to manually save the parking location. We're glad that HERE Drive automatically saves it for us at the end of navigation. On the other hand, your car location will not be saved if you do not use navigation or open HERE Drive.
We recommend pinning the option to the home screen for quicker access. This is much faster than going through HERE Drive's menu.
'Find my car' is part of HERE Drive (Non-Lumia devices, right QR code) and HERE Drive+ (Left QR Code) from the Windows Phone Store. Check out this page to see if your device and location are supported.
Have you tried 'Find my car' yet? Does it work well for you? Let us know in the comments!
Facebook notifications? O_O

I was thinking the same thing :-0

What did they start working????

Haha, I came to the comments section for this!

Only the message notifications work

Sometimes,if u r lucky :P

This reviewer sure a lucky person. Hahaha \o/

It wasn't until today that I realized how to get the location of my car changed on the feature. If you arrive some place other than your destination your car's location won't change from the previous saved place. You have to actually arrive to your destination for the Find My Car feature to save the current location.

I guess, its not much of reaching the destination, but its about being on a route, then stopping navigation, then exiting app. That will save your cars location. Although i think they should add a manual button to save your location, just in case someone needs it, i know i did.

I second that! For instance, many of us don't need to use GPS from home to work, so a manual option would be appreciated.

Using my commute saves the location. Also, I noticed that if you simply use the app, but have no destination set, it will remember where you stop as well.

I think the problem is if you are currently in indoor places. I'm testing.

Still stupid that I can't just the mark the location of the car. Less complicated, less assumptions and more logical.

No Pusheen cats? Come on, dammit.

I was messing around with this the other day and didn't realize you could pin it. Nice video once again!

Can't find a way to pin it.

When you open find my car fron here drive, it gives you three options I believe 1 is for taking a picture, 1 is for entering in details, and the last is for pinning find my car to your start screen

I wonder if it can help me to locate my car at multistory shopping mall. Sometimes i have troubles locating in in those ones. Other than that i dont usually forget where i parked my car, seems like an app for those with Alzheimer's syndrome. But those usually dont use smartphones. They use bracelets with their address and a name on it.

What about us Nokia? i have updated the maps for our area last year yet upto now nothing has been done to synchronise map data on the internet and that on the phones. Even the Drive gives us a warning that our area is not yet covered and noone really knows when is the area going to be covered. Do i have to depend on third part maps ybecause have outdated HERE maps on my Lumia? or i have to go on internet, then whats the different with using GOOGLE MAPS????????

Just curious. Where do you live? Well i don't think its a bad thing they tell you your area isn't covered, they could have just given you outdated maps and then you'll blame Nokia for their accuracy. What Nokia is doing with here maps is not a must its just added benefit, no other oem out there does that and when you compare the lumia prices to the other smartphones, here maps doesn't even reflect in the price. I find it unfair to blame Nokia for something they aren't even charging you extra for.

I choose Nokia because of that, The maps that you access on the internet are different from those on the phone, we have been waiting for too long for them to make an update for the phone, Maps for the phone are not being updated, Ref http://m.here.com/#action=search&params=7D&bmk=1 This is where i stay, on the phone there are no street/road names.

I have the same issue where online there's high quality photos of my area but on my phone there isn't. The here maps iPad app is more up to date than the phone and has been for at least 6 months!

Nice vid. I'll definitely use this.

It would be great if WP just use Bluetooth to save your location. When you leave your car and you lose your connection to your car (The bluetooth profile that is chosen in drive mode setting), WP saves the location without having any app open. Then, you can open the map app to find your car if required. I don't use the Here Drive often but I like this feature. It is a shame that you have to have it open and use the navigation feature in order to save your location.

I was thinking the same thing about BT, but it might need further location refinement - since installing GDR3 and enabling auto-driving mode, I now realize how big my BT range is - I've had it squawk to life when I'm sitting in the house and my wife pulls up in the car, 50' + away. I'm sure that that refinement can be done, but figuring out how is way out of my pay grade.

How do you delete the car location?

Wat if I am not using navigation, will it sill remember last parked location? I doubt it but would like to know...

hi, nice video!! what is your charger in your car ?

To keep it short, Lumia owners from the US, Canada, Mexico, the UK, Germany, France, Italy or Spain are going to be happy.
Lumia owners are happy anyway. Other brand owners who live in these countries are happy to...

His phone seems slow/laggy?

Does HERE Drive+ depend on internet when used to navigate, i.e. showing you the route, where to turn etc?

What about in an underground parking in a mall for example (2-3 levels underground) will the gps connect :/

Does it help if someone stole your car?

No it just records the last location while here drive is open.

No. The app marks the place, not the car.

Maybe if they take your phone with the car? Better still if they steal you as well. Then you will know where both car and phone are.

No, you could however leave your phone in your car, under the seat, muted. If your car is ever stolen just use the "Find My Phone" tool online.

This is great. The app keeps getting better. Much like the Nokia/ WP8 system. Keep up the good work

How should the MyCommute live tile behave? I set one up but it is blank with the Drive logo on - should it only showing things when the times are correct for my commute? Here Drive is a fantastic app, way better than my £100 SatNav! And unless I'm missing something, can I set the Here Drive audio to route via the speaker and not via Blue Tooth? I'd like to have the app running but maintain my music on my head unit from my USB Pen, but this way I lose the directions as they are on the blue tooth input on the head unit which is not being played back.

I wonder when they release an app that tells people where their zipper is... http://www.subzin.com/quotes/Die+Hard/Your+zipper How do modern smartphone users survive? Has Darwin heard of this? ;)

What happens when you park in a subterranean car park and you have no GPS signal? :-(

Then you take a picture and write down notes. everything has its limitations

There should be option to navigate to the car location directly - as the crow flies. E.g. In the forest...

I use Here Drive all the time, in fact was one of the reasons I opted for a Lumia.

I tried using this when I got the update a few days back and verified again today that when I hit "point me there" the app closes out back to the app list screen. Anyone else have this issue? HTC 8X Verizon. The walk there option works fine. Cool stuff regardless!

Could have used this, when I was in Spain and looked for my car more than an hour.

It works great here in Brazil on Nokia Lumia 820. But When I parked at a mall, I didn't get the actual place. And the last saved palce continued there. I must do more tests.

I'm not sure (haven't tested it yet), but I think that it does need internet connection for a "in dors" location, since the GPS/Glonass signal can't work there.

I turned it on to check it out but it marked my start location as my parking space. I didn't realize you actually needed tod drive using Drive+ for it to work. This needs an option to set the parking space manually, and eventually reset it. Hopefully they will implement it.

Impressive addition. Nice.

There's an app for Windows Phone called "Radar" that's been around for a long time. It lets you manually mark locations and find your way back to them. Has an AR mode too. It's $2, but may be worth it for someone who wants this feature but doesn't like HERE Drive's implementation.

This is useless unless you're in a big äśš mall, I didn't see a demonstration of that...other wise common sense should take you back to your car!

Wanting to try it out on my Lumia - I have older 810 and a 521. HERE Maps picks up my home location quite nicely and even my work location without any issues. A lot of GPS programs do not pick up my wokr location very well. YMMV.

As others have pointed out, there's some great potential, but significant limitations to this - this is one of those instances where I wish that NFC wasn't so locked-down - it would be great to have a sticker on my dash so I could tap on the way out and have it note location that way.

So I guess, the next question is, what if I never open Here Drive througout the journey? How do I MANUALLY update my car's location after arriving at my destination?

this is why i love nokia!!!!

I dig the fact that the added the address once you get there as a cable guy, that is super helpful to remind you the exact address you went to in the first place. now they need to add if it on the left or right

Great question about multistory garage. I think you'd need an altimeter on your phone for that to work, and even still it may not be accurate enough. As others have pointed out, though, some kind of Bluetooth solution could work for this. Two thumbs down for the joke about people with Alzheimer's; not cool.

Worked perfectly for me today, when I genuinely forgot how to get back to the car park in an unfamiliar town.

So I actually have to be on a route within HERE Drive+ for it to save my location? I hope they change that! I don't need the GPS to get to most places, but saving my car's location in some instances would be helping. For example, at a mall, or an airport, or hospital. Does it save the car's location if you let HERE Drive+ run in the background?

How to delete your past car position at the map? I wanna reset my car place. Please help, thanks.
Windows Central Newsletter
Thank you for signing up to Windows Central. You will receive a verification email shortly.
There was a problem. Please refresh the page and try again.