Hands-on with Kazam's latest Windows Phones, the Thunder 450W and 450WL
Kazam as a brand is still less than two years old, but it already boasts an impressive portfolio of mobile devices. Covering Android, Windows 8.1 and Windows Phone, it's the latter of those three we're focused on here as we take a closer look at the latest Microsoft powered handsets: The Thunder 450 and 450WL.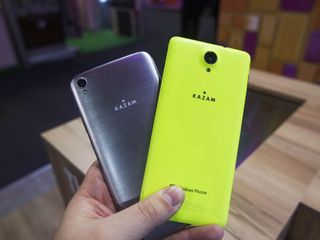 The Thunder 450W may be familiar to regular readers as the Blu Win HD. And that'd be right on the money. Kazam is one of a number of Microsoft partners using shared manufacturing and reference devices to bring Windows Phone to specific regions and price points. Blu doesn't sell in Europe, for example, so Kazam is the perfect partner here.
The 450W is available in the day-glo yellow color we've seen before, will be around €150 when it launches in various European markets and is still an interesting, lower cost device for someone looking for something a little different. Check out our first impressions of the Blu Win HD to find out more about this particular phone here.
The 450WL is a little different, a little more premium looking in appearance and, importantly, has LTE support. There's a smattering of the HTC One M8 style in its design, which isn't necessarily a bad thing, and while it's plastic all round there's a pretty tasty looking brushed metal finish to dress it all. Specs wise, here's what makes up both phones:
Specs only ever tell half the story. While we're already somewhat familiar with the 450W, the 450WL is something newer and something we like a lot. So much so that we awarded it one of our top picks of MWC. The 720p display at 5-inches is nice to look at, has great colors and great viewing angles, and is plenty sharp enough at that resolution and size. Interestingly it has a newer Snapdragon 410 CPU inside than some competing devices, including some from Microsoft. Whether this has any meaningful improvements we'll have to reserve judgment on until we've spent more time with it in the wild. And it should be available around the €200 mark, SIM free, network unlocked.
These devices bring Kazam's Windows Phone portfolio up to three, and with three Windows 8.1 tablets just launched as well, there's a healthy range being built up. Having sat down briefly with Kazam executives at the event, the future looks bright, too. A young company, sure, but a company full of ambition and with a commitment to working alongside Microsoft to make Windows powered devices. The people at the top have bundles of experience in the mobile space and that shows with what they're trying to do with Kazam. It's not just about the devices. It's about the brand, and it's one we're going to be following closely.
The exact details on the when, where and how much will follow at a later date and will be tailored specifically to launch windows in Kazam's targeted European markets.
Windows Central Newsletter
Get the best of Windows Central in in your inbox, every day!
Managing Editor - Tech, Reviews
Richard Devine is a Managing Editor at Windows Central with over a decade of experience. A former Project Manager and long-term tech addict, he joined Mobile Nations in 2011 and has been found on Android Central and iMore as well as Windows Central. Currently, you'll find him steering the site's coverage of all manner of PC hardware and reviews. Find him on Mastodon at mstdn.social/@richdevine
It looks like something that will rub against my palm and give me goose bumps. You know that feeling right?

Sense of humour bypass op went well I see.

It's smooth like a baby's bottom, though.

Dude, parents need to keep you away from their kids

The Kazam Thunder 450W sounds like the name of a Power Supply Unit, not a phone.

There is one actually"cooler master - Thunder 450w - "

It eats watts for breakfast.

Whats happening in Windows Phone ecosystem? New devices coming. Most of which are good. The sales are steady or dropping. The app developers are disappearing. Where are we headed? And everyone is saying lets wait for Windows 10. I mean really, what is the future of Windows Phone ecosystem? :(

:D I think Windows 10 is the tonic for me. :P

You can add to that the sky is falling.

Well app developers if release app for wp...they do not put their heart and soul in it...that really is horrible..... And latest.. Despicable Me dropped further updates....ugh!

There is nothing to update that game. -_-

HTC ripoff, the front side

You do know that the guys running Kazam used to be HTC, right? How do you know HTC isn't still using their original designs...?

I didn't know Kazam is run by ex HTCians... And besides the design is owned by HTC not these guys specifically...so they thought of starting a new company so they should have thought about new design too... I mean they started a new company right? So they could have have made up a new design too.. After all that's their forte...

actually its better because they didn't put LOGO where HTC does wasting so much space

Good looking phone at a good price.....waiting for the release in the UK.

Eh? Windows Phone written at the back cover? Shouldn't it be only " Windows" as the unification of all windows devices in one OS was the naming strategy put into action by Microsoft!

Was thinking the same... We're yet to see an official Windows 10 for phones device, though! ;)

Hazahh!! More mediocre phones!!!

Lower and mid-range phones make the world go around. WP would do well to have ten or twelve different models stocked in stores. Of course it would be nice to have one or two super-premium handsets at the end of that row. I hope I can walk into AT&T this fall and see a long line of WP devices from $50 up to $650.

I liked the green one. It's nice looking phone.

The 450WL may be a real challange for the Lumia 640 and 640XL. The 450WL has the improved Snapdragon 410 (I can't understand Nokia/Microsoft tardiness in keeping up with the latest SoCs). That SoC should give the 450WL a nice edge. The given external storage of 32GB must be a typo, as far as I understand the SD410 supports 128GB.

Well.. people go for quality..you see... Many phones have 8mp camera but they still can't beat a nokia(now microsoft) 5mp camera...And not only that but sturdiness and many other factors are responsible for being a tough competition for a device...

No people does not go for quality, they go for price. That is why Nokia/Microsoft has focused on flooding the market with cheap but hopefully more atractive low end device to take on Android. Thoose who may afford it can have the luxery of going for quality and that usaly is a phone above the 600$ Mark. Have you seen many Nokia/Microsoft offers in that price span lately? We should not look down on thoose chosing phones from the lower spans or trying to find a good offer from the various new WP makers. The Microsoft strategy is to build an foundation. That said I'm quite happy with my L830 waiting for a proper flagship.

If the 32GB isn't a typo, then it's a serious error in judgement on putting this thing out. Current microSD card slots should ALWAYS be set up to handle the largest possible volume, especially when using current technology in the phone. I have an old feature phone that limits me to 16GB. That wasn't a smart phone, so more than that wasn't needed. However, on a Smart Phone being manufactured today, to limit it to 32GB microSD is just plain idiocy. Sure hope you're right about it being a typo. The only other serious error I see is the placement of the camera... like the iPhone. I hate that corner placement. It's most prone to damage when dropped.

On a side note, several low-mid range Android devices still limit memory expansion to 32GB only.
However, many of them works just fine with 64GB cards.
Maybe, these devices, as having those chipsets can handle greater SD cards as well? Remember when Lumia 1520 was found successful using a 128GB SD card after months of releasing the device with an official "64GB limit" by Nokia?

Technically any phone with an sd can run a 2 terabyte sd card. The maximum it can support isn't the minimum. Posted via the Windows Central App for Android

Besides kazaam was a shitty movie

The problem with non- Lumia phones is they don't get updated at all or take ages to be updated. My Samsung Ativ S is stuck in the same version if OS since I bought it 2 years ago. Thus, you can have hundreds of WP8 manufacturers, yet very few will buy because it just makes sense to get an equally cheap Lumia & spare yourself the heartache of seeing everyone having new OS while yours is still in stone age.

Go to forum, there is official 8.1.1 update for Ativ S. I have it on my Ativ from November last year.
P.s. Our part of forum is now under "archive" not in Samsung devices.

Archive huh?
Even the forums has abandoned the device. It should be back under Samsung devices. The Ativ is an awesome device. Posted via the Windows Central App for Android

Give something comparable to my 1520

Shame blu not heading to uk! Wonder why? I think it would do well.

You are right Ms Aggarwal ! I have a Lumia 730, a Lumia 720 and a Lumia 520. The first two have the most breathtaking camera results ( exactly similar cameras on both ) , but the real star is Lumia 520. Though it lacks a flash, its day time camera results are quite simply the best I have ever seen in a 100 dollar entry level phone !! Its also in the brand and the effort/ research eavpch brand is capable of, and Nokia was second to none...

Love the Yellow colors, which it was high-end and in Sweden.

I love that "Windows Phone" logo written at the back. Should've been just "Windows" though.

S410 has up to 1.4Ghz processor tho, maybe W10 will support it with 64 bit being available

The yellow one looks and spec wise is the exact same as my backup phone, The Blu Win HD.

Yup. Same exact phone, no less. Xolo also just launched it in India. Several Microsoft partners share designs/manufacture but target specific regions.

I am glad that Microsoft has new windows smart phone OEM's but I still feel that Windows smart phones really need an app that allows them to access and use Android apps to increase their sales. I urge microsoft Programmers to make one and put it in the Windows smart phones store so all windows smart phone onwers can get it and use it. I donot trust using open source Apps as much Apple or Windows programs because Hackers have an awful amount of info on how to make apps that are security risks or will wreck your Android device. Microsoft has a new division that is working to see that people get safe windows programs and Apps. I think that microsoft should have a section of their store tha has ONLY Apps that are pretested to be safe and work as advertized. this way a microsoft device user will have a safety option they really need in these days on Internet Bandidos.
Windows Central Newsletter
Thank you for signing up to Windows Central. You will receive a verification email shortly.
There was a problem. Please refresh the page and try again.