BLU Win HD Windows Phone - Unboxing and first impressions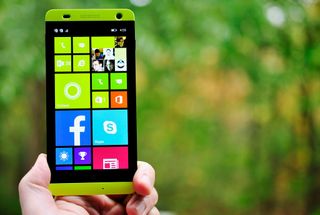 We're taking a look at the $179 dual-SIM Windows Phone from BLU!
BLU is starting to make waves here in the Americas with their Win line of Windows Phones. Both the Win JR and Win HD offer customers yet another viable option for jumping on to Microsoft's growing platform while on a budget.
Previously, we showed you the Win JR, an $89 Windows Phone that left us impressed. Today, it is the Win HD, its bigger and much cooler looking sibling. Running for $179 on Amazon and Microsoft Stores (soon), the Win HD is one lovely looking Windows Phone.
Let's see what it is all about!
Win HD Specifications
Qualcomm Snapdragon 200 1.2 GHz Quad-Core, Adreno 302 GPU
Windows Phone 8.1 OS (build 12400)
8GB Internal Storage
Micro SD Slot up to 32GB
1GB RAM
2200 mAh battery
5.0-inch Display (720x1280); 293 PPI
8MP Autofocus Camera with LED Flash, 1080p HD Video Recording, 2MP front camera
Bluetooth 3.0
Dual-SIM
Colors: Yellow, Orange, White or Magenta
4G HSPA + 42Mbps 850/1700/1900: Nationwide AT&T: Cricket Wireless, Tracfone, Straight Talk, Net10, H20 Wireless, 420 Wireless, Black Wireless, Consumer Cellular, Pure TalkUSA, Red Pocket, Telcel America.
T-Mobile: MetroPCS, Lyca, Speedtalk, Go Smart, Simple Mobile, Net10, Straight Talk, Solavei, Ultra Mobile, Telcel America, Walmart Family Mobile.
Just about every feature of the Win HD is impressive for its $179 price tag save the Snapdragon 200. Although 1.2 GHz quad-core processors handle the Windows Phone OS just fine, with the slower GPU on board and more pixels than typically found in this genre, the Win HD can have some choppy performance. Still, it is far from a bad experience.
The other limiting factor is although the Win HD is dual-SIM, you are limited to HSPA + and not LTE. Therefore, although you can use this on AT&T, T-Mobile and other budget carriers, you are stuck on a slower connection. Whether or not that is important to you will vary, but it is something to consider.
In the box
Like the Win JR, BLU tosses in an excellent assortment of goodies into the box, including:
Two screen protectors (one already preinstalled)
TPU gel case (matches color)
Stereo headphones with microphone and call-answer button
USB cable and AC wall charger
You may not necessarily use all of those things, but it is certainly great to see them in the box. Kudos to BLU for taking the lead on giving customers an all-in-one experience.
Quality
The quality of the build for the BLU Win HD is quite reliable, in my opinion. Sure, the HD is plastic and the display it not Gorilla Glass, but the phone looks great (even if it borrows heavily from HTC's design language). In fact, I'd go so far to say this is one of the nicest looking Windows Phones around, and I am sure a few of you would want this with some higher end specs on board.
The display looks fantastic, even if it does not feel as smooth as a higher-end phone. Colors are bright and contrasty and once again, the display betrays the budget price tag of this phone.
Camera
The Win HD comes with an 8 MP rear camera and a 2 MP front-facing camera. Neither are spectacular, and the resulting photos are washed out. Still, if you consider the pricing of this phone, the bump in resolution for either camera is welcomed.
Updates
I was pleasantly surprised to see BLU delivering an over-the-air update to the Win HD for new firmware. The OS is still at build 12400, but the firmware was bumped, presumably for bug fixes and optimizations.
The Takeaway
The BLU Win HD is an interesting phone. It looks much more high-end than it should for a $180, in fact, this is perhaps the most jarring part about the Win HD. It looks the part of a flagship, but it performs as its price tag suggests. This discrepancy is not a bad thing, per se after all, shouldn't people on a budget get a sweet looking phone too?
Overall, the BLU Win HD impresses us with their careful pricing but unique designs and colors. We will have more on this phone in the coming days, but if you have questions, sound off in comments. Make sure you watch the hands on video for a more detailed first look!
Windows Central Newsletter
Get the best of Windows Central in in your inbox, every day!
Daniel Rubino is the Editor-in-chief of Windows Central, head reviewer, podcast co-host, and analyst. He has been covering Microsoft since 2007 when this site was called WMExperts (and later Windows Phone Central). His interests include Windows, laptops, next-gen computing, and for some reason, watches. Before all this tech stuff, he worked on a Ph.D. in linguistics, watched people sleep (for medical purposes!), and ran the projectors at movie theaters because it was fun.
Nice phone indeed, but I wonder if the Snapdragon 200 is powerful enough for the 5-inch 720p screen.
Any info on the battery's capacity?

The video is not showing as an option on the WPCentral Windows Store app. Also, "Taka Away"? o_0

Is this Qualcomm quad core faster than the Qualcomm dual core in my 8x?

Not really, though it does perform better for loading of big games. Every day usage, your 8X is likely faster still.

looks like a HTC M8 without the HTC logo :D

YUP SAME IN WHAT'S ON MY MIND XD

Seems better than Lumia 520 and 521!! And for that price? It's worth it. Thanks for the great review

I can tell you right now anything's better than the 521. I've got one and its pretty laggy with 8.1 and it seems to be running a little glitchy with the latest build I wonloaded a few days ago.

Same with my beloved 620. I was going to keep it at 8 but the camera in my 1020 got messed up so I sent it to Nokia and the 620 I use mainly for the gym(ZuneHD replacement) I am temporarily using full time. Texting old school WP forced my hand and I updated it. HUGE mistake! My phone seems slower with more resuming and just kind of buggy. Hoping I can downgrade it once I get my 1020 back.

I got a 521, and I reset it after this last build and it seems a lot better now

I had to do the same thing to my 920. But it fixed most of the issues.

Only if it had the snapdragon 801

Seriously and LTE. Of course, I'm sure HTC is rolling their eyes (and rightly so).

The design looks like M8...

Looks like the One M8 and the 8X had a baby.

Nice looking phone but I will stick with Lumia phones for the present time.

Wonder when we will see the other colors of this device become available, wouldnt mind grabbing a white one. Seems to be only yellow available on amazon currently.

No Gorilla Glass? I think that's a deal breaker for me, GG is so smooth and durable.

Why I might get a Lumia 635.

Yes, but the GG in the 630 smudges do easily

But the Baboon glas is also not bad according to DaRub. Besides, wether Gorilla or Baboon, all are Monkey glasses. /s

To marantaz and anybody else thinking the lack of GG is a deal breaker - the anti-smudge and anti-finger print effect is a result of oleophobic coating applied to the glass. Just search Amazon for Fusso Oleophobic coating kit and apply it yourself. No more fingerprints. That coating wears off on even the flagship phones (HTC One M8, iPhone 6, etc), so it needs to reapplied regardless.

How is the speed compared to the Jr? I figure since the screen is a higher resolution, it would actually run worse compared to the Jr.

It feels choppier if scrolling fast, especially back and forth. It's not bad, but not amazing either.

Daniel, even my 1020 feels choppier going back to the start screen. I'm on Cyan + latest DP. Missing the good old "buttery smoothness" WP is known for. Do any of your devices(old or new) exhibit this? Is it a common complaint? If so, do you think 8.1 in general needs more power or is it some bug that could be fixed? Thanks!

I have heard that hard-resetting can help this. My 1020 and esp 925 seem smooth to me with Cyan and Preview installed.

Contrasty? Really? Come on man...

Are you implying that it isn't a word? If so, you're wrong.

So, am I reading correct that this doesn't work on Verizon?

If it doesn't say Verizon on it, it won't work with Verizon.

Ok, just got the Lumia 630, considering the jump to this phone. I would like a more in-depth review, including battery life and camera performance.

If only came with the S400... then the Win HD could be a true WP mid-end option.

If it had a s400 I definitely would have bought it. Now in terms of speed it' wont be a lot better than my 520 so I think I'll wait a little while for some other new phones instead of the too expensive 735

They probably mean "The Takeaway" which refers to impressions or conclusions.

Looks like a cheap HTC One.

From the video it appears that this device operates reasonably smooth. Seems like a good option for the budget minded. And please, don't compare this to a Lumia 1520. Accept it for what it is, a solid lower midrange offering from MST that should hopefully push sales in a big way.

I see it green, does it really looks yellow or ... D:

Every picture and video of this looks very green.. Even on the Amazon page it looks green.

Would love to get my hands on that phone. Any giveaway coming up?

Yes, please! Don't have the funds for one right now,and really want one bad!

Shame its only available in US looks a nice phone for people on a budget!

Ofcourse it's available for sale in the Americas, but you can as well order one if you like it even though you're not a Gringo. Amazon.com delivers to Europe too. I mistakenly bought the ATT 520 after a report here to found out it was locked. I use it to stream plex anyway. Can't spend 60 EUR to unlock while I can get the phone for that price now.

It doesn't support the frequencies you'd want for Europe, though.

The Win JR at least - and I presume the Win HD - clearly state it only ships within the 50 states of the United States.

Your hands are so big. My 925 is so huge. Had to sell my 920 because it hurt too much to hold. Wish there would be some thinner 4" Windows Phones with better displays. The 520 is a fingerprint magnet, and quite thick.

Reminds me of Burger king commercial. You know which one I'm thinking of. LOL

LMAO I know exactly what BK commercial your thinking of!

I'm glad we finally have a proper look/review of this phone other than that horrible PhoneDog one.

Tell me about it... That BeauHD is the worst guy ever! He should be at Phone Arena along with that bitch Jon (I believe that's his name); what an asshole that guy is!

Yeah, that review was awful. The kid didn't know nothing about WP. And this review made me forget about this Win HD. Lack of Gorilla Glass and a good processor to handle the screen resolution is driving me to Lumia 730/735 again.

Wow, my another favorite :-) What a look..........

That's cool that they delivered a firmware update already. Makes me feel confident in buying one. I'm interested in that orange one.

A head to head with the 635 would be nice.

Yes, my 630 vs the BLU HD would be interesting

Nice looking budget phone!! This would hopefully get more people on WP platform.

I'm in Miami and have yet to see any of these devices advertised. Not even at the local Microsoft Store here. I'm thinking these are defnitely more geared at South American porspectives.

If that's true I don't know ehy they sell them only in US...

Immigration Policy. Thank Kennedy

Is sure hope this leaving off the camera button thing does not start to become a trend. I hate the idea of not having a button and having to use an on-screen interface exclusively to take photos.

Brilliant looking device, the experience on Windows Phone ranges from good (520, 620 etc) to great (720, 1020) all the way to superb (930 1520) so basically, there is hardly a single Windows Phone that could disappoint in regards to OS experience, for bells and whistles however.... You must pay

This might be one of my favorite windows phones design wise. Really like it. Posted via Windows Phone Central App

Nokia used to come worth covers in the same color as the phone too, at least both mine and my brothers 800 did. Don't know why they stopped doing that. It's nice to see someone else doing it though.
If this comes to Sweden I might pick it up as an extra/backup phone.

Dan, could you post a picture of the phone with the case on? Thanks!

With* (not worth. silly auto correct)

Excellent phone for the price! For what's being offered for the price, it's hard not to like it.

My only question is, being new to Windows Phone and currently using a Lumia 920, how do OEM's like BLU handle updates? I've heard and seen Lumia Denim is coming but will only Lumia phones get it? Or, since Microsoft owns Nokia, is it just the name for the next OS upgrade overall since MS owns the Lumia name? Do non Lumia phones also get the Windows Phone updates?

Denim is the firmware update, which former Nokia would release to enhance the OS experience on top of the software -- this update along with Cyan, Black, Amber ate exclusive to Lumia phones. Now, the updates like 8.0, 8.1, 8.1.1, etc. are software updates released by Microsoft to all (most of the times) devices. Hope this clears your head.

Thanks, it does give me some food for thought. I'm liking what's in store with the upcoming Denim and would wonder how long (or if) those enhancements would also make it to Windows Phone in general. I'll wait for an official US price/availability for the 830 or 730 before deciding. I really like my 920, just want a little more screen real estate without having to go the 1520 route. Five inches feels looks and feels like the sweet spot for me.

When it says Lumia Denim, why do you think it would work on other Hardware order than Lumia? Have you use canon printer drivers to power HP printers before?

For those needing a snappy little smart phone on a budget this is great. Not overly powerful but gets the job done. Pitty it will not be available in Canada.

Does Canada ever get something? No offence, but I always see Canadians complaining. Is the situation that bad over there?

this is blackberry country, never get anything good Windows Phone - if you've got an unlocked One M8 I will swap you a "Passport". I think MSFT has abandoned us, despite being 30 miles from Vancouver....

I totally agree. Waiting on blu , HTC and Lumia to bring it on here for us

Canada has been brutal for windows phone. Right now the best windows phone we can get is the lumia 1020. No icon, no 1520, I don't even think we have the new HTC. But the blu Jr is available on the Microsoft store for Canada, and I believe this device will be available soon as well. I may pick this up to tide me over for a year as I ride out the rest of my contract. I went to android from windows phone and I hate it. I long for a windows phone e again. Hopefully by next year there will be better phones available for us canucks.

cannot find any windows phones on MSFT canada, but I am slowly coming to grips with buying my next Lumia / other on line (unfortunately I have not yet found a "gotta have it" upgrade to my L920) .... my wife has a Galaxy Note and I am tired of fixing it for her, gave our iPhones to the kids...they are toys, aren't they? Please, give me an upgrade path, I am not asking for the best phone in the world

Yeah I had to get my 1520 from eBay.

1) are you running that 1520 on Rogers? 2) which version (i.e. do you have Qi charging?) 3) how do you like it? I am asking because I am on Rogers, seriously tempted, but scared of 6"...

I got my 1520 through eBay and I am on Telus. It is the 1520.2 with qi charging by only 16gb because of att branding. I love it... It's fast does not hang up. Solid performer. And it doesn't bend in my pocket.

The Blu Win Jr. is available through https://www.windowscentral.com/e?link=https2F%2Fclick.linksynergy.co... in Canada, and this one probably will be too.

thanks, now if only they had the One M8 or 1520

I was in the Microsoft store at Square 1 mall in Mississauga yesterday (10/7/14) and the Win Jr. is there, for $89 plus tax. I played around with it and it is a great phone. The Win HD may be making its way here, not too sure yet. Only Microsoft stores in Canada can sell BLU (from what I was told).

I don't need it. I probably won't like it. But dang, I want it! Looks gorgeous!

why can't we have "looks great" and "performs great", sigh...(love the look of this BLU, but any new phone has to perform equal / better than my L920 for me to even consider)

How long did it take to boot?

Loving the great options the keep popping up for Windows device fans, just need the carriers to carry them. I will remain a first party hardware user though. I want to give the wife the 1520 some day and buy the flagship Windows Windows 10 device!

This may be my son's first smartphone. He doesn't need anything high-end. For the price, this might be the middle ground I was looking for.

It's an awesome looking phone

Damn that phone looks sexy.

1 GB ram is huge. Tradeoff is the processor. Put in a snapdragon 400 and make it $199 and watch out Lumia 830

Kinda wish I had gotten this for my son (10 years old) instead of the Lumia 635. Of course, I bought the Lumia for the Fitbit which I was going to buy anyway, so in essence got the lumia for about half of what this phone costs. But still, the 1GB RAM and front facing camera makes this a better deal (assuming bulld quality is OK, which only time will tell I guess).

Lumia 635 has LTE, this is 3G. The 635 is single SIM, this is dual. Advantages both ways.

Good point, however in my case it doesn't matter since data is only used on WiFi.


Windows phone makes those phones run better than most android flagships

Looks too good maaaan.....please launch this in India as well.....

Wonder if the UK will ever get this?

This kind of Lumia competition is really interesting. Do these BLU Windows devices also come to the European markets?

WHts the point of having win phone which cannot run Nokia Drive --!

False. All Windows Phones, regardless of manufacturer, can run HERE Maps and HERE Drive+. I can install these on the BLU Win HD.

It's true that you can run Here Maps and Here Drive+. However you are required to buy them, unlike with Nokia phones where the HERE apps are free.

Wait, what? Why would you have to buy Here maps? I thought it was free for all WP devices, Lumia or not.

They're free on HTC's, so I'm pretty sure they're free for all Windows phones.

is this phone recive updates as nokia lumia devies

If they're gonna copy an android design, I vote for their Vivo IV, or even Life Pure XL. The specs on these would challange any Lumia for the top high end flagship phone.

can't find any informations about the SAR. do anyone know something about the SAR, please?

"4G HSPA+" HSPA+ is 3G and you mention that it doesn't have LTE, which is 4G. So how does "4G HSPA+" make any sense?

T-Mobile (U.S.) has referred to its HSPA+ network as "4G" or "4G HSPA+" for quite a while because of the speeds it can attain.

Very nice design, i like it. But photo sample....

I've got to say this phone for being considered a budget phone, sure packs add ons that really do 'add on' value and usefulness to me. I LOVE the color combos and wish there were more oems that would do this instead of all those exclusive colors to carriers. All in all a neat phone and unlocked for that price makes it a really repectable package that I'd even consider looking at.

It is so cool that they include two screen protectors and a case. I would love for more OEMs to do that but I know that's not going to happen considering that companies continually have to cut costs to compete and make a profit.

Does this phone support Korean for system language?

Just bought this phone and I'm hugely impressed... It's significantly faster than the 620 and surprisingly on par with the 1020 and 1320 (a bit faster even for games but not browsing it seems). Plays Asphalt 8 and Dead Target just fine... I was certain I heard there was lag/problems. Only issues are that the phone back cover creaks sometimes and the touch screen is insensitive when charging (not so good when gaming while plugged in). Some parts near the edge and the USB port do not even register. Read this review earlier and thought to report back ;D

I bought three of these in early December for $99.00 each (our local Microsoft Store was running a one day door buster promo). I figured if they didn't work out, I'd just toss them or pass them on, but boy was I surprised! Totally nice and a STEAL at the price I paid. Seriously, if people bought phones based on NEED and not marketing hype, these would probably outsell Apple and Samsung combined. Alas, we are an emotionally driven species, so I'll keep my own in check and enjoy these bargain phones with my family (and the no-contract plan from T-Mobile).

I would like to know... How long does the battery last??
Windows Central Newsletter
Thank you for signing up to Windows Central. You will receive a verification email shortly.
There was a problem. Please refresh the page and try again.