BLU Win HD is now available on Amazon for $179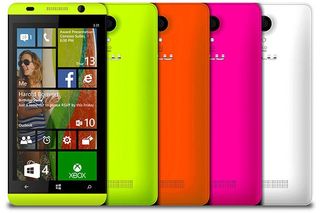 After launching the Win Jr earlier this month on Amazon, BLU is now selling the Win HD on the site. The Windows Phone 8.1 toting Win HD features a 720p display and is available unlocked and off-contract for $179.
For that price, you'll get a 5-inch 720p display, 1 GB RAM, 8 GB internal memory, microSD slot up to 32 GB, 1.2 GHz quad-core Snapdragon 200 CPU, 8 MP camera at the back, 2 MP front shooter, Wi-Fi 802.11 b/g/n and a 2200 mAh battery.
What do you guys think of the Win HD? Anyone interested in buying the device?
Windows Central Newsletter
Get the best of Windows Central in in your inbox, every day!
Harish Jonnalagadda is a Senior Editor overseeing Asia for Android Central, Windows Central's sister site. When not reviewing phones, he's testing PC hardware, including video cards, motherboards, gaming accessories, and keyboards.
I think it would be good to carry as a backup phone to a more powerful device.

For those who have that extra buck

The throwaway culture is strong in this one!

Love the star wars reference!

Looks like it copied the HTC one design.

I could be wrong but I think HTC and Apple have an "agreement" in place to show these similarities in design. Perhaps this fondant has the same deal with HTC.

It has a better battery than my 1020 D:

one of the thinest windows phones.. Just 7.6 mm

Seems slower with a Snapdragon 200 and 720p resolution

True why didn't they go for the 400 as they are using 1.2GHZ strange don't you think

Agreed. SD 200 is the only downside. Use SD 400 (and rise the price a little bit) and it would be a cheap 730 contender (if we disregard the camera).

This has a better camera. But the quad core processor is pretty zippy, I have it on the 630.

Only because it has more megapixels it doesnt make it better, if 730 is at least the same as 720, it is proboably way ahead specialy in low light ;) oh and 630 has a SD400 chipset.

Like Andraz has pointed out. This 8 MP camera probably just a standard 8 MP sensor. Compared to 730's BIS (Back-Illuminated Sensor), it's picture quality will be below 730. I've seen 720's camera result (shared by many users). I've seen Zenfone 5's camera result (my wife use it, which also incorporate BIS). Both have stunning result, specially in low light. So unless this 8 MP sensor is BIS type, I doubt it will beat 730's camera. Oh ... And don't forget with Zeiss lens. Lenses always play crucial part on image quality.

What OIS? According to Phone Arena, 730 does not incorporate OIS. At this price point, I think this BLU also doesn't incorporate one.

What carriers will this work with in the U.S.?

Does that include Metro PCS & Cricket?

Anything that works with at&t works with cricket.

And anything (unlocked) that works with T-Mobile works with MetroPCS. :-)

If the device is unlocked it will only work on GSM

Not true. If the same LTE bands are supported in other carriers, you can get it there, too.

From the Amazon listing: 4G HSPA + 42Mbps 850/1700/1900: Nationwide AT&T: Cricket Wireless, Tracfone, Straight Talk, Net10, H20 Wireless, 420 Wireless, Black Wireless, Consumer Cellular, Pure TalkUSA, Red Pocket, Telcel America. T-Mobile: MetroPCS, Lyca, Speedtalk, Go Smart, Simple Mobile, Net10, Straight Talk, Solavei, Ultra Mobile, Telcel America, Walmart Family Mobile

Nice, might get this as a replacement for the ATIV S for my Daughter this Christmas or her Birthday early next year.

Why would you replace an Ativ S with this?

I guess because it's cheap

Cheap yes and her ATIV S screen is cracked.

replace her device with a 630 or even 730. way better software support..

She wants a 5in screen (T-Mobile),

Because that's what he wants...... Why question someone who is spending their own money and not yours. Oh, that's right, you don't have a brain and only you can choose the platform you want and no one else can right?

This phone has nearly double the 630 specs all around.

The issue with this phone is the sd200 might have a hard time pushing a 720 display, so it might lag constintaly

Why isn't it available in Europe?

because it's a small company... they might be able to export it someday to Europe but of course their main focus for their cheap phones, it's US. also exporting phones and not selling them becuause everyone ignore who Blu is, well, it wouldn't be a good thing for the company.

It's ok there are some small UK companies making wp phones too...not the same I know but hey...such is life! ;)

Because the frequencies it supports are wrong for Europe. And the Americas (and Windows Phone is popular in South and Central America) don't have devices like the Billy 4.7, as that's European focused, so Blu is filling a niche. Surprisingly not addressed in the article, but this was originally specced to be dual-SIM. Hopefully it still is! If so, I totally want it. :-)

Really? I thought it was a quad band. Okay. Sorry I can't get one. Thanks for the clarification.

Quad band, sure, but what four bands? There are three bands commonly used for 3G in North America, three or four others in Europe. None overlap. The only overlapping band is LTE band 7 which is used in Canada, Asia, and Europe (though not the U.S.). The only time quad band means a worldphone is with 2G. And I don't know about you, but I don't want to go back to 2G speeds! :-)

As powerful as an iPhone 6. Good job for 10% of the price.

Really, Snapdragon 200 CPU?

Huh huh, spell it Texan N A W, naw

Getting a Lumia is better

Yeah I would miss all my Lumia apps

Not if its the 928, I'm on my 3rd one and only had it 3mths....

I would but for someone else, especially the pink one.

You can't decide what present you get, or do you ? ;)

+1 Posted via Windows Phone Central App

Sounds like a good deal to me!!!

Looks like an htc 8x clone

I was thinking more of an m8 lookalike, just more colorful

The iPhone 6 & + copied the HTC one m8

Close, but still 8X has better spec, although it is 2 y.o.

I will never change my HTC 8X for this one.

After buying HTC oneM8 I thought the money didn't do the justice. It wasn't a huge upgrade. That tells me my 8x was ahead of its time when it got released. So I am returning it and gonna keep using 8x when something better cones along :D

I won't either, but I'm so sick of this unsupported 8x, I'm about to use ATT's jump or next plan to get the 1520 if I don't hear something soon about a new flagship windows phone. It's about to be October and while I like the 730, 735, and 830, they affect powerful enough or available in the US...... Nokia takes forever to make phones available after announcement, something I hope Microsoft can correct soon.

Yes, actually considering getting one of these. Have to check the reviews on Amazon.

I'll pass. I'm going to stick with my 1520.3

But.. Why only 32gb micro SD??? My card is 64

That's what took my eyes away from it was the 32gb max SD slot. The speakers also look like they're low quality and that camera is too bulgy to only be an 8MP shooter.it look like 13MP.

The specs are awesome for how cheap this is

Cheaper mainboard. I guess.

@swizzlerz, gsmarena has the specs as 64gig sdcard.

Pretty expensive for that honestly

$180 out the door no contract thats not expensive compared to a 520/521 at $50 or 635($130) with a wga displays 512ram 1 camera BLU is a much better deal

And their phones are quite nice too, I've friends that bought the Android ones because of dual sim, and the build quality was surprising plus they are very lightweight.

There can be performance issues because of that high display and use of low processor

I may pick one up just for fun. Add to my WP collection.

Agree. The use of the snapdragon 200 kills it for me. Price it $40 higher and include the 400 CPU and they would have a customer. Don't forget the 200 also has a shower gpu I'm pretty sure. Prob ok for someone who doesn't care about specs. Still good to see all these new WPs showing up.

So this phone can be used in the shower?

You can of course use any phone in the shower. The problem is being able to use it afterwards...

Your response is truly rich. I am sure he knew that was a typo

I was replying to the comment above me! I don't think it was a typo.

Anyone from US can buy one for me and ship it to India? I'll pay 200% for it.

What seriously? Dude wait for L730 insted

You can try a service like myus.com or borderlinx. Ive used both but found the shipping carriers myus offers were more reliable

Great price for an unlocked phone

All phones should be unlockable at discretion of consumer. Unless I misinterpret https://www.congress.gov/bill/113th-congress/senate-bill/517/text

ATT still denies it if the device is under contract, went through this with 3 phone in the last 2 weeks. Not sure the bill applies to that.

Looks almost like a BlackBerry z10 for me..

Just snapdragon 200..?! nope..!!

Should probably buy two and send them to my brothers in Haiti

You're Haitian ? Thought I was the only one on this site who was Haitian lolol

For about $139, you can get a Lumia 920 Refurb that comes looking brand new. Hard to drop $179 on this tempting as it may be when you could get a phone of that callibur for less. Have been pushing all my friends who were thinking of switching that way. Granted, Unlocked, 5 inch screen and dual sim is nice... but the display and the camera on the 920 are hard to beat.

What I did for my mom, refurb 920 from Newegg

Where can you get a refurbished 920 for $139?

Deal Fisher on eBay or newegg

Awesome will be ordering one right away. :-). Update: Looks like it doesn't work with Verizon.. :-(

Nothing to do with the Lumia 730/735. I dont understand why BLU puts a S200 in that mobile.

Snapdragon 200 kills it for me. Like others, if it had a 400 for that price, or even a few $$ more, I'd consider it. But as is, a return 920 is a better deal. You can even, occasionally, catch a 1020 on eBay for that price range.

My 1520 screen shattered just yesterday after falling only a foot and a half to the floor. I was saving my upgrade for the next flagship, but went with the green 1520 instead. I would have considered this device at that price.

On att outright 1520 is less than 400 now like 359 and 1020 is 219 outright hard to beat those prices

The 1020 is $609 and the 1520 is $585 on AT&T's website right now. Provide links for the better prices if you would be so kind.

It's funny how the "discontinued" 1020 is more than the current 1520.

You can get return units from deal fisher on eBay or newegg. Like new 1020 is about 260, 920 is 139

I can't justify the 1020 or 920 with those small screens. Going from a 1520 to anything less than a 5-inch screen would be tough.

Check eBay, got my 1520 for $500

Are you make or female? If you're make, are are you using a case? Green is one of my favor colors, however,I just don't know about carrying a lime green phone everyday and a case will make this slim phone too bulky.

Male, I've never had a colored phone, but I've seen the green 1520 before and it is slick.

If there was a s400 in it, I would've bought it, that would have been great, now, the soc upgrade isn't worth it for me. It is faster as the L520 but not enough imo

It doesn't support Wifi ac?

I think the Blu Win Jr is the better overall deal.

I'll buy this one. That lime green is beautiful!

This I believe is a super mobilephone for about 70% of all people that will ever need such a device. The vast majority of us never come close to using a phone for all its capabilities. I'm a tech-junkie and I like all the bells and whistles as much as any of you, but after using the L520 for three weeks in place of my cracked screen L920, I am convinced that many of us are blinded by our wants of bigger screens, higher ram, more apps and "gotta have what they have features". Sure there were some tasks that were slower on the L520 and it did "hung up" in apps on a few occasions, but the overall experience was great. In fact, so great, that I confidently recommended this phone to anyone we asked. Evidently, the BLU phone is a higher performing phone than the L520, therefore I will recommend it without any hesitations. Good for Amazon, now lets see MSFT get them into carriers hands, Walmart and Best Buys.

Agree with you whole heartedly. The spec "needs" are getting way out of hand and are probably why so many companies are competing for the lower end. Most of the cheap phones will do most of what people need. I understand the want for higher end phones but these companies have to make money and the 520 made it loud and clear that a device priced cheaply that runs well is what grows your user base. BTW, love your name. RIP my sweet Zune.

That's why I got the 625 instead. :D I can not possibly put months of salary for a phone. Coming from a third world. :p I only did that with the N9. Will never buy an expensive phone again. Heheheheh

Spec needs are not always out of whack. Most reviews of the phone talk about the noticeable lag in performance. The SD200 was not meant for HD720 phones and has a hard time with that. There is a reason MS went with the SD400 on HD720 phones, and it wasn't for cost.

Reasonable specs that let the phone run with minimal to no lag are fine and it's okay to ask for that. We're talking about people who want octo-core Windows Phones when quad-core is barely the standard now and cry everytime Samsung announces a new phone with high specs that only a fraction of the populace will buy versus the cheaper phones.

I don't agree. I broke my 1520 while on vacation and bought a 635 for $100 from att to use until I got home. I was miserable :(

Btw , the price is slightly cheaper than the low end Lumia device with a good spec & better camera.

More megapixels doesn't make it better. I'd wager its worse results overall, but not until I see a review.

Looks like a pretty good deal but the colors kill it for me. If this phone is just going to be a back up for me, the S200 and 32 GB max doesn't bother me, the fact that I can only choose from bright colors does. Sad thing is, I need a back up device right now as the vibration on this 920 doesn't work anymore. This would've been perfect to hold me until the One for Windows hit AT&T and I don't want another Lumia.

I have a 920 to sell you until the one comes out if you like

This is a good way to introduce people to windows phone

Blu has gotten some good reviews with the Win Jr, so although this isn't for me, I wish them success with this line of WP's as well.

My concern is the same as everyone else's here: Can the Snapdragon 200 GPU handle a 720p HD screen without lagging? Hmm

Looking forward to WPC video review!

Definitely interested in getting this

I don't know what you guys are talking about but this is a great phone for a lot of people at entry level. Even those who just want a great experence with a windows phone, this will make the grade easily.

I was going to buy the 730 but I think this device will be a lot cheaper for almost the same specs. Can't wait for the release in Brazil. Posted via Windows Phone Central App

Nice phone. Real disappointment is its only Bluetooth 3.0, not the 4.0 which supports Low Energy (LE). With the advancement of wearables (watches, heart rate monitors, etc), you'll need the Bluetooth 4.

Fail! Moto x is same price Posted via Windows Phone Central App

You mean the Moto g? The Moto x goes for way more. Anyway this is similar in specs to the Moto g.

Oops, I did mean moto g. Moto g is much better phone for price. I hope they make lte version of newer model. Posted via Windows Phone Central App

Does this phone have notification light?

when i went on amazon to check it out they only selled it in yellow... when they going to sell it in white??


You probably want to ask the seller on Amazon that question. We aren't brain surgeons here...

So far I haven't seen anything better than the Lumia 1520. I hope they release another powerful windows phone in a year or so or maybe even more when I start thinking about replacing my 1520 for a new phone. But I plan to use the 1520 for a very long time...

Is the CPU better in this than the Lumia 920? I need to replace my mom's 920 for her birthday next month and while the L830 seemed perfect it's also going to be more than $400CAN. This phone is in the perfect price range for me as long as it's performance isn't worse than her current L920.

Would it work with AT&T? And it looks like colored version of HTC W8 to me, and specs are about same as myn current L920 anyways

Yes it will and a host of other carriers: From the Amazon listing: 4G HSPA + 42Mbps 850/1700/1900: Nationwide AT&T: Cricket Wireless, Tracfone, Straight Talk, Net10, H20 Wireless, 420 Wireless, Black Wireless, Consumer Cellular, Pure TalkUSA, Red Pocket, Telcel America. T-Mobile: MetroPCS, Lyca, Speedtalk, Go Smart, Simple Mobile, Net10, Straight Talk, Solavei, Ultra Mobile, Telcel America, Walmart Family Mobile

Unlocked phones are usually GSM-based only. VZW uses CDMA for its voice and SMS services, so sadly won't work with them. :( (I'm sad too; this would be an awesome phone!)

From the listing on Amazon I didn't see Verizon Wireless. However it does have support for other carriers you could possible use the device with: 4G HSPA + 42Mbps 850/1700/1900: Nationwide AT&T: Cricket Wireless, Tracfone, Straight Talk, Net10, H20 Wireless, 420 Wireless, Black Wireless, Consumer Cellular, Pure TalkUSA, Red Pocket, Telcel America. T-Mobile: MetroPCS, Lyca, Speedtalk, Go Smart, Simple Mobile, Net10, Straight Talk, Solavei, Ultra Mobile, Telcel America, Walmart Family Mobile

Really impressed with the price for those specs. May trade up a 630 for this as a backup phone.

This would be perfect for my mom

Just got my Blu Win Jr yesterday which I ordered from Amazon and I'm happy to announce that this is the best investment I've made on a smartphone so far. I was about to order two more for my wife and a friend of mine but it's now out of stock on Amazon. If the quality BLU put into this affordable phone is applied on the BLU Win HD then I'm sure there will be no regrets buying it.

This is essentially an 8X/One with an SD slot. I'm still using my 8X and must say if it were released today it'd be a steal. This seems like a good phone.

Not a bad price for an unlocked mid-range device. If I had At&t or Tmobile, I would definitely pick one up.

Hmmm very tempting for a secondary device

Does anyone know if ATT recognizes this as a smartphone? I remember there used to be some off-brand smartphones that they didn't recognize...they were able to be used on GoPhone at the cheaper dumb phone rates.

I truly doubt that. As far as I know they only recognize the ones they sell. So, even though I had an international Lumia 920. They still saw it on there as one of their own. However, every phone before that... Omnia 7, Nokia E71, N97 mini, E5, etc were always "dumb phones." That's how I got away paying like 50 bucks back then.

Edit: I was able to use my Ativ S on GoPhone. However, I was never able to use the internet that comes with "Dumbphones."

That Snapdragon 200 processor worries me...

Amazed by the price. Looks like a great deal!!

I'm getting one for my daughter

Literally beats most Lumia devices on the market. Sad.... U_U

Why would anyone have this AND another phone? Isn't one enough?

Maybe they'll use it fo music and GPS capabilities or in case one breaks for whatever reason.

Don't complayn about SD 200. It performs WELL on a Windows Phone. There are lots of video fo other Windows Phone devices powered by a SD 200 processor and they all do fine at comparable display and screen size.

They surely have seen an HTC One lying around somewhere.

Body design of a blackberry z10

A nice cheap for use while traveling phone or giving to someone as a gift to test the waters a bit into the WP ecosystem. Just to see if software wise WP is a good fit for them.

i think one of the thinest windows phones. Just 7.6mm.

In on T-Mobile. Blu Win HD or Nokia Lumia 810?

Verizon needs more options and pretend to care about windows phones

Good price for windows phone user

Nearly perfect except for the CPU, that's why I'm gonna buy the L735...saddly more expensive. Still, waiting for reviews and availability in France :)

Are you guys going to review it?
Windows Central Newsletter
Thank you for signing up to Windows Central. You will receive a verification email shortly.
There was a problem. Please refresh the page and try again.