BLU Win JR unboxing – The best $89 you can spend on a Windows Phone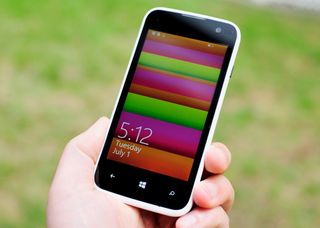 Earlier this week, we reported that BLU is selling their new Win JR Windows Phone direct through Amazon.com (direct link) (opens in new tab). The fully unlocked, dual-SIM device is the first Windows Phone from the fledgling company and at $89 and no contract, it seems too good to be true. At the time, we noted how ours was on the way and sure enough, Amazon delivered it on time today.
So, how good can a $90 Windows Phone be? Watch our video unboxing and hands on to find out. Spoiler alert: it gives Lumias a run for their money.
BLU Win JR specifications
4GB Internal Storage (1.5 GB available) with Micro SD Slot up to 32 GB
512MB RAM
4.0-inch WVGA display
Windows Phone 8.1 build 12400
Qualcomm Snapdragon 200, 1.2 GHz Quad-Core
5MP Autofocus Camera with LED Flash, HD recording (720p), with VGA frontal camera
1950 mAh battery
Bluetooth 3.0
4G HSPA+ up to 42 Mbps 850/1900: Nationwide AT&T: Cricket Wireless, Trachoma, Straight Talk, Net10, H20 Wireless, 420 Wireless, Black Wireless, Consumer Cellular, Pure Talk USA, Red Pocket, Telcel America.
T-Mobile: MetroPCS, Lyca, Speedtalk, Go Smart, Simple Mobile, Net10, Straight Talk, Solavei, Ultra Mobile, Telcel America, Walmart Family Mobile supported in most areas; check with your service provider; dual SIM
The BLU Win JR is clearly a budget phone for those looking to get a 'smart' device and not break the bank. Even though I carry a Lumia 1520 and an HTC One for Windows, I can certainly appreciate how not everyone wants a contract, a $600 phone, or the expense constraints working people face these days. The fact is there are many people who would like a smartphone, but simply cannot afford it. Likewise, there are those people who want a basic smartphone, where all that high-end gobbledygook means very little (I still know a person in his early 30s who carries a flip phone).
The idea of an $89 smartphone still rather blows me away, but here it is, and you know what? The BLU Win JR is a great device that I would not hesitate to recommend.
In the box
Amazingly, for $89 you think you would just the phone and a USB charger, and you do, but you also get much more:
Micro USB cord
AC wall jack
Stereo headphones with inline mic and button for calls
TPU clear case (soft)
Two screen protectors (one extra; one pre-installed)
Considering you can buy flagship Nokia phones and not get most of that in the box, the idea an $89 phone can include them is shocking. Sure, the headphones are pretty mediocre; the TPU case is super basic, etc. but if you are on a budget or don't want to think about buying accessories, including them in the box is awesome.
Quality
Once again, for $89, the idea that this phone would be of quality seems hard to believe. The BLU Win JR feels great in the hand, with a solid feel. It is not too heavy, not too light, and nothing creaks. The buttons all have a real 'click' to them; things are placed logically, and the phone looks damn beautiful. The BLU logo on the back is subtle but elegant.
Moreover, did I mention this has real Nav keys on the front? The trend lately has been for on-screen keys, but the BLU Win JR kicks old school, and it is great to see.
The rear speaker is also surprisingly loud and better than expected.
Camera
Below you can see a few samples from the 5 MP autofocus rear camera. It works for me and by that, I mean it is a rock-solid 5 MP shooter. You do not get the Nokia camera software but at this price range do you care? It takes pleasant photos in daylight, has autofocus for macros and there is a LED torch to throw some light on your subject if you need it. I am not going to complain about any of that.
Turning to the front camera and at VGA, you are looking at a "better than nothing!" situation. It works, but it is nothing fantastic. However, when you consider a Lumia 635 (and Lumia 530) do not even include a front-facing camera, I am not throwing stones at BLU for having a subpar one. At the end of the day, one person gets to do video Skype calls while the other uses their imagination.
Versus Lumia 530
Who wins between the BLU Win JR and Lumia 530? Get the BLU Win JR. This is barely a fight, and I even like the Lumia 530. The BLU Win JR though is cheaper, includes more accessories, it has a better rear camera (AF + LED) and it has a front-facing camera.
Did I also mention the BLU Win JR has an ambient light sensor? This feature is another thing the Lumia 530 and Lumia 630/Lumia 635 omits.
Unless you are into Nokia's software, I see no reason to pick the Lumia 530 over this phone. I even have a hard time justifying a Lumia 630 over it, although you do get better performance with the Nokia and a larger display.
Wrapping it up
I have never used a BLU phone before. Being based out of Miami, Florida and building a small indie business in smartphones is no easy task, but after spending an hour with this phone, color me impressed by this company.
The BLU Win JR is a great $89 phone, with no contract, dual-SIM, robust build quality and some nice bonus accessories in the box. The one small ding? The BLU Win JR is a 512 MB device, so there will be a few games it cannot run. However, this is becoming rarer these days and for people buying an $89, it is likely a moot point.
I cannot wait to try their BLU Win HD, a 5-inch version with some more impressive features.
Depending on how you folks feel about this phone in comments, I can do a more direct comparison between it and the Lumia 530 (they share the same chipset, so same performance) and do additional coverage on this interesting fella.
Windows Central Newsletter
Get the best of Windows Central in in your inbox, every day!
Daniel Rubino is the Editor-in-chief of Windows Central, head reviewer, podcast co-host, and analyst. He has been covering Microsoft since 2007 when this site was called WMExperts (and later Windows Phone Central). His interests include Windows, laptops, next-gen computing, and for some reason, watches. Before all this tech stuff, he worked on a Ph.D. in linguistics, watched people sleep (for medical purposes!), and ran the projectors at movie theaters because it was fun.
The battery capacity and HSPA+ support are great for a device with such a low price tag. But then, it's US only.

I might get a couple for friends in Thailand. I hope it has the correct bands. I would not buy a phone without an FFC since we use Skype a lot.

We might see this in India under micromax or xolo branding because it has happened before. The gionee s5.5 is sold under blu brand name in Europe.

The biggest issue with the 530 is the screen quality. How does the Blu compare in this respect?

I mean, it's not an amazing display...definitely on the low end. Having said that, I find the BLU's slightly better/less washed out.

Somewhere between the quality of the 530 and the 630 then. I may pick one up for testing.

Yeah, exactly. 630 is much better due to ClearBlack, but for $89 I'm fine with where this is at.

It's still mindboggling that Blu includees an Ambient Light Sensor, but Nokia did not on the 530/630. I hope these phones help push volume for MS in the US.

Just noticed this has BT 3.0.. which is really strange. Do you know if they plan to update to support 4.0 (since the S200 SoC does)? This would be one leg up for the 530.

Ah interesting, I missed that (added to specs now). No idea on the update. My guess is it costs money to activate that on the SoC, so that's where they save on costs.

I replied to a comment you made about Blu phones on the first article. Don't know if you read it but now you know that Blu is for real.

Man I want one just as a spare. It's really a nice looking phone.

This look like a pretty good deal. I would definetely be interested in a direct comparison between this and the 530. P.S. Daniel, was the phone that slow? your selfie looks pretty depressed lol

Long day and I hate smiling ;)

+1 I hate smiling too, it makes me looks stupid

You recommending this phone was all I needed. Ordering one right away.

Do BLU retail in the UK too? I can't find much on them over here so I'm going to assume not...

They are a small American company, probably not.

There is a company in the UK by the name of KAZAM which should be launching some Windows Phone shortly.

You might want to look into Yezz for UK / EU use...

I'm looking forward to the review of the BLU Win HD. I'm looking for something to replace my 521, and I'm afraid the 635 isn't a big enough boost. Hopefully their 1GB phone will fare as well as this one did

Kudos to BLU indeed. Nice job. Who gives you all that stuff at such an affordable price. Looking forward to their HD version and hopefully the unboxing :)

Nice style for the price. How does it feel? Does it feel like a 5XX, cause they feel cheap as hell. Hard to complain at the price point though.

I don't think it feels "bad" cheap, just more low end. I mean, it is solid, doesn't creak, has good balance to it, which is all you can really ask for, imo. I do think it feels better than the 5xx series though.

Hey Daniel do you think that this phone can be compared with the 620 and is a better 620 successor than the 630 ? Plus does amazon ship this phone worldwide cause i may get one for my dad. p.s when are you unboxing the blu win HD

I am really interested in both these phones. Dan please do a detailed review on Jr and the HD versions. Do you know if BLU has plans to release these phone in the developing markets and europe? One would think this would do well in no contract markets like europe, china, India etc.

Very cool and affordable for many people! I love that WP is also about smartphones for everyone!

This phone looks like it offers heaps of value for money. Shame it's US only thing, I think it could sell well in Europe

I'm actually curious if it has NFC. I couldn't find mention of it in the specs, so I'm assuming it does not?

Nope, no NFC. Budget phones at this range always omit that.

Thanks for the clarification :) I was hoping they might have put it in there since they also crammed in the LED flash & FFC as well.

I challenge you to use an entry level Windows Phone such as the BLU Jr or equivalent device from Yezz, Prestigio, Micromax, etc. Do it for one month and take videos of what such phones can do (in terms of games, Miracast, etc). It could be fun. ...and then do it again with those slightly better WPs with 1GB RAM and HD screens (but still running SD200). *drops leather gloves*

lol, maybe. I often carry around a few phones at once, always doing comparisons, so when I write or speak on these devices, it is from experience. I'll carry this phone around with me for awhile, it's really kind of fun.

Yeah and it will give everyone a good indication of how good the baseline has gotten over the years.

Wow!!! I'm impressed!! Go BLU!!!

Yup, US only and only ships to US states. Sorry! Good news is there are plenty of budget OEMs hitting the scene, so I expect many more of these going forward.

It shouldn't be a problem for India and Europe, plenty of new OEMs there putting out low and even mid-range Windows Phones (e.g. Micromax, XOLO, Prestigio, Alcatel One Touch, etc).

Emm...I found this on eBay http://ebay.to/1lUH1FA and, for me, can ship to México

Amazon can ship to México as well, right? I'd like to get a Blu Win HD but Idk if we can get them shipping those phones to México :/

Yes and no. The only things Amazon sell in Mexico is the Kindle (e-reader, only) and digital books

Yeah it's great to see new OEMs coming. And this phone really looks good for that price. Good things are happening.

The phone does look more impressive for a budget phone than what Microsoft Mobile is putting out. The only thing that made me raise my eyebrow was the screen protector. Is it REALLY a screen protector? Or is it more like Sony's old anti-shatter film that plagued all Xperia phones until the Z2? Because Sony also used to send another protector with the phones, apart from the one pre-installed on the device. Those protectors had the oleophobic protection in them, not the screens. I wonder if this BLU isn't using the same logic. If it is, then it's worth to notice that you'll easily scratch the protector. Though I think that's something you should forgive on a 60€ smartphone...(unlike Sony's Xperia Z, Z1 and Z1Compact who should never ever had come with those horrible plastic things. Thank God they're now gone).

I'm 90% sure it's a screen protector. Looks/feels like the extra one and there are a few air bubbles, plus yeah, it can scratch as expected. I may peel it off, as I usually don't roll with protectors.

Not available in Blu-K :(

Yep, take that Nokia... for trying to make your customer have to buy a more expensive phone just to have a front facing camera and a ambilight sensor.!! If Blue lounched their phones here in Brazil they would sell it like Water even thoug our taxes are way above average.

For 89$ this phone is mind blowing! Kudos to BLU.

I should know this but can you install the Nokia HERE suite of apps on it?

That's incredible value for the price.

Do some more tests. Performance, battery, etc.

well... my 920 is just dying... not sure if it is the updates but the battery life is so bad, it has gotten very slow, drops calls, and just buggy... Not at all what it use to be... but man, I have had it for almost two years. Maybe it is the developer previewand that is understandable. I do not want to get a new phone yet or at least until I hear of a new flagship. As much as I like the M8 the camera and the fact that is is not on ATT yet holds me back... The 1520 is nice, but to is older... So, I want to save my possible if I ever decide to do so contract upgrade and buy phones out right.. The 520, 635, or the blue phones... I will be swapping sims it seems now... Anywho, blu has my attention. T

Indeed. I just cracked my 920 a couple weeks ago and I've been thinking wether I should buy another 920, but then I saw these BLU phones... specially interested in the Win HD which looks a lot like an HTC One. Very interested in BLU, that's for sure. We'll see when more reviews come out.

My phone (920) was having some problems too with dev 8.1.1 but i used the recovery tool and now it's snappy and sprite once again. Nothing like an fdisk on a windows device to fix it up! You might want to think about backing up and downgrading and then downloading 8.1 w/ cyan now that it's available. (battery life was noticably bad before cyan and now back to normal.)

Run the Nokia recover software then re-upgrade to 8.1

Hey Daniel, you have gray hairs XD

How do we know you are don't have grey hairs? Or, indeed,no hair at all?!

It's a joke ok? Don't take it seriously. P.S. I don't have gray hairs, I'm 21 years old :P

Some of these comments will do that to you I'm sure.

"nothing creeks" interesting seeing as how my L925 backplate does....

This would make the perfect dev phone. Knowing you've got a FFC on a 512MB device now is crazy.

Hi Daniel, does this phone support micro SIM?

Nope, seems to be full SIM to my eyes. All references simply say 'SIM'.

This clearly shows how much, you, the consumer, have to pay for that recognized brand "Nokia" "Lumia" instead of getting what you want after all, a phone, not a logo, good job BLU :)

Question??? Cortana? Can she run on these budget 512MB phones?

If you go back and look at the video when he's in the app screen, you'll see cortana.

With all this new and great OEMs and phones, I wonder if Microsoft should have bought Nokia, aside from buying some of its technologies and licensing them to interested vendors. Just it had to go with that 0$ licensing all hardware compatible strategy much earlier and things would look much different on the market. But I guess they couldn't risk now with Nokia having more than 90% of the market share.

Yep, they screwed themselves in the end by removing all options. Now they will make hardware as long as they have to, filling in gaps for OEMs. Some people are curious why the 530 and 630 doesn't include this or that. Well, don't you think MS is working carefully with these partners to lauch distinct phones to maximize penetration and their success with their first windows phone?

Considering this device is available in microsoft store I believe it.

I think that if MS didn't buy Nokia, someone else would have and stopped all of Nokia's WP development. Since Nokia makes up the lion's share of WP marketshare for now, I can imagine MS paying billions just to avoid the bad press of "Largest Windows Phone Maker gives up". It also means a steady supply of good phones from MS while all the new OEMs get up to speed, and the ability to make interesting flagship or experimental phones (like the 1020) I still would greatly prefer to have many makers of Windows Phones over just Microsoft, but it's still better to have Microsoft in the game versus nobody.

Wil it work here in the Philippines?

It should, as it comes unlocked. If the mobile network in the Philippines has the same bands as AT&T, you should be fine.

It's worth noting: on the official BLU video, they mentioned that this phone will initally include two bands (1900 and another, can't remember which), but later production runs will be tri-band. The extra band is 1700 for better T-mobile compatibility. If you're on T-mobile, maybe you wait for that, but my understanding is that 1900 refarming is nearly complete anyway. Just FYI.

Very interested in the Win HD already planning on getting it to replace the wife's 920

that was cheap, can i bought this to my country? i heard this only available on US, that so sad :(

A case,screen protector, headphones, and only $89?

Really nice phone for the price you get. Probably the best value on the market. Should be faster than an Android handset running the same hardware. Windows Phone has done well on the lower end hardware. Like that MS is trying to edge that up with phones like the 635, 735, and 830. It's a good way to attack the market and grow based on people coming in from feature phones. If that grows marketshare then the app availability grows as well, so legitimacy on the top end accelerates too. It is more expensive than the Blu JR Android handset, but far more capable (that one is dual core, 320x480 display, and only 512MB of storage with 256MB of RAM - for $40 more you can go quad core, get an ambient light sensor, a front facing camera, 512MB RAM and 4GB of storage). The Windows version offers better value than their equivalent Android phones. The Android model that is $90 is ick.

How about the display quality?

If their WP phones are half as good as their Androids, get one. I've had Blu Androids for a few months and they're rock solid. They're not Galaxy S class in terms of specs, but they don't freeze or reset like S3's do. If my 1520 ever dies, I know what to get.

I am planning on using the Win HD for my travel phone once it comes out. Blu's Android phones really impressed me with their build quality and price when I played with them at a local Micro Center. It looks to be a great backup device. How does the Snapdragon 200 compare to the S4 in terms of app loading time and internet explorer?

This brand sell a lot of Android based handsets in my country. Panamá, Latinamerica.

They are in Jamaica as well : http://www.digiceljamaica.com/en/phones/phones_list.php?manufacturer=34

I think the capability of these low end wp phones will have people rethinking specs. I have found the 520 runs much smoother with "lower specs" then many android phones. Sure it can't do everything but a kia can't perform like a Ferrari either and still is able to accomplish what it is asked to do.

Does the Win Jr have Gorilla Glass? One thing I didn't like about my 521 was the much cheaper glass.

I was going to ask the same question.

I notice you have said USA only a few times, but Rogers and Fido use 850/1900. Is there some other reason that BLU jr will not work in Canada?
In my case, I have a USA po box so USA only shipping isn't an issue.

I just bit on one of those $40 520's for a "house phone" but now I wish I had waited a couple of weeks. This looks like a solid device, and the design is appealing too. I like that it's from a "little guy", too. I might pick one up anyway, what the hell.

Not bad for the price tag.

Would be a great phone for someone wanting to dabble in Windows Phone without locking into a contract. Or, someone needing to replace an old feature phone with something more capable.

Wow Nokia... This phone is 89$ but has a front camera... Just when I thought you guys couldn't get any worse...

This looks way better than the Lumia 521 I bought my daughter. She might have to get the upgrade. Daniel- When you review the Win HD, could you look at a couple things for me? I was wondering about the screen visability in daylight. I have a Lumia 810 right now and the screen is VERY visable in sunlight. When looking at BLU's website info on the HD, I didn't notice any mention of GPS. Could you check on that also? thanks!

+1 daughter phone. My daughter loses phones, so I don't want to spend much. I want her to have the smartphone because her having the location, communication, and safety apps are important to ME. But she really didn't take care of her 521 because it doesn't have the ONLY feature that matters to teenage girls: A front-facing camera for snapchat and selfies. *sigh*

This is the kind of phone that I wanted to use as my daily driver or assistant to Luma 930. It has the power of the WP and you can use it however you want, I mean, you don't get scared of dropping it or scratching it on your pocket. Unlike my Lumia 930, though it is really tough phone, I have to be very very mindful on using and handling, coz you don't wanna drop it on the floor. It is not cheap by the way!

Qualcomm Snapdragon 200, 1.2 GHz Quad-Core 5MP Autofocus Camera with LED Flash, HD recording (720p), with VGA frontal camera 1950 mAh battery This is too good for a $89 mobile.

Thanks for the realistic view of the phone. I am wondering about the dual SIM capability. I would get one just to try it out on my extra (legacy) line. No micro SIM means no hot swapping with my 1520 though.

Certainly very interested how the Win HD turns out, but as a current 8S owner looking at the prospect of not getting 8.1 Update 1 - I don't know how I could bring myself to not go with a Nokia for my next WP device. On the flipside, with all these well specced devices in the $100-200 range - the 735 which I'm currently having my sights set on is going to be a bit hard to justify. Look forward to more coverage.

I'm from Trinidad in the Caribbean and BLU has a presence here with one of the two providers. Usually it runs Android. Nice to see a cheap for the masses phone with decent quality. People here usually buy phones on price point and don't care what OS the phone runs. Nice way to MS to get market share.

Looks pretty good. US only. Grrr :)

Question. How does an AT&T speedtest look on this phone?

I'd really like to know if a larger SD card will work in this phone. Could make a great portable music player

Great looking device. Bravo on including the front-facing-camera. In a world where everybody takes 'selfies', how Nokia, a company known for its cameras, does not put a FFC on all their models is mind boggling.

Daniel, would love it if you can tell us how this performs on T-Mobile.

Any chance you got to have a quick test of network reception and call quality? And how does it compare to the 5XX?

You are left handed Dan :P

I want one, but just notin white. Also looking towards the HD model.

I have two questions: 1) Does (Jr/HD) run the latest Cyan firmware? 2) Will (Jr/HD) will get future software updates? (Is it future proof?) Thanks for the reply!

It comes with WP 8.1 preinstalled, yes, but no Cyan, seeing as it's not a Lumia device, and therefore will never receive Lumia exclusive apps, features or firmware. Seeing as Blu hasn't done much in the way of customizing the OS, and it's carrier-free: I'd say is safe to believe it'll receive updates. If not, Developer Preview will mostly get the job done for such a no-frills device.

Would this be a good thing to buy if you wanted a Xbox music device and not use it as a cell phone? Just use I with wi-fi.

Seeing as a lot of people were very satisfied using 520's to do the very same, I'd say it's a safe bet with this phone. ;)

How does it compare to the Nokia 820/822? They can be had for a similar price right now.

Getting this for my mom. She wants a very basic, no frills, smartphone that she can have set to be in pretty much basic mode. Just set her up with a Start Screen that only has Phone, Messages, People and her most important contacts pinned (all of them wide tiles, of course, so she can actually see them), and my mom is happy. That's what this device is great for: Easy to use as iOS, comes cheap as Android. What more could one want? For $89, that is. ;)

I have a Lumia 928 that I believe I will not be able to use on my upcoming trip to Canada unless I really want to pay ridiculous roaming fees to Verizon. I imagine it would be much cheaper just to buy this phone. Based on the specs, can any Canucks confirm that this phone would work up north? Can you also recommend any pay-as-you-go plans? I'll be in Vancouver for five days in January, so please take that into account in your recommendations. Thanks!

I can not decide between this phone and the Lumia 822. Could you help?

Just picked this up when my Lumia 521's (back up phone) sim-slot pin came loose and died. Thought I'd keep it for just an extra little phone (have GS4 I just bought). I'm actually thinking about taking back the GS4 to Walmart. It was $300. Yes, the screen is gorgeous and bigger than this, but I'd be able to buy 4 of these (Got it for $69.99 at Best Buy) for the same price. Is the GS4 four times better for what *I* do on a phone, which is basically call, text, and use social media? I'm starting to think the answer's "no."
Windows Central Newsletter
Thank you for signing up to Windows Central. You will receive a verification email shortly.
There was a problem. Please refresh the page and try again.