Hands-On with the Mio Mobile Internet Device Running Windows Mobile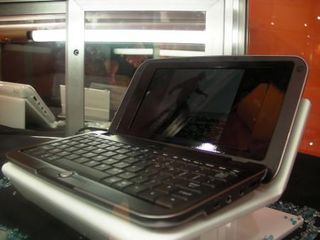 After seeing this post at jkOnTheRun, I hot-footed it over to Mio's booth to check out their new device -- which is a Mobile Internet Device running Windows Mobile Pro 6.1. It's still very much a prototype, they're still deciding on final specs, and they're not even sure that they're going to bring it to market. Price, final RAM, even whether or not it will have a SIM card slot for connectivity are all up in the air.
Nevertheless, it's one sweet piece of kit and the best Windows Mobile device I've seen at CES. Find out more after the break and check out our hands-on gallery!
Mio is calling it a "Mobile Internet Device" instead of a Netbook primarily because they're concerned that it doesn't quite rise to the level of 'Netbook functionality' because it runs WinMo6.1 Pro instead of Linux or WinXP. We tend to disagree, naturally, but whatever they call it, color us impressed.
What you have here is a very thin package sporting some good specs:
7 inch WVGA (800x480) screen
Likley will be touchscreen (the prototype model wasn't)
ARM II 667MHz Processor
Sirf Starr III GPS
WiFi
2 USB ports
1 mini-usb to sync it to a computer
Audio in and out
Microphone and speakers
An expected 8 hours of battery life
They'll probably add some on-board RAM as well, likely 8 gigs.
It does all the things you'd expect Windows Mobile Pro 6.1 to handle: web browsing, email, office docs, and the like. It also is thinner and lighter than the Redfly (it weighs in at one pound right now) and seems pretty snappy overall.
Mio has added on some UI on top of Windows Mobile to try to make it a bit more 'Netbook-like' and there are big, (eventually) touchable button, and even a Windows-like taskbar at the bottom that pops up when you drag the mouse down.
There's also a full keyboard, natch, and mouse pointer that's basically one of those rubberized nubs without the rubber -- instead it's a pearl-ized indent. The keyboard is pretty good for a device this size -- while it falls short of being truly 'Full Sized' it did have pretty good response and was certainly better than the Redfly.
You'll note that I've brought up the Redfly twice now, so let's finish out that comparison. Whereas the Redfly has the advantage of not requiring you to sync your data between your phone and the device as well as the ability to take video-in, we're pretty much going to end its list of Pros there. The Mio MID has much better industrial design and as far as data goes, the sort of target market they're aiming for are probably only two steps away from putting everyting on Live Mesh anyway.
Again, pricing, availability, heck, whether they'll see it are all up in the air. But the folks at Mio were positively eager to take our input on the device and look as though they'd really like to bring the thing to market. Our advice: do it.
Now to the photos -- and luckily we were able to get the little guy out of the glass case it was ensconced in.
Windows Central Newsletter
Get the best of Windows Central in your inbox, every day!
Was just about to ask if you saw this guy. Very cool!

That is gorgeous! Reminds me of my old Handheld PCs (I have a Samsung Izzi Pro and an NEC MobilePro 990c) - the main advantages of an embedded OS for these portable internet devices is the instant on and much longer battery life.

With a SIM slot an 3G I would totally buy this!

With a SIM slot and 3G, I would totally drop 600+ on this, maybe more!

common, Asus did it before it run winxp perfectly.
Who would want to buy newer machine that presents old technology?

THAT is instant on! And thinner than AIR (-:
Throw in some WinMo 7 and im sold!