Hands-on with the Mouse Computer MADOSMA, a new Windows Phone for Japan
Japan recently had a new Windows Phone announced, something which hasn't happened a lot in recent times. At Computex Taipei, Microsoft was on hand to show off the new Mouse Computer MADOSMA.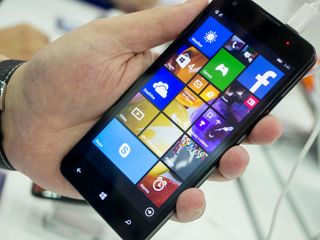 A 'flagship' Windows Phone, this is not. It's a capable looking, affordable mid-ranger, and hopefully it can help to begin to turn around Windows Phone fortunes in Japan.
To recap on the specs:
Swipe to scroll horizontally
| Category | Features |
| --- | --- |
| Operating System | Windows Phone 8.1 Update |
| CPU | Qualcomm Snapdragon 410 MSM8916 at 1.2 GHz |
| Storage / RAM | 8GB / 1GB |
| Expansion | micro SD |
| Battery | 2300 mAh |
| Display | 5-inch 1280 x 720 IPS |
| Size | 142.8x70.4x8.4mm |
| Weight | 125g |
| Bands | WCDMA: BAND1/8/19(6) / LTE: BAND1/3/19 (CAT4) / micro SIM |
Image 1 of 2
It shares a lot of similar features with a whole bunch of white label Windows Phones around the world, but there are some unique touches to make this one stand out. One of those is the day-glo text on the back of the phone. And you'll also note just the "Windows" label, since Windows Phone as a brand is going away in the future, and Mouse is getting ahead of the game on that one.
So, what's it like? It's not bad. The display may 'only' be 720p but at 5-inches there's absolutely no issue with that as we found recently with Microsoft's own Lumia 640. Most of the basic spec boxes are ticked, there's 1GB of RAM, an ample battery and microSD card expansion to offset the low internal storage. And it feels crazy light. It's plastic, yes, and not particularly fantastic plastic, but there's so little heft to it you might have to keep checking it's still in your pocket.
It's supposed to go on sale soon in Japan, and as its a local partner for Microsoft there's little to no chance we'll see it too far beyond those shores. But Windows Phone is so poorly represented there that new devices are needed. And this isn't a bad start.
Windows Central Newsletter
Get the best of Windows Central in in your inbox, every day!
Managing Editor - Tech, Reviews
Richard Devine is a Managing Editor at Windows Central with over a decade of experience. A former Project Manager and long-term tech addict, he joined Mobile Nations in 2011 and has been found on Android Central and iMore as well as Windows Central. Currently, you'll find him steering the site's coverage of all manner of PC hardware and reviews. Find him on Mastodon at mstdn.social/@richdevine
Well it's ok for japan's 0.1% WP market share.

0.1 was 2014. Japan has gone up to +0.2 in Apr/2015 now. 0.2 does not seems very much, but that's equal to 100000s of phns. at the same time. CrApple iJUNK has declined -9.8% as of Apr/2015. Also FYI. just about every country shows Windows phn has gone up in sales, Here is a link for you to see. http://i1-news.softpedia-static.com/images/news2/Windows-Phone-Increases...

33,800 JPY or around $271 US.

Which carriers will it work on?

It is sim-free. This will work on Softbank and NTT DoCoMo. I don't know with au (KDDI) though since they use CDMA. For the US, most likely it will work on WCDMA than 4G LTE.

Will Softbank and NTT be selling them?

Nope. It is only available through Rakuten as of now.

if that is the price, is it not much costlier than the Lumia 640. Given other specs are identical, I would assume that most people woudl prepfer a Microsoft device and Lumia apps pre-installed in their phones. Plus Lumia phones will be the earlier ones to get software upgrades. Keeping all that in mind the pricing should be at least 15-20% lower than the 640. For instance 640 sells at ~10,000 INR in India. That is roughly $155. For a phone of this specification, the price should not be more than $125-$135 to be sucessfull.

Microsoft currently does not have any plans to release Lumia phones in Japan despite that they have Surface and Xbox. They are testing the waters again through local brands and as of now, major carriers like Softbank, KDDI and NTT DoCoMo shows no interest in supporting the platform. Softbank could even be the culprit for Supercell not to release any of their games to WP like Clash of Clans or Hay Day.

Is that an LED notification light?

I want same in new windows 10 phones.

If that is that's excellent - I'm off the opinion all phones should have them!!!

Personally I could do without them, but I know others want them, so I'd like to see it implemented with the ability to disable. Give as many people as you can what they want, that's what I say.

I think at the moment it only functions as charging indicator... I hope can be use as notification light in Windows 10 mobile..

Aye, you might be right. Well I hope it's a feature future phones employ.

You are probably right. My Blu win HD LTE has one too. Only show sup when charging.

There are settings for notif light in WXM for every app. Like sound notifications in 8.1.

I forgot about those after having four phones with a glance screen. An indicator light would seem so 10 years ago. Better than nothing though.

Any idea what the red light in the upper right corner is for?

I assume charging since it was connected to a microUSB cable throughout.

That's a notification led on the top ??

Charging LED. Like the BLU Win HD LTE and LG Lancet.

Just for charging :(
Notification led support would be great if windows phone supports it any time in future

I may have heard that it will be supported with windows 10

Maketshare is craving a flagship MS and is that a LED notification on a windows phone or a weird top located charging port?

Weird top located like the Lumia 830. Yes.

The Windows without the phone logo is lonely.

Yes, but, it's obviously a phone. The Japanese are a well-educated people so I guess the manufacturer thinks they will all be able to deduce that it is a phone without the label. :) I guess this is just part of the unified brandring going forward.

I see the tile folder like music+videos in this phone...i thought its available only in denim update

It's available in Windows Phone 8.1 Update 1. Which this phone has.

What are the cameras on it like?

Maybe off topic, but I read this company is called "Mouse Computer" I've seen reviews of Intel Compute Stick and nobody tells how to use your Windows Phone as a mouse to control your WIndows device. You just need to install Remote Mouse or Splashtop Personal apps on your Windows Phone device and the same apps on your Intel compute stick and now you can use your Windows Phone as wireless mouse or keyboard to have a nice modern living room experience without cables. So this should work with the Mouse Computer MADOSMA device as well.

Is that true the lumia 735 have got a built in notification led?

Nope it does not, sent from a l735

It does. But, doesn't work as of now(win 8.1). Might be supported in win10 mobile in the future.

It does (well my L730 has), even though its useless but it does have out

It is currently on pre-order at Rakuten. http://item.rakuten.co.jp/mousecomputer/madosma-q501/#madosma-q501

Any details on the camera type?

What is that on top of the app list?

nice phn, with good specs and good price I'm sure, and its still better than iJUNK6 with a stupid price tag just to make people think its so good. .

Why does Microsoft attract immature fans like this?

Some people like Microsoft because they hate Apple or Google. And there are people who choose Apple or Google because they hate Microsoft. I find Apple to be boring and a bit too intrusive with their locked-down platforms. I haven't used their products for a very long time because of this and havve no desire to go back. I find Google to be the most hypocritical company in the tech industry, and I think most of their services are vastly overrated. I had a disappointing experience with Android, Chrome, Gmail, and Google Docs, and they lost me forever at the Wi-Spy case. I've used Microsoft Windows for decades, like what they've done with Xbox and Windows Phone and Windows 8, and I have been very impressed with their services like Office, OneDrive (though I wish it were still called SkyDrive), Skype, etc.

I love it. When will it be in the Nigerian market.

It's from a local partner pretty much exclusive to Japan and around that region. So yeah, not really going to be sold elsewhere. (See last paragraph).

Decent looking device and personally I'd prefer the windows logo on a phone as opposed to the one dimensional four square logo. Also it doesn't appear to be running Update 2.

When I saw "mouse computer",I thought this was going to be the new win 10 phone computer that u just connect the monitor, mouse and keyboard to. But sadly, it's just a phone. Sad face. T_T Posted via the Windows Central App for Android

Please go to Info side and look what MSM number is displayed at Chip-SOC-Version

hey there. i lived in japan and have been back a few times. im a huge windows 10 supporter and im glad to see it coming to japan even as a mid-range phone. i would for sure buy it if i moved back. one thing im surprised about, is how (i assume of course) the apps installed aren't targeting japanese markets. one app i can think of that is pretty much a necessity for japanese smart phone users is line. i use that on my lumia 920 to talk to all my friends there. if that/some other popular apps were featured, + some japanese rpgs/puzzle games came out, those would be huge selling points.

LINE is there and core features are comparable... If you're talking about the silly LINE Games then you're out of luck

Sadly, LINE's 'advanced' apps and games aren't in Windows platforms, like LINE@, and such... If they can listen to our moans......... I've been boring of telling them to add the same support into Windows!

Anybody still remember that Fujitsu/Toshiba Windows Phone that was waterproof?

Good old capacitive buttons!

Update 1 or Update 2?
EDIT: It's Update 1. The arrow at the bottom of start screen is still an arrow, doesn't say "All apps".

Yeh to Microsoft my 830 is a "flagship" (NOT) .... But an affordable one, actually a "flagship" phone disguised as a mid ranger.

I got excited till I saw the price. Blu Win HD / Xolo Win Q1000s/ Micromax W121 are all selling for about 100 dollars in India. Same specs , almost !

Would buy without question if they sold this in the US right now. Better specs and design than the Lumia 640.

Wow... The notification led

What carriers? I really don't want an iPhone or an android phone.

It is open to any carrier.

I live in Japan and had a HTC 8X and now a Lumia 636. No major carrier wants Windows, so SIM-Free is the only way. Microsoft needs to partner with one of the small carriers and get their phones in more hands. Also, most importantly, there is no mapping solution for Windows. Bing is incomplete and Here doesn't even have maps for Japan. This is a big problem for those needing Navigation.

Exactly. WinPho will never sell so long as Here is the only mapping solution. It's beyond a joke. Don't forget Line. That's an app all Japanese use. And while sim-free is possible, Japan is similar to America in that they love their subsidies; sim-free just isn't that popular.

Yea, when I visited Japan I couldn't do anything with Here, while google maps has every details. While I can use gmaps to browse, its navigation feature are executed with Here apps, which has no clue about what gmaps pointed out for them. So I could only follow my friends with android phones and couldn't be any help when they also need more eyes on wayfinding.
Windows Central Newsletter
Thank you for signing up to Windows Central. You will receive a verification email shortly.
There was a problem. Please refresh the page and try again.