Hands-on with the rugged Panasonic Toughpad FZ-M1, the 7-inch Windows 8 tablet for your next extreme adventure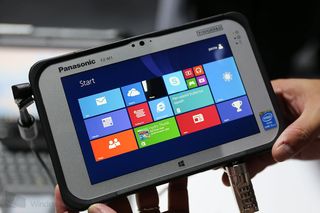 The typical day of a tech blogger is pretty extreme. You wake up, make some coffee, check your emails, write a few blog posts, do a review of a case or two, and head off to your dinner date with a Victoria Secret model. You know, typical blogger stuff. In all honesty, our lives aren't that extreme, but there are people on this little blue ball that do some pretty crazy stuff daily. The Panasonic Toughpad FZ-M1 is the 7-inch Windows 8 tablet for those out there in the field needing computing power. Here's our hands-on with it at CES.
The Toughpad FZ-M1 is a 7-inch tablet running Windows 8.1 Pro. It's powered by Intel's 4th generation i5 processors. What's crazy is that there are no fans in this machine. Panasonic has years of working on fanless designs. Which is a necessity for a PC like this when you're out in the field where you encounter a lot of dust and dirt. Here at the full specs of this little machine that can:
4th generation Intel® Core™ i5 vPro™ processor, or an Intel® Celeron processor (available Summer 2014)
Windows 8.1 Pro 64-bit with Windows 7 Professional downgrade option available
MIL-STD-810G, 5' drop, IP65 fully sealed fanless design
7-inch daylight-readable WXGA display (1280x800); high-sensitivity 10-point capacitive multitouch input, with an optional Stylus pen
128GB SSD (256GB SSD option available) with 8 GB RAM (Intel® Core™ i5 vPro processor model)
Dual Band Intel Wireless-AC7260 Wi-Fi 802.11 a/b/g/n/ac, Bluetooth® v4.0 (Class 1), USB 3.0, micro SDXC card slot, docking connector, optional 4G LTE multi-carrier embedded wireless broadband. Other options include dedicated GPS, Barcode reader, Ethernet, serial port, and choice of near field communications (NFC), SmartCard reader, UHF radio-frequency identification (RFID) reader (up to 10 ft. range), or Magnetic Stripe reader
1.2 lbs., 0.7" thin (standard configuration)
8 hours per MobileMark® 2007 testing (user-replaceable); optional hot swap bridge battery and high capacity battery (16 hours) available
720P built-in front camera with mic; 5MP rear camera with auto focus and LED light
Enterprise-class security features include encryption, IPsec VPN, trusted boot and root protection
Like we said, we'll never need a device like this, but it's impressive to see nonetheless. We're sure there are enterprise and business users out there that would be very interested in a machine like this. When can they get it? How about early spring 2014 with a street price starting at $2,099.
Windows Central Newsletter
Get the best of Windows Central in in your inbox, every day!
You dont get what this is for.

Dinner date with VS model? Those girls don't eat!

That's a good news. Save your credit card bill

Its impressive how much this little guy can do.. For $2100, however, I'd expect it to transform into a quad bike too.

Agreed. It is a power house.

Yeah, was expecting a better display for this price. Anyways, the people who will buy this won't buy it for that reason.

and some people may not even consired this angient stone aged old fashioned incompatible .... bacause of no 1080p so, opinions vary...

The kind of businesses buying these things don't need 1920x1080 on a 7" screen. They do, however, have years of experience with previous models.

I have to admit that Windows 8 looks beautiful in the 7 inch tablet. Can't wait for the merging of WP and Windows RT.

Nice specs, but I wouldn't want those amazing specs on that screen size, I mean, look at the price. Also, windows 7 for TABLET use doesn't seem very good, maybe you might disagree.

Did you miss the bit that it runs 8.1 Pro?

I think he means that you van downgrade if you so pleased

Full games to tempt your friends and coworkers. I love 8.1 pro

The majority of customers that use these products are enterprise business. Many of which are probably 1-3 years away from moving their computer systems away from Windows 7. I work for a natural gas distribution company that's in this position. Our field staff are using Tough Book right now, but we are looking to migrating to 10" or 7" tough pads in the next year or so. However, it will probably be about 2-3 years before we switch to a newer MS OS. So, Panasonic definitely knows what they are doing in this situation.

True, Panasonic own this space

Not in my current job, but in one of my previous jobs, this is something that I would have KILLED to have this combination of form/size and power! Definitely not a consumer gadget but an industrial gadget. Even now, as an IT guy in healthcare, I could hand one of these to the docs or nurse and know they'd be both productive and functional without getting stuck behind a device that separates them from a patient.

If I was sitting in an office all day long, hell no. What if l work in construction, or if I worked on a farm or just out camping, hell yeah. But the prize..... is too high.

Very nice specs, no other device in that size has it....but price is bit high even with those specs...

For $2,100 I hope it will take a bullet.

They have it in 10" also. or at least they did with the previous version.

At&t Uverse install guys use these types of machines

Any actual WP news this week? This Win8/CES stuff should be filtered out.

Oh, Paul "Coffee Cup Shot" Thurrot, you're such a kidder.

At $2100 I think it should turn into space ship we can go on mars to vacation

The price is actually very good. I can see lots of businesses investing. Providing of course its as robust and reliable as the products it can replace. Think rain, sand, grit, wet surfaces, thrown in a rucksack with the other tools.

First thing I thought of was rather there was a rugged in-car mount for this. I can see something like this replacing the rugged panasonic & dell laptops in emergency vehicles. Space is very limited in these vehicles, even more so now that they've discontinued the Ford Crown Victoria space is even more limited in the new Ford PPV & Dodge Chargers. Something like this would be perfect if it can run the CAD software.

holy hot damn it's such a small tablet yes it has an i5 Core AND 8 hours of battery life AND water and shock resistant?

Launching missle from Mars

They make great accesories for these pads too. My company is in the prelim stages of field testing them. Car docks, office docking stations, etc. make this a great product for us. And considering that we were spending over $4000 on tough books in the past for our field staff, ~$2000 is a great savings!

While this is aimed at specific specialist use cases I hop it's not the only 7" Windows tablet we see over CES. These 8" models are all great, but I'm very happy with the Nexus 7 size-wise and would love to at least have an option of a Windows model of the same size.

I am not a field worker but I would like to own one. I like the masculanity of this tablet and the fact that I can carry a few batteries in my bag to go for a couple of days. When I am in the office, I can connect it to a bigger monitor and turn it into a desktop. I think the possibilities are endless with this devise.
Windows Central Newsletter
Thank you for signing up to Windows Central. You will receive a verification email shortly.
There was a problem. Please refresh the page and try again.