Hands-On with the Samsung Omnia 2 (GSM)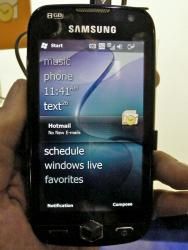 Oh, hello Samsung Omnia 2, how are you? We're really digging the AMOLED screen (at least we are on the indoor-show floor), which is plenty responsive. The 800x480 is quite nice too, but the rich and deep colors are the real show here. You can take a look at Sammy's cube interface in the quick vid above, but it's more flash than substance.
8 gigs of storage, 256 megs of RAM, an 800MHz processor, Bluetooth, WiFi, GPS, and yes, that 8 megapixel camera round out the specs on this device. This is the version with Windows Mobile 6.5, which is to say it's the GSM version, which is to say that the Verizon version is currently running WinMo 6.1. ...Which is to say that all things considered, it's best to avoid thinking about the that particular stumble by taking a gander at the handful of photos after the break.
I'm pretty sure its a 5 MP camera not 8

Video doesn't play. Says it's "private"

Could this be Flashed to run TF3D2? or Sense UI like the HD2?

It runs on windows mobile. They just did a good job covering it up,
But still i would say that I don't like this as much as HTC TouchFlo
Windows Central Newsletter
Thank you for signing up to Windows Central. You will receive a verification email shortly.
There was a problem. Please refresh the page and try again.