Hands-on with the Zune HD (Part 1)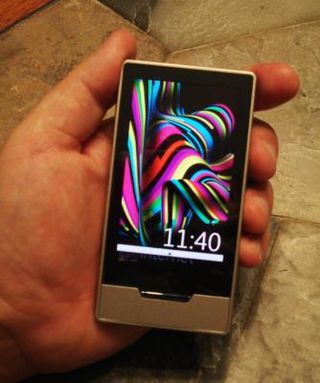 So I'm a few hours into the Zune HD. It's my first foray into the Zune ecosystem, so I have a bit of a learning curve, and bear with me. But without giving away the farm, I'll say this: If this is the direction in which Windows Mobile is moving, we all have much to look forward to. There are going to be endless comparisons of the Zune HD to the iPhone and iPod Touch, and we'll certainly add our share. But, for now, it all comes down to this:
Anyhoo, that's not really why we're here. We want to look at the Zune HD from the Windows Mobile perspective and see what bits and pieces we might see in Windows Mobile 7 and beyond. Join us after the break for our initial hands-on and a very quick look at the new desktop software.
Zune desktop software
Along with the launch of the Zune HD came Version 4.0 of the Zune software. You'll need to update to this before you do anything else. (Do so here) (opens in new tab) I'd previously installed the Zune software and loaded all my music, and the upgrade was fairly quick and seamless.
More on this in a future post, but this is worth shouting from the rooftops: While I've long been a user of Windows Media Player, and I've never been a fan of the iTunes world, the Zune software is where it's at. It's compelling, graphically (by leaps and bounds more so than iTunes), pretty intuitive (responding to the back button on a mouse is a big plus), and tweaking settings is easy. It's meant to be used as your desktop media player (I've now made it my default) and to sync media to the Zune HD (which you also can do over WiFi).
Quickplay (aka Genius)
Quickplay in the desktop software is a cool auto-playlist function, like iTunes' Genius feature. It took a while to fully load, but it's the same deal: You give it five artists, and it'll build playlists based on those artists. I haven't used it enough to fully evaluate it yet, but it's still a cool feature to have. It even throws up some cool art of the artists. It's little touches like those that separate the Zune desktop software from the likes of WMP and iTunes. And they do so without clunking up the experience or causing things to slow down.
The apps
There currently are nine apps available for download, all developed for Microsoft: Calculator, Chess, Goo Splat (think Space Invaders, only inside a lung — yeah, ewwwww), Hexic (a variation on all of those bubble-pop games), Shell Game ... of the Future (a shell game, with robots), Space Battle 2 (a bland vertical scrolling shoot-em-up), Sudoku, Texas Hold 'Em, and a Weather app. All of these apps are available for free and can be downloaded either with the desktop software or wirelessly onto the Zune HD. Nothing at all to write home about here, but they'll keep you amused in a pinch. Oh, all nine of the apps total about 104MB of space on the Zune HD.
Zune Marketplace
The Zune Marketplace is easy to maneuver. There's a good selection of music and video (both TV and film), and they're easy to download, though it does take time to do so. Simple right-clicks on any downloaded or previously added software brings up a sub-menu and gives you easy access to syncing media.
The software is "optimized" for Windows 7, and it has some nice features in conjunction with the Aero interface. Hover over the Zune icon on the taskbar when music or video is playing and you have the ability to pause, fast-forward or reverse from the desktop. There's also a nice mini mode that still keeps the album art and graphical elements available.
Out of the box
The Zune HD comes with minimal packaging. Opening the box presents the device, and the device only. Peel back the next layer and we're greeted by a couple of brochures for Zune Pass, the music subscription service. You get 14 days free along with the purchase of the Zune. Underneath that are the proprietary sync/charge USB cable (same as previous Zunes, btw), the usual mediocre earbuds and three pairs of covers — black, orange and red. Also at the bottom of the box are a quick-start guide (Welcome to Zune HD) and the Zune Product Guide, which covers all the legal mumbo jumbo.
That's it. We will repeat that you need to load the Zune software before plugging in the Zune HD. From there, things got a little interesting.
Windows 7 RC immediately connected to the Zune, and you're informed that there's an update available for the Zune HD itself. It took about 15 minutes to flash the device and have it ready to go, and it was all done through the Zune software. It's a little unnerving that the device was ready for a firmware update on Day 1. We're assuming that's not a big deal if you're a longtime reader of WMExperts. But it's not really something we'd like to see the average consumer go through upon first plugging in their new Zune HD.
Oh, and by now you'd better already be used to the fingerprints.
The hardware
Look, this thing is small. So how does it feel? It's angular, but not in a bad way. If you've ever handled an HTC Touch Diamond or Touch Diamond 2, you're in the ballpark. The Zune HD is nearly a full half-centimeter thinner than the Diamond 2. It's not quite as tall as the iPod Touch, and it fits my hand better. Your mileage may vary.
The specs
Size: 4.0 inches tall, 2.1 inches wide, 0.4 inches thick.
Weight: 2.6 ounces.
Screen: 3.3-inch diagonal capacitive OLED touchscreen with a 16:9 (think movie) aspect ratio.
Resolution: 480 pixels by 272 pixels.
NVidia Tegra processor @650MHz.
Internal memory: 32GB (silver - $289.99); 16GB (black - $219.99).
3.5mm headphone jack.
FM radio (HD radio).
WiFi: 802.11b/g
Video output via dock.
Battery: 660mAh. Reportedly up to 33 hours of continuous audio playback, or 8.5 hours of video playback.
The buttons
Buttons are sparse. There's a power button on the top bezel, a "home" button on the bottom of the front face, and a control button on the left bezel. It's not the rocker you're used to. Rather, it pops up on-screen controls, including pause/play, forward, reverse, volume up/down, track number, artist and song title.
Briefly clicking the home button takes you to the textual home screen we know from Windows Mobile 6.5, or to a quickplay menu to the left (actually left and to the rear, in a bit of visual 3D trickery.) The quickplay features what's now playing, "pins" (you can "pin" items to the menu), a history of recently accessed items, and new items. Flicking vertically scrolls through the options. You can flick horizontally between the two, but it can be a bit tricky.
My only gripe about the buttons' placement is that I sometimes hit the power button with my index finger if I'm going for the control button my thumb. But that may well be a fail on my part, and not one of design.
On the bottom bezel of the Zune HD are the 3.5mm headphone jack and the dock connector.
The innards
Build quality feels solid and top-notch. According to iFixit, which already has ripped open a Zune HD, the device apparently is OEM'd by Foxconn, which as we all know is a longtime manufacturer for Apple (and plenty of other smartphones, too).
The battery is a mere 660mAh. (The latest iPod Touch has a 789mAh battery.) That said, the Tegra processor and OLED screen are supposed to provide better battery life. We're going to get a few good charges under our belt before laying claim to any battery-usage numbers, but it's safe to say that the Zune HD will have a different usage pattern than a smartphone or iPod Touch, whereas it won't be manhandled nearly as much. At least, that'll be the case until more apps are released.
About that screen
This one will be up for debate for some time. The OLED screen is 3.3 inches diagonal — definitely a decent size — and capacitive to boot. It's plenty responsive, and right up there with the iPhone. Actually, it's not quite as responsive, and that's not necessarily a bad thing. It just feels less twitchy. On the other hand, I occasionally have to swipe twice to trigger an action. That may be my unfamiliarity with the device, or it may be the screen. Too early to tell. Multi-touch works the same as we're used to.
As for the OLED screen — that's Organic Light Emitting Diode — it's pretty much gorgeous. But it's not perfect. Even at the Zune HD's highest display setting (there are three), whites aren't quite as white as on the iPod Touch, and reds appear a little too red. Whether that's something inherent to the screen itself or a setting in the firmware ... I don't know. Remember that the iPhone/iPod Touch display has subtly changed its hue a couple of times.
Also of concern with OLED screens is visibility outdoors, particularly in sunlight. I conducted a couple of brief, unscientific tests. I went outside and stood in the sunlight. (And surprisingly didn't burst into flame.) At the medium setting, the Zune HD's screen was all but washed out; I could still slightly make out the iPod Touch's screen. Cranked the Zune HD's display to the "high" setting and they were about equal in the sunlight.
But here's the thing: I'm not going to be using any device in direct sunlight. Being as how I'm bipedal and have opposing thumbs, I'm going to move any screen out so that I can see it better. OLED, regular LED, resistive, capacitive, whatever. If I can't see properly, I'm going to move. For me, it's a non-issue. The iPhone and iPod Touch will win the outdoor usability contest. But, again, we're talking two usage scenarios here. You're just not going to be using the Zune HD in the same way.
What's missing/Wrapping up Part 1
You didn't think that was it, did you? We're just scratching the surface. The bottom line here is this is a solid, solid portable media player. But we wouldn't want Microsoft to merely slap a phone radio into the Zune HD and call it a smartphone. There's no GPS built in. There's no Bluetooth. There's no speaker. For me, those are three deal-breakers when it comes to a phone. Actually, I'd argue that a speaker and Bluetooth are pretty important to any PMP these days. But when you're trying to keep size/cost down, trade-offs have to be made.
Coming up in Part 2, we'll tackle the software on the Zune HD, including what Microsoft got very, very right ... and what leaves us wanting.
Phil is the father of two beautiful girls and is the Dad behind Modern Dad. Before that he spent seven years at the helm of Android Central. Before that he spent a decade in a newsroom of a two-time Pulitzer Prize-finalist newspaper. Before that — well, we don't talk much about those days. Subscribe to the Modern Dad newsletter!
Excellent first impressions article. Like you I couldn't really care less if the dang thing is visible in direct sunlight because I never do anything on ANY mobile device in direct sunlight. Why would I need to do such a thing and why is this a standard anyways? I am really loving the hardware and if you want a device for the Zune Pass music then it rocks. The browser is a bit weak, but I don't plan to browse much on it when I have a much more capable Nokia N97 or T-Mobile Touch Pro2 anyways.

I would love to have seen it with Bluetooth and A2DP. I hate wires. My big question for you Phil is can it update Podcasts over WiFi or does it have to be connected to the software? If it does that, that will be a home run for me.

One thing that sets Quickplay apart from Apple's implementation is that if you have ZunePass then it will create a playlist composed of both songs on your computer *and* songs in the Marketplace. This was incredibly useful for m. I don't listen to the radio anymore (haven't for over 5 years because I got tired of being inundated with advetisements) so it makes for a nce music discovery mechanism. Additionally if you have a Zune Pass you can stream music directly fom the Zune.Net website. Nice if you ae on another computer and want to listen to music.

"The Zune HD and iPhone/iPod Touch are different devices, with different purposes." "The iPhone and iPod Touch will win the outdoor usability contest. But, again, we're talking two usage scenarios here. You're just not going to be using the Zune HD in the same way." I can accept this for the iPhone, but how is the Zune HD not supposed to be used for the exact same thing as an iPod touch? They are direct competitors with very similar features. What is so different about how you'll be using a Zune HD?

@erenken: Yeah, me, too. More on missing features in the next post. And unless I'm just missing it, I'm not seeing a way to sync podcasts over WiFi. :( @j2inet: Very cool. I'll have to check it out. Still very new at the Zune ecosystem. :) @Derp: It's a direct result of what's not on the Zune HD. There's no mail client. The browser is just so-so (at best). There's no calendar. There's no SDK yet, and apps are sparse. Right now, it's an above-average PMP. (I haven't used a plethora of PMP's, so I don't wanna overshoot there.) You're not going to use it for PIM data. And I think that was a conscious design decision on Microsoft's part, and not an oversight. This is for someone who wants a very cool PMP that's not from Apple. And there are a lot of us out there who are in that market.

I only got to play with the desktop software last night (haven't updated the software on my older 30GB and 16GB Zunes yet . . . and I know those won't have all the HD's interface/features) but thus far I was VERY impressed. The main thing I liked about it (besides the UI). . . it didn't hog my CPU! I've always loved the software, but it would ALWAYS peg out my CPU. I had to isolate it to just one core and give it a low priority just to keep it in check. That seems to be fixed now. As for the device itself, I love what I'm seeing from it, but unless they release something in a phone factor I won't be getting another Zune. I personally want a convergence device at this point in my life. Kinoma's helping to fill that void with WM for now, but I'd love to see an end-to-end Microsoft solution. And I think we WILL see that at some point, despite their declarations to the contrary. The market's just too big and they have too glaring a hole in their entertainment devices line-up NOT to have it. OEMs are increasingly flirting with other platforms anyway (proprietary in-house platforms as well as Android) so it would be foolish for Microsoft not to hedge their bets by creating their own device that's more consumer-targeted than their more business-targeted WM offerings. Give me more than just the Zune functionality though. Any good phone SHOULD be able to do multimedia well now. I want a full on mobile compliment to the Xbox. MS's been absent from that space for far too long for them to NOT be doing something more than just the Zune HD. I'm hoping this is the appetizer for a far broader strategy that will converge their entertainment devices and with much of the WM (and even broader Windows) world.

Well... Finally a handheld device with flat edges you can actually get a grip on. I hate the half rounded edges of the current iPods. Nothing to hold on to! I don't have my Zune HD yet, but I'm leaning in it's direction and will likely end with one. I'll be upgrading from a Zune 80. It's got such a sophisticated and smart look to it too. Very classy and high-tech. To bad MS botched the launch on Tuesday. 3 games and 2 apps at launch? Who are they kidding. I'm mean seriously.. I scoped it out at my local BB store and was disappointed at the lack of marketing material. All they had were 3 of the AV Dock kits for $90 a clip. No 32gig were anywhere to be found. In fact, there were no new Zunes periodto be found at any of their 5 local stores. Say what? MS isn't some 2-bit company? They should now how to manage a decent launch of a sexy new product. If they want to compete in this space they're going to have to do better then this! What a flub-up. The Zune won't come cheap if you buy the AV Dock and other sync dock. Of course this thing is probably price protected, so we won't see any big discounts on it for while, if ever until the Zune HD w/camera comes out next year. (Just my prediction) Anyway, the size is almost perfect - very minimalistic, clean design with few buttons. Now if they had only added a SDHC slot it would be perfect. Too bad there's no user defined equalizer settings. Great looking screen too. And 720p output is a beautiful thing too! Can wait to get my paws on one...
Windows Central Newsletter
Thank you for signing up to Windows Central. You will receive a verification email shortly.
There was a problem. Please refresh the page and try again.