Watch how Happy Chef 2 plays on Windows and Windows Phone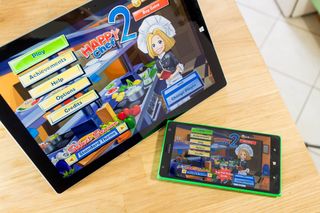 When it comes to cooking, timing is very important. While Happy Chef 2 sounds like you're required to cook dishes, this very popular game from Nordcurrent (nordcurrent.com) is more about testing your time management skills. It has been available on iOS and Android, but it's now on Windows and Windows Phone devices, too. Make pizzas, pastas, ice creams, brownies, pancakes, and more while making sure your customers are happy. Check out our gameplay video on the Surface Pro 3 and Lumia 1520.
Features:
More than a 100 dishes to cook from all over the globe – from pizzas and pastas to sophisticated oriental plates and French exquisite dishes.
5 locations to master in different parts of the world
More than 70 levels to complete
5 mini-games with unique visuals
Hundreds of upgrades to decorate and improve your restaurants
25+ hours to complete the game
You start out in a pizza and pasta place in Italy. It's really easy at first, but don't get too comfortable. It gets hectic in later stages. Toppings get added as well as other dishes. A customer comes in and places an order. Tap on the items to start making the dish, add the necessary toppings, and then drag the finished dish to the customer. Don't forget to collect the payment. If you serve them quickly, they leave some tips, too.
Before each level, your goals are displayed at the top of the screen. You need to pass the goal in order to go to the next level. If you pass the star goal, you also get to collect a star. You can watch the time and customer indicators on top to see how many customers are remaining to be served as well as the time left until the shop closes.
As more customers enter your shop, several things can go wrong. You may forget to take out the food from the stove or you may put the wrong toppings. If that happens, you'll need to throw things away. Customers may also leave if you take too long to complete their orders.
You see how much money you've earned after completing each level. You can spend this on upgrades. Customers will pay more if you upgrade the food and they'll wait longer if you upgrade the interior. You don't have to use real money for the upgrades, but you can if you want to. For example, 1,000 coins cost 99 cents. This helps increase your buying power.
Happy Chef 2 is a free download from the Windows Store and Windows Phone Store. It includes the first location with 15 levels, but it costs $4.99 to unlock the other locations. This game is highly addictive. If you find yourself enjoying the free level, you're definitely going to be tempted to buy the full version. Go try out Happy Chef 2 on your Windows devices and let us know what you think!
Windows Central Newsletter
Get the best of Windows Central in your inbox, every day!
Its good but only 15 levels wish it would be free -_-

It's on the store, at least.

Yeah but somewhat the store is crashing

I was hoping for a Cooking Mama type game. I got excited for a second lol

Good game but wish it was free and didn't have to pay after so many levels

I underestimated this..... It actually looks nice! But only 15 levels? :\

Still amazed people complain about paying for games they enjoy playing. Can I come to your place of employment and demand a free burger?