Havok's Project Anarchy makes game development affordable, supports Windows 8 and soon Windows Phone 8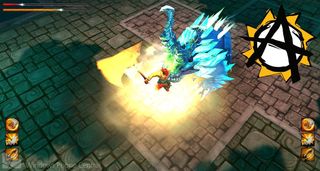 Windows Phone 8's multiplatform game engine support has improved steadily since the mobile OS's launch at the end of 2012. Developers have access to several middleware options: Unity, Havok, Marmalade, and Autodesk Scaleform, all in various degrees of commercial readiness. And now Havok has taken their support a step further with the release of Project Anarchy.
Project Anarchy is a complete end-to-end mobile 3D game production engine. It packs four of Havok's core software releases into one powerful suite – basically everything you'd need to create a 3D mobile game. Games created with Project Anarchy can then be deployed to multiple platforms with a minimum of effort – including Windows 8. Full Windows Phone 8 support is scheduled for release later in the year, but developers can contact Havok now to request beta access.
Want to see what Project Anarchy can do? Check out the Windows Phone 8 demo game in the video above, as demonstrated by Danie Conradie, lead engineer at Havok.
Four development tools
Project Anarchy consists of the following:
Havok Vision Engine is a powerful and versatile multi-platform game engine capable of rendering a diverse range of game scenes at smooth frame rates. The engine provides a clean C++ API and a suite of tools ranging from a WYSIWYG editor to lighting and audio tools.
Havok Physics is the fastest and most robust collision detection and physical simulation technology available. Havok Physics has become the gold standard within the games industry and has been used by leading game developers in over 400 launched titles.
Havok Animation Studio is a state-of-the-art animation system built for high quality game character development. Havok Animation Studio includes the Havok Animation Tool for artists and designers, and an optimized animation runtime. Havok Animation Tool allows developers to quickly prototype character features and author character performances in a WYSIWYG environment.
Havok AI is a fully featured pathfinding solution. Havok AI takes care of high-speed navigation mesh generation and provides out of the box components like local character steering. Together pathfinding and steering provide a full palette of solutions for character motions in a wide range of scenes.
Free for some
Developers of any size can sign up and start using Project Anarchy to make games on the following platforms for free right away. The only restrictions are the required inclusion of a splash screen, agreeing to co-market games at Havok's discretion, and an x86 version must be produced for any Android or Tizen games.
iOS
Android (ARM and x86)
Tizen
Project Anarchy users also have the option of upgrading to a commercial license that includes source, additional support, and other products such as Havok Cloth and Havok Destruction.
Microsoft platforms extra
A Windows Phone 8 action-RPG demo game built with Project Anarchy
The only downside I can see to Project Anarchy is that development and deployment for Microsoft platforms requires the purchase of a Pro license. When we spoke to Havok a few months ago, Windows Phone 8 support was slated to be included in the free package, as referenced in our video interview. Plans change though, so here we are.
The following platforms require a Pro upgrade:
Windows Phone 8
Windows 8 and RT
PC (Development is included in the free package but you can't deploy.)
Xbox 360
Others (possibly next-gen consoles)
We actually held off on publishing this article over the weekend as we investigated the costs of a Pro license for developers. Unfortunately, Havok could not provide specific pricing details at this time. My understanding is the pricing simply hasn't been set yet. But the Project Anarchy FAQ does say this:
For more information, visit Havok's Project Anarchy website and shoot Havok an email from there. Developers, let us know how Project Anarchy works out for you!
Windows Central Newsletter
Get the best of Windows Central in your inbox, every day!
Paul Acevedo is the Games Editor at Windows Central. A lifelong gamer, he has written about videogames for over 15 years and reviewed over 350 games for our site. Follow him on Twitter @PaulRAcevedo. Don't hate. Appreciate!
Thanks Paul. Is there supposed to be a "video" link for the app users?

Whoops, our app is having trouble with a formatting change that YouTube made recently. I think I got the link fixed - please try again.

Works now, thanks for the quick fix.

Sounds good, but I don't think we can expect to see the first set of really good WP games using these engines for a while. Xbox Live or not we really need to see some unique but high quality titles hit Windows Phone and Windows 8/RT.

So contact some game makers currently using Unity and Havok. Let them know we want them ported to WP8.

Hmm from what i read.. So it's not free right? Especially for windows thing...

Free for iOS and Android but not Windows platforms.

What might their reasoning behind this decision be?

As far as I can tell, they aim to attract developers by supporting the two largest mobile platforms in the free release. Then they hope those developers will purchase a Pro upgrade in order to support other platforms.

Then why Tizen tools are for free? :(

Which basically puts us on the same boat, why would developers pay to support a small market share. Should be the other way around, free for Windows to help boost the platform and pay for iOS & Android. Why wouldn't they want to make money from the larger market share, makes no sense.

true! makes no sense! oO so in short: f**k Project Anarchy

The important thing is that Havok bothered to support Windows Phone with Project Anarchy at all. They could have just not supported it, like Epic's Unreal Engine.

Yea but for how long? When developers won't bother to develop for WP when they can do it for free on iOS and Android with more market share they will probably drop support stating its not worth it. I guess we'll see, perhaps the Windows 8 aspect of it will help.

Wow. Not exactly affordable. A "small studio of about 5-10 game developers using Unity" is going to run around $7500-15000USD. That's assuming that they're referring to Unity Pro licenses only. Want to publish to iOS? Then you'll need an additional $1500/dev.
Nice way to ensure that any indie devs that were interested in using Anarchy for a WP8 game now stick to iOS & Android.

That's an interesting ballpark... Hopefully the Project Anarchy pro license ends up costing less. Don't write it off until full pricing details become available.

Paul stop dreaming. Project Anarchy died for WP Indie devs the second they said it is not free for them...

Really disappointed that the tools are not free for windows 8/windows phone 8.

Awesome that it's available, but not necessarily affordable on the down side. Especially since I saw Build attendees get free access to Unity 4...

I don't really care about this cuz I don't understand, but what I do know is windows phone is a horrible platform for 3D gaming with a Framrate of forever 30fps while ios and Android can run 60fps with similar hardware or even lower compare to Lumia 920. Modern combat is srsly laggy and iPhone 4 (single core) can have at least over 30fps. So what can I say? Buy iPhone instead of WP? Perhaps.

Speaking of hardware, I heard that a quad core and 1080p are coming to WP. That's just complete useless, without good developer, no matter how good the hardware is, WP still can't have decent game as ios and Android.

This is why it's so incredibly improtant for MS to support its own platforms, which is - at best - is just beginning to pick up with Halo: Spartan Assault. If I were MS I would go to the extent of even creating brand new creative IP just for Windows 8 and Windows Phone! Forget bro-shooters such as Call of Duty, I'd take the fight to iOS/Android as well as Sony/Nintendo by creating in-house titles of same story genres as Final Fantasy, Metal Gear Solid, etc -- and develop high quality games for each for exclusively Windows Phone and Windows 8. Let's start with Titanfall RIGHT NOW.

Unity or Havok's Project Anarchy hmmmm I just can't choose.

@ryan I am in the same boat as you. Unity is ready to use but its asset store takes ages to load or never loads at all. I really hate unity for that. Now anarchy is not free for windows phone. At this point, either Nokia or MS should intervene. I am sure Samsung had something to do with the Tizen thing.

as much as i find it unacceptable that they are forcing devs to pay for wp (unlike ios/android) i find it equally unacceptable that wpcentral gives them voice. Ignore them until they respect us. Promote Unity instead

Unity isn't free either. No middleware provider is under any obligation to give away their software and services for free. Yes, iOS and Android developers get a better deal from Havok in this case, but the availability of more tools and game engines for Windows Phone developers is always a good thing.