HD Photo Viewer, a sharper view of your Windows Phone 8 photos?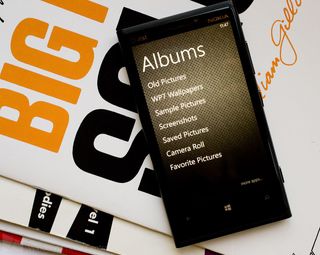 If your Windows Phone 8 photos look a little soft when viewed from your phone, take a look at HD Photo Viewer. The app was created from the need to view sharper images from the developer's Nokia Lumia 920.
The idea behind HD Photo Viewer is that the softness and blurry images viewed from the Picture Hub's photo viewer is that image quality is reduced to improve performance and speed when you pan/zoom about the photo. HD Photo Viewer maintains the original quality to present your photos in a sharper fashion.
The app is laid out in a no-nonsense fashion with one page listing all your photo albums and thumbnail views of all the images in that album when you tap on the listing. Individual photos can be pinched to zoom in with a viewer percentage displayed at the top of the screen.
You lack the options of sharing, accessing other photography apps, save to Skydrive, etc. that you will find in the native Picture Hub. HD Photo Viewer is a photo viewer, pure and simple. And that's not necessarily a bad thing. I liked how HD Photo Viewer displays the magnification levels and the clean appearance of the main menu. If all you want to do is view your images, it's not a bad option.
As far as needing this app to view sharper images from your Windows Phone, we aren't exactly sold on the need. We won't say that the softness issue doesn't exist but we could not replicated the issues the developer presents. We took this photo with a Canon 6D (a full frame DSLR) as a test shot.
I did notice that the native picture viewer does zoom into some images beyond 100% and when that occurs, image quality declines. But in viewing images of all shapes, sizes and resolutions I could not see any difference between HD Photo Viewer or the native Windows Phone photo viewer. Below is the 100% view from both the native photo viewer (left image) and HD Photo Viewer (right). Similar results were seen with pictures taken from DSLR cameras as well as the Lumia 920's camera.
Native Photo Viewer (left) and HD Photo Viewer (right) at 100%
Again, that's not to say issues don't exist in using the native photo viewer on some Windows Phones. We have seen other performance issues on Windows Phones devices that some experience and others don't. The nice thing about it all is that if you are experiencing softness when viewing your images, there is a trial version available to let you see if HD Photo Viewer makes any difference.
The paid version is running $.99 and you can find HD Photo Viewer here in the (opens in new tab) Windows Phone Store. You can also find a discussion on the display softness on the Nokia Lumia 920 here in the Windows Phone Central Forums (opens in new tab).
Windows Central Newsletter
Get the best of Windows Central in in your inbox, every day!
George is the Reviews Editor at Windows Central, concentrating on Windows 10 PC and Mobile apps. He's been a supporter of the platform since the days of Windows CE and uses his current Windows 10 Mobile phone daily to keep up with life and enjoy a game during down time.
Yea they looked exactly the same to me. Maybe my eyes aren't trained.

How did you take screen shots?

Press Home Button and Power Button simultaneously :)

Inb4patentlawsuitfromApple.

Watching the photos on my phone looks much better as on my windows laptop. Screen isn't that good but on other devices like an hd tv you can see the camera isn't on slr quality of course. But watching them on my phones' screen is really sharp.

Funny, for pictures taken on my Lumia 920 (with portico update), the images look way sharper in this app than in the native viewer. I also noticed that the images are much sharper an a PC than on the phone's viewer. I never noticed that before, but it is very obvious. So the image quality is actually much better than what I see on the phone, which is quite a relief. I was disappointed by the camera's quality and often deleted photos right away because they were too blurry.
Could more people check whether this is the same?

The app does work. Text from a letter I took a picture of with my 920 shows noticeably sharper in the HD Photo app. My nerdness is rather shallow, but I recall one of the possible firmware updates making pictures even sharper than the last camera update, if the actual issue is the Picture Hub and the supposed update results in overly aggressive sharpening I'm afraid I will be disappointed. I've seen what those algorithms do on certain Android phones and I want no part in it. Microsoft: fix the Picture Hub. Nokia: don't let Microsoft diminish a fantastic camera. I purchased the app.

I also have a Lumia 920 with Portico and agree that the difference in sharpness is significant - I don't think I'll ever be able to go back to using the native viewer. Not to mention how impressed I am by the 920's camera.

I can also confirm that the pictures always look sharper on my pc or, even my television. This app works pretty well. Lumia 920.

Only for pictures exceeding a certain size (maybe more 3MP) the native photo viewer will start dropping the quality!
For small pictures, there is no difference.

Sorry. Tried this with a 21MP and 9MP version of the sample image and saw no difference. The native viewer did restrict how much I zoomed into the full 21MP image (made it to about 80%) but the images were sharp across the board. Don't get me wrong, it's a nice app and I'm not saying the issue doesn't exist. I just couldn't replicate the problems described with any image of any size.

You seem to have a better/different Lumia 920. Both me and my wife have this problem. My sister's Lumia 620 also has the problem.

Neat app. Zoomed in on a couple of pics then did screen capture then cropped out the time and %. Worked out good.

I downloaded Picture.info to see the size of the original photo I described (though I don't feel that I should need to), it was less than 2.5MB. Perhaps the viewer treats images other than those from the camera differently. I'm feeling a lot better about nearly every photo I've ever taken now that I've spent more time with this app, they all seem much crisper. I can see the noise in some of the pictures.

Definately HD Photo Viewer is less noisy! But does it work .99 cents? I doubt!

No the app is not worth 99 cents. However it makes my wife feel much better about her L920 and that is pricesless. Her phone can now beat her friends' GSIII and is comparable to iPhone 5 in daylight and beat it in low light.

By the way the app allows for unlimited free trial...

Base on this article, now I's really more confused... How can a feature of the same OS different between devices? I'm having blurry issues too on my 920 too and this app really solved it.

An app that lets an innovative camera show its full capabilities on a struggling OS isn't worth 99¢? I can't speak for any other phones' results, but this guy deserves recognition.

Here you can see the topic we started months ago....
http://forums.wpcentral.com/windows-phone-8/213787-picture-quality-pictu...

microsoft call that a feature to make phone faster when panning and zooming....

anyway the app is free... there is an unlimited try with no ads like the dev wrote in the store.

I installed this app early this morning and was blown away. When I read the article here on WPCentral.com and especially the comments, I was quit confused regarding the experience of some user, that the HD Photo Viewer experience isn't sharper than the native viewer.
No words - I wrote an article on my blog and I have the evidence led: Read and see the proof at my blog. HD Photo Viewer is sharper:
http://silverlawone.blogspot.de/2013/03/der-beweis-hp-photo-viewer-fur-windows.html
Use the MS Translater widget at the to right at my blog in order to read the article in the language of your choice.
Have Fun!


I can't even get it to work :( I just click on an album and all I ever see is the title up top and a big black space below. I sat and waited a full minute too. Also, when I do go into an album and tap back it closes the app rather than going back.

Hi Oscargodson
In the first release I focused mostly on the basic function of showing a sharper image so I did not optimize the UI and loading much. I understand the problem you are experiencing and I have saw your comment in the store. It is potentially because you have too many photos in the camera roll folder. Now, rather than launching the main app, could you please try go to Picture Hub, pick a photo, click the 3 dots and choose "Edit" or "Apps" and then chose "HD Photo viewer" from there? That should work.
Thank you for your interest in my app. I will get the next version ready by next week and it will solve all the problems you and some other users are experiencing (the app will forever free).

Cheers
Bruce

Bumped. Update is out today
Windows Central Newsletter
Thank you for signing up to Windows Central. You will receive a verification email shortly.
There was a problem. Please refresh the page and try again.