Help make Windows Phone better with the Diagnostics app from Microsoft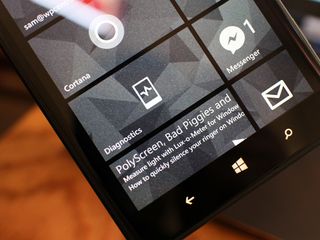 For the most part, Windows Phone 8.0 and Windows Phone 8.1 are free of crippling bugs. However, you might find some hiccups with the mobile operating systems here and there. Want to help Microsoft make Windows Phone better? Then use the Diagnostics app for Windows Phone to collect and send diagnostic information to them. Details below.
Diagnostic is an app in the Windows Phone Store that gives users a seamless and secure way to collect and send diagnostic information. It's a spartan app that focuses on one thing: sending diagnostic information to Microsoft and the Windows Phone team.
After downloading and installing the app you can help track and share a variety of problems across categories like battery, Bluetooth, cellular, device update, messaging, general issues, push notifications and much more. Select the appropriate category and then you can begin tracking your activity in the diagnostics log. Reproduce whatever it is you're having troubles with and reopen the app to stop diagnostics. Then add any appropriate photos or screenshots and send the data to Microsoft.
It's easy to complain about an issue here or there, but sometimes the folks at Microsoft don't know exactly what steps you took to see it. Now you can help give them a better understanding with this Diagnostics app.
Download Diagnostics from the Windows Phone Store.
Thanks for the tip Skizzle!
This is brilliant. Microsoft reaching out to its consumers. So great! :D

Yeah, referring how big tech companies treat their consumers,
Apple is monarch system
Android is liberal
And Microsoft is democracy, or we can call it usercracy ;-)

Google is becoming more and more like Apple. Liberal is not a system of government.

The Paris Commune didn't last more than 2 months

This is an indeed a smart app. These guys at Microsoft are really thinking hard and brilliantly. This app will do a lot of good. Soo great to be a Microsoftian :)

Microsoft would be a lot better if it stopped allowing carriers to block key OS features like Data Sense in WP8.

Well, it's not blocked in the WP 8.1 developer preview. That doesn't mean it won't be blocked later when the carriers (like AT&T) roll out their official OTA updates.


Awesome! All about customer service. I like that they are taking the Apple approach and thinking of customers first (which is not a bad thing)

We at HP follow customer first policy

They do, love HP products. Amazing switches/routers and top of the line mobile workstations!

I suppose its not available for all devices? Or maybe just for wp8.1?
Mine is L520 and it says not available

I have a 520 too and I've just downloaded it. Maybe something is wrong.

Mohit Jain4 should probably run it so that he can determine why he can't download it....

Which region? And r yu running 8.1

If you haven't got 8.1 that might be the problem as they would be currently working on WP 8.1 bugs (not sure though)

I agree 100% - this is a brilliant idea. Well dont Microsoft!

I believe its just for US or for those with 8.1.... Sadly m still in the dark ages of WP lol

Please my word flow keyboard just stopped working. When I swype on it, it no longer works. Please what could be the problem??

You changed your language in the keyboard? (second key at the bottom-right) I doesn't work with some languages yet. As far as I know English (US) and Spanish do work.

They are doing wonderful things waht they should have done b4. Things under the rule is Satya Nadella are going very fast and perfect

Absolutely. Microsoft had no plans to come out with Windows Phone 8.1 until he came in and told the engineers to update the software. /S

+this ! That's the way Microsoft gonna be up and glorious !

indeed, just what our customers wanted, and it'll better relationship in finding out issues quicker too, I think many needs to know what Microsoft is offering on WP , i think many don't know one bit.

Last week we experienced a blood moon lunar eclipse. Some think this coincidental, but I think not. This blood moons portends great changes ahead for us creatures of Microsoft.

Ha. Not Spartan like Master Chief, but spartan as in simple.

There is already a fake app in the store with the same name as this one and publisher name as WP Diagnostics.

The app I downloaded was called "Diagnostics for Phone" by "WP Diagnostics". It has the same exact tile found on this page... You mean this is the fake one?

That's the only one I saw in the app store...it does says WP Diagnostics...not Microsoft...uninstalled..

Yes. The real one is published by "Microsoft corporation". It's bad that if you search for it in the store, the fake one comes up but not the real one.

Got the real one install via windowsphone.com, the wp diagnostics is definitely a fake, how is this allowed? Does anyone look at what is being submitted and published at the wp store..?

This is SPARTAAAAAAAAAAAAAAAAN ahahah

Cool stuff, and I like that it's opt-in.

Excellent! I will give it a try anything to make WP better.

Yes, me too. I also post over on the uservoice site for the same reason. This is an excellent OS. Others will realize that eventually but while it's shaping up, I want to help make it an unrivaled experience. Let's squash some bugs!

Lol that made me think of Bucky O'Hare-- "Let's croak us some toads!"

LOL Captain Bucky O'Hare!

This is ace! Was this launched just today?

Not sure. It was last updated a few weeks ago, but this is the first tip we've had on it. It could have been unlisted but now available publicly.

I got asked to use the diagnostic app and the customer support agent I was speaking to told me that it had just launched and that i was the first customer she had to walk through the app with. This was yesterday so I presume its relatively new.

There is an another app with same name and icon, Its publisher is WP Diagnostics. Is it a fake ?

This is a great start, but i would have preferred them to add this functionality baked into the OS itself, people who don't read tech sites like WPCentral won't be able to contribute anything since they won't know about the existence of such an app

This is a troubleshooting step recorder. An integrated function that would perform the equivalent would be more like a key logger and those have a tendency to be frowned on in terms of security and privacy. Besides, I don't need the app and it wouldn't represent what they would put in the final release anyway. More code and apps are not necessarily a good thing. Making it available for those who are having issues is a better approach and a very positive sign that Microsoft is listening.

Well i meant to have an automatic diagnostics reporting built in to the OS, kinda how Android and IOS or even Windows has, heck even our very own WPCentral app had it, that would be really helpful for Microsoft.. Unless they already have one which I'm not aware of -_-

This is a troubleshooting step recorder. An integrated function that would perform the equivalent would be more like a key logger and those have a tendency to be frowned on in terms of security and privacy.

While that is true, and I agree.

Besides, I don't need the app and it wouldn't represent what they would put in the final release anyway. More code and apps are not necessarily a good thing. Making it available for those who are having issues is a better approach and a very positive sign that Microsoft is listening.

This si not entirely true. For one, Cotana Remind Me is not working for my Lumia Icon to do Time and Location based remindersbut others do not seem to have an issue. This could be a bug, or could be another issue that they are not aware of, the way the app is disgned is actually very good, as to sift through and catagorize issues. I will admit that a large majority will not get it or use it.

That's ok,, this is typically not for them unless requested by a support person. This is for us Techies that installed the Dev Preview and can help with the Beta Testing to iron out the kinks before live OTA. This is a good thing, so any issue you have that can be reproduced easily should be run through this and sent up, regardless of wether you think you need it or it is worth it or not. not everyone will report these issues on a site, and MS isn't going to go sifting through sites like this to find every little issue that may be a real problem. This app makes it easy for anyone to do, and submit. This is a very good thing. Don't down play it. as for below,, no, thi will add overhead to the Phone, that is not really what it was designed for. Plus you do have the issues with the dump files potentially becoming an issue at some point. Eventhough the WP is locked down pretty good, this app is an Opt-In app and you are not required to up[load the files But if you are willing to learn how to read them, you might be able to send specific info to MS. Again, I am not sure Error Reporting would be all that great a resouce for the Phone in general. Typically, the OS is solid out the gate, which is why they don't have to generally issue updates every other week to fix things. unlick other Phone OS's.

Your right. The issue with your Icon is a perfect use case for it. My comment was in response to including this feature out of the box. Personally, I don't need it but for those who are experiencing issues where it can be reproduced and captured in a step recorder, this is a perfect solution and a very positive thing for the platform. But this is completely different from automated error reporting mechanisms. It is very similar to the troubleshooting step recorder in Windows.

Thats one of the reasons why I have a windows phone because the WP Dev team is listening to us users.

If only they would listen to the users who say " carriers have no say on our updates!"

They have... Developer Preview (but I agree... After Dev Preview for prerelease bug testing, wide rollout to WP users should be done by Microsoft directly)

Not for my device...? Nokia Lumia 720..?

Nor mine, the Lumia 1520.

I guess it's windows phone eight point one only... Sorry swipe keyboard.. Lol

Can't download. Is AT&T blocking this?

Just installed it on my AT&T 1520.

There is a beam of light shinning off of your cortana live tile. It's magical.

Australia, like to give it a go but not sure why it not available in my region.

Oh the irony, I'm not able to download the app, I've tried numerous times and on each time it gives me this error: 80073cf9

No support for Lumia 720 WP8?

I see, let's hope if it'll come for 8.0

This shows Microsoft wants us to participate in making things awesome.. Downloaded the app right away :-)

Would something like this detect what's going on with the duplicate messaging window bug?

Upload a screenshot with the diagnostics data...

I don't know some of my bugs on my Icon are kind of crippling. Hopefully this app will make a difference.

It won't. You need Nokia blue.

I meant help as in, hopefully it sheds some light for Microsoft to make the necessary changes.

What kind of bugs are you seeing? I've had quite a few, the worst being random reboots which sometimes end up in a boot loop 4 or 5 times before it finally loads into wp81. Talk about scary!

I get random reboots, sometimes a single boot loop. I got the poor battery performance, I see that apps are not closing fully. I got the issue where it wont wake from sleep after pressing the power button a few times. And today it was doing some serious overheating.

Sounds similar to the issues that I'm seeing. Had it really heat up on me on Friday night while sitting at a friend's house doing nothing. No idea what happened, but a quick soft reset seemed to fix whatever the problem was. Hoping that's the worst of it, and that some of these problems will be corrected as apps are updated for wp81, since we won't be getting the updated firmware for a while.

I'm loving that background.
Kinda has a digital concrete texture to it, very cool :)

Ya. I love that background also. If Sam can give a link. ;)

WPCentral gave the link multiple times. The app for creating it is called PolyScreen.

Sorry my bad, thanks for the reply anyway. :)

Did they give a link to that actual background or just the app?

Not Polyscreen ! Check the wallpaper here ! ;)
http://wallbase.cc/wallpaper/2551827

Not available for L920? :(

I have it mine. 8.1 update

Take it all from me, Microsoft! My body is ready.

If I track how trying to post to Facebook makes the app open up instead of the faster way posting used to be and report it as a bug, will they revert it back? :P

Makes sense since Windows has used crash data to help with desktop booboos for some time. Keep listening to your fans Microsoft!

i was able to update my L720....and i love it..

Amazing, I'm glad they're helping us help them. All parties benefit. Microsoft's support has really been improving these past few years, I'm glad.

Only any good I'd they actually fix the problems. Having to eat 3 months to fix and then 3 months for Nokia to roll out the fixes is a bit too long. Hopefully fixes will come quicker now.

Great move. Finally and emphatically burying the thought that Microsoft doesn't care about their own platform.

i updated my 920 to 8.1 but i did not get the cortana can somebody explain please

Set all the language and region settings to United States....then restart your phone.

How big is this app? Taking a while to download.

It's tiny. Less than 1mb. Make sure its not the fake one. The real one is developed by Microsoft corporation not wp diagnostics

sweet! i just submitted the error where your outlook.com email won't sync when you have the text message backup feature turned on.

I have text backup on and also receive outlook emails as they come in? Must be device specific bug. Which phone are you using?

it's the 920. i think once you get a certain amount of texts it errors out once it tried to sync them all back or something. there is a big thread on it in MS forums. it's been doing it since WP8.

Sam, is your WPCentral live tile translucent?

you can even save the report to your phone and connect to your PC and view using IE

Not available for Lumia 920 Black update India

It's available for Windows phone 8.1 ONLY

Please update the story to say so as most of us are trying with WP 8
Remember folks only devs have 8.1 or those happy to use the beta of 8.1

Yay! I showed them the typos and and picture favorites button glitch.

All. Next time your phone is sat doing NOTHING and yet is burning hot from battery discharge, please run this app...

There's one suspect I can point you to: Facebook, or more especially, Facebook's notifications. After I disabled Facebook's notifications, my phone went back to normal, no heating when idle.

Never loaded Facebook and don't have an account. Glad it helped you though.

I wish I'd never had an account! My social circle is connected through Facebook though...so I'm kind of tied to it. Hmm

It's a new day at Microsoft.

done, i sent my issues :)

Hahahaha! That made my night!

Can't download app, device not compatible. I'm using L928 why can't I get it & I live in the US

its for windows phone 8.1 dev perview

awesome they really care and serious about this

But the app's developer is not Microsoft.

what are you talking about app Publisher is Microsoft

DEFINITELY downloading this :P

Hey Sam, could you give me the link to your start screen background? :D

Just what I wanted! Thank you.

Not available in UK. Lumia 920 (wp8.0)

WP8.1 only...
They're not going to worry about bug fixing WP8! :)

I'm glad they are taking feedback. This is great stuff from Microsoft! Also, I kind of miss Bing Vision being two clicks away :(

They could've run this diagnostic app themselves could they? I mean they should right. It's party of the test. No?

The Microsoft personel that live and work in each one of our phones, like little imps or lilliputians.
Have you never seen THEM...


If you look right at the phone, you won't see them. You have to look at the phone with the corner of your eye. That's the only time I see THEM. Then and when I blow a huge bong hit onto the phone, then you can hear tiny coughing and THEY scatter. Try it tomorrow, you'll see...

Not available on mine. 720, India.

I will use this thanks for the recommendation!

Help Microsoft and Nokia, help yourself.

Preview for developers wp8.1 users will also receive firmware updates as wp8.1 update will officially arrive?

It is not available in India for my Lumia 920...

Excellent idea, so far I don't need to use it though :)

MS on Fire now!So many updates and now so much response to customer feedeback, update on the way, xbox music updated, and tons of more things!

If I am not mistaken, there is a system feature in wp8.0 since day 1, that can be enabled and sends all kind of usage statistics to MS without you knowing exactly what kind of data is getting leaked from your personal things. They promise they dont steal your personal data, but all you can do is to trust this faceless behemoth corporation. Or the other option is you disable this data leaker feature, and again you trust MS they have no other hidden data leakage built into the system. How is this app different from the builtin feedback sending feature? Also the fake apps is a "good" sign this can be misused if people dont pay attention to the publisher name.

Microsoft and all other companies use telemetry and analytics to track the usage patterns of INCLUDED features/apps. However the phone does not send userdata or appdata back to Microsoft. For e.g. they found that the comma key would accidentally pressed when trying to use the space bar and therefore they hid the comma key to reduce user mistakes. This app is a diagnostic app. This is different that you consent to send specific data about a bug or problem you might be facing.

That wat I was thinking of all the time. Diagnostics Tool

Hi Sam, do you know where we can send diagnostic data that's locally saved to the phone?

Yeah, I produced a file, saved it locally now I don't have a way to upload it...i also wonder if one can do IE diagnostics, since there is no IE selection on the list.

working in US region http://www.windowsphone.com/en-us/store/app/diagnostics/93a560c9-1b50-41...

Nice. So how is bluetooth working out so far in 8.1? Can I finally use a bluetooth keyboard now?

If someone would ask me "what's the first thing that comes to mind when you hear" 1. Apple
2. Google
3. Microsoft my personal answers would be: 1. Overpriced
2. Privacy concerns
3. Cares about consumers I guess that makes me a MS fanboy? ;)

Having a positive impression of a company and it's products don't make you a fanboy. Doggedly refusing to acknowledge that they aren't perfect is probably a different matter altogether. Personally, I'm sick of the stereotypes. Everyone has their reasons for what they prefer regardless of whether that is technology, politics, media or otherwise. None of these companies would be in business if they weren't doing something right. Over the last decade or so, Microsoft has done ALOT to improve their customer and partner relationships. A couple of years ago, I sent in feedback after using a tool that they publish for developing and managing Group Policy. To my surprise, the program director emailed me the next day with a direct response to my feedback. Since then, I've connected with him on LinkedIn and reached out to him on occasion for his advice on related matters. 15 years ago, Microsoft was a black box unless you were in Redmond and, "on campus". Frankly, they were more like Google and Apple is now. They were tight lipped, selective, paranoid and needlessly arrogant. The turning point was the Windows 7 public preview program. They learned alot of hard lessons from Vista / Longhorn. Then, they forgot what they learned when they ignored user and partner feedback from the Windows 8 Developer and Public Preview program. It's cyclical in nature but as an organization, they have consistently demonstrated that they are willing and able to acknowledge their mistakes and correct them.

Not available for HTC 8X running 8.0 on Verizon (US).

Funny thing. The diagnostics app shows up in the multi tasking window even after closing it. Looks like we need another diagnostic app for the diagnostic app.

Sam, could you update this post so it says that it's only available for 8.1 users.