Advertisement Feature
Here are all the advantages of choosing a mini-ITX desktop PC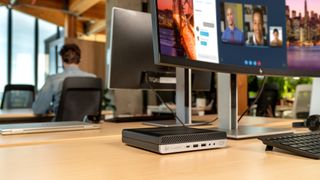 (Image credit: HP)
While most desktop computers these days are designed around the standard ATX form factor, not everyone lives in an environment well-suited to traditional PC towers. This is where the mini-ITX form factor comes in, offering a compact desktop experience that will save you from the woes of having a lack of space while still delivering strong performance. Here's a full breakdown of all the advantages of choosing a mini-ITX PC.
You can put mini-ITX rigs anywhere
While ATX-based desktops are typically a foot wide and several feet long and tall, mini-ITX rigs cut that size down by half or more in many cases. For example, HP EliteDesk 800 G5 desktop features dimensions of 6.96 x 6.88 x 1.33 inches — considerably smaller than a toaster! This tiny form factor allows people who have very limited space, such as students living in college dorms or people rooming with someone in a small apartment, to comfortably enjoy the benefits of a desktop PC in situations where the standard ATX format wouldn't be ideal.
Though the smaller size does mean that your options will be somewhat limited in terms of power, it's far from difficult to enjoy a strong desktop experience with mini-ITX builds. The HP EliteDesk 800 G5 brings an Intel Core i7-9700T vPro CPU, Intel UHD Graphics 630, and 16GB of RAM to the table, as well as compatibility for Bluetooth and Wi-Fi 6. These specs provide everything you need for a reliable productivity desktop and then some.
Size matters not
Going big by going small

The HP EliteDesk 800 G5 offers awesome desktop performance in a tiny form factor, making it a fantastic example of the value of mini-ITX.
It's lighter and easier to carry
Another big advantage of mini-ITX builds is that they're incredibly lightweight. Compared to ATX builds that typically range anywhere between 20 and 30 pounds (even more in some cases), mini-ITX systems weigh only a tiny fraction of that — usually five pounds or less. The aforementioned HP EliteDesk 800 G5 weighs in at just 2.13 pounds, which makes it lighter than a toaster as well as smaller than one.
This low weight makes the form factor perfect for situations where you'll want or need to move your rig around on a frequent basis, such as if you want to use your system as a mobile home theater PC. With an ATX desktop tower, moving the 30-pound system would be a major hassle; with mini-ITX, it's an effortless task.
Mini-ITX is often cheaper than laptops
Additionally, mini-ITX builds tend to be less expensive than comparably-capable laptops and will generally deliver more bang for your buck in the specs department. Laptops do offer the advantage of being usable while on-the-go thanks to their built-in displays, but if you just need something you can take between work and home and you have monitors that you can use, a mini-ITX desktop will be an excellent choice. Laptops may be more versatile overall, but mini-ITX is an affordable mobile alternative for those who don't need something they can use in their lap.
They're just plain cool
In an age where the laptop has dominated the mobile computing space, there's something incredibly cool about opting for a mini-PC that is, in terms of raw power, just as capable as high-end laptops (if not more) for a reduced cost. The best pieces of technology are the ones that capitalize on a fun idea, and a full-fledged desktop experience contained within the size of a brick is definitely a fun idea.
Big things come in small packages
Overall, there are lots of great advantages to enjoy that come with opting for a mini-ITX build. Your desktop PC will be smaller than any other form factor, meaning that you'll have no issue computing in a limited space environment. In addition, the light weight makes moving mini-ITX rigs a piece of cake, and the generally lower cost compared to similarly-capable laptops also solidify mini-ITX desktops as strong mobile alternatives. It's often said that big things come in small packages, and mini-ITX systems prove it.
Size matters not
Going big by going small

The HP EliteDesk 800 G5 offers awesome desktop performance in a tiny form factor, making it a fantastic example of the value of mini-ITX.
Windows Central Newsletter
Get the best of Windows Central in in your inbox, every day!
Windows Central Newsletter
Thank you for signing up to Windows Central. You will receive a verification email shortly.
There was a problem. Please refresh the page and try again.