Here is Microsoft's Halo 5 special edition Xbox One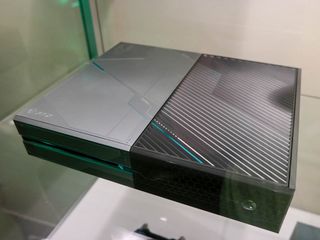 Microsoft announced another special edition Xbox One console during its Gamescom presentation in Cologne, Germany, and here it is. Aside from the paint job this is the same 1TB console that's already on sale. But what a paint job it has.
The console is themed in black and silver with some splashes of color coming from the blue striping along the top and the same color on the disk tray. The darker portion of the front has a honeycomb pattern ghosted into it and it's a pretty handsome looking thing all round.
With the console, of course, comes a special edition controller as well. There's a matching silver based based one with the same blue stripes and patterns that the console has along with a blue D-Pad. There's also a green "Master Chief" edition which has a green base, green thumbsticks and a kind of bronze color on the D-Pad. Both of these were pictured with retail boxes, if you're interested in what those look like, too.
You can pre-order all of these now with the console bundle costing $499 and the controllers $69.99. You'll find links for each below.
Pre-order the Xbox One Limited Edition Halo 5: Guardians Bundle at the Microsoft Store (opens in new tab) ($499)
Pre-order the Xbox One Limited Edition Halo 5: Guardians Wireless Controller at the Microsoft Store (opens in new tab) ($69.99)
Pre-order the Xbox One Limited Edition Halo 5: Guardians – The Master Chief Wireless Controller at the Microsoft Store (opens in new tab) ($69.99)
Richard Devine is an Editor at Windows Central. A former Project Manager and long-term tech addict, he joined Mobile Nations in 2011 and has been found on Android Central and iMore as well as Windows Central. Currently you'll find him covering all manner of PC hardware and gaming, and you can follow him on Twitter and Instagram.
Getting the blue one. Very pretty!

So awesome. But a Kinect with the color scheme would top it off. Or maybe Cortana color scheme?

I am waiting on a slimmed down version that uses just a normal power cable like the PS4.

The PS4 hides their brick in the console. A slimmed down Xbox One would have nowhere to put the brick.

So you're not getting an Xbox One?

Probably not, but I sony can find a way to fit their power block inside a much smaller box, Microsoft should be able to do something similar. I have my fingers crossed that this happens.

Don't expect the PS4 to get any smaller. The capacitors alone in the power brick have to be large enough to handle the power required to run the console. That limitation prevents slimming down the console and building the brick in. That's why you get one or the other. Also, Microsoft has a reason for wanting to provide as much breathing room as possible in the Xbox One.

They could...but they won't. Putting the power brick inside causes more heat to be generated inside the console, and the size of the x1 is large to ensure no heat related failures like the 360 had. They may slim the console itself slightly eventually but I wouldn't hold your breath for an internal power brick, all of the 360 versions had external ones. Besides, external ones are better, when they fail (and they do) you can replace them easily

Oh I know, but a guy can dream! I have everything mounted on my wall with no shelving at all, so makes it hard to have an Xbox and make it look decent.

There is one regional variant of 360 that had a brick half the size

so slimming down the Xbox 1 and housing the AC brick all very very very easibly done. If Sony can do for the last 3 gens without EVER causing any heating issues. Then ya XB1 can do it too

I have a PS4 and trust me, the circulation is not so great. I've read forums confirming mine isn't the only unit that does exhibits the following behavior: jet engine take off noise watching Netflix or playing Witcher 3 or pretty much anything. I've even purchased an external air circulation system that integrates into the chassis. Here is the order of loudness originating from appliances on my media shelf (open): PS4, Comcast DVR, XBOX One. Though somewhat of a nuisance re: reduced cable management (perhaps as a stretch argument in favor), modular design does make better sense. Additionally, Microsoft has commented on the cavernous design of the XBOX One. They sum up as one word: circulation. I bet they will slim down XBOX One, but only if they do a processing upgrade/ or redesign which reduces power and cooling requirements. Otherwise, it is unlikely.

Awaiting to get a 2Tb version with Kinect bundle. 1tb is too less when it comes to approx 50gb per game. Or at least they should launch 1tb with kinect bundle and two controller. Or at least have a option to replace the Internal HDD. Microsoft count me out on this Xbox version if no high capacity hdd available.

Uh... Use an external? Don't foresee a 2TB for awhile.

Until they they run out on their agreement for 500gb drives id assume

Yeah bro use an external hard drive lol

Having an external is way more efficient since all the game files can be loaded alongside the system files. Rather than everything queuing up. The only way to better it really is an SSD, but since they're quite expensive...

Suddle, I like this one, big and flashy, I dont....

Well, I'm glad I didn't wait and got the normal 1TB version on W10 release day with the Insider 20% off. I love Halo, but this paintjob is not my cup of tea. Might get the Master Chief controller one of these days, though.

and it's not Red and Blue why???? heh

Maaan your color temps are so off for the green one haha

Its going to go so well with my halo 4 360!! I have been waiting to get the Xbox one painfully and finally its all worth it! This fall line up is sick!

I already bought mine from Gamestop.

I was really hoping the look of the Halo 5 custom console didn't blow me away because I have my mind set on buying the Gears of War 4 console coming out holiday 2016. I want it to match my Gears of Wars Xbox 360. Looks like I got what I wanted because as cool as this Halo 5 console looks, it doesn't compel me to buy it. I feel relieved that there isn't any competition in my mind.

That looks a little nicer, but I would much prefer a complete console redesign. I hate this form factor SOOOOO much. It needs to be smaller - I think this can be done and keep it cool at the same time. Allow us to replace the internal hard drive. It's nice to just be able to add an external hard drive, but now I end up using just the external drive, while the internal one is empty.

That Master Chief controller is awesome. Wish the Xbox One console had that color scheme. Would be cool to have two color shcemes for the console bundle.

Will this be available in Canada?
Windows Central Newsletter
Get the best of Windows Central in in your inbox, every day!
Thank you for signing up to Windows Central. You will receive a verification email shortly.
There was a problem. Please refresh the page and try again.