Here's what the Pentagon's scrapped $10 billion JEDI contract means for Microsoft
It's not over for Microsoft just yet.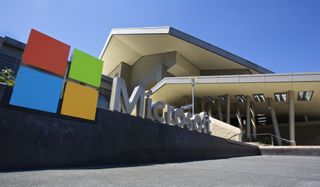 (Image credit: Stephen Brashear/Getty Images for Microsoft)
In 2019, the Pentagon awarded Microsoft its Joint Enterprise Defense Infrastructure (JEDI) contract, which had the potential to be worth $10 billion over 10 years. The contract's purpose was to help modernize the Department of Defense's IT infrastructure and cloud capabilities. Amazon, which lost out on the contract upon it being given to Microsoft, sued the Pentagon, claiming external factors unfairly influenced the awarding process.
The external factors Amazon felt influenced the process included then-U.S. President Donald Trump's public grudge with Jeff Bezos and, by extension, the Trump administration's issues with Amazon, which Bezos founded. There was also another element of conflict to be found in Trump's criticisms of the Washington Post, which Bezos owns.
Amazon didn't let up on the litigation front, stretching out its lawsuit all the way to 2021 until, at long last, the Pentagon canceled the contract entirely, ripping it away from Microsoft in the process.
"With the shifting technology environment, it has become clear that the JEDI Cloud contract, which has long been delayed, no longer meets the requirements to fill the DoD's capability gaps," the Pentagon said about the canceled contract, not addressing the legal troubles with Amazon.
However, mentioned or otherwise, the legal troubles' implications did — and still do — loom over the DoD's actions. The question now is: How do the tech companies involved move forward from this? Windows Central spoke with experts to learn how JEDI's cancellation will affect Microsoft.
Microsoft JEDI contract: Financial context
Before addressing Microsoft's moves going forward, it's important to better understand what the company did and didn't lose as a result of JEDI's premature end. We reached out to Rosenblatt Securities' senior research analyst John McPeake to get insights on the financial angle of the contract's termination.
He highlighted that the deal had a minimum commitment of only two years and $1 million on the DoD's part. The $10 billion ceiling would only have been achieved if all the deal's options were exercised. He also provided context for the deal's value, stating that even if JEDI netted the maximum $1 billion in value per year for Microsoft, that'd only make up 3% of Azure's estimated revenues, which would translate to 0.5% of the company's overall estimated revenues for FY22.
Furthermore, one can't consider Microsoft totally out of luck since the DoD has announced its Joint Warfighter Cloud Capability (JWCC) contract as a replacement for JEDI, and has emphasized Microsoft will likely be involved in that deal, even though the tech giant will probably be sharing the contract with Amazon in some capacity. Plus, Microsoft still has its lucrative HoloLens contract in the works with the Pentagon.
Microsoft JEDI contract: Expert views
Moor Insights & Strategy's senior analyst Anshel Sag weighed in on Microsoft's JEDI situation, emphasizing that hopefully, controversy and hints of scandal don't riddle the JWCC contract now that JEDI is in the rearview mirror.
"I think the JEDI contract was awarded in a fashion that jeopardized the validity of the process," Sag said. "While I don't necessarily think it was necessary to take it away from Microsoft, I do believe that it would've been better to have a multi-cloud vendor solution. While it isn't entirely clear who will bid on this contract again, I hope that the best two vendors are selected and that political preferences don't play into the decision process which appeared to happen the first time."
A senior analyst at Forrester, Tracy Woo, gave insights about JEDI's cancellation's micro and macro implications for Microsoft. Her thoughts aligned with McPeake's stance that any fallout or impact is negligible.
"As a whole, nothing changes," Woo said. "This was a prolonged legal battle with no end in sight. The government had already listed out AWS and Azure as the only two candidates able to meet the requirements it needs currently. So it's not a rebuke on Microsoft and its capability to deliver a cloud infrastructure overhaul, but more recognition that the Pentagon badly needs its technology updated and that the JEDI agreement was not delivering on that promise."
Woo also remarked on the JWCC contract's multi-vendor, controversy-avoiding approach, sharing a similar stance to Sag on the matter.
"On another note, the fact that the Pentagon is now appearing open to a multicloud approach of using multiple public cloud vendors is a smart move, not only for security, reliability, and availability reasons but also because it is likely to be a less incendiary event when the contract(s) are awarded."
Microsoft JEDI contract: Not a total loss
The cancellation of JEDI is, in no uncertain terms, a win for Amazon simply because it denies the opposing company a clear victory as well as reopens the door for the Microsoft rival to score a deal with the DoD.
What Amazon's accomplishment will mean for Microsoft with regards to the JWCC contract and future deals remains to be seen, but as far as the spilled milk that is JEDI goes, it can be argued that nothing too major was lost — this time around.
Windows Central Newsletter
Get the best of Windows Central in in your inbox, every day!
Robert Carnevale is the News Editor for Windows Central. He's a big fan of Kinect (it lives on in his heart), Sonic the Hedgehog, and the legendary intersection of those two titans, Sonic Free Riders. He is the author of Cold War 2395. Have a useful tip? Send it to robert.carnevale@futurenet.com.
"I think the JEDI contract was awarded in a fashion that jeopardized the validity of the process." There's no way whiny Microsoft fanboys can get around this. Trump openly politicized economic policy and abused his power - this is just one example of many. His own defense secretary said so. We can either live under the delusion that Trump was not an historically terrible and corrupt president, or we can grow up and face facts.

I'll take you up on that. Unless there is evidence that the Pentagon did not make the decision based on objective criteria, everything else is speculation and noise. Both Amazon's AWS and Microsoft's Azure are excellent cloud systems. AWS tends to be better deal if you just want bare servers (especially for Linux systems) or to work with Amazon's retail systems. Azure tends to be better if you are going to be doing anything on the Microsoft stack, including using their AI systems, which JEDI did indeed leverage. I have not seen any reason to believe that the Pentagon selection process was not done fairly. Further, even if it were influenced by POTUS, as the sole head of the executive branch (1/3 of the federal government), the President has tremendous authority in this area. That power is vested in Joe Biden now. Does that mean we should conclude that the Pentagon has now scrapped this due to unfair influence by Joe Biden, kowtowing to billionaire Democrat donor Jeff Bezos? No, because again, absent evidence, that would just be foolish speculation. Your hatred also serves no purpose. I get it -- your candidate didn't win in 2016, so naturally you don't like the way he governed. But your guy did win this time. How about being happy about that instead sewing anger and spitting at the other half of the country who lost the last election?

Andrew's argument is, in some ways, supported by the events. As mentioned in the AP coverage we linked to in our most recent article discussing the subject matter, the Defense Department inspector general's office's review of White House interference openly admitted it "could not fully review the matter because the White House would not allow unfettered access to witnesses." If there was nothing to hide, why cut off access to witnesses? Again, this isn't a smoking gun by itself, but it raises a lot of questions.

In such matters access to executive branch people is limited to preserve certain Constitutional separation issues. While that reason doesn't directly apply in this case since the DOD is part of the executive branch there still is a distinction that needs to be made here. The military in all its aspects is subservient to the political branch. Allowing the military to investigate the civilian government undermines that necessary distinction. Asserting that "if you have nothing to hide" is not the point here. This argument is the equivalent of letting the police into my house to snoop around even if I have nothing to hide and then being characterized of guilty of something, anything convenient. It is precisely because of this potential outcome they will never get in my house without a search warrant. This nothing to hide argument, once bought into, directly undermines every notion of innocent until facts prove one isn't, due process, and so on. With this in mind, the fact that the Defense Department inspector general noted they didn't get access to the certain people is an indication of them fulling their primary duty faithfully and not the civilian side covering anything up. These situations are far more nuanced than bleeding out of one's eyes and nose from high blood pressure over a few red meat comments no matter who is butchering the cow. This argument is a red herring tossed out by Amazon to blow up the JEDI contract because they got beat by Microsoft on the merits. For the longest time Amazon thought, rightly so, they had this contract in the bag and when they didn't were, mildly stated, sad. If Amazon had hard evidence of corruption in the bidding process I am more than confident it would have been central part of the lawsuit, but it wasn't. Sandburg's observation is most telling here, "If the law and the facts are against you, pound the table and yell like hell." The main thrust of the inspector general report is this award was done in an ethical and even handed manner.

Who do you think got the Pentagon to select Huntsville AL as the future site of the Space Force Headquarters? Not Trump. Senator Shelby, who is no. 4 in seniority. If Colorado had re-elected Gardner, I am pretty sure the headquarters would have been left at Peterson AFB in Colorado Springs. What do you think the politicians in CO did? Accused Trump of political influence. If Trump is the reason the Space Force exists, do you think he might want to have a say over where to place the headquarters? But who was the first to criticize the selection process? Sen. Shelby thought the Pentagon was too quick with its evaluation. So the Pentagon reworked its selection process and used some objective criteria. But at the end of the day, we all know Sen. Shelby used his position as No 4 to put this facility in the State of AL Politics is politics and big money involves political decisions. Biden will do the same as will the other senators. You don't spend decades in the Senate without using your seniority to help your state.

You have a grounded understanding of these matters.

Exactly right. No politics here please

"Trump openly politicized economic policy and abused his power - this is just one example of many. His own defense secretary said so." The U.S. Department of Defense's Inspector General investigated the matter and concluded that Microsoft's JEDI contract doesn't seem to have been influenced by President Donald Trump. Among the many roles an inspector general provides, a critical one is to maintain the integrity of the organization it represents. More specifically, the IG is expected to act in a non political manner when reporting fraud, abuses, and deficiencies about business items such as contracts. This is in contrast to a president or a cabinet member who act and speak in a fundamentally political manner. Further, to assert that this contract was denied Amazon based on some political chatter ignores the entire DOD institutional processes in place that drive military contracts. The problems with JEDI contract began in the specification phase. At that time, it was drafted so only Amazon qualified a situation Defense Secretary Mattis didn't object to (He even visited the Amazon campus); this is something that other vendors, such as Oracle noted. The multi cloud / multi vender approach of the JWCC is clearly designed to avoid what happened with JEDI. When Microsoft received security clearances which allowed them to bid on JEDI is when developments became interesting. Carl Sandburg noted this about the law: "If the facts are against you, argue the law. If the law is against you, argue the facts. If the law and the facts are against you, pound the table and yell like hell." Amazon seems to have used the last option in its lawsuit and ran the clock out on the game. A very good article about the JEDI debacle can be found at Cloud Management Insider: https://www.cloudmanagementinsider.com/the-jedi-contract-what-really-hap...

Read the history of the new tanker plane for the Airforce. Three contracts. First Boeing. Nope Bribery. Second Contract Airbus. Sorry Boeing has to win. Third Contract Boeing. Result? I don't think any of those planes have been clear for combat operations. This contract is 20 years late, billions over budget, and a plane that does not meet initial contract requirements. There are countless examples of the DOD messing up contracts and politics distorting the outcome.

AWS did not want Azure to become the standard for cloud computing. If JEDI was not canceled and MSFT prevailed in court, then MSFT would have spent 10 years building apps on Azure that would have been used on other government cloud initiatives. AWS would have lost big time. I did read this and I don't know it is relevant, "Enterprises can use modern application tools from Microsoft to rewrite applications that work both on-prem and in Azure. Azure has the best platform to host applications built using Microsoft stack, and the share gains (doubled over the last three years) are proof of the strength of Microsoft Azure's offering. " from https://seekingalpha.com/article/4438118-microsoft-stock-undervalued-azu... I don't know how many government agencies use apps built on the MSFT stack, but clearly, MSFT was some inherent advantages, and those advantages my be more apparent in 2021 as the Azure cloud system keeps growing faster than AWS. But what do I know? I think the most important issue to recognize is that IBM, Oracle, Google will also win a part of the contract along with AWS and MSFT. MSFT Azure is growing fast and may overtake AWS in a few years. The impact on MSFT valuation is driven by the commercial adoption of Azure by large enterprise customers. Heck AT&T is putting its 5G network on Azure. Do you think maybe the DOD would want to run its communications through this 5G system? Maybe that is irrelevant.

ddn123, Your over arching observations line up with mine: the battle over the JEDI contract was all about dominating the cloud. The key part of JEDI was a about the halo effect would come from it; effectively the winner had lock on DOD computing infrastructure over the decade or so. Plus it had a real potential to drive which cloud technology would be used in other parts of the government such as the IRS. AWS was a brilliant not only for its technology but that Amazon had the insight into how critical cloud computing would be by about 5 to 10 years. This gave them an extraordinary head start on this fundamental change in computing that would affect nearly every aspect of the economy, government, and communications, and more. This is not something the ferociously competitive Amazon would not contest bit by bit, byte by byte. Microsoft pretty much ruined Amazon's empire game and during the JEDI period Azure's market share was growing a such a clip that it looked inevitable that Microsoft would eclipse Amazon's leadership position in a few years. Losing JEDI to Microsoft was something Amazon had to stop at all costs. With JWCC the great game begins a new chapter. Who dominates the cloud is in a very advantageous economically, socially, and technically over the coming decades. I expect it to be a bloody mess, metaphorically speaking.

My speculation is the government will end up with a few dominate cloud contractors, much like Lockheed, Raytheon, or Boeing. The JEDI contract without a doubt was specified specifically to fit a single vendor, in this case Amazon. How this all came about had to taken Amazon years of groundwork to get in place. Speculating, mildly, I bet Amazon saw a diminishing window where this would be the case, went for broke and they almost pulled it off. I mean, come on, you have to admire their hutzpah here. Nadella's long game vision of the importance of cloud computing allowed them to make Azure the only other company and technology on the planet able to compete for JEDI; in the nick of time much in the manner of cliff hanger plot. Couple to Azure, Microsoft's decades of experience, with the personal to match, with international enterprise and government entities, Amazon losing JEDI must have looked like an existential threat.

You've pointed out a major element of the debacle (Azure inroads) and highlighted something that is indeed a loss for Microsoft. With that being said, Microsoft is still primed to realize Azure gains via new deals (JWCC, for example). Mind you, there is the unknown of how much traction it can make while having to share the limelight with Amazon and other cloud competitors. But we're not in a position to guesstimate how much foundation-laying potential has been lost just yet.

The cloud computing revolution along with advances in AI, quantum computing, the Internet, 5G and silicon is a stunning moment in history. My world view is shaped by this and I am of the opinion that everything in computing that has happened to date, when this time is in the history books, will be seen as the warm up for the next 50 years with cloud computing being the main driver in reshaping how we conduct life until quantum computing is widely viable. This is the biggest thing since sliced bread and then the wheel. Even though the JEDI dustup is an economic loss for Microsoft your article correctly pointed out the short term economic effect on Microsoft: squat. The bigger story, as I see things, is this is the moment when the two dominant cloud companies have emerged. Google is a force but they are facing real headwinds with the rest playing bit roles. The great winners in computing are those that control critical pinch point platforms such as Windows, iOs or Android, search, and ecommerce. The cloud computing revolution is not different; history has demonstrated that computing tends to allow two winners that then drive technology, and more recently, ecommerce and advertising (there are other rabbit holes here to go down but I limiting myself to the obvious ones). Years after the JEDI contract was started only two companies still meet all the requirements necessary for the U. S. Military's mission critical computing needs: Microsoft and Amazon. The U. S. Military is betting the farm on these requirements and indirectly on these two players for the central parts of their infrastructure. The ramifications of this are significant. I don't think there is much downside for either having to share the limelight and shadows. I think this JEDI mess was inevitable and necessary because it sorted out the rules for how major technology companies are in effect going to become defacto parts of the Federal government while remaining private companies. This is a stunning development. Once Microsoft and Amazon get their hooks in the Federal government good luck to any competitor knocking them out. Further, this will form new standards that will spread far and wide much as Windows, IOs, Android, Google's Search, Amazon Ecommerce dominate much of life directly or indirectly. In a sense we are witnessing something similar to how the great oil companies grew but with the added feature of colonization. We are now dealing with mission critical enterprises upon which many aspects of government, the economy, communications will be beholden too more than ever. How much traction can Microsoft gain after the JEDI mess - plenty. Same goes for Amazon. I would bet the farm and the clouds on this.

Eisenhower warned of the Military-Industrial complex. But now we have to think of the Entertainment Industrial Complex. I think Kinect was used to build the roomba and a robotic minesweeper simply placed the Roomba on top of bigger cassis with mine sensors. When you spend 100s of million to sell millions of $200 consumer devices in a month, who has the greater incentive to develop technology? HoloLens? We can add this to a soldier's equipment and give them greater lethality on the battlefield. Will it take a ton of work? Sure. But all the work is directly applicable to many industries and speeds up the development of the ecosystem. But HoloLens was an effort to provide consumers with an entertainment device. Azure and AWS? These were built on commerce and are raising productivity for the enterprise--large organizations that span multiple markets. ATT&T is moving its 5G network onto Azure. Will ATT&T's 5G network generate more or fewer profits than JEDI/JWCC? The whole point is that MSFT recognizes the power of the old WinTel ecosystem but is now extending its foundation to the cloud. Sure they added a lot. But many companies that used WinTel in the 80s and 90s are now shifting their processes to Azure and the cloud. Can Salesforce and new startups displace the entrenched companies? Sure. But Azure and the Microsoft stack will run a lot of ecosystems/industries. MSFT is just trying to place Azure in the right industries. Health? Communications? Gaming? These are huge markets that dwarf military spending. But I see the government being diminished by the Cloud.

Who became the CEO of Microsoft after Ballmer? The guy who ran MSFTs cloud efforts. Who replaced Bezos? The guy running Amazon's Cloud efforts. SO who is really important in this JEDI/JWCC dust-up? The two guys who built the two dominant cloud networks. While we can all say that AWS was first to the game, we can also say the MSFT has a foundation with WinTel and Office to quickly adapt to the Cloud, which they have done and explains why MSFT cloud Share is growing--the enterprise is moving to the Azure hybrid approach. Will the enterprise restructure its existing IT systems to adopt AWS or will they transition from on-premises servers to Azure using MSFT tools? Some old-line companies will fail in the transition. Some new upstarts will displace entrenched competitors? Sears dies while AWS and Amazon dominate. But Walmart is transitioning well and their large bricks and mortar footprint gives them advantages. I think the DOD and the federal government are asleep at the switch but AWS and Azure and their leadership teams can quickly transition these organizations for much greater performance. Unfortunately, politicians are in the middle and it becomes a huge rent-seeking exercise. AWS and Azure don't really care as long as they get most of the action. Hence the contract dispute. Azure was getting it all. Now it looks like 5 cloud providers will get some of the action (Google, IBM, Oracle, AWS and Azure).

I disagree that a multi cloud approach is the right approach. This means you now have to train people on 2 totally different solutions that, depending on the scenario, are silo'd and don't speak to one another. Add to this that Amazon doesn't have an Office suite, a management solution etc. Microsoft has this and they run in a dedicated IL4/IL5 datacenter that is Fedramp high accredited (plus several other accreditations) All Amazon's whining did was weaken the country's security...
Windows Central Newsletter
Thank you for signing up to Windows Central. You will receive a verification email shortly.
There was a problem. Please refresh the page and try again.