Pentagon cancels $10 billion JEDI contract with Microsoft
After almost two years of legal battles, the Pentagon has scrapped its $10 billion contract with Microsoft.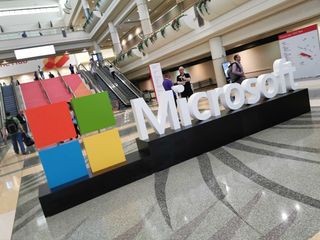 (Image credit: Daniel Rubino / Windows Central)
What you need to know
The Pentagon has canceled its JEDI contract with Microsoft.
The contract has been part of a long legal battle since it was awarded in October 2019.
Amazon argues that the contract was not awarded to Amazon due to President Trump's feelings towards Jeff Bezos.
The Pentagon will instead pursue a deal with Amazon and Microsoft.
On Tuesday, July 6, 2021, the Pentagon announced its cancelation of the Joint Enterprise Defense Infrastructure (JEDI) cloud contract with Microsoft. The contract was valued at up to $10 billion. In its place, the Pentagon may seek a deal with both Microsoft and Amazon, according to a report by the Associated Press. Google, Oracle, and IBM could be part of the new deal as well.
"With the shifting technology environment, it has become clear that the JEDI Cloud contract, which has long been delayed, no longer meets the requirements to fill the DoD's capability gaps," said the Pentagon.
First awarded in October 2019, The JEDI contract has been part of a lengthy legal battle. Amazon claimed that the Trump administration interfered in the awarding process and has been fighting the verdict for years.
The legal battle was not mentioned specifically by the Pentagon today.
Amazon Web Services was considered a favorite to win the bid, so Microsoft being awarded the contract came as somewhat of a surprise in the industry. Amazon was unhappy with that outcome and claimed foul play.
At one point during the legal saga, Microsoft Communications CVP Frank X. Shaw issued a statement weighed in on the conflict, highlighting Microsoft's longstanding working relationship with the Department of Defense.
In May of this year, reports emerged that the Pentagon was considering scrapping its deal with Microsoft.
Microsoft issued a statement (opens in new tab) on the Pentagon's July 6, 2021 decision. Toni Townes-Whitley, President, U.S. Regulated Industries at Microsoft, says in the post:
Microsoft also states that today's decision does not change how the DoD views Microsoft:
News Writer and apps editor
Sean Endicott brings nearly a decade of experience covering Microsoft and Windows news to Windows Central. He joined our team in 2017 as an app reviewer and now heads up our day-to-day news coverage. If you have a news tip or an app to review, hit him up at sean.endicott@futurenet.com (opens in new tab).
Amazon is such a salty company. Wow.

Microsoft should sue Amazon for this. Amazon needs to be broken up. They are all that's bad in US commerce

Amazon is like that spoiled kid who didn't get their way so they threw a fit and mommy and daddy came and fixed it for them. What a joke.

If I recall correctly, a Amazon employee, immediately after resigning from Amazon, got himself hired on the team that specified the terms of the JEDI contract and remarkably the bid terms applied to Amazon only. So they thought. If one is into conspiracies it is possible to speculate how this all played out was less than accidental. What Amazon miscalculated is Microsoft at about the same time was receiving government certifications to handle top secret information. With these in hand the bidder pool went from an Amazon entitlement program to an all out bidding war which Microsoft won on the merits, a position later supported by the Pentagon Inspector General. In the months leading up to the bid being awarded, again if I recall correctly news articles, Microsoft's bid position went from a dark horse to an having a real edge. Amazon shortly after Microsoft won tossed up every bit of chaff it could including blaming President Trump for their incompetence (apparently he pressured the Pentagon to hand the bid to Microsoft to punish Bezos, a rather ludicrous claim). The worm that turned the deal was Amazon got a judge to let their lawsuit challenging the contract to proceed. From that point on it became increasingly clear that Amazon's game plan was to stop cold the DOD's mission critical plans for years. This put the DOD in a real bind; effectively the complexity and great need to get started made it inevitable the bid would be canceled. The Microsoft response today was spot on and demonstrates a high degree of integrity. Nadella's Microsoft is something remarkable. Amazon, on the other hand, it can be said is something remarkable too.

Lol, blaming trump. Haha, what a joke.

I'm sorry. If we can't see the problem with this then we have even greater issues.

Hope americans believe great again when they have pizzas on the moon again.
Hope no longer available future for Microsoft and Pentagon.

AWS, to be precise, killed JEDI.
(The other parts of the Amazon empire weren't involved.) Big.Fracking.Deal.
As the MS spokesperson pointed out, MS still has a deep connection in DOD which is mostly an MS shop. They'll get their MS products and services piecemeal. At a higher price. MS will get their money. What is going to happen is AWS has just become a "least favored nation" supplier with the feds. Even small bids will become rare. Whatever business they might have gotten piecemeal alongside JEDI will go away. And also outside government: nobody wants to deal with these kinds of companies. Especially after BLUE ORIGIN'S crowd (yes, they're technically different. But: Bezos!) is trying to do tbe same thing to NASA: destroy a whole program by protesting an award they lost be a lightyear: their bid cost double, had (literally) a hundreth the capacity, and was "non-compliant" because the RFP asked for a sustainable design, not a use once, disposable design that can't be adapted for future missions. And to add insult to i jury, their bid was front loaded so NASA would have funded the development of the inferior bid and would be SOL if the output failed the way BOEING's orbital capsule has failed.
And just as with DOD their attempt to poison the well will fail because the SPACEX lunar spaceship is going to fly anyway. On private funds. They aren't hurting their competitor but they ARE hurting the agency and the program. And preventing NASA from having a say in how the lunar space ships are designed, to accomidate lunar science.
They are throwing tantrums and poisonng the well for no gain.
Stupid.
Desperate.
This is a case where "what goes around,comes around".
Windows Central Newsletter
Thank you for signing up to Windows Central. You will receive a verification email shortly.
There was a problem. Please refresh the page and try again.