Here's what's been fixed and what's broken in Windows 10 Insider build 14942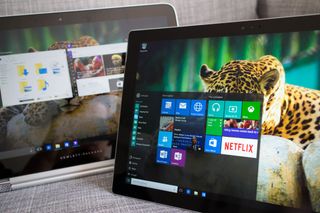 Microsoft has just released Windows 10 Insider build 14942 for PC, and with it comes a whole host of new fixes and improvements. Of course, alongside general fixes all around, build 14942 also contains a known issue to be aware of.
Here's the breakdown of what's been fixed and improved in Windows Insider build 14942 for PC:
We've updated Narrator's reading order for Windows 10 apps which display an app bar on the bottom of the app, for example OneDrive, so now the contents of the page will be read before the contents of the app bar.
We fixed an issue where running sfc /scannow in an elevated command prompt would fail at 20% with the error "could not perform the requested operation."
We fixed an issue resulting in certain areas of Windows 10 app notifications not doing anything when clicked, rather than opening the corresponding app.
We fixed an issue resulting in Personalization > Background Settings page crashing or showing a blank context menu when right clicking one of the recent images .
Fixed an issue resulting in Windows Defender's Antimalware Service Executable sometimes using an unexpectedly large amount of CPU.
We fixed an issue resulting in the Devices and Printers page in Control Panel loading slowly for users with certain audio devices.
We fixed an issue resulting in a small set of users seeing the NTFS partition of their external hard drive incorrectly showing up as RAW format.
Going forward from Build 14942, custom printer names will be preserved across upgrades. We've also addressed an issue where the printer queue name wasn't preserved across upgrade for some printers.
Improved framerates when Game Bar is enabled for full screen games.
And here's the lone known issue and its workaround in build 14942:
Insiders doing web development may find themselves their local intranet server unreachable, as service host separation will leave the IIS World Wide Web Publishing Service (W3Svc) unable to start successfully. To fix this issue:
Run the following from an admin cmd line (or edit the registry accordingly):
REG ADD HKLM\SYSTEM\CurrentControlSet\Services\W3SVC /v SvcHostSplitDisable /t REG_DWORD /d 1 /f
REG ADD HKLM\SYSTEM\CurrentControlSet\Services\WAS /v SvcHostSplitDisable /t REG_DWORD /d 1 /f
Reboot the system, so that the W3Svc and WAS services share a service host process.
Update:: There is a new 'known issue' discovered including a temporary workaround
These are just the general fixes and known issues in this build. For more, also be sure to check out all of the new features added in this Insider build.
Windows Central Newsletter
Get the best of Windows Central in in your inbox, every day!
Dan Thorp-Lancaster is the former Editor-in-Chief of Windows Central. He began working with Windows Central, Android Central, and iMore as a news writer in 2014 and is obsessed with tech of all sorts. You can follow Dan on Twitter @DthorpL and Instagram @heyitsdtl.
Bring it on as the previous redstone build works well (except for some printer issues) on my desktops & waiting to have a solid build on my SP3.

Does any one on latest build wit a sp4, know if the hand writing bug and surface pen pointer bug been fixed?

Can you tell me what those bugs are? Is that where the pen pointer just disappears until you used the eraser?
And sometimes where the pen won't stop writing if you take it off of the screen? Because I have those and I thought it was just me or my pen malfunctioning.

Handwriting bug is where the personalise handwriting with pen doesn't work in control panel.
.
Surface pen bug is where the pointer turns into a as if you're dragging something. Open sticky notes and place your open pointer on the edge and drag to make the sticky note wider. After dragging the pointer does not change back.

I know the arrow bug. I've had it with the pen since I got my SP4 in January. I usually come across it when using edge on half of my screen, and another app (usually drawboard) on the other half. I don't even have to touch anything. Just moving the cursor across the two applications is enough to trigger it. And it is infuriating.
Of course, the more infuriating things is that after I posted my first comment, my pen died the next day. Thankfully warranty period is still active.

Can I actually install Forza Horizon or Gears to a different drive now?

Nope, confirmed still broken can't install any of the Xbox Anywhere titles to a drive other than C:

Unable to, or unable to do so and have it work? I was able to install Forza onto a different drive - no problem. It was working, but first the xbox sign in issue (reg edit fixed it) and now it just drops out when I press the initial button to start.

I'm unable to open any website using Edge. It keeps crashing whenever I try to do something.

Xbox App is giving me "Access Denied" and Gears of War doesn't make it past the initial splash screen before closing.

Same, cant play Horizon 3 nor even log into the Xbox or Xbox Beta apps

Had same problem, looks like Forza Horizon 3 (and possibly other UWP games) don't like this new service hosts split feature in this build To fix I had to open Command Prompt in Admin mode and ran these reg updates REG ADD HKLM\SYSTEM\CurrentControlSet\Services\XblAuthManager /v SvcHostSplitDisable /t REG_DWORD /d 1 /f REG ADD HKLM\SYSTEM\CurrentControlSet\Services\XblGameSave /v SvcHostSplitDisable /t REG_DWORD /d 1 /f REG ADD HKLM\SYSTEM\CurrentControlSet\Services\xboxgip /v SvcHostSplitDisable /t REG_DWORD /d 1 /f REG ADD HKLM\SYSTEM\CurrentControlSet\Services\XboxNetApiSvc /v SvcHostSplitDisable /t REG_DWORD /d 1 /f After that close and reboot for changes to take affect All of these might not be necessary to fix the problem but unless I do a bit more testing to see exactly which service it is that doesn't play well with this new feature in this build thought it best to disable it on all the xbox related services. Hope this helps!

It's only the first command you need. The blog post linked in the first paragraph has been updated with that information. Unfortunately, when I tried it, I couldn't get past the Windows logo on reboot (wouldn't show the spinner at all). When I rebooted after getting stuck in that state, I would be dumped into automatic repair mode.

First one fixed the Xbox App as the blog said but didn't fix Forza Horizon 3 crashing for me. Only after running all 4 did Forza work. Don't know about your reboot issue, no such issue on my end with these.

So the first one fixed the Xbox app - but didn't fix the games for me either. I ran all 4 and now Forza Horizon 3 is playable, but not Gears of War 4 :/

ooh, trying now and will report back

I had done the first one and that helped me log in, but it appears to be related to the other services. Adding the other 3 worked, Forza is up! Thanks so much for figuring this one out!

you need to apply the registry edit noted above, I had the same, fixed me right up once I made the entry and restarted

Older Lenovo Thinkpad does not wake from sleep. Force restart eventually reboots.

since the update, page scrolling in edge and other apps is a pain in the backside as it flicks ahead through the pages

running a SP2 and having the same issue. it works but very annoying.
Windows Central Newsletter
Thank you for signing up to Windows Central. You will receive a verification email shortly.
There was a problem. Please refresh the page and try again.