Here are the Windows 10 system requirements for running the OS on your PC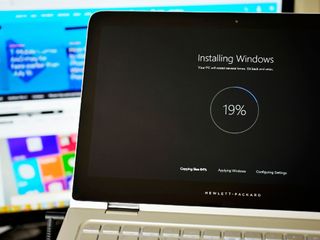 With Microsoft officially announcing that Windows 10 on the PC will launch on July 29, the company has issued the hardware system requirements that will be needed for a computer to run the company's latest operating system.
First, here are the very basic things you will need to run Windows 10 if you own a Windows 7 and/or a Windows 8.1 PC and want to get the free upgrade:
OS: Windows 7 SP1 or Windows 8.1 Upgrade
Processor: 1 gigahertz (GHz) or faster processor or SoC
RAM: 1 gigabyte (GB) for 32-bit or 2 GB for 64-bit
Hard disk space: 16 GB for 32-bit OS 20 GB for 64-bit OS
Graphics card: DirectX 9 or later with WDDM 1.0 driver
Display: 1024x600
Microsoft also points out that beyond the listed system requirements, there are other things that might prevent your PC from running Windows 10, including "driver and firmware support, application compatibility, and feature support". It adds:
For Anti-virus and Anti-malware applications, during upgrade Windows will check to see if your Anti-virus or Anti-malware subscription is current. Windows will uninstall your application while preserving your settings. After upgrade is complete, Windows will install the latest version available with the settings that were set prior to upgrade. If your subscription is not current, upgrade will enable Windows defender.
Some applications that came from your OEM may be removed prior to upgrade.
For certain third party applications, the "Get Windows 10" app will scan for application compatibility. If there is a known issue that will prevent the upgrade, you will be notified of the list of applications with known issues. You can choose to accept and the applications will be removed from the system prior to upgrade. Please be sure to copy the list before you accept the removal of the application.
Finally, there are certain features Windows 10 has that will require more than just the basic system requirements in order for them to work:
Cortana is only currently available on Windows 10 for the United States, United Kingdom, China, France, Italy, Germany, and Spain.
Speech recognition will vary by device microphone. For better speech experience you will need a high fidelity microphone array (and a) hardware driver with Microphone array geometry exposed
Windows Hello requires specialized illuminated infrared camera for facial recognition or iris detection or a finger print reader which supports the Window Biometric Framework.
Continuum is available on all Windows 10 editions by manually turning "tablet mode" on and off through the Action Center. Tablets and 2-in-1's with GPIO indicators or those that have a laptop and slate indicator will be able to be configured to enter "tablet mode" automatically.
Music and Video stream through the Xbox Music or Xbox video available in certain regions. For the most up to date list of regions, please go to Xbox on Windows website.
Two factor authentication requires the use of a PIN, Biometric (finger print reader or illuminated infrared camera), or a phone with WiFi or Bluetooth capabilities.
Device Guard requires: UEFI Secure Boot with 3rd party UEFI CA removed from the UEFI database; TPM 2.0; Virtualization Support configured on by default in the System Firmware (BIOS): Virtualization extensions (e.g. Intel VT-x, AMD RVI): Second Level Address Translation (e.g. Intel EPT, AMD RVI): IOMMU (e.g. Intel VT-d, AMD-Vi). UEFI BIOS configured to prevent unauthorized user from disabling Device Guard hardware security features. Kernel mode drivers need to be Microsoft signed and compatible with hypervisor enforced code integrity. Only available on Windows 10 Enterprise
The number of applications that can be snapped will depend upon the minimum resolution for the application.
To use touch, you need a tablet or a monitor that supports multi-touch
Microsoft account required for some features
Internet access (ISP fees might apply)
Secure boot requires firmware that supports UEFI v2.3.1 Errata B and has the Microsoft Windows Certification Authority in the UEFI signature database
Some IT administrators may enable Secure Logon (Ctrl + Alt + Del) before bringing you to the log in screen. On tablets without a keyboard, a tablet with the Windows button maybe required as the key combination on a tablet is Windows button + Power button.
Some games and programs might require a graphics card compatible with DirectX 10 or higher for optimal performance
BitLocker To Go requires a USB flash drive (Windows 10 Pro only)
BitLocker requires either Trusted Platform Module (TPM) 1.2, TPM 2.0 or a USB flash drive (Windows 10 Pro and Windows 10 Enterprise only)
Client Hyper-V requires a 64-bit system with second level address translation (SLAT) capabilities and additional 2 GB of RAM (Windows 10 Pro and Windows 10 Enterprise only)
Miracast requires a display adapter which supports Windows Display Driver Model (WDDM) 1.3, and a Wi-Fi adapter that supports Wi-Fi Direct
Wi-Fi Direct Printing requires a Wi-Fi adapter that supports Wi-Fi Direct and a device that supports Wi-Fi Direct Printing
To install a 64-bit OS on a 64-bit PC, your processor needs to support CMPXCHG16b, PrefetchW, and LAHF/SAHF
InstantGo works only with computers designed for Connected Standby
Device encryption requires a PC with InstantGo and TPM 2.0.
Source: Microsoft (opens in new tab)
Windows Central Newsletter
Get the best of Windows Central in in your inbox, every day!
HA, what's new... No real Cortana support in Canada.

Yeah, weird. Canadian WP have Cortana (Alpha, but still...) so what's the deal with not enabling it on Windows 10.

Set your region to US. Problem solved. That's how I use Cortana on my Lumia 920.

Until you have to purchase anything then you have to change your region back. Cortana doesn't do enough to make it worth the hassle.

Will this trick work on PCs too?

One prolem solved, another created. As soon as you change your region from Canada, carrier direct billing no longer works on store purchases, which means you have to enter a credit card number, or switch your region back to Canada. Not to mention, that most Canadian users won't know this trick and will just assume that Cortana is highly overrated because she's entirely useless if your region is set to Canada. This is not good for the friend to friend marketing paradigm. I really don't understand why Microsoft can't make her available world wide. Did Siri start out as US only and gradually trickle around the world over the span of several years?

No Cortana for Mexico either, if I remember correctly Siri from Apple came to Canada and Mexico about 1 year after launch. Is there a licensed reason for this? Can Cortana come to other North American countries in English? We don't need Cortana in Spanish or French, we just want Cortana in English available outside US.

I know with Windows Phone, if you change your region to be the US, then Cortana works. You don't get all the localized information (that takes times). Not sure how that exactly is done in Windows 10, but it should work too, I would imagine.

Saudi Arabia, I've all US features including: Cortana + Xbox

@toph36, the same workaround works. Unless they have changed it in the recent builds of the preview, which are strangely failing into install.... For me. Haven't spent much time testing why as been pretty busy as of late.

I agree I have it on my 8.1 phone. Best be in 10 at launch!

Nope, I won't expect any Cortana support until 2016 maybe... If we're lucky. But then again, our Windows Phone lineup still has the 1020 as a flagship model... and that's 2 years old now...

Doesn't make sense. If the Cortan UK and US is ready, then all the English countries (common wealth) would either be Favoured or Favored.

Woah, these requirements are similar to Android, even though it's a mobile operating system and this is a full fledged desktop OS. :o Microsoft really went the extra step to ensure Windows 10 is everywhere. Kudos, Microsoft!

Android runs like crap in this specification

Android runs like crap in any spec. (my opinion and experience)

Totally share your opinion

I'm actually running Android right now, and performance is the least of my concerns. Most of the performance issues lie in developers and their apps, the OS is smooth, and will be further refined in Android M(which I've tried).

Completely agree 10000%!!! Both of my Android devices have been turned to SLOW CRAP since upgrading to Lollipop! My Nexus 7 and my Samsung Galaxy Nexus run at a snails pace now making them totally unusable! If anyone can give me specific instructions on how to revert these back to Ice Cream Sandwich...?

Isn't Galaxy Nexus a 3+ year old device or something? How is your 3 year old Windows Phone handling Windows Phone 8?

That is the beauty of Windows Phone. It doesn't use a lot of resources which is why a 3 year old Windows Phone with only 512MB of RAM still works better that an Android Phone with 1GB of RAM! Does that answer your question?

Isn't every Windows Phone 3+ years old at this point?

Yes, and aren't ALL of them still running like new? That's the good thing about Windows Phone. You don't need a flag ship model to have a smooth operating system. The only thing a flagship gives is additional features like "Hey Cortana", and maybe a little faster opening of apps, but the operating system functions very well on either device. You can't say the same for Android devices!!

You sound like one of those "OMG ME TOOO" people who comment only to agree with what the majority is saying rather than having something meaningful to contribute. Judging by the series of events you are describing I find anything you say hard to believe. Firstly could you elaborate what performance issues you are facing on Lollipop? Secondly you say that Lollipop runs like crap on your Samsung Galaxy Nexus, this phone didn't even get an official update to KitKat(as Texas Instruments exited the market) so how did you get Lollipop on it? Let's assume you installed a custom ROM on it. It's still a 4 year old device released in 2011. Could you tell me what Windows Phone released in 2011 officially or unofficially runs the latest version of Windows Phone smoothly..? Okay moving onwards, you asked about instructions how to get your Galaxy Nexus and Nexus 7 "back to ICS" do you even know that the Nexus 7, both the 2012 and 2013 versions, never shipped with ICS in the first place? Also again let's assume that you have the 2012 Nexus 7 and it did INDEED ship with ICS. Why would you ask for instructions for going back to ICS when you managed to install Lollipop on a phone that was abandoned years ago...? So now I have two theories about you: You knew how to install custom ROMs which is why you upgraded your Galaxy Nexus to unoffical software > you started complaining it was slow along with your Nexus 7 > you asked people how you could take both phones back to ICS even though you have prior knowledge with installing ROMs and one of your devices didn't even ship with ICS. Or my second theory, and this one is way more plausible: YOU ARE LYING.

I'm running the latest version of Windows Phone OS 8.1 and its mad smooth. Can't talk about 10 since 10 is not a released product. But as far as Lollipop goes, its too early to know how smooth it is since android tends to always be smooth until you get a great number of apps, launchers, images and what not loaded up on it. My guess is it'll be like KitKat on down, just give it time. My 920 was packed to the brim and each app remained smooth and fluid. I have an HTC One M8 (android os) and before the update to Lollipop, I never wanted to turn in on. Since lollipop, so far so good.

First, it's RUDE to accuse someone of "lying." I am not a liar! I was, admittedly mistaken about the version of Android on my Samsung Galaxy Nexus. It is Jelly Bean, but that does not mean I'm lying about how slow it is running! Everytime I boot it up the system runs extremely slow and downloading updates from the Play Store makes me just have to put the phone down until it is finished. The Samsung Galaxy Nexus shipped with Ice Cream Sandwich and the upgrade to Jelly Bean is what caused it to slow down (which proves my point that upgrades from Android make older devices slow down, sometimes considerably. Another point about this is where is the fix for the slowdown? Why won't Google or Samsung release a fix to speed up my device.
The issues I'm having on my Nexus 7 tablet (which just recently received the update to Lollipop to fix the slow down issues from KitKat) is that it is STILL running extremely slow even after the supposed fix from Google in Lollipop! When I bought my Nexus 7 it also launched with Ice Cream Sandwich and ran very well. Jelly Bean caused a slight slow down but nothing major. KitKat caused it to crawl and Lollipop has NOT fixed the slowness issue. I tap an icon and there is a 2 to 3 second delay before anything happens. Google (or Bing) it and see how many other people are having the same issue. This is why I want to revert back to Ice Cream Sandwich but (again, I'm not a liar), I don't know how to side-load a ROM, or revert, or whatever you call it in Android lingo because I have never side loaded a ROM before.
Now, to answer your question, there are no Windows Phones prior to 2012. Prior to 2012, Windows Version was Windows 7.8 and prior to that Windows 7.5. So how could ANY 2011 phone run Windows 8 when Windows 8 didn't even come out until December of 2012. Having said that the Nokia Lumia 810, 820 and 822 were released in December of 2012 and all can fun Windows 8.1 very smoothly. Windows 8.1 Update 2 is 4 updates higher than what the phone shipped with and it can run very smoothly, yet my Samsung Galaxy Nexus received 1 update and it runs like crap! My Nexus 7 tablet is running Lollipop which was supposed to fix the slowness issues and yet, it still runs like crap! Call me what you want, liar, misinformed, etc., but that still does not change the fact that Android updates cause olders devices to run like crap, while Windows can run just as well on devices released in December 2012 as they do on devices released in March 2015.

Monday morning troll humor. When did the basic requirement for Windows 10, Android? Shouldn't you be under a bridge pirating software right now?

Why should he be pirating stuff?

Perhaps I'm wrong, but I think these requirements are also for Windows Phone. I own a Lumia 625 with 512MB of RAM, installed the preview about 1 month ago and it slowed my phone down. I know it's not optimized and is a test beta product, but the fact is I'm happy with my phone as it is today, I don't want to upgrade unless they optimize for 512MB, but if they don't I'll just get a new phone with 1GB of RAM when I no longer need my Lumia 625 which by the way feels very solid as a device that has been launched 18 months ago.

They will optimise for 513mb devices, don't worry. Haven't you noticed that the system requirements are exactly the same as windows 7 and 8?

Well Android KitKat(and I assume Lollipop?) also run on 512 MB RAM, however I didn't find it worthy mentioning because there exist very few phones that actually ship with RAM so little.

I love my Lumia 625, almost 2 years since I get it. I have been thinking about put it on the Windows 10 Preview, but I now it's not even likeable on 512 MB RAM devices with dual cores. So, I'm waiting for the real deal and when W10M get's the Preview for Developers status I will upgrade asap (like when I did with W8.1)

It's nice to see I'm not the only one in WC with the Lumia 625. I recently got Denim update and I'm loving Denim, my home screen organization has never been better, these live folders of Denim are really cool.

Nice! How do you get Denim? I can't get it. I live in Mexico, meaby that's the reason (and is weird, my GF's 620 is now on Denim).

Their setting the bar real low for 64 bit ram requirements, & the soc description doesn't make sense for x86-64bit computer

The SoC concerns the tablets and all in ones.

Cortana is only currently available on Windows 10 for the United States, United Kingdom, China, France, Italy, Germany, and Spain.

This sucks. I'm in Ireland, why can't we get Cortana too? I'm on US locale on my phone, but not sure if I'll be able to keep it that way on PC

In India almost all PCs use English US (or English India where the difference is just in the currency symbol) as language, but still we are left behind! :(

I know right? India is the second largest population and the second largest English speaking country behind us. This sucks. (and freaking satya is from india. Thought you guys would get some preference in regards to this type of stuff).

Read again: "These are for a pre-released version of Windows 10 and are subject to change."

i honestly dont get this, like except for some parts of the country most people in canada speek english, and for mexico, well they speak spanish just like spain

Can you elaborate the two factor authentication using phone.

You can use that if you download the authenticator app. This has been on WP platform for more than 1 year now. Here is the link http://www.windowsphone.com/en-us/store/app/authenticator/e7994dbc-2336-4950-91ba-ca22d653759b

OK! I have never tried this. Will give it a shot!

And why can my Surface 2 not support this?

Your surface 2 has an ARM versus an Intel processor. They aren't the same even with similar specs.

I understand that, but my phone is an ARM and its getting a version of 10. So if my ARM phone is getting upgraded and my Surface meets all min requirements for full Win10, why can it not get a version as well? Apart from they don't want to spend the time.

Your Surface 2 DOES NOT meet the requirements for full (desktop) Windows 10. Phones are ARM and get Windows 10 for phones. PCs are x86 and get Windows 10 for desktops. Your (and my) Surface 2 is ARM but have an special Windows 8.1 compiled for ARM. Microsoft said they wouldn't release an ARM version of Windows 10 for desktops but instead would prepare an update with a subset of features. Obviously they can still change plans and surprise us with full Windows 10, but the odds are really small.

They could make the phone os work on the surface 2, i don't see why not

I guess all I want is my surface to be able to run Win10 apps, if that's the case I'm happy

I take it you haven't tried Windows 10 in tablet mode, if you had you'd be happy that you aren't getting it on your Surface 2.

Really windows 10 work on resolution 1024 x 600?

That's for upgrading Netbooks with Windows Xp to Windows 10, these devices had 1024x600 resolution since they had big bezels and only had 1GB of RAM.THey were very popular between 2008 and 2010.

Is that 20GB Free at time of installation? Because I'm running an SSD and it's only got 8GB free at best. Constantly trying to clear it out, but no idea what's taking so much.

After installation still it is advice to keep around 21gb free as the update will be highly compressed and it will need more space to unzip it and then it will require space for installation

Try using space sniffer, it's old but it will show you what is eating up all your storage...

I think it's something to do with my OneDrive as it uses up a lot of space even though i have said "make folder available online only".

You might have to do a clean install with an ISO. Not details on the availability yet.

Maybe you have the desktop things dave on your sdd and you have alot of thing on your desktop maybe thats it

I used gimagex last night to install tp on a 19 gb partition and have enough space left

In short. It is just like windows 8.1 to my pc! Or idk! Hmmm! Let me install. India? CORTANA? U gotta be kidding me. Its just a forcasting and reminder still back here.

I think you misread the sentence. By the way I don't understand why Cortana is not available in India. What difference is there in the English India language except rupee symbol?

Biggest difference is how we spell slightly different - colour (India) and color (US). We follow British English. Also I think there are cultural difference - common/important names are part of the dictionary

It's not just about language, it's about localisation. Like finding the nearest restaurants, looking for traffic etc etc.

I am in India with my region set to US. I still get local results like restaurants nearby, weather, etc.

You are right, but other functions like setting reminders searching net or asking questions to Cortana should work fine!

The UX may be similar to W8.1, but there's still lots of under-the-hood improvements.

Well when I switched back to US cortana and played with it, It could easily understand me and reply me back. Language not a big issue though, and cortana even if it understands language, it runs like shit in 2G/3G network. Just unable to process the input.

Will I get the full windows 10 update and features on HP Stream 7???

Definately, HP Stream 7 has capability to run Windows 10 with no issues.

So Windows 10 does support connected standby

The Windows 10 device checker said there may be issues with various Bluetooth 'devices' on my all-in-one desktop, but when I checked under Samsung's software update program apparently the drivers are all up to date? Its not gonna stop me from upgrading - I've never used the Bluetooth - but it'd be nice if I could sort it out before upgrading. ​ ​

The Samsung driver page is likely referring to Windows 8.1 compatability...
Regardless - if you don't use Bluetooth then it isn't really a loss :)

Well, I don't normally, but I had a slight scare when it comes to my mouse and keyboard - they're both wireless. I think they're both RF, and not Bluetooth, but I'm not 100% sure. (They're using a small USB dongle, if that helps anyone in the know?). But yeah, so long as they're not Bluetooth, it's not much of a loss at all. The fact it's under 'potentially might not work' also is a plus!

That'll be an RF mouse/keyboard...so there'll be no issues for you :).
Having tried to connect a Bluetooth speaker to my brothers SSD powered Windows 7 laptop, I am personally hoping Windows 10 is compatible. W7 is rubbish with Bluetooth peripherals - whereas Windows 10 should perform as well as Windows Phone when it comes to speakers et, (fingers crossed!).
Also, just remember that you can just buy one of those really discreet Bluetooth modules should the time ever come where you want to use Bluetooth accessories.

Brilliant, thank you so much for clearing that up!

Lol I tore out my bt/wifi card and replaced it with a dualband card as I still dont use bt much

Bluetooth soundbar, WiDi to my TV, & a Bluetooth MS Wedge mouse - makes for quite an extended desktop setup on my T100 :).
If I had a PC, I probably wouldn't ever use Bluetooth....but it makes all the difference on tablets like mine that have a limited number of USB ports.

My integrated memory card reader in my aw is my laptops weakest link "realtek pcie memory card reader driver incompatible"

Wait wait wait. So Cortana is one of the big selling points and it wont even be in Australia at launch?? Come on! I dont even get this as it works fine here (been using it on my phone and PC with region set to US). I'm a huge MS cheerleader but they need to get their shit together on this front.

I agree mate, it's ridiculous! I'm starting to think that Cortana will never see the light of day here or anywhere else! At least not in time that people will care! Marketing suicide if they don't just open it up and stop being dicks about it!

Couldn't agree more. Cortana is one of the big drawcards for me for Windows 10.

This is the worst thing that Microsoft will do!!!! How they only offer Cortana in so few regions??? What's the point of change my region to get that feature??? I'm very disappointed! I'm from Mexico and I don't want my PC preferences from Spain. What's the logic here?

Is windows 7 starter upgradeable?

Nope better off picking up a new device as it probably wont run w10

Where have you got that info from ?
Windows 7 home starter will get upgraded for free to windows 10 home

No portuguese Cortana... One of the largest languages on the world left without ms support... Miserable...

I really hope MS did some serious testing here. The whole push notification is going to get a lot of people trying to run a fairly major upgrade if they were on 7. If this doesn't go smooth as silk for 90% of upgrades its going to be a PR nightmare. I'm thinking grandma with 10 year old netbooks. Or my parents!

Anyone knows what HP notebook is that on the pic?

Will it support switchable graphics? So far it does not install very well on my Envy 14.

Yep my aw's dual 7970m's worked fine

Can anyone tell me how to reserve for Windows 10. I have windows 8.1 laptop.

Just wait for the windows logo to pop up in the bottom right hand notification area of your computer. It is being pushed out throughout the day - I signed up a couple of hours ago.

"To use touch, you need a tablet or a monitor that supports multi-touch " lol a shame, things like this need to be spelled out for the lower common denominator amongst us humans

Can anyone tell me about CHAF/LHAF, PrefetchW and one more instruction set.. ? Do all multicore CPU starting from Intel Core 2 duo support same?

Google/Bing will have your answer.
Just type them in separately along with your processor model number.

Perhaps, it's true. We ARE the beta testers of Cortana. The Australian version here has hardly surpassed alpha and they already have Cortana for the rivals all set up.

What? Do you think Cortana will be available to all market on iOS/Android? She's based on cloud!

So here's to hoping OEMs like HP update their software and firmware - properly..... YOU HEAR ME HP?!

All depends laptops like my dv6307__ shipped with beta vista drivers and never updated anything besides the bios(which made things worse) of a repurposed xp era NVIDIA chipset

No Cortana in Australia, what's the deal with that?

Also shocked to see no Cortana in Canada. Guess it will arrive years later then stay in Alpha status for another few years until Win11 drops.

Can anyone tell me if DELL XPS 13 will be compatible??

What's the difference between 32-bit and 64-bit?

The difference is 32bits.

What about 16GB windows tablets? They definitely won't have that 16 GB free storage?

I didn't see w8.1 with bing listed as compatible

Sheesh, that's a lot of Harddrive space for the 64 bit OS. People with the 64 GB Surface Pro's will strugge.

At least they relaxed the requirements for the ram

"Continuum is available on all Windows 10 editions by manually turning "tablet mode" on and off through the Action Center. Tablets and 2-in-1's with GPIO indicators or those that have a laptop and slate indicator will be able to be configured to enter "tablet mode" automatically." What does this mean? Is that flippable 2-in-1 notebooks can activate tablet mode automatically?

my 2-n-1 already does that for sometime.

Will laptops with hybrid graphics card get any love??? I have a Sony Vaio VPCCB15FG, Windows 8.1 is not properly supported for it, auto screen brightness and auto keyboard back lighting doesn't work, Some FN keys don't work with 8.1, I had to roll back to Windows 7 to get them working again. So a bit worried.

I would say no since sony sold the business

Cannot download 10122 or 10130, the last one which I could download was/is 10074. Have new Lenovo Yoga 2. What should I do? ​

Did anyone with HP Stream 7 get a nofication to reserve for upgrade? I'm just not getting the notification right now. I notice that kb3035583 is not installed and it's not in the optional update either. Anyone getting the same result as me.

Hope MS can just release Cortana English version internationally. We don't need any localization or native language support. Just make it English that's all. Not sure how long it would for it to launch in my country though.

Already done. My PC is ready. I wish Windows 10 would remove Norton Anti-theft thought. Norton isn't anti-virus it IS a virus and I can't remove Anti-theft without an account that I don't have.

What if i dnt have "Graphics card: DirectX 9 or later with WDDM 1.0 driver"?

dang my HP stream 7 have 32gb and 12gb of free space this might be the reason I'm not getting the notification update nor the kb3035538 update. Anyone successfully clean up files and make it 17GB free? my old 2011 netbook got the notification already.

How will the windows 10 upgrade work for laptops like the HP Stream? I haven't gotten the notification and I've installed all updates in Windows update. Also, will the 32 bit version work on it? I don't know if it will have enough storage, even after a refresh or factory reset.

Well, I can say for certain that the 10130 build STILL runs many times SLOWER on the same hardware that ran Windows 8.1 incredibly fast. This just adds to my disgust over Windows 10.

When the upgrade will come out, does one have to backup all of their data "pictures, music ecc" or will that migrate automaticlly?

Would I be able to upgrade from Windows 10 Preview? If no, how would I go about to update it to the final version of Windows 10? My computer originally had Windows 8.1.

I forgot the screen resolution of my old netbook, hp mini 210

I appreciate that they detailed how the upgrade process will be handling active (and even inactive) subscription security applications--very thoughtful of them. I hope it represents a joint effort by the likes of Symantec, McAfee, etc. and Microsoft to get this smoothly work as there have been problems before when it comes down to "active PC" licenses and user(s) limitations per active subscription.

So can i install it on my pc with p4 processor which I am using it as nas.
Windows Central Newsletter
Thank you for signing up to Windows Central. You will receive a verification email shortly.
There was a problem. Please refresh the page and try again.