Hike Messenger gets a new Windows Phone update with several new features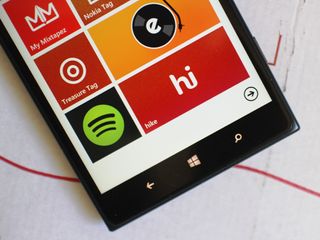 Hike Messenger for Windows Phone has just received a new update, bringing the version number up to 2.9 and adding quite a few new features to the popular messaging app.
Here's the change log of what's new and improved in this version:
Faster Loading of Incoming Messages: Ever been in a situation when you open hike and have a lot of pending incoming messages? Take's a while to load right? We can relate and couldn't take it anymore! You will now notice all pending incoming messages will be loaded up super fast & all at once!
Fast Forwarding of Media: Ever heard the saying "Time is Money"? With this new feature we helped you save both! Don't believe us? Try forwarding a photo or video you sent to a friend to another friend and see how fast it sends!
Group Chat Pins: Too much noise in groups? You can now pin the most important message right on top so that everyone knows what's being discussed.
Private Chats Now Hidden Automatically When You Close hike: Many of our hikers liked the way how our Android friends hid the chats when you exited hike. We have done the same by default. Don't worry If you want to switch back to current behaviour, simply go to Settings > Privacy
Email Conversation: You will now finally be able to email a chat conversation!
Do you use Hike Messenger on a regular basis? Thanks to all of our readers that sent in tips!
Windows Central Newsletter
Get the best of Windows Central in your inbox, every day!
They just nail it with their changelog.

Amazing .. To hell with whatsapp.. And their yearly updates

Awesome... now I'm waiting for Messenger app update.
And also Facebook app update.
It's been too long for these apps.

Does it support mp3 file attachments..?

I will use HIKEonly for personal chats and sending messages to people who are not yet stepped to smartphone life. ......

Its an app made with love ❤ in India.

Or maybe "WIN" for India. ;-)

They sure know how to write a change log. Their concern for the platform is very evident when they acknowledge that they are implementing features present in other OS's. Great job Team Hike. Here's wishing you the very best :)

But it seems that hike drains my battery a little too fast for comfort and the phone heats up pretty bad on extended use... Features and UI looks great though... Sticking on to whatapp while they fix it...

Can the developers make it run under battery saver mode?

You can make it. Go to battery saver and check "allow app to run even when battery saver mode is on" for that app.

Hike is complete awesomeness!! ..made with ❤ in India feels great when they support so much for WP app ..even they are spending some time to write summary for change log Hike❤❤

It drains up my lumia 520 battery. I got it red handed many times sucking my battry right away and then i deleted it... Happened a mnth ago.. Hwz this nw? Btw m jst stagnant to whatsapp itself.. Nt much contacts anyway :(

I say it again, HIKE must be HYPED. :)

Yes you are rite recently we saw a rumour that modi told to use Telegram as it Indian app (actually it is not) instead of WhatsApp ..but I had a taught that even though it was a rumour Hike messenger should have been in place of Telegram it deserves!!

It's all created by facebookiyas and whatsappiyas :D

Haha .. You WindowsCentralia :D

When it comes to features, Hike is great, I must say. But, WhatsApp is way better when it comes to performance. The recent update of WhatsApp really made it faster. Also, I stopped using Hike, mainly because, I get an instant notification is all good, but when I am busy and I open an app later on, there are many msgs pending. Why keep the msgs pending, i don't understand. Same is not the case with WhatsApp. In India, people use mobile data more, and the pending msgs feature is irritating. Secondly, they never got Diwali theme and when I contacted support, they never replied. :|

Please read the article again..

They made the loading of incoming messages faster. Why keep the messages pending at the first place. I get 100s of msgs in a group on WhatsApp and when I open the app, they are there unread, but in Hike, the messages are loaded when you open the app.

Life ko thoda hike karke yaar :)

They responds to customer concerns,I mailed thm abt sum issue with grp creation,thy well responded to my prob....grt good going hike

Still no option for Sending mp3

I have been using voxer, but am getting tired of the slow loading times and the messages not consistently coming through. How does hike compare to voxer? Thinking about trying Skype again but does anyone have a better messaging app suggestion?

Has anybody counted for many messaging apps exists? In order to start using one you would need to convince your friends to join. And they would need their friends et cetera ad infinitum. It's a doomed attempt.
Why not make an app that just ties the Top-1000 under one UI?

The best messaging app on smartphone. From speed to stickers to chat themes to privacy to timeline hike had got everything and with updates it becoming even better and not to forget they provide great support as well.

doesn't have end-to-end encryption? useless

Now I just have to convince my friends to use it! :P

Now that's like a good developer.... :-p

Hike got updated... N I stopped receiving notifications... Lame...

What's that app with the e and the disc (looks like a record player)