Do you use HipChat? Tell them why you want a native app for Windows Phone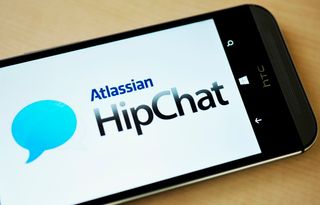 HipChat (hipchat.com (opens in new tab)) is a personal messaging service that lets users create rooms to have one on one or group conversations. The service has been around since 2010, but there is no native Windows Phone app, just some decent third-party ones.
That may change, though, assuming you let the HipChat team know your thoughts on the matter.
The group behind HipChat solicited a request for feedback for Windows Phone users on Twitter and Facebook about making a native app. From their Facebook page:
This request sounds straightforward to us. So head on over there and let them know your thoughts (follow our source link)!
Source: HipChat Facebook; Thanks, Joel S., for the tip!
Windows Central Newsletter
Get the best of Windows Central in your inbox, every day!
Daniel Rubino is the Editor-in-chief of Windows Central, head reviewer, podcast co-host, and analyst. He has been covering Microsoft since 2007 when this site was called WMExperts (and later Windows Phone Central). His interests include Windows, laptops, next-gen computing, and for some reason, watches. Before all this tech stuff, he worked on a Ph.D. in linguistics, watched people sleep (for medical purposes!), and ran the projectors at movie theaters because it was fun.
HipChat and Slack would be awesome. I hear Slack is working on one. Cross my fingers!!

Do we really need so many though? I mean I love choices but there are so many chat apps!

The diff here is this is an enterprise solution that is everywhere BUT Windows Phone. For a lot of companies and thier users this is crucial.

In that case...it makes a LOT of sense. I really do hope we get parity one day across the platforms! Don't want it to go down the TV route where certain shows are here and there and you have to have tons of subscriptions!!! If you get what I mean...lol

Slack confirmed it to me on Twitter: https://twitter.com/SlackHQ/status/507366970065682432 And then shortly after I found Windows and Windows Phone Developer job listings on their site: https://slack.com/jobs (unfortunately still there, not for much longer).

i do for work.... but then work has taken a turn for the worse, so as awesome as a WP8 client would be, I will not use it unless I am working from out of town... Beyond that, I think the only other option is a paid app that, from what i hear, works ok.... But more official apps can never hurt WP8!

This would be helpful to me. I think I will head over and let them know.

We use Hipchat at work. I would like if I can get it on my Lumia 720.

What are the adva​ntages of hipchat over services like GroupMe. I think GroupMe is fantastic. And if we're talking enterprise, isn't Lync the biggest out there?

I don't use HipChat, but any new native app is a positive. Them even asking that obviously means they're gonna make on though :P

Hell yes!!! We need a HipChat app ASAP!

Dear HipChat, would you please make an app for windows phone missing some of the best features that you provide to other platforms just as Microsoft does.

The first time I ever heard of HipChat. With a little touch on it, I feel It is a direct competitor to Slack which I knew before and I wish I'd see an official client on Windows both phone and desktop/tablet soon. And I feel Slack might be better, but maybe I need to dig a little deeper to find out more. But the hardest problem out here is: I found it really hard to pull my colleagues out of Facebook or LINE. So I have to stick to those two for now.

why does the world need another messaging app? I just don't get it. I never heard of this app either so maybe it does something different or better then the others do. I use text on my phone through my cellular provider and occasionally Whatsapp. more than enough for me

I wouldn't call it "another messaging app". As for text vs. app, that debate is one that keeps coming back up. Not everyone has unlimited text. Text gets expensive when going across borders. Text is limited in feature set. Text only works if you have a cell signal. Apps use data so messages to anyone are free (data use nothwithstanding), apps can include innovative features and can be used in a place with no cell signal that has access to WiFi.

It is not just another messaging app. it is essentially a private messaging app, so only people you let in can use it. You can then create rooms that are either public for your group, or limited to only the people you want to let in. you can @ people, and they will get notifications you are referencing them. You can easily upload files to share. With the paid version you get a long history of your chats (2 weeks with free version), and desktop sharing! The company I am consulting for now has about 100 technical people using it, and 30+ individual rooms, it has become our main form of communication (we are spread across multiple states and 4 countries). So, yes, i would LOVE a HipChat client for my Windows phone. In fact i installed it on a small tablet yesterday so I could step away from my PC for a while.

I use telegram cos I have friends in several countries. Have not use HipChat. Are there any difference or advantages? One big factor I cant do without is having single account sync to multiple device. .. Love all these choices we are getting (or going to have).... WP is moving...

Good idea, but why don't we use this "call to arms" to get MORE apps on Windows Phone? WPC...I mean WC...has some serious power and we could definitely make our voices heard. I've written a few companies who have told me that I'm the first Windows Phone user that they've heard from. They could be lying, but if we came out in numbers in a proactive way (vs. complaining constantly in comments) we might actually turn the tide!

This! So much this! Sign me up! I think a large part of the problem is getting in contact with the right departments in these companies... for example earlier this year I emailed ITV in the UK asking them to release an ITVPlayer app, and was fobbed off with a standard "We have no plans to support this platform" type response, and yet literally within two weeks of my email they released arguably the best designed TV catch up app on WP in the UK. Now, I'm not suggesting that my email played any part in that, I'm simply pointing out that this must've been in development when I queried ITV about it, yet I was still basically told to forget any chance of it happening. Mind you having said that, I guess even if it's only the 'front desk receptionist' that receives a couple of thousand emails asking for the same thing, it's probably going to get pushed up the chain to some actual decision makers! :D

I'm good with GroupMe, I'd love more options and will tweet them saying so. You know what was awesome? When my 3 most ardent android supporting friends asked me to get on Groupme to complete a project and I searched the store and it was there already. Most likely some others really wanted that client on WP and I'm glad they campaigned for it. When all apps are universal Windows 10- ish there will be no excuse for Google to not make apps and that will ease the fear of other devs and we won't have to harrass, cajole, and beg for apps to be made for our phones. P.S. Microsoft- Hopefully the xbox live process will be easier too so we can have more XBL games.

We have Enough CHATS to Not have to beg for an Obscure one

Sure why not? Lessening the app gap is always welcome.

Since HipChatter was pulled from the store, we need a working client. :)

HipChat sucks when compared to Slack. Slack should put out a WP app.

HipChat is NOT just "another chat app", and it is not obscure. It's geared for businesses, like mine, where there's a need for an easy way to collaborate aside from going into meetings constantly. It's secure, has tons of integrations for support and development tools, fast, multiplatform (aside from the lack of WP support), has a good support team, supports file transfers, has voice and video chat, group chats and one on one conversations, etc, etc, etc. My team within my company is 100% remote, spread across the country, and HipChat is how we communicate. We've used other chat programs including some consumer based ones before we found HipChat 3 years ago, and it's been absolutely invaluable to us. It's vastly superior to the other consumer facing chat apps out there when it comes to using it for business collaboration.

So what do you sell businessman?

Deutsche Post ( German postal service ) released a free instant messenger with heavy encryption some weeks ago. It is called sims.me and supports iOS and Android so far. I contacted them regarding wp8.1 and they said that although there are no plans for that, they might release an app if enough people demand it.
Go on guys!
www.sims.me

"Dear HipChat, I have no idea of what you do and this is unlikely to change unless you make a Windows Phone app."
That pretty much sums up my thoughts. I don't support companies that don't automatically create a Windows Phone app... sorry about that ;-)

Any app for windows phone is welcome.

One of the reasons why I DON'T use HipChat is because it doesn't have a Windows Phone Client. I have an iPhone, iPad, Surface, Windows Phone, custom-built desktop and an Android tablet. Lately, it's been the biggest tick box I have. "If it doesn't run on everything, it doesn't run on anything." Having one application that will run on all my stuff with the functionality that HipChat has is essential. They have a web client, but alot of web apps I run across lately are inherently build for iPhones (some don't even scroll!) which again, does no good. I could use it on the iPhone, sure, but with the tiny screen it had, it was a subpar experience. It's a bonus to use for my customers and for all the groups and meetups I'm involved in, it would be a HUGE asset.

I asked Atlassian that very question a few weeks ago. They didn't appear very interested in it though: https://twitter.com/HipChat/status/515178505064022017

I want Jabber for windows phone

'M jagan Using hip chat need it on nokia Lumia 520 :)

There are two unofficial HipChat clients for Windows Phone right now: HipChat Universal and HipChatter. Jogy

Hipchatter is not acceptable for Corporate use and HipChat Universal does not work at all with a private Hiphat Server. If you get the API Token to work it will ask you for an Identity and then never accept anything you enter. BTW The Supported Clients all connect fine. Only the Unofficial Clients Fail.