Hipstamatic Oggl Windows Phone apps won't receive any more updates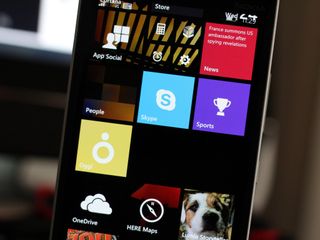 A rep for the Hipstamatic photography company has confirmed to a Windows Central reader they have no plans to update their two Hipstamatic Oggl apps they have made for Windows Phone. The apps themselves have not been updated in over a year.
Here's what the reader said he received from a Hipstamatic spokesperson:
The last major update to the apps (one for all Windows Phone users and one for owners of the Lumia 1020), was released in March 2014, and included an all new interface along with a number of new features. It's unknown if Hipstamatic could launch a version of the Oggl app for Windows 10 Mobile. In the meantime, both versions of the apps are still available in the Windows Phone Store.
Thanks to Sean for the email and tip!
Download Hipstamatic Oggl from the Windows Phone Store
Download Hipstamatic Oggl Pro (for Lumia 1020 only) from the Windows Phone Store
Windows Central Newsletter
Get the best of Windows Central in your inbox, every day!
There are replacements. Don't worry folks.

Maybe he meant substitutes?

Shame, this is a nice one

I think Hipstamatic has great apps (Dspo, Classic, Cinamatic, Tintype, Oggl, Magazine, Incredibooth, Swankolab), having to find a replacement for all of them is not easy, wouldn't be great if all these apps could have the latest functionality they have on iOS but now on WP? I think its very easy with Microsoft's iOS tools for Visual Studio, but probably on Hipstamatic they don't have this knowledge about these tools already exist.

Yeah but Hipstamatic has some very exclusive filters which are really good. Guess this means they won't make their new DSPO app as well for Windows Phone.

So much for the Lumia 1020 exclusive and its so-called 50ish filters which they never were released by the way...

I honestly don't care about this app. So im not worried. They are just another tiny fish in the ocean.

You mean tiny fish in an even tinier ocean.....

After getting instagram and 6tag, who uses this still lmao. This was only necessary foe the instagram support.

That was the only reason I used it.

Well, their filters are better looking.

Honestly, I don't know why anyone would update apps when they'll be able to just recompile ios and Android apps in a few months.

Not if the (iOS) app is written in Swift. Microsoft hasn't released the necessary tools yet, so it's still unknown just how much tweaking will be necessary for a successful cross-compilation.

Very oggly decision on their side...

They may not support the app, but I support this comment.

The decision fell out of the oggly tree and hit every branch on its way down.

Dude, you won the Internet! LOL!

@Eas195: Thank you very much. Tried quite a while to achieve that...

Maybe it is because they are making win10 versions of the apps...after all he did say that version of the app

Hipstamatic is updating iOS apps just fine, they have their experts focused on iOS platform, not on WP platform, thats what you can see from their website. IMO, Hipstamatic hasn't received any feedback from Microsoft, and that is causing this divorce between mobile app developers like Hipstamatic and Microsoft and this is not good for the WP platform. If Hipstamatic used Visual Studio 2015 community edition they could use their latest iOS version on WP devices, but they probably don't know these tools are very new and nobody has told them the marvelous things they can do so they don't have to hire specialized WP developers to port their app.

I wouldn't say 'just fine'. It was last updated for iOS in Feb.

@rtojohnny08:
Hippstamatic was introduced to Windows Phone by Nokia. Maybe they were provided technical assistance by Nokia employees and abandonded Windows Phone after the devices division was sold to Microsoft.

This is an excelent small app builder that shows what is the issue with Windows Phone, right now their Hipstamatic apps are updated for iOS but not for WP. The reason is budget support to hire WP developers, which small companies like these don't have.
That's why I think Microsoft's decision to make iOS compiler tools for Visual Studio community edition which is free, is going to help these companies to use their same iOS app code on WP without the need to hire specialized WP devs. Just my 2 cents.

It is limitations of the platform i.e. WP8.1 that has stopped the update. The only hope is, what the devs missed in WP8.1 has been fixed in W10. Otherwise, hamburger is not even a tip of iceburg. We may be in for a ride. But I know, W10 will fix everything.

That actually sounds true. I do some Windows Phone development (haven't released any apps though) and I know one thing that was removed from the WP8.1 SDK, was the ability to check the phone specifications. That is particularly useful for debugging issues that might happen on specific phones. I could still get that data using Silverlight programming, but it is really inconvenient for a technology that is becoming deprecated. I am more than sure that there are more API's that got removed that might cause Oggl to not get any more updates.

see the v2 section which supports wp8.1 sdk https://github.com/Microsoft/phone-info

Unless you aree privy to discussions within that company, or are a developer on that team, sounds to me like you're making a statement as fact that hasn't been verified. I think it's just as likely that the iOS programmer was also responsible for programming the WP version, and the technical issues they have is just plain not knowing how to program for WP and not wanting to hire someone that does. There are so many reasons for this, and I suspect that the functionality that this particular app needs does not point to a limitation within the Windows Phone API, but rather a misunderstanding of how to use said API.

I'll bet this is the case with many developers, actually. Hopefully W10 will give a more compelling reason for them to learn how to code for it.

Meh it was convoluted and difficult to use tbh

I never downloaded it because I didn't like the name of app. Despite what it does.

Was never impressed by the apps.

"there were some technical issues"...
I'm pretty sure they are talking about the horrendous photo rendering engine that is in Windows Phone!! The same thing that makes Instagram photos have drastically less quality posted via WP than in others OSes. And that is a shame!

This! I have never been able to understand this, even with repeated 6tag updates to improve uploaded image quality.

You, my friend! Oh... I thought that I was alone in this windows phone world. Not even a single editor made an article about this. They can change the tides, but apparently they are blind (yes Rubino, I'm talking about you). The Windows Mobile has such a poor poor photo rendering engine. That's why you see stuttering/jittering in scrolling apps that display photos or the upload quality that even BlackBerry is better at it. I was looking at an iPhone 6 today, man..those iSheeps sure get a nice jewel.

...for 5 times the price. An iPhone in Brazil (off contract) is about 1,000 USD. I can buy almost 3 Lumia 830. Expensive that easy couldn't be worst.

No offense, but I don't live in Brasil or India. I can afford an iphone, it was the beauty of WP that made me buy Lumia930. Pșus, with this attitude you will get cheap OS from MS, soon your pics will be in ASCII since you don't care.

no offense, too, but what are you think is incorrect. Lumia phones (like Lumia 830) have an excellent camera, even though they're cheaper than iPhones. My Lumia 620 is one of it, in addition to the manual focus provided by Lumia Camera, it can manage low light photos well. But the main problem is the support of the apps, which Windows (Phone) lacks.

I kinda like the app, but the filters are so heavy on the photos that I stopped using it.

'a technical reason' probably means means they do not get any more money from Microsoft ...

"Meh"
I used when it launched and I think it was the only way to browse Instagram (maybe publish). Uninstalled just after some clients appeared. To be serious I asked people here and nobody has ever heard about that app (on any platform). For the record I live in south Brazil.

I recall this was a Nokia Lumia exclusive app back when it was announced. Now that Nokia isn't making Lumias anymore...

Even windows central so has not been updated since a long time

Like all those 10 developers that make WP apps, Windows Central is also waiting for W10. Microsoft has put this platform in a medicated coma.

@rockstarzzz:
Says who?! Is this a direct quote from either Rubino or at least Bennett?

They are making a Windows 10 universal app, that's why the current app hasn't been updated in a while

This created such a stir when it came. But its performance hardly impressed. Wasn't so impressed by it on my 1020 either. They kept trying to improve it. And now it's just going to sit there without improvement. I'm okay with that.

For some apps, this is looking like Windows Phone 7.8 all over again, only app wise though.

I guess the silver lining here is, even though they won't update the app anymore, at least their not pulling it from the store. While it was, at the time, a means to an end to upload to instagram, with the emergence of 6tag, it's lost its main purpose.

Never heard of it, until now..

I forgot about this app. I remember that I downloaded it for Instagram capabilities,but used it less than a handful of times. From the way it reads,it doesn't sound like all hope is lost. I have a good feeling that it'll be back for Windows 10.

I have a friend in the gaming industry who has sworn off Microsoft entirely. His company's focus is primarily consoles, plus Steam and iOS. He says that Sony and Nintendo are great to work with; they're helpful and eager to collaborate. Microsoft, on the other hand, he says is hostile towards developers. They act like it's a privledge to develop on their platform and impose unreasonable conditions on developers. For example, they used to have a rule that you couldn't release a game for XBL if it had already been developed for another platform. Even though it's no longer in force, they still give developers a hard time and it took my friend's company a lot of convincing before they caved. And I'm talking about a game that's seen decent success with several million downloads. Beyond that they're generally terrible; they don't collaborate and they're painfully slow to test and approve anything. While my friend's impression is mostly based on his experiences with the Xbox Live division, a lot of what I've read over the years leads me to believe that this mentality is pervasive throughout Microsoft. It seems that they're really only willing to cater to big developers and don't take the small guys seriously. A couple of developers have been pretty vocal about their experiences with Microsoft but I suspect most are not keen on burning their bridges and particularly since the chance of profitability is still there. Nevertheless, I wouldn't be surprised if Hipstamatic gave up on Windows Phone specifically because of the hassles involved. Now the interesting thing is that my friend's company is moving away from iOS and Android development because it's too hard to make any money at all on those platforms. There's far too much noise for any one game or app to stand out, even when you're being promoted on the app store. You'd think Microsoft would be doing something to capitalize on this, but clearly they're not. It's really disappointing to see that things haven't changed where it matters most. It doesn't matter if Microsoft makes a few high profile changes if down in the trenches they're still giving developers a hard time. Who wants to deal with the nonsense, especially on a platform which small marketshare?

The camera SDK is a nightmare and the fratgmentation for some Lumia users not being on Denim is a major headache for developers. I don't blame them. The WP team knows there are issues and have provided little assistance to developers. Developers, developers - wait, what?

@TheZuneLune:
Ballmer is out! So who cares about "developers, developers, developers" anymore? Who cares about Windows (Mobile) at Microsoft any longer?!

i love hisptamatic beatiful filters. i use it frequently, but app has many issues. this news is a very big disappointment from hipstamatic inc.

Meeeh. Not something I care. Maybe people will talk about how doomed WP is but the truth is this app really is not that important because there are apps like this with more or less features. So nothing to die for. If people used them I am sure developer wouldn't be lazy and say they are not updating anymore. but I am sure people use other apps that do the same so no big loss

I actually use the app a lot when I am on travel. I love the filter and interface. Such devastating news. I was hoping to get an update. I'm sorry to say...but my loyalty to Microsoft is starting to drift. Been rocking Samsung Focus>920>1520....oh what should I do...lol

Disappointing, cause I frequently use the app (even though its sluggish on my 920). Also its better than instagram when it comes to filters.And I don't think they are going to make the app compatible for Windows 10.This is just sad.

I'm still waiting for my Windows central app update

It was only ever a poor man's instagram. No loss

It predates IG and has better filters. Bigger doesn't make IG,better.

Well losing anything even remotely related to being hipster, even if just in the name, really isn't a loss. It's actually more of a win.

I hope more comes from this story, and that the app isn't lost in the transition to Windows 10 Mobile. This is one of my favorite photo apps.