Hipstamatic Oggl 2 and Oggl Pro 2 now at the Windows Phone Store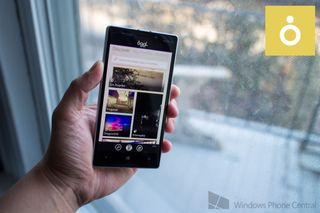 One year ago, Hipstamatic began developing for the Windows Phone platform. Today, the company has released Oggl 2 for Windows Phone 8. This second version of Oggl has been released on iOS at the end of 2013, but it's now here for Windows Phone users, too. Read past the break to check out what's new.
New features for Hipstamatic Oggl 2.0:
New Interface: new design, transitions, animations and overall snappiness.
New Homepage Feeds Experience: new customizable grid, helping people organize all of the content they follow. You can also pull in your Instagram feed.
Collections: Brand new to Windows Phone 8, Collections are all about collecting and following inspiring sets of images. You can group together the "best of the best" images from the Oggl community, and subscribe to other Collections for inspiration.
Discovery: Helps surface the most inspiring photos, people and Collections from the entire Oggl community.
Improved Search
Previews: Preview a look when selecting a Favorite combo, or when editing photos and browsing preset lens and film combinations.
Improved Feeds Experience: Users can quickly browse photos and easily access more information.
Improved Gear Experience: More streamlined previews and suggested Favorite combos.
Profiles: Organizes photos by Captured and Collected photos, and includes tap-to-zoom image viewing capability, expanded bios and live links.
Improved Capture: Easier to snap photos and access Favorite combos.
Hipstamatic is a photography company aiming to inspire the world to live more beautifully and creatively. They have a variety of offerings including Oggl, Hipstamatic Classic, Snap magazine, and IncrediBooth.
Oggl 2.0 for Windows Phone 8 is available today for free download at the Windows Phone Store. If you have a Nokia Lumia 1020, you can grab Oggl Pro 2.0.
Do you use Oggl? How do you like the new update? Let us know in the comments!
Via Hipstamatic Blog; Thanks for the tip, Lance!
Windows Central Newsletter
Get the best of Windows Central in in your inbox, every day!
Too bad my 920 broke before this came out.

Physically broke or Os issues??? My gf is notorious for breaking phones and the 920 lasted about a week before the screen was shattered. So I bought her an Otter Box... Physically her new 920 looks brand new but who knows what damages it has on the inside.

Hopefully the performance issues have been sorted... The previous version was so slow!

I hope it's faster than the previous version... I stopped using it because it was too slow to go through the different effects and since the icon of each effets doesn't show what the effect really does you end up having to go through all of them one by one to find the perfect one...anyway... I'll try the new version but if it's still as slow I'll uninstall again...

We need to support these guys. They certainly support us.

I couldn't agree more. And to be honest, this is a niche app from a small group of folks. I really appreciate their dedication to Windows Phone!

Agreed! This is the most awesome photo app I've ever used, and they give special attention to us, people of Windows Phone, along with people of iPhone. Not even Android has it! I will always have this app, and thank you developers of this jewel for us! :) I will always support you too ♥ hehehe

Wow! It doesn't crash and cause my HTC 8X to reboot now! Instead it just wont open at all and throws me back to the start screen! Yaaay

I was wondering why they hadn't updated the App this year. I guess this explains it. I do use and like Oggl (well, as long as it's free). However, because they never fixed the recentering of pictures + saving problem, I stopped using it. Let us see if they finally addressed it in this update". *fingerscrossed* By the way, Mark, I suggest you change the headline to "Oggl v2.0". Otherwise it will lead people to believe it's a new app instead of an update.

Sensible suggestion, I clicked the article because I wanted to see what a sequel to the original Oggl would be.

I sincerely hope they've fixed the lagging issue.

Still laggy, and it uses a lot of CPU guessing from the heat coming from my 920 when selecting/mixing filters. Slooow preview, and confusing way of importing existing pictures.

How is this different from instagram, just another social network?

Your friends are not on it. That's how.

It's different because Hipstamatic images look better, in my opinion. Plus, they let you post lots of places, including your precious Instagram. :)

Working great on my Lumia 1020.

If I want to post my own photos in full quality, can Oggl and Flickr handle that or is it just another Instagram? (sorry for the noob question)

Not sure about Oggl, but Flickr does. That's the *only* reason I use it. Flickr Central is pretty kickass, and I've been with it since the first week of release and I've seen the developer faithfully release updates, check it out for yourself : http://www.windowsphone.com/s?appid=c4a83342-66b7-4709-a649-792f750bf266

Thanks for replying. Will give it a look.

Hmm, keeps nagging about a token?

Hey, thnx. It just needed some time, it works now.

anyone figure out how to get new gear with this update? I feel like an idiot, but I really just can't figure it out. Otherwise a great update!!! Looks beautiful and love the enhanced instagram (and other social network) integration, I could maybe see this replacing 6tag for me, MAYBEEEE

I couldn't find the Gear, either. Also, it still selects the crop when you import a picture and you can't change it. ARG!!

In oggl pro 2.0, there is a new button on the left side when in the favorite gear combo mode. You get more gear there. Also after the first time reviewing your favorite gear combos, you can now view the effect each saved gear combo has on a photo. edit: the more gear button also appears on the left side when shooting in manual mode.

My personal opinion is this is just another bloated camera app that does the same thing that all the other ones do. Just another redundant app to take up space on my 1020... all I need is Nokia Camera, and if I must post to Instagram, 6tag and that's it.

I'm digging the screenshots in the store.

After seeing the comments that it's still laggy I won't be using this. I downloaded it originally as a way to upload to instagram before there were any other options. Then it was just a super slow and frustrating photo app. Sure the pictures looked great. But it wasn't worth the hassle.

The app is nowhere near what it used to be. On my 928 it runs well and smoothly. Changing filters (probably rthe most intensive and previously laggy task to perform) is quite smooth now. Does the app still take a little too long to fetch data sometimes? Yes, but I believe it's vast improved and I liked the original app. I think it's at least worth a download as it's free and can easily be deleted.

Well perhaps I will just give it another go then. It can't hurt since its free anyway.

Reinstalled and found it no longer support facebook log in, so uninstalled again.

It still supports Facebook login, check under settings cos I am logged into Facebook via this app

Still same old lagging Oggl, I don't know maybe this problem is particular to Lumia 920 or it's just my phone. I can't post photos, always saying Oops, something went wrong. My profile also shows some photos that I don't know the origin, it's like this app is messed up or server problem cos I'm posting from Nigeria. However, why should there be server problem when I can post photos seamlessly on all other social networking sites: Instagram, Facebook, Twitter, Flickr, Tumblr and etc? And now Hipstamatic Oggl size is around 41MB? Anyone having this same problem, tried creating a new account but the problem still persists.

Overheat my phone and drain battery. So sorry.
Windows Central Newsletter
Thank you for signing up to Windows Central. You will receive a verification email shortly.
There was a problem. Please refresh the page and try again.