Hipstamatic yields to users, now allows photos to be imported into Oggl...kinda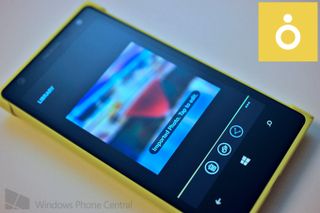 The addition of Hipstamatic's Oggl and Oggl Pro to the Windows Phone Store was welcomed by community. The app was first announced back in May and finally joined the platform after the launch of the Nokia Lumia 1020 in the United States.
Two versions exist, Oggl and Oggl Pro, with the latter a special edition of the app going to users on the Lumia 1020. Performance was sluggish at first, but has slowly been improving with a fairly constant stream of updates. What's the latest update bring?
The last update for both versions of Hipstamatic's app came a little over a week ago. It mostly fixed sharing through social networks. What do you get in the latest update to both Oggl and Oggl Pro? Mostly a feature that many of you have been wanting since the app came. Here is it:
Added support for importing photos from the camera roll.
Improved the feed section to be a better experience. (More features coming)
Fixed a few bugs where the app was not behaving correctly with content refreshing when coming back from sleep mode.(more offline support coming soon)
Added support for having no presets.
Some more bug fixes...
The ability to import photos from the camera roll is a feature a lot of you have been wanting since the app launched. Well, it's finally here and works… for the most part. When viewing your library in the app you'll see a little plus sign in the app bar, this allows you to import photos. You'll select photos from any album on your phone (camera roll, saved pictures, screenshots, Facebook albums, etc). After doing that you'll see the photo in your library, but you'll need to tap it to edit and apply filters.
Unfortunately, when you import the photo you have no say in its appearance beyond the ability to rotate. We tried importing on both our Lumia 925 (Oggl) and Lumia 1020 (Oggl Pro), both appear to move the images slightly to the right in the 1:1 view. Even after editing photos in other apps to have a 1:1 ratio we found Oggl moving them. So they're clearly heading in the direction to allow you edit photos, but the current implementation isn't the best. It would be nice to crop and arrange photos you import.
Beyond that, the team is continuing to improve the overall experience of the app. The feed section has a new info view when you tap a photo. There's also been some bug fixes around the app.
We're really pulling for this app. The filters in Oggl are hands down some of the best we've seen on any app, regardless of platform. Performance wasn't the best at launch, but each update slowly kills bugs and increases the overall stability of the app. While we'll all be divided on their decision to allow users to import photos from the camera roll, we still wish Hipstamatic success on Windows Phone.
Thoughts? Sound off below.
You can grab Oggl and Oggl Pro for Windows Phone 8 devices. Oggl Pro is only available on the Nokia Lumia 1020. Both apps are free with 60 day trials for all the filters. Grab them in the Windows Phone Store (Oggl – Windows Phone Store and Oggl Pro –Windows Phone Store), use the QR codes below (Oggl top, Oggl Pro bottom), or swipe to the more section in our app.
So one developer creates a better instagram client than an entire company... The only company that has Instagram blessings I might add. Pathetic.

It's not meant as an instagram client though, as it was around before instagram.
It is it's own thing. Instagram uploads is just an added feature.

My opinion? I wish Oggl remained a "pure" mobile photography experience. One where you can't import from your camera roll. That's the problem with Instagram.. people start uploading images that are screenshots of their note app, screenshots of their music, etc. It's not photography. Anyways. What do you guys and gals think?

The problem with this is that no one remembers to actually launch the oggl lens when taking a photo. You take a photo with the stock camera then share it to the app.

Now if only MIcrosoft would open up the ability for the camera button to launch 3rd party apps...instead of Nokia Smart Cam or Pro Cam.

I was under the impression that this was going to be a feature in one of the near updates.

That won't solve it.
The last time i checked, Oggl didn't save the original unedited or uncropped photo in the camera roll. I don't ever want to make it my default camera app.

Why would you ever use Oggl as your main photo application? It's like going backwards into the world of photography. It's like installing a stupid app on your DSLR so you don't have to edit it in photoshop later on... The result is almost never as good as when you take a clean regular photo and eventually edit it later in whatever app or program you like. Oggl is failing big time, and that's because it's going backwards in the world.

I am among those who wanted this feature to even give the App a chance (although...I'm not that fond of their filters....). 99.9% of the times I don't have time when I take the photo to go edit, import etc. Sometimes not even to open Apps. It's not practical. I pull the phone, snap the photo and move on.
On the other hand I do understand your point and agree. Which is why I think the ideal solution was to limit the import to the "Camera roll". That way, even if people would want to upload screenshots etc, they would be forced to manually move the pictures around etc. It wouldn't prevent it, but it would certainly discourage.

Totally agree but Hipstamatic has to improve the loading speed of the app.

Then that's up to them. I don't see options as a bad thing. If I take a photo, I want to take the best photo I can on my phone. I don't take a photo using 6tag because i'll only have that image rather than something I can use for additional editing later on if I so choose. When it comes to Oggl, it's even crazier just because of all of the filter options. I don't want to have to spend 5 minutes going through all of the lenses and films and end up missing the moment either. I find Oggl fairly useless as a social network though. The experience for searching for friends or others to follow, doesn't really exist. It's too manual where you have to input a name rather than see a list taken from other social networks they exist on so I don't really want to put in a friends name one by one to only find that actually none of them are even on it.

My perspective on some of your thoughts: * I think the social aspect of Oggl is different than Instagram. It's not about your "friends", but about "photographers" who take pictures that you like. So I wouldn't call it "useless" (I rarely use that overused term, anyway), but rather a different way of doing things. You can follow your friends in lots of places, but Hipstamatic has always been about the photographs.
* You can take the picture with whatever gear (lenses/film) is loaded and then change it later. You don't have to choose the right filter in the moment. Just snap away.

I agree Sam.
Although in not a big fan of Oggl, if you look around at other people photos in the app most are very "artistic" and that's what the app is really all about.
At the same time, it's so much easier to take a photo with the native camera app and add it later. Then again, if you are taking the time to 'make art', it's not a big deal to use the app as it's meant to be used. Even if that means adding 30 seconds extra to get the shot.

Version for 512mb phone when

Right around the time they make a Winmo6 version.

I just didn't like this app. Really didn't have a use for it with all the other filter apps available.

What happen to the camera-like 'points' on the finder??

After importing a photo ... The original on my camera roll stays blurred out..

I'm more against the addition, because I thought the point of the app was to be creative within the constraints. I don't think of my oggl roll as a place for all the myriad shots I take during the day, but a place to try to stretch myself as an amature photographer. There are so many ways to share photos available, even on windows phone, that I don't see a need for every service, to be everything, to everyone.

Oggl doesn't seem so attractive right now, especially with Instagram uploads being handled by many apps already. I really think they should come up with a new unique feature right now, not next year, or they're going to fade away in maybe 3-5 years.

I have a hard time understanding the negative comments given how Hipstamatic is the best, most versatile photo filter app on any platform, hands down. The only thing I miss from the original is the chance factor of shaking the phone for a random lens/film/flash combination and having an intentionally imprecise viewfinder, but I won't complain. I'll gladly pay for all the lenses when the free promo ends.

Finally somebody is talking a little sense. This is not about uploading to Instragram (which for a large part has been taken over by teenagers, who is showing of their feet or skinny legs). It has nothing to do with social networking, where you can show of your latest espresso or whatever. And it has nothing to do with puritanism. It is about taking beautiful pictures and play around with filters. And for that, the native camera is the better option. Seriously.
I dont think it'll turn into Instagram, because you always have the option to select the editors choice of pictures or some other thematic feed.

Windows Central Newsletter
Get the best of Windows Central in in your inbox, every day!
Thank you for signing up to Windows Central. You will receive a verification email shortly.
There was a problem. Please refresh the page and try again.