Hipstamatic updates both Oggl and Oggl Pro, improves sharing and more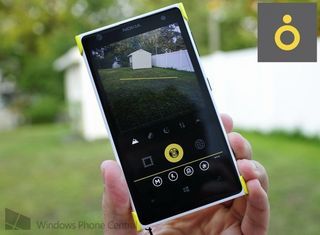 Hipstamatic's Oggl and Oggl Pro have been highly anticipated apps since their announcement in May. However, when they launched a month ago both apps received mixed reviews. You wanted to love them and use them, but performance issues hampered that desire. Since then both apps have been receiving fairly regular updates to address the shortcomings. Let's see what's new in the latest update for both Oggl and Oggl Pro.
Head to the Store and you'll see the apps sitting at version 1.0.8.106. What do you get after installing or updating?
Further fixes for user specific content handling
New improved registration & log in flow
Improved settings handling for social channels
Progress indicator in library for when images are processed.
Improved backstack flow for sharing.
The last update that came out about a week ago improved the start up speed of the app. This latest update makes taking pictures itself feel faster. When you snap a picture the image is added to your library. If you go to your image library before the app has had time to process the image (add filters) it will now show a cool progress indicator/animation letting you know the picture is processing. It's a small touch, but nice overall. We also logged ourselves out of the app to check out the improved regristration and log in flow. We couldn't exactly remember how it was before, but didn't have any issues putting our account info in and accessing Oggl.
We really want to see this app take off. Hopefully with continued support and updates it will get there sooner than later. And technically, this app is the only official way to get photos to Instagram if you think about it. Keep them updates coming Hipstamatic.
Both apps are free for Windows Phone users and include a 60 day trial of all the "gear". You can grab Oggl for all Windows Phone 8 devices in the Store. Oggl Pro is only available for folks with a Nokia Lumia 1020, get it in the Store. Otherwise QR codes below or swipe to the right in our app.
Windows Central Newsletter
Get the best of Windows Central in in your inbox, every day!
Man this app is updating alot. Which is a good thing.

errr.i'm newbie to this app, but how can i snap picture without using any filters on this app?

I'm not using this until I can select photos on the phone. As easy as that.

+1. Makes it incredibly useless without that feature.

Then this app isn't for you. The creators, Hipstamatic, want you to use the filters when you're taking the picture. The idea is that you should have the filter in mind when initially taking the photo. (P.S. Don't shoot the messenger (me))

+1020, lol Personally, I love this app.

So tired of hearing this complaint... This is a great app for what it's meant to do.
When announcing this app on the site for the first time, or maybe on every post about it, for the new people here, you (the editors) should specify that this app is meant for true mobile photography, witht he camera that's always in your pocket... it is meant to post only in real time, meaning that there should not be a way to select from the camera roll, that was done on purpose, it isn't a missing feature, and it isn't needed! Also, that option isn't there to avoid having people upload photos that they didn't take, and screenshots or graphic art.
Maybe post a quick PSA on this, because the poor reviews seem to only pertain to that, not so much on its underperformance (those are fair).

Which is why the reception is being far from good. Only a hand full of people like that idea...

They're doin quite well on iOS. Way more than an "handful" actually. I think the WindowsPhone adoption will kick in when they fix the bugs, not the concept.

iOS is filled with hipsters. The only reason the Windows Phone community has given this any chance is because of the "official" Instagram upload ability. I have a feeling that, if that wasn't a feature, this App would have never even be repeated news on WP.

We have our fair share of hipsters around these parts as evidence by any article regarding Instagram will prove. Hipstagram OGGL may not be for everyone, but they have an audience that really likes what they do. When they iron out the execution, I think they'll be OK. There's Instagram for people who want that.

I'll praise the messenger. There are plenty of places to share stolen and Photoshopped pictures and it's kind of nice to have a "pure" experience. I love that you have to take, edit and upload all within the app.

There's nothing "pure" about Oggl. For that you would need: 1 - to be able to open the App from the camera shutter, 2 - have the ability to take "pure" photos before ruining them with those filters.

It's "pure" experience as defined by an all encompassing and enclosed environment not polluted with anything. Your definition of "pure" is more like "what I want it to do". You have plenty of choices to do it the way that you want to do and you don't like Oggl's filters anyway, so you're likely to choose one of those alternatives. Not everyone wants Instagram.

So Oggl is no longer "pure". Since it is possible to choose photos from Camera Roll on iOS now.

Correct and there has been some pushback from users who don't want another Instagram.

The latest ios update made it possible to upload from camera roll, so I wouldn't be surprised to see the same happening on wp

I don't understand why anyone would have a problem with the user having the option - and the word "hipster" is used far too often. As it's been said, it's a good app but not for someone like me who would rather catch quick photos. I don't want to cycle through crap and settings just to take a photo - nothing about that is anywhere near fluid or spontaneous. It's definitely not for me.

"Hold on children...I just have to....just have to open this app....oh wait...one more second, let me find the correct....the correct filter...."

It is possible to select photos from the camera roll in Oggl for iOS now. It is a matter of time till we can.

I strongly agree with you, but the iOS version now allows to select pictures from the camera roll.

Which is frankly bullshit and goes against what makes Oggl so nice compared to Instagram. I don't want Oggl to start filling up with screenshots from people's note applications or other crap. There goes the town.

Yeah, I agree. And also I hate the fact that a lot of instragram pictures are taken with DSLRs and so on

STILL crashes (restarts) my HTC 8x. That's it. I'm uninstalling it...

Still can't tag photos sorta stinks but not a deal breaker!

Love the app and just updated. Can anyone confirm the version number from the app itself, because every time I update, the version number does not match what is reported on WPCentral or on the Windows Phone store page. Just updated and it states: About Oggl Pro 1.0.0.106! This is not what it states above or on the Pro link page.

I am a big fan of Oggl. Most of the time I use Oggl for my mobile photography. you can see all the photos I shot using oggl here http://lumia920photography.tumblr.com/tagged/oggl

You dont need to select Filter in advance, you can shoot in any default filter of Oggl. Later you have the flexibility of applying filters on the photos that you shoot using Oggl.


I don't know why it's getting worst after this update. The photo on the Library tab seemed gone everytime i reopen the app. The live tiles won't show any picture like before because, those pictures are 'gone' somewhere... Hope to see update to fix this very soon. Anyway, i love how this app restrict us from using pictures from the gallery!
Windows Central Newsletter
Thank you for signing up to Windows Central. You will receive a verification email shortly.
There was a problem. Please refresh the page and try again.