How to automatically post your Instagram photos as Twitter photos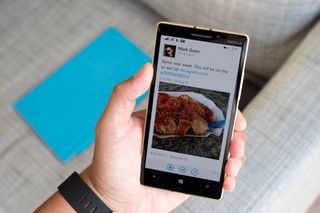 I love sharing photos on Instagram, and 300 million other users feel the same, but I don't like the fact that my Twitter followers can't preview the images directly from my timeline. They need to click the Instagram link to view the photo. It used to work a couple of years ago, but Instagram has disabled photo integration with Twitter. The good news is that there's a workaround.
While tweeting links to Instagram photos is still possible, you can no longer view the photos on Twitter. The workaround is to use an IFTTT (ifttt.com) recipe that automatically posts your Instagrams as Twitter photos.
When you post on Instagram using any app like 6tag or the official Instagram app on Windows Phone, the photos will show up in your Twitter feed as full images rather than just links.
How to set up IFTTT to post your Instagrams as Twitter photos.
1. Sign in or sign up to IFTTT (ifttt.com) and then go to this IFTTT recipe page
2. Use the connect buttons to connect IFTTT with your Instagram and Twitter accounts.
3. Tap or click the Add button.
4. After the recipe has been added, tap your IFTTT username on the top right corner and go to Preferences. Alternatively, you can use this link. Uncheck the option Auto shorten URLs. This makes sure that your tweets show instagram.com URLs instead of ift.tt.
That's it! Next time you post a photo on Instagram, make sure to uncheck the Twitter option in the app because IFTTT will already automatically tweet it for you. Now your Twitter followers can both see a link to your Instagram link and a preview of the actual photo within their timeline. You are done. High five!
Will you be using this IFTTT recipe to show image previews or are you happy with just showing the Instagram URL in your tweets? Let us know in the comments!
Windows Central Newsletter
Get the best of Windows Central in in your inbox, every day!
aka "How to lose followers"...

Eh, I don't mind shedding a few. Who cares if people follow you or not anyway. We're not teenagers. :P

We're not teenagers?.... Umm, don't you think a lot of these people here are??

No, no I do not believe that, Rodney. Source.

Looks as though there are thousands of teenagers, Daniel.... On another note,, I wish I was wrong...

Well I am a teenager, but I don't really care about Twitter or Instagram

Followers.. That's what twitter and instagram is all about..

Why would this cause you to lose followers? Currently, it's the same thing with no preview image. At least now, they won't have to click a link.

Love IFTTT. Good tip. I also have a recipe where my Instagram posts are automatically saved to OneNote and OneDrive. And another that saves songs I like on SoundCloud to my OneDrive.

I use it to send me emails every time certain items are for sale on Craigslist

Whoa whoa this IFTTT thing ia new to me. Need to do reaearch

I use it to automatically add Channel 9 videos to my Plex servers queue, works a treat. At the time I set it up though there was no Office 365 connector so I had to use my gmail account (Just used for Google services these days) to send the emails to Plex. Azure Fridays are some I've had adding automatically as they get added

( sound of cricket follows...)

There is an official instagram app, but in my opinion, the app called 6tag is improved over the official one.

6tag has improved because the official Instagram app has only seen 2-3 updates, and the last one was well over a year ago...

That's not why 6tag has improved. 6tag probably would have improved whether or not Instagram would have updated their app or not because Rudy is that way with all his apps.

If you are dumb and dont know how to update apps on the phone then yes., the last update was a year ago. But if you know how to do that then it was updated in this very month on 2nd August!

really? i still see 0.4.2.0 on the BETA version. what is yours?

I use a different IFTTH that only posts Instagram photos that have #twitter in them. Then I can pick and choose which ones post.

You've such mood swings ;)

I was coming in to mention the same thing, just use the recipe that has a hashtag component. IFTTT is outstanding.

IFTTT for WP??? No way? I tried to install Android version on w10m and it works. It would be nice an official (or unofficial but nice) client.

You don't need an app. Mobile site for ifttt works great.

Oh I'll definitely use it!
Saw your Ikea meatballs (bon appétit) Instagram post on twitter earlier & was going to ask you how did you do it. On a side note, Daniel was in Ikea as well, coincidence? Half-Life 3 confirmed :P

lol Furniture shopping for new office. Supplies arrive Friday. Lots of assembly required :/

Wouldn't mind seeing a walkthrough of the new digs and how MS and technology make the move/etc easier.

Wow funny thing when I share a photo. I do to FB/ instagram / twitter / flicker. And I do through my Photoroom app on my phone. Photo always show's up.

Ikea meatballs on the photo :D :D :D that's mean time for a 3 world war this world going at the end much quicker like any politics doctrine :)

Alternatively, this ability is built right into 6tag.

I don't think you quite understand the situation. This is not how to automatically post images from Instagram to Twitter.

Am I the only person who has never heard of ifttt?

Mmmm...tastes like red nosed reindeer.

Ifttt is great but I am concerned about privacy and encryption method they use to store usernames passwords

Has anyone seen a recipe that would post an Untappd check in to Instagram?

Mark, are you using OS X?

About twitter.. Which client do you use? The official one has lots of missing functions

Thanks a tons to you Mark G!

Awesome! Thank you for the tip

So.... Rudy is currently moving to USA... When we got non-square photos?

I know this is an old post, but... Why, when I use this method, are my perfectly crafted 130 to 140 character descriptions truncated? I thought Twitter doesn't scount the photo?
Windows Central Newsletter
Thank you for signing up to Windows Central. You will receive a verification email shortly.
There was a problem. Please refresh the page and try again.