How to check your PC's full specifications on Windows 10
If you wonder what the tech specs for your Windows 10 computer are, we'll show you five ways to find out in this guide.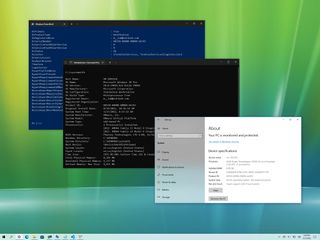 (Image credit: Windows Central)
On Windows 10, the ability to determine the technical specifications of your computer can come in handy in many situations. It can be helpful to determine whether the device meets the requirements to install an application or upgrade to a new version. If the desktop or laptop isn't working, the specs can help troubleshoot the problem. Or, when you notice the computer slowing down over time, you can check the hardware specifications to confirm whether you have to upgrade a component or it's time to get a new machine.
Whatever the reason it might be, Windows 10 has many ways to check the device specs (such as CPU, RAM, motherboard, video card, Basic Input/Output System (BIOS) or Unified Extensible Firmware Interface (UEFI), device model number, drivers, updates details, and Windows version), using desktop utilities or command tools. The only caveat is that the properties available could be slightly different depending on the method.
In this Windows 10 guide, we will walk you through the steps to check your device's complete hardware and software specifications.
How to find computer hardware specs using Settings
The "About" page includes the basic system specifications, such as processor, memory, and Windows installation details.
To check the computer tech specs with the Settings app, use these steps:
Open Settings.
Click on System.
Click on About.
Under the Device specifications section, check the processor, system memory (RAM), architecture (32-bit or 64-bit), and pen and touch support.
Under the Windows specifications section, check the software specifications:
Edition — Shows whether this is a Windows 10 Pro or Windows 10 Home installation.
Version — Reveals the Windows release currently on the computer, and the version changes every year after a feature update.
Installed on — States the date when the last feature update was installed.
OS build — Indicates the build number of the release. The first five numbers represent the version, and anything after the period represents the latest quality update.
Experience — Reveals the service feature pack version installed on the device.
Once you complete the steps, you will understand the computer's basic technical specifications.
While on the "About" page, you can also click the Copy button under each section to copy and share the specifications with other people, save for future reference or inventory.
Mauro Huculak is technical writer for WindowsCentral.com. His primary focus is to write comprehensive how-tos to help users get the most out of Windows 10 and its many related technologies. He has an IT background with professional certifications from Microsoft, Cisco, and CompTIA, and he's a recognized member of the Microsoft MVP community.
NO need to search, just use Run (from the Start menu) > msinfo32

Whatever to type on Start is a search automatically. And yes, it's great that the search box execute commands similar to the Run command that why the reference on the steps. Thanks,

You can type "msinfo32" into the Start Menu's search or open Start->Run and type "msinfo32." I think searching for msinfo32 is basically just cutting out a step. This same method works from Windows 7's Start Menu search function.

If you have Run as a shortcut on your desktop it is the same number of steps...!

win+r, msinfo32, enter.
or
win, msinfo32, enter
or
win+x, y.

No need to do any of that. Click start and type 'sys' click on it

Definitely everything you ever wanted to know about Windows but were afraid to ask.

Full specs? What about Serial number? (Pardon me if it is not displayed on VMWARE example pics?
Cmd wimic csproduct

I think the command you're looking is: wmic bios get serialnumber Thanks,

I'v always liked Belarc Advisor which shows hardware, network inventory, missing Microsoft hotfixes, anti-virus status, and security benchmarks. It's also free.

I always use dxdiag to get a glimpse at the specs. CPU, RAM and GPU. Not as much information, but easier to use.

Just run 'dxdiag' in search bar, it will show you each and every thing about your laptop or desktop..

If U want more details, U can use WMI Query !!

BTW, It's a good idea to select word wrap the first time you run and open notepad.
I see is not in the insert

Definitely WinKey+R; msinfo32 :)

really the easiest and clearest way is to open the mixed reality app which will tell you all your specs

the sole fact that you have 4 different options to see the specs of your machine in Windows is pathetic at best. Windows is such a hot mess

msinfo32 is antique and needs to be refined badly...!
Windows Central Newsletter
Thank you for signing up to Windows Central. You will receive a verification email shortly.
There was a problem. Please refresh the page and try again.