Comfort games helped me cope with the madness of 2020
Coping with safe, familiar games.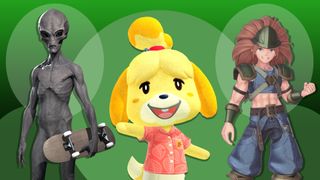 (Image credit: Windows Central)
To quote basically anyone who's made a public speech in the last 10 months: 2020 has been an unprecedented year. While I get that this line comes off a bit disingenuous at this point, it is, unfortunately, painfully accurate.
This year has been weird, stressful, confusing, and devastating in ways we've never experienced before. Many of us have been forced to find new ways to cope and adapt to pandemic living.
For me, it's been using familiar comfort games from my past to battle the uncertainty of the future. Even with new console launches and big games on the horizon, the titles that have helped me through the nightmare of 2020 have often been ones I've completed multiple times or sunk hundreds of hours into previously. This taught me a valuable lesson about the importance of revisiting elements of your childhood to learn from them.
In the eyes of some, nostalgia is a crutch keeping us tethered to the past. But this year, more than any other, I've needed that crutch to keep moving forward.
Phase One: Animal Crossing and the beginning of the new normal
Early on in March, I vividly remember taking my wife out to a birthday dinner at one of our favorite restaurants in California. What neither of us knew then was that this would be the last time we'd enjoy a sit-down meal in a restaurant in 2020.
In the following weeks, the severity of COVID-19 was made crystal clear to us as many bars and restaurants were forced to transition to takeout-only. Shortly after these developments, talks of a stay-at-home order were on the table and we began preparing for the first global health crisis to truly affect every American in our lifetimes.
The uncertainty of how day-to-day operations would continue concerned and, quite frankly, horrified many businesses. They quickly began making difficult decisions to preserve the longevity of the company and, in my case, this meant a COVID-19-related layoff from my day job in Los Angeles.
To amplify my anxiety and helplessness during this terrifying period, there was also a freeze on my freelance work. Things had never felt more unstable in my entire life. I, like millions of other Americans, filed for unemployment for the first time.
Among the initial chaos of the pandemic was the release of Nintendo's biggest release of 2020 — Animal Crossing: New Horizons. While this was technically a new release in the long-running franchise, the formula remained largely unchanged, so my nostalgia was piqued. New Horizons wasn't my first experience with an Animal Crossing title (I played the original on Game Cube almost religiously), but the debatably monotonous daily gameplay loop took on a whole new meaning for me this time around.
Having a structured routine I could control within the game helped distract from the complete lack of control I felt in my real life. In Animal Crossing, I could reasonably save up to afford a house, meaningfully impact my community, and consistently achieve the goals I set out for myself. I would lose myself in the game for hours every single day, clocking in close to 130 hours in the first month of its release.
Having structure in some form helped keep me from spiraling into much worse depressive behaviors. In my case, Animal Crossing: New Horizons was the most important release of 2020 and essential to my sanity.
Your very own island paradise
Animal Crossing: New Horizons
The ultimate escape

Animal Crossing: New Horizons is an essential, wholesome video game experience. If you want a break from the choas of your own day-to-day, this incredible title offers plenty of distractions.
Phase Two: Revisiting classic JRPGs and a big move
Before quarantine, my wife and I were planning to move from Los Angeles to Denver in June. The pandemic had other plans, however, and due to safety concerns we decided to postpone our trip, hoping our country would eventually have a better handle on the virus — and wow, were we wrong. We had to delay our trip to August, and during those few months I rediscovered my love of JRPGs, which was something I thought I lost completely in recent years.
The rekindling of my JRPG love started with the release of the Trials of Mana remake. Previously, this was a title I had only played through fan-translated emulators in its original 16-bit presentation. Re-experiencing this iconic title in its gorgeous, modern 3D glory reminded me exactly why games like this were such a big part of my childhood. These bright, vivid worlds filled with fantastical characters and creatures were the ultimate escape from our dark, grim reality.
From here, I went deep down the Mana rabbit hole, moving on to the Secret of Mana remake, Adventures of Mana, and finally Legend of Mana, which is one of my favorite games of all time. As a child, my admiration for these titles was so simple. Replaying them as an adult, I was able to identify exactly what made them so special and important to me. The triumph over seemingly insurmountable odds represented this pure sense of joy and possibility in the impossible that I had lost with maturity. Revisiting this crucial series from my youth was undoubtedly a therapeutic and cathartic experience.
Mana remade
A gorgeous adventure

Trials of Mana serves as a great entry point for fans interested in the Mana series. This remake offers simple, fun, and endlessly entertaining JRPG action.
Phase Three: Tony Hawk and hope for the future
Shortly after making our big move (which involved an uncomfortable stop behind a Shell Station and some Subway napkins) and getting settled into the mountains of Colorado, one of the most important releases of the year dropped — Tony Hawk's Pro Skater 1 + 2. Some were quick to write this off as a simple remake or remaster, but Vicarious Visions managed to drop one of the highest reviewed games of 2020 and every bit of praise for this game is well-deserved. In my opinion, it's a perfect remake and one that teleported me back to a key era in my life.
As a preteen, I was what certain clothing companies described as 'husky' but in actuality I was very overweight and very unhappy with my body. I wouldn't take my shirt off in the pool, I often wore sweaters or baggy shirts, and I was very sensitive when people mentioned my weight. Amidst this period of extreme insecurity were the releases of Tony Hawk's Pro Skater 1 and Tony Hawk's Pro Skater 2, two video games that managed to inspire me to pick up a skateboard and change my health forever.
Initially, I started by playing hours of Tony Hawk's Pro Skater, mastering the maps and maneuvers. Eventually this obsession with the video game evolved into an obsession with actual skateboarding. Instead of playing Playstation all day, I began taking my first board out to learn my favorite tricks in real life.
As you might assume, I was really bad for a really long time. But despite the falls and bruises, I kept with it, celebrating milestones like my first Ollie and kickflip. This fixation with turning my video game skills into real world skills led to me losing almost 50 pounds. I was in the best shape I had ever been thanks to Tony Hawk's Pro Skater 1 and 2.
Like many things I loved as child, I eventually grew out of it. Playing Tony Hawk's Pro Skater 1 + 2 in 2020 reminded me of how much I missed skateboarding in my life, and for the first time in 10 years, I picked up my board and hit the streets. Compared to where I was at my peak, I was pretty bad, but that didn't stop me from getting out and skating almost every day.
The most consistent exercise regime I had established since quarantine started. Re-focusing on the freedom of skating, while being outside in the seemingly scary pandemic world, offered me my first real sense of hope for the future beyond 2020. Months later, I still finding myself coming back to this remake, just getting lost in the nostalgic bliss.
The Birdman is back
Tony Hawk's Pro Skater 1 + 2
The perfect remake

Tony Hawk's Pro Skater 1 + 2 stands firmly as one of the greatest remakes of all time. If you've ever been interested in this series, this meticulously crafted reimagining brings the iconic gameplay experience you know and love with a fresh coat of paint.
A tough year comes to a close
Finding ways to cope with feelings of uncertainty or helplessness can be incredibly difficult. I'm sure that's something we can all relate to after this hellish year. Early on, I was turning to alcohol and other somewhat destructive methods of dealing with pandemic living, but tapping into some of my favorite comfort games helped distract me from the otherwise overwhelming sense of dread and despair. Video games have always been an important part of my life, but during these challenging times they became a necessity.
No matter who you are or where you're from, 2020 has been a rough year. For some, it's been far more devastating than others and to anyone who's lost friends, family, or loved ones to this pandemic, my heart goes out to you. I can't imagine how that must feel and what complications health restrictions have had on the grieving process. Here's to a safe, timely, and effective 2021.
Get the Windows Central Newsletter
All the latest news, reviews, and guides for Windows and Xbox diehards.
Miles Dompier is a Freelance Video Producer for Windows Central, focusing on video content for Windows Central Gaming. In addition to writing or producing news, reviews, and gaming guides, Miles delivers fun, community-focused videos for the Windows Central Gaming YouTube channel. Miles also hosts Xbox Chaturdays every Saturday, which serves as the Windows Central Gaming weekly podcast.