How to easily beat Great Shinobi Owl in Sekiro: Shadows Die Twice
Great Shinobi Owl has a powerful sword attack!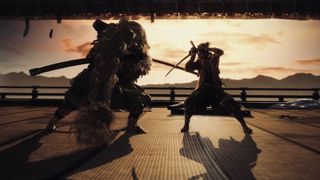 Sekiro: Shadows Die Twice is an incredibly challenging game, and a lot of the time you have to either upgrade skills or purchase items from vendors. However, the most difficult part of the title has to be the boss battles. A lot of the enemies attack without much force, but sometimes you run into exceptions like Great Shinobi Owl.
Great Shinobi Owl is deadly if you get too close to him in a claustrophobic arena. It's best to circle around him and only attack when he does a plunging attack. There are two parts of the fight and you can employ the same strategy during both phases.
Part 1
Part 2
It'll take roughly 10 minutes to defeat him because this process is a little slow, but it's safe because Great Shinobi Owl has a lot of attacks and they're impossible to block or deflect.
Circle Great Shinobi Owl until he shoots two shurikens and does a jump and plunge attack.
Just swivel around him and attack him once to knock off some health. Equip a powerful ultimate ability like the Whirlwind Slash to deal more damage when you hit him once.
Keep on repeating these steps for the entire fight.
If you need to heal, throw a Firecracker at him because when you heal he usually attacks you.
Don't get close to him, keep on circling around him until he does that specific attack.
It took us quite a while to figure out how to beat this boss, but once we did, it was rather easy. Hopefully this walkthrough will help you just as it helped us.
In our review, we said, "It's definitely harder than Dark Souls, but the sense of satisfaction you feel after defeating powerful titans is a reward in itself. The more you play, the stronger you become. The story and gameplay take you in new directions, but Sekiro: Shadows Die Twice's difficulty may limit its appeal. Unlike previous FromSoftware games, it lacks multiplayer so you can't summon allies to help you."
Reclaim your honor
(opens in new tab)
Sekiro: Shadows Die Twice
The beginning of a new franchise

In Sekiro: Shadows Die Twice you are a disgraced and disfigured warrior rescued from the brink of death. Bound to protect a young lord who is the descendant of an ancient bloodline, you become the target of many vicious enemies. When the young lord is captured, nothing will stop you on the perilous quest, not even death itself.
Xbox accessories you'll love
Talon Xbox media remote (opens in new tab) ($20 at Amazon)
The Talon Xbox media remote is great for watching shows on your console.
Xbox One S vertical stand (opens in new tab) ($10 at Amazon)
Stand your console upright with this affordable accessory.
Xbox One X vertical stand (opens in new tab) ($6 at Amazon)
Grab this compatible vertical stand to save space.
Asher Madan handles gaming news for Windows Central. Before joining Windows Central in 2017, Asher worked for a number of different gaming outlets. He has a background in medical science and is passionate about all forms of entertainment, cooking, and antiquing.
Windows Central Newsletter
Thank you for signing up to Windows Central. You will receive a verification email shortly.
There was a problem. Please refresh the page and try again.