How to get started with installing or upgrading to Windows 8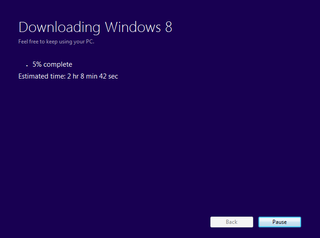 Using the Microsoft Windows Upgrade Assistant
You're looking at Windows 8 videos and screenshots with the mouth drooling, but how does one actually get cracking with the upgrade / installation process? It's actually relatively straightforward, which may surprise many who believe Microsoft to be the company that complicates their software offerings.
Before we kick off, do note that Microsoft is offering an upgrade programme for those who purchased a copy of Windows 7, or a PC that had the OS pre-installed between June 2nd, 2012 - January 31, 2013. This will knock down the upgrade fee to just $14.99 / £14.99. That's the price tag for upgrading to a fresh new version of Windows. Not bad, eh? You can check out the offer and more information over on Microsoft's website (microsoft.com/upgrade-offer (opens in new tab)).
While a number of versions are available - see Microsoft's comparison chart (opens in new tab) for more information of the feature differentiations between offerings - Windows 8 Pro is generally pushed in the consumers direction. But where can you get your own copy from?
Where to purchase Windows 8 software packages:
Microsoft

(opens in new tab)

- starting from £24.99 / $39.99 as download (£49.99 / $69.99 shipped)
Amazon UK

(opens in new tab)

(Windows 8 upgrade aid

(opens in new tab)

, what's new

(opens in new tab)

and FAQ

(opens in new tab)

) - starting from £46
Amazon US

(opens in new tab)

(Windows 8 Pro) - $68.88
BestBuy

(opens in new tab)

- $69.99
All major retailers and certified distributors
Beware folks - the pricing shown above is slated to be available until late January, early February 2013 (alters between retailer).
Note that when going through the Microsoft Upgrade Assistant, if you're eligible for the discounted upgrade fee, take note of your promotion code as it'll be required when checking out within the assistant. Don't make the mistake in purchasing the full version if you don't have to.
Be sure to stay tuned to our homepage and feed for more articles to help you get started with Windows 8 (and upcoming Windows Phone 8).
Windows Central Newsletter
Get the best of Windows Central in in your inbox, every day!
Rich Edmonds was formerly a Senior Editor of PC hardware at Windows Central, covering everything related to PC components and NAS. He's been involved in technology for more than a decade and knows a thing or two about the magic inside a PC chassis. You can follow him on Twitter at @RichEdmonds.
To upgrade or not to upgrade, that is the question. I have an HP all in one that they are not updating the drivers for. It has a TV tuner and a remote control, neither of which worked when I partitioned my HD and installed the consumer preview... If anyone can comment on whether the upgrade from W7 to W8 keeps your drivers in place as well as your programs, let me know. There must have been some brave soul out there who has already taken the leap...

I took the leap, but I had to go to work before I could view the desktop. Took about two hours from start to entering my Microsoft account. I hope to see what happened when I get home.

The upgrade is definitely worth it if only for the performance upgrades! When I upgraded it did keep my drivers but not my programs - only my files.

Wait!! What!!! I thought it said it would keep all of the programs, excepet the incompatable ones. Man, I might be screwed then.

I think he choose not to keep is programs during installation, it does keep them even add them to your start screen I did with the preview version on my Acer all on one touch screen I suggest u read carefully if u plan to upgrade

You may have selected a different option, I installed W8 and every program and file is still right where I left them and fully functional.

Can the upgrade assistant be used if you have Windows 8 RTM installed? Kept telling me that I was in an area that the download wasn't available this morning.

That's the reason, you're already using windows 8, that's why it's showing you its not available. I had to reinstall windows 7 in order to get mine.

But it doesn't say "upgrade not available because you are already running Windows 8". It says "not available in your country/region", and that just isn't true.

RTM=Release to Manufacturing=Final Copy being sold

Do you mean the Consumer Preview? If you do the conumer preview you'll have to reinstall all your programs, but it will move your personal files over.

He means RTM, which was released to MSDN and TechNet subscribers weeks ago. Many people have been using it on their home computers and now we'd like to just purchase an upgrade license to legalize our home usage. Rolling back to Windows 7 just to run the upgrade advisor and purchase a key is an awful overkill. EDIT: It seems that Windows 7 running in VirtualBox is enough to sucesfully run the Upgrade Advisor past the system checking stage. It let's me choose the upgrade offer and then asks for the billing details.

yes, you can. You need to right click->property->change compatibility mode to windows xp sp3.
Then everything works.

I upgraded this morning. It's a system I built 6 months ago, so new stuff and powerful. The upgrade process was incredibly smooth. They do a very good job of letting you know what issues you have. They even warned me to deauthorize the computer from iTunes and reauthorize it after upgrading (apparently iTunes would see it as a different computer after upgrade).
One thing people should consider carefully before going to Windows 8 is: Do you have your Microsoft Account set up the way you are going to want it forever? I decided to change my e-mail address to an outlook.com one and use that as my Microsoft Account, rather than use the account I've been using, which is a non-outlook, non-Live, non-Hotmail e-mail address that just has Outlook.com grabbing its e-mail using POP3 from another e-mail provider. With the old way, my mail was slow in coming. Your Microsoft Account and its e-mail address is about to get interwoven into so much more of your computing life with Windows 8. Small amount of pain to clean it up now, huge amount to ever change it later.


I did the same thing: Created an Outlook account that I'll use with MS stuff from now on. Plan to disconnect the Live account from WP and maybe Xbox. Need to think it through. Don't care about losing my WP apps or anything like that.

If you change your email thru your Xbox you want lose anything. Everything will transfer over. The only downside is you'll have to reset your windows phone. Any game saves will be lost.

I can't understand why people register new MS Accounts, switch Xbox profiles from an old account to a new one etc. Why go through all that trouble, when one can simply rename a Microsoft account to a new adress in @outlook.com or @hotmail.com domain. That still requires resetting a WP, cause you can't change the login name in WP, but you don't have to transfer any data between services and accounts, you keep the same MS Account with only the login name changed.

Good to know. I currently use @live, but will probably change within Outlook to an @outlook when I get my new WP8 hopefully in a few weeks. i don't want to bother resetting my phone.

tried purchasing the download upgrade this morning and all i get is an error. I get the "INTIALIZING" error after i picked the paypal or after i put the credit card info. Will try again tonight.

I purchased and downloaded the Upgrade Assistant this morning. It verified my compatiable programs and then prompted me to delete one of my bluetooth settings and reboot before installing. When I rebooted I assumed the install process would continue but it didn't.
I don't know where to find the installer - although to be fair I was heading to work and didn't really look too hard.
Shouldn't it have just continued the install? Anyone know where the installer would be found so that I can manually prompt it to continue?

There is a "install winodows" or download windows application in your start menu. Click on it and it'll continue.

I have Windows 7 32bit on a HDD and I wanna go to Windows 8 64bit but on a new SSD. Anyone out there know if you can do this with the upgrade version? I know you can, as it says so on MS's site but it doesn't say if you get the option of where to install Windows 8 64bit in the process.

If the upgrade just tries to format my Win7 HDD and put Win8 on it then that's not going to work, I want to keep the HDD and the files on it for now and then move things around later.

The Windows 8 OEM build is at buy.com maybe you could just add a new partition and dual boot.

Really? I'm pretty sure that if you're installing an upgrade and you're currently on a 32 bit version of Windows, you can only upgrade to another 32 bit version, same goes for 64. And transferring Windows to an SSD? Forget about it.

Don't even bother with the upgrade version, upgrades are a pain in the ass. Just spring for the full version, then you can install onto your SSD, run a 64 bit version, and because it's a clean install you should get a great performance boost. The only disadvantage is that you have to reinstall your 3rd party software, but overall it's worth it. Besides, then if you ever need to reinstall your OS for whatever reason, you just install W8. there's none of this having to install your previous OS first because you installed the upgrade.

Trust me, just buy the full version. I wouldn't even consider the upgrade.

I upgraded from 32bit release preview to 64 bit pro. Using the upgrade assistant will not work (gives an error regarding 32bit vs 64bit).
Use the option after buying your license key to prepare an install DVD or USB drive. Reboot with your install media, and custom install. You retain nothing, but as long it it sees your old Windows directory on the hard drive you are fine.

Just an FYI, I had downloaded and created the ISO using another PC with Win 7 64 bit. If I had created the ISO on the 32bit install I was upgrading, I imagine it would have stayed 32bit.

Oh well after 6 hours of troubleshooting with 3 different microsoft employees they couldn't find my problem, so I got a refund. I must buy a physical copy since the upgrade just wont work...

Can anyone please tell me why I can't get my VPN to work? Its the same settings as last time with windows 7, only this time it somehow wont let it share connection over Ethernet to my Xbox.

If I do the upgrade online, will I ever be able to reinstall it if I have to format my computer for any reason?

Windows 8 has a built in reset that's supposed to return it to factory settings, which works fine from the 2-4 times I've tried it on a fresh install. I'm not sure how the reset will work on upgrades (clean slate or however it was when you first upgraded to 8).

Just upgraded my HTPC, a Core i3, 4GB Ram and an old 120GB out of a Latitude D620 I scavanged. The computer was built on a budget in a custom ultra SFF Shuttle case. The only legal copy of Windows I had was Vista 64Bit, so I used that. I forgot how SLOW Vista was.

One question I see a lot of people asking is "Can you get an ISO out of the setup assistant?" and the answer is YES. You can also re-run the setup assistant icon from your desktop and do something different, like use it to make a bootle USB flash drive. I did both of these things. A DVD for archive's and a flash drive to install on my HTPC.

The computer boots a little faster, but once it's in Windows 8 everything run's WAY FASTER. Anything that is very HDD intensive is held back my the old 120GB HDD I have in there. The install of Vista and this computer is only 6 months old and barely had anything installed on it.

Another question I am seeing: "Can I use the setup assistant to do a clean install?". Again the answer is YES! Just make your media after it downloads and boot off it. Do a custom install, format your drive or delete the partition, and let the installer do the rest.

A weird thing about this is that there is no way to select 32bit or 64bit for your download that I can see. If you have a 32bit copy of Windows XP/Vista/7 even if it's installed on a 64bit capable computer, I am reading that it will download the 32bit version. I am also reading that the 64bit and 32bit versions can use the same key however.

I am waiting to install Win 8 on my main/gaming computer to see how compatability pans out. I also purchased a Sony Vaio Duo 11. It's a great time to be a computer geek!

Hope all this info helps.
- J

Just a quick question, does Win8 recognise a WP7.5 device or do you still need to have Zune installed to sync the phone for updates?

Yes. You have to connect the phone first, let the drivers install. Now Enable .NET 3.5 from Add Remove Windows Components, once that is done, download Zune and install. Everthing else is same as usual..

can you run win8 on hardwares that run winxp perfectly but are too slow for vista?

Can you post your PC specs? Mostly yes, but your specs would confirm it..

I get only the option to "Keep Nothing" when I try to install. I am running windows 7 Ultimate and Microsoft FAQ indicates I should be able to keep files, programs and settings.. I really don't want to reinstall all the programs if I can avoid it. The only articles I found on teh web related to installing the consumer preview version. Anyone have any ideas?

Even "keep nothing" keeps everything. All your stuff is moved to c:\windows.old, but yeah you're gonna have to reinstall most things.

It sounds like you've either chosen a clean install, or if the software will only allow you to upgrade w/out your files, it sounds like you're migrating from a 32bit version of Windows to a 64bit version. Migrations from 32bit to 64bit aren't able to keep the settings and files and programs in place due to using wholly different architecture.
However, your files and everything will be stored in a directory called Windows.old. This is basically a clone of your drive, in a single directory. The programs won't run, because the installations will be pointing to the wrong path now, and many pieces of software install their own .DLLs into Windows, which will be wiped out on upgrade to Windows 8.
The good news is that all of your game saves, pictures, music, business files, wallpapers, videos, etc. will be there. You navigate it just like you do Windows on your PC now. So, you go to Windows.old, and it will open up like "My PC". From there you click on Users, find your account, and then you can go to Music, or Pictures, or My Documents, or Program Files, or Downloads, etc.

Been running it since developer preview. Best OS since windows 7. Like the start screen or not, the is is what is impressive. Reliable, fast, easy. Personally I love the start screen. Also just installed Lync. Nice!

The OS is what is impressive, damn spelling

I like having the media for Windows so I'm tempted in buying from Amazon, especially since I have Prime and I would easily use the $30 they are offering until tomorrow.
One question, though, how many computers can I install this on if I buy the media from Amazon? I have a desktop and a laptop both running Windows 7 that I would like to upgrade.

Just for info: When you upgrade thru Microsoft, it's $39.99 - and they give you the choice to also get the DVD for an additional $14.99 - So for $55, you get to upgrade instantly AND still get the physical media.

I want to be able to use the DVD on a few computers, is this possible? Back with XP, I could install it on as many computers as I wanted, except you could only activate your serial about 150 times (no one told me that before I ran into it!). I buy and sell laptops and computers with some frequency, and if I can't legally install 8 as I please, then I'm not going to buy it at all.

This is what I'm wondering as well. Anyone with any insight?

Does the win8 upgrade also include office?

2 hours?! Mine downloaded in just over 7 minutes! Yay for 45mb/s internet!

Getting an error when trying to download Windows 8 with the Upgrade Assistant.

The Specified Service does not exist as an installed service.




I got my Windows 8 pro upgrade from Microcenter and it only cost me $39.99 and it comes in the retail box. :)

Just in case anyone was wondering, I was able to upgrade from W8 Consumer Preview to full W8 Pro from Microsoft's website for the $39.99 The upgrade went super smooth and I'm one hell of a happy camper. :-)

weird i live in CA U.S and it says its not availibal in my country..

I really want to upgrade to Windows 8. But I keep hearing mixed reviews/opinions on using it on a non-touchscreen device. Anyone on here can attest to its ease of use on a traditional PC?

It works just fine with a keyboard and mouse. I've been using it for a few months now.

Am I the only one who's having problems with people hub on win8? It just doesnt want to connect to anything, not Facebook, i even tried my old twitter , still nothing

After a painless install and a few hours of testing all my apps (I choose to keep apps, settings and files) I have to say that it's a lot niftier than I recall it being. Certainly hella faster. The interface is going to work quite nicely on tablets. Quite nicely.

going to wait until it reached local stores then i will upgrade my machines :)

Loaned my vaio laptop to my dad so I have to wait for him to get his MBAir from the geniuses before I can upgrade it. I'll upgrade the desktop in a week or so. I'm still planning out what to install on my new ssd. Been running RTM on another machine for a while. What I really want is a touch pad that doesn't suck so I can use touch and gestures to control the desktop PC. Any suggestions?

OK it took 45 minutes but i see no change on my computer what give's !!


Downloaded W8 on the 25th at 10 PM and it went smoothly no problems :)

I updated right over the customer preview, no problems at all.

Ok now i got it's working great !!

er... sorry for this ridiculous question.. but, after clean installing W8, what client is used to manage and sync my WP7.5 handset... there is no Zune popping up when its connected by USB. am i missing something obvious here?

Windows Central Newsletter
Thank you for signing up to Windows Central. You will receive a verification email shortly.
There was a problem. Please refresh the page and try again.