How to install extensions on Microsoft Edge Preview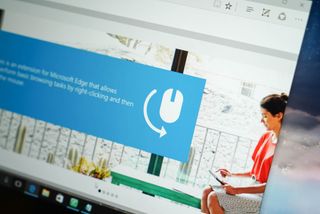 Starting with build 14291 for Windows 10 Insider Preview, insiders have been able to add a selection of extensions for Microsoft Edge.
Microsoft plans to make extensions available in the Windows Store, but for now, they have to be manually installed. There aren't many extensions available for preview, but we get a glimpse of how they can enhance the browsing experience. Read on for the steps!
Click the ellipsis in (...) the top right corner of Microsoft Edge and select Extensions.
Tap or click Get extensions.
Tap or click the Download button next to the extension you are interested in installing
Select Run from the download notification.
Tap or click More (three dots) on the top right corner, then Extensions.
Tap or click Load extension.
Choose the extension folder, then Select folder.
You're done! It'll be a lot easier when the extensions become available at the Windows Store, but, at least, Windows Insider members can get a preview of some extensions already.
One of the first extensions available for preview is Mouse Gestures. It lets you perform basic browsing tasks by right-clicking and then gesturing with the mouse. For example, right-click and hold, then move the mouse right and up to open a new tab, or move the mouse from right to left to go back to the previous page.
Another example is the Microsoft Translator extension, which can translate foreign language pages for over 50 languages. The translation icon will appear in the address bar when visiting a foreign-language web page in Microsoft Edge.
What kind of extensions would you like to see on Microsoft Edge? Let us know in the comments!
Good info. Just waiting for an Ad blocker to be available and then I'm jumping back to the preview and I'll never have to use Chrome ever again except to cast stuff.

Edge let's you cast stuff +640/Win10

We have a Chromecast. Posted via the Windows Central App for Android

See how Google's proprietary nonsense locks you in?

Trust me, I don't need convincing anymore. The Chromecast is an excellent device, but I HATE that I need Chrome for it on my PC.

Trust me, I don't need convincing anymore. The Chromecast is an excellent device, but I HATE that I need Chrome for it on my PC.

whoa edge needs a lot of improvements.. i use firefox and its better than chrome... to be like firefox it has to work hard..... not advertising mozilla..but certainly FF is better ... MS can do it..

Firefox sucks, I use it and I have adblocker and all that stuff, but it sucks, it doesn't even work properly, I mean, taking full advantage of resources in the computer. last time I tried to play 2 streams, one with flash and other with youtube live thing and it was so slow, it wasn't even responding, then I did the same with Edge, with ads and all. and it was fast and nice. It's obvious that Edge needs alot of improvements since it was built from zero, compared to the years Firefox has, but it's silly to think Firefox has this so much advantage when it seems to become more and more slowly. I even use Cyberfox which seems to work a little better, but still Edge is faster and if Edge has all the extensions Chrome has and few features firefox has, then Edge would be the best, but right now Edge is fast compared to slow Firefox, isn't that important too? I mean, Firefox can have all these features over new built from zero Edge, but it's slower, and pages load slower too, so I don't know if I would rather have million features and a turtle of Browser or a less features browser like Edge but slowly getting new features while making it faster and faster (like happened on last big update 1151)

I dont agree..miss..mine just works perfect..... Forget them all...edge will be going perfect in near future...

I used to love firefox. A lot over IE and Chrome. And then they started with an update every 2 weeks to just bump the version number. Right now, the order is IE/Edge, Firefox and Chrome.

I want my favourites folders to have names and the pages only favicons on the favourites bar. Till then I don't feel like using Edge.

I'm surprised that the translator feature isn't just built in to Edge in the first place, like it is with chrome (unless it's like some kind of permanent extension for chrome). It's such a useful feature on chrome, miss it using edge.

It is good to have it as a removable addon may be installed by default.

Sooooo when will it come to Mobile? Posted on Lumia 930 with
Windows 10 Mobile

Have you noticed in about:flags on latest Redstone build in mobile there is a load unpacked extensions setting to select. It might not mean anything, but it could mean they are working in it. +640/Win10

Well it is a universal app,so it could just be showing stuff that's meant only for desktop :P

That's been there a long time, and yes it's because it's universal. It's no indication on when or if extensions are coming to mobile.

Like W10 on my near new 925, never

It's much like Chrome's load unpacked extensions using developer mode.

Does the mouse gestures extension work for the touch screen? Because it's very annoying that Edge doesn't really have any touch screen features for my surface. Chrome has swipe to go backward and forward, but not much else. I keep doing that on edge and am disappointed every time. I love the desktop and mouse focus, but I wouldn't mind a few more touch-friendly features for my SP4.

It's not called touch gestures for a reason +640/Win10

Good one mate. On the old app. Couldn't up vote. Couldn't let it pass either.

Well thanks for the answer. Dick answer, but it was an answer. Would be nice if it was added into the extension.

Pocket and Ghostery and goodbye Firefox. What a shame: Posted via the Windows Central App for Android

As soon as I can get Last Pass on Edge, I'll drop Chrome forever. Posted from Windows Central for Windows 10

I installed the translator extension. It would be nice to know how to use it now. It should be intuitive, but maybe I'm missing something. G Hub

Right now I use Edge primarily, but occasionally have to jump back to Firefox for AdBlock and MediaHint. Once those two come to Edge, I'll be happy. I'm simple like that. :)

I just want a search history feature! And perhaps a vertical icon only favourites bar on the left.

Hooray for mouse gestures!!!

LastPass and AdBlock/uBlock and I'm done with Firefox

Nice ... Love it... InoSanchezJr @my ******* Lumia 1520 w10insider

Awesome! I sure can't wait for Edge to gain a Lazarus Form Recovery extension. I can't count how many times I've lost a whole bunch of text in Edge and Internet Explorer due to the lack of an extension like this. Would really love to switch to Edge and ditch the evilly gimped chrome: http://www.dereferer.org/?http2F2Ely%2F1s3TSlH

Swipe backwards/forwards as in 8 1

Lastpass password manager

I really want get them all and video download helper
Windows Central Newsletter
Get the best of Windows Central in in your inbox, every day!
Thank you for signing up to Windows Central. You will receive a verification email shortly.
There was a problem. Please refresh the page and try again.