Advertisement Feature
How to maximize battery life in your business laptop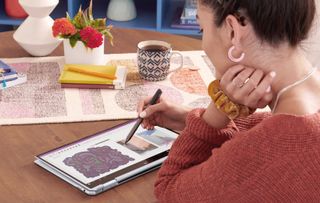 (Image credit: HP)
While it's not too difficult to find a wall plug to hook into for charging these days, this isn't always the case. You might be stuck using your business laptop for hours in a place where there's not a single open plug available, and as a result, you'll want to take steps to squeeze as much usage time as possible out of your device. After all, being left with a dead laptop when you need to get work done is quite a problem. Here are some strategies you can use to make the most of your battery.
Optimize for best battery life in Windows 10
The first step you should take to improve the battery life of your laptop is to click the battery icon in the Windows 10 taskbar and drag the slider that appears all the way to the left towards "best battery life." This will optimize your device's battery usage so that it prioritizes battery conservation over speed.
Use the Battery Saver feature
Another great way to improve your laptop's battery life is to turn on Battery Saver in Windows 10. This feature reduces your screen brightness by 30 percent and disables background saving and updating for many apps, which in turn gives your battery longevity a big boost.
Turn off Bluetooth and Wi-Fi when you don't need it
Turning off Bluetooth or Wi-Fi connectivity when it isn't needed is another excellent way to save battery. For example, if you need to download a document, edit it, and then send it back to someone, turn your Wi-Fi off while you're working on it locally. Bluetooth drains battery a lot faster than Wi-Fi does, so if you have to choose between turning off one or the other, choose Bluetooth.
Use Microsoft Edge
While it may not be the most popular web browser available for various reasons, one thing that Microsoft Edge is fantastic for is saving battery. Compared to Google Chrome and Mozilla Firefox, Microsoft Edge uses much less power, and as a result is much more battery efficient.
Use Dark Mode and dark backgrounds
Finally, using Dark Mode whenever possible in programs or browsers can help quite a lot when it comes to conserving battery. This is because Dark Mode ensures the pixels on your screen don't have to light up much, which saves a lot on power. Using a dark desktop background is also a good idea, too.
What are some great battery-efficient laptops?
There are several great battery-efficient laptops out there, but in our minds, nothing tops the HP Intel Evo lineup. This includes both the HP Envy x360 and the HP Spectre x360, which are both powered by 11th Gen Intel processors that are both very powerful and incredibly battery-efficient thanks to their advanced design. Both laptops also support Wi-Fi 6, which reduces battery drain compared to the previous generation of Wi-Fi. Both laptops also make use of excellent Intel Xe graphics and plenty of memory and storage.
While both laptops are very capable, the HP Envy x360 is the more mainstream and budget-friendly of the two. It has a less powerful processor and a smaller amount of memory and storage, but the trade-off is that it's also considerably less expensive. This makes it perfect for people who want a great machine but also want to save money.
The HP Spectre x360 is the more powerful device, which can be attributed to its stronger processor and higher amounts of memory and storage. The increased price won't appeal to everyone, but if you're looking for top-notch performance and don't mind paying a little extra, you'll love the Spectre. Notably, it has options for 4K displays and touch support, and you can also use it like a tablet if you want thanks to the convertible nature of the device.
Affordable excellence
Superb performance for a mainstream cost

The HP ENVY x360 is your best bet if you're looking for a great balance between price and performance. It's capable, affordable, and features a sleek, attractive design that everyone will love.
Best-in-class
It doesn't get better than this

The HP Spectre x360 is the definition of high quality. It delivers even stronger performance than the HP ENVY x360 and features an even more attractive and premium chassis, all while still remaining fairly affordable (though it will set you back more than the ENVY will). It comes in 13-inch and 14-inch variants.
Get the Windows Central Newsletter
All the latest news, reviews, and guides for Windows and Xbox diehards.