How much are you willing to pay for a new HTC 8s?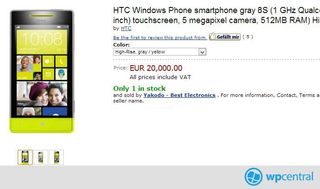 We are always on the lookout for pricing and availability information for the upcoming Windows Phone 8 devices but this one has taken us by surprise.
How does 20,000.00 Euros sound to you for a grey HTC 8s? It seems Amazon thinks that High-Rise Yellow has really got some value to it.
Of course, this is either a typo on Amazons system or someone has fallen asleep on the zero key but we couldn't resist posting it up. For those that are concerned by this error, please be assured that the price will be much closer to UK £224.99 in all the colours.
While you're here, we'd like to know what Windows Phone 8 you plan to buy or even have on pre-order now. Do let us know in those spaces below.
Update: Amazon has fixed the pricing, but we still got the shot above just in time.
Source: Amazon.de (opens in new tab); thanks to Forc3 for the tip!
I'm about to move to the UK and I decided I'm going with Three, so the HTCs are the ones I have in mind (probably the 8X) since they won't be selling the Lumias anytime soon. Otherwise I'd be getting the 920, obviously.

I will go with the black 920. I've lived with subpar phones all my life, for once I will have a flagship powerhouse no matter what! The hell with it!

I thought the HTC 8X was the flagship?

that's what theverge wants you to believe

the 8X is HTC's flagship, the Lumia 920 is Nokia's and WP8's flagship

Yes... and the Motorola's are Android flagships. Just kidding the 8X is supposed to be the signature WP. Nokia itself said that there could be more than one signature but there is just one flagship. The Lumia 920 is the best for me. I can't wait to get my hands in it. What color, not cyan as it is exclusive to AT&T, do you prefer?

It's only a little bit overpriced, hahaha!

Anybody who has this device already at home? I'd like to watch a review video but coulndt find one yet! Really want thia device due to the colours. ...even if I had to pay 20.000€ :))

I'd also like to see a video or review of the 8S.

ordered the HTC 8x on digitec.ch yesterday, unfortunately only blue is availible at this time...but thats okay :D
should get it by tomorrow

ordered the HTC 8x on digitec.ch yesterday, unfortunately only blue is availible at this time...but thats okay :D
should get it by tomorrow

I do not speak German so you might enlighten me: is the device SIM Free?
The price should be around Euro 455 right?
TIA

The device is sim free and costs 455€ (or 589$)...

If the Lumia 920 ends up being $150 like the best buy preorder said, that will be perfect. Gazelle will give me around $130 for my iphone 4.

I'll be heading over to Phones4U tomorrow with my cousin to get ourselves a Lumia 9200 each, see if we can make a bargin with them for two haha!

They have a 9200 now...lol

Fits the article in a way u know.....the extra 0s

$290 max its a low and device

Sold my lumia 800 for 200 euros
and preorderd 8S for 270 euros

nice man i hope you enjoy the new phone. what color did you get it in?

tnx. there was only 2 colors available. I pickd the domino black, the high grey looks horrible imo :")
anyways ive to wait till around 20 november :/

I'd say you went with a good choice lol the high contrast mode on your phone will look sexy

Hmmm... I'll have two of those please :P

I want a lumia 820 mostly because of what I presume the price to be on at&t ($99) but I also really like the idea of having a removable backplate so I can change the colors.

I'm getting 810 from T-mobile because of removable battery, backplate, quality, and reliable updates.

Lumia 920, this one looks nice though.

Ha! I saw that too :D To your question: I don't have so much money for a new phone. Bought one with 7.5 in February (waiting on the result of the websiteDesign contest ;D)

Better than I thought. In for 3.

I'm looking at 8S ... but I'll go premium/flagship with the next round of devices (Spring or Fall 2013).

Red Lumia 920 if AT&T doesn't give me a ridiculous deposit. I'm hoping to leave T-Mobile because it SUCKS in my area!

It's not Amazon that overpriced it, it's the reseller - Yakodo.

Torn between the 2 Lumias. I need it unlocked however. Was gonna buy the 820 yesterday from Carphone Warehouse, hesitated 'cause I didn't want it in black but they seem to have permanently removed that now. Totally confused as to whether it is possible to buy the 920 anywhere unklocked and wouldn't touch EE with a hundred barge poles so looks like I'm gonna have to wait. Great-looking phones - if only it were possible to actually buy them somewhere!

I'm definitely thinking of ordering the HTC 8S. I don't need anything fancy from a phone and a 4" screen is perfect!

I'm willing to pay the same as what the HTC One V costs.

For the country I'm in, that's 9,900 Thai Baht, roughly US$320.

If it doesn't cost that then I'm waiting for a Window 8 phone that does hit that spot. BTW, the old Nokia Lumia 800 does cost exactly that right now after a price drop. Looking at the features (excellent camera, 720p recording etc) the HTC 8S really should hit that spot.

I'd love to have the 920, but I'm on Verizon and I don't think that's enough reason for my parents to switch companies. I really do like the look of the 8x though.

I am 16 years old and don't have enough mony for a high-end smartphone (like the nokia lumia 920 or 820) but I definitly want a windows phone 8 device, so I'll order this phone. Nice colours, good enough screen, same camera as my LG Optimus 7 and it don't disturb me that it don't have a front facing camera (my lg doens't have either). And a better battery then my lg so I will be happy with it.

Does WPCentral really not understand the difference between Amazon selling something and one of their marketplace sellers? This article is s little embarrassing...

You should chill, it's a funny article who cares if it was Amazon or Wallmart ? That's not the point.

I'll be getting the 8x on Verizon the second it is available

Look up the Nokia Purity ear buds on Amazon, there's a set of cyans listed for something $17,000... Amazon, you clever bitch

When I found out how cheap the 8S is going to be, I decided to get a blue one and use it untill the price of 920 drops to an acceptable level and gets released in cyan. I consider this to be a good upgrade path from my cyan 800. I can live without the Nokia apps and the 820 is fugly.

However I'm having second thoughts because of the power button located on the top. I never liked that, I prefer Nokia's solution.

My first Windows Phone is the HTC Radar, and yes, the power bottom being on top is a constant irritation!

8s ? I would pay nothing because I dont want it...
Windows Central Newsletter
Thank you for signing up to Windows Central. You will receive a verification email shortly.
There was a problem. Please refresh the page and try again.