HP teases new Elite x3 Windows 10 Mobile handset with altered design at Mobile World Congress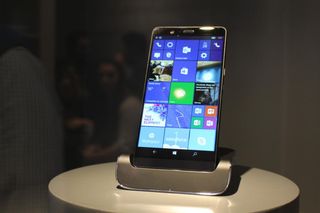 If you were disappointed to see no new Windows 10 Mobile handsets announced at Mobile World Congress this year, we've got some good news for you. In the back of HP's own booth, without any formal announcement or spotlight, a new Elite x3 sit in a corner with an updated design and (presumably) specs. We know literally nothing about it, apart from the fact that it exists.
Spotted by the eagle-eyes over at PCWorld, the new Elite x3 appears to be sporting a slightly altered concept design with a chrome/metal bezel and an antenna band design similar to other phones on the market these days. It also appears to be missing that chrome B&O speaker at the bottom, however that may simply be due to the design being incomplete.
HP hasn't formally announced a new Elite x3 yet, and were not willing to discuss the unannounced phone on display. For now, we don't know anything, including specs, size or release date. There were rumors several weeks ago that claimed HP would have a new Windows 10 Mobile device at Mobile World Congress, and it appears those rumors were not wrong.
Until HP announces a new Elite x3, however, we'll have to result to speculation for now. It's possible that HP haven't announced a new phone yet because they don't want to derive sales from the current Elite x3. They also might be waiting for the new Snapdragon 835 processor, or for Microsoft offer hardware makers a Windows 10 Mobile in 64-bit.
Would you be interested in a second iteration of the Elite x3 with updated specs?
Windows Central Newsletter
Get the best of Windows Central in in your inbox, every day!
Zac Bowden is a Senior Editor at Windows Central. Bringing you exclusive coverage into the world of Windows on PCs, tablets, phones, and more. Also an avid collector of rare Microsoft prototype devices! Keep in touch on Twitter: @zacbowden.
> Would you be interested in a second iteration of the Elite x3 with updated specs? No.

I'm guessing the answer would be "no"

> Would you be interested in a second iteration of the Elite x3 with updated specs with same pricing? No. > Would you be interested in a second iteration of the Elite x3 with updated specs with consumer pricing? Maybe

At HP It's $799, with dock, 2560x1440, Quad core, 4G memory, 64G storage, micro SD Expansion. How's that not consumer pricing, considering iPhones 7+, 32G, @ $870.

What is "consumer pricing"? Flagships from Samsung and Apple retail for between $600-$1000 depending on the model and where you purchase it. The Elite x3 is $800 from Microsoft's store, and it comes with a desk dock. As much as people love to complain about the price of this phone, the Elite x3 is priced competitively with the market. Sure, you can't lease or finance this phone through a carrier. But if you have to lease a phone, then you can't really afford it in the first place.

@aj173, other than among Microsoft fans, any device running WP/WM OS is not seen as competitive in capabilities. While we might like it better for whatever reason, most of us would admit that this is valid to a point. So, a "less capable" device for the same price is not competively priced.

LOL... You win the Internet today.

I consider my L950 to be much to large for convenient use, so I have no interest in going bigger.

Understandable, I however feel my 950xl is to small coming from the 1520 lovefest. You should look at the slightly smaller Idol 4s, I have two and I really do like it alot. Battery is also much better Imo than the 950xl. Now if I could shove my 950xl camera into there, then it would be unbeatable in that category for me.

I can get 2 days use out of my 950XL, you must be a more active user on yours. I am great with the 950XL size, I could go slightly bigger, maybe 6" but that is about it.

I'd be super interested in an updated X3

I completely agree...I loved my HTC m8 quite a bit, but I have to admit that I like my 950xl, much more. The camera is simply amazing and the battery life is very good for such a powerful device. So, if you are having battery issues, perhaps you require an update, or turn off wifi and bluetooth when there is no access to such. My only gripes about this phone is some apps that need updates, otherwise, this is a fantastic device.

Suggesting someone consider any Windows Phone in 2017 is just bad advice.

Not necessarily. If you have a real job and actually use your phone to be productive, Windows Phone is a solid choice worth considering. But if you're a barista who depends on constant Snapchat attention to make it through the day, then I'd agree with you. Different strokes.

Windows Phone = Lumia. The rest is all here today gone tomm ! And yes, even L950 is too large for my liking. I m very happy with my L735, until a new Lumia appears that is an exact physical copy of my all time fave, L720 ! 🙂

Coming from the 1520 I would disagree. But it's personal preference. 5.5 " would be my preference. 5.2 is almost too small for me. My backup is Huawei extend 2 which has a 6" screen.

Waiting for Windows 10 on ARM maybe?

If it had 835 with 64bit Windows supporting x86 and a better camera, definitely.

Hell I don't even need a better camera just give me low level access to the sensor for better raw and algorithm support from 3rd party devs. And yes to all you just said.

i feel f**** in the ass....... again. First I bought the 950xl for 699, then I bought the X3 for 799....... now this....... within 2 years frame. No, never again. Samsung Note 8 is the future not this :))

Sorry, did someone have a gun to your head and force you to purchase? :-) Technology will never stand still, there will always be something new....no to mention, in your example it's two different companies! What, is every company that works with MS supposed to align all of their releases? :-)

I don't see the problem either. There's a new Samsung Galaxy every year thats just as, or even more expensive as the x3.

there is only one model of x3 and thats the expensive one atleast with the galaxy series you can get one for 600 on contract somewhere

If $600 is affordable to you keep and eye on the HP Elite x3, it goes on sale all the time for $650, that's the phone and the dock.

Precisely! @Narathan Some people simply love controversy. Smh. You bought two expensive phones because you wanted to. Your issue; no one else's. Take financial responsibility. Are you going to buy a new phone every time a new manufacturer produces one? And then blame them for coming out? 🤔

The difference, of course, is that even many legacy Android devices run Nougat - including the S6. At an OS level, Windows literally keeps rebooting with very little hardware support over a relatively short span of time. The switch to WoA 64 bit will once again leave most, if not all current Windows mobile devices behind. It's maddening.

Windows 10 Mobile runs on many old Windows Phones. My 1520 came out in 2013 and is running W10M as I type this. I'm sure people are running it on even older phones than me. That's not exactly a total reboot. The switch to WoA 64 bit WILL leave a lot of phones behind.....because they don't have 64 bit processors. That's the nature of tech. Things evolve. Even Android has limits to what apps and OS can run on older hardware. If you want the newest cool-guy features, you have to buy the newest cool-guy phone. It's the same with every manufacturer.

You're missing the point. The 1520 was a niche phone. The bread-and-butter of their base was at the low-end. Virtually none of those devices were able to upgrade between OS reboots. Every single one of apple's devices runs the latest iOS version, and that's going back several years. They planned the 64-bit transition very carefully, and seeded 64-bit devices early in the cycle. Then ran 32!and 64 bit versions simultaneously for several years. It was a much more gradual transition. If Microsoft were Smart, there would already be 64-bit devices running their legacy 32-bit code. Then they could have some overlap between devices and operating systems. There is no strategy here. They are making this up as they go along. They have to commit, then when they fail, they reboot. They have lost nearly all of the customers that they fought so hard to win.

"Every single one of apple's devices runs the latest iOS version, and that's going back several years" I think you need to check your facts. The oldest iPhone that can run IOS 10 is a iPhone 5. The eliminate 1 or 2 models every time they create a new IOS. I have the Elite X3, and Lumia Icon, both run the latest Win 10 Mobile, and both have 64 bit processing architecture and would be able to handle the 64 bit OS. You are just commenting to create issue. I think you are the one missing the point. Microsoft's strategy may be outside what is expected, but there is no denying that the last few years, they have changed the computing landscape as it was. They are already able to install x86 applications on Continuum running ARM processors, so I think they know what they are doing.

Considering that google cuts support for nexus devices at the 18 month mark and no longer updates them to the latest OS should be maddening. Purchasing MANY android devices that can support the latest OS from Google that will never get it due to A) manufacturer or B) Carrier... is maddening seeing as it was purchased on contract and now locked in with an outdated device. Considering the lumia 1520 is over three years old and fully suppred by Microsoft shows you. It's hardware restraints and not manufacture choice. The change from WP7 to 8 limited devices due to hardware limitations. The change from WP8 to 10 limited some devices again due to USER FEEDBACK ON THE EXPIERENCE. That feedback is what made MS not release it. Can a 1020 run WP10? - Sure it can. Is the expierence the same as if i were on a Lumia 830? - No. Again, Lumia 830, 2+ yer old device and supported. So @Twitter JohnB_123 ​ quit your whining.

So a few legacy hero phones support W10M. Everyone else got screwed. Wow, you really made your point.

Yes,they did. I was there. Scary story, man.

What exactly are you on about. The iPhone gets a yearly refresh. So does Samsung's Galaxy series. Why is it a crime that HP is doing the same?

Anything that makes Pappale feel bad has my unwavering support.

Daniel.... Thats funny right there, I don't care who you are......thats' funny right there! "larry"!

😁 He's been on a roll recently!

Yeah, and the community here always seems to feel bad. Could you guys bring a therapist on board for these people. Might help.

Daniel always knows exactly when to chime in and when to stay out of it. This was perfect.

Yep! This must be the bullet proof model :)

Ummmm when you get the Note 8 it will be refreshed within a year with leaks coming 6 months before that. Thats the way tech is rolling now...phones are hot for 6 months then on to the next...

Plus the Galaxy 'S' Series in between, which now compete with their own Galaxy 'Notes'! I mean that leaves first day buyers like 3 months before something new is 'Officialy' announced! Also taking into consideration rummors and leaks, that leaves a 'Brand New' smartphone obsolite even before he buys them! For godness sake, he should all not buy any new tech whatsoever feeling like he does!

This is literally the most ass backwards comment I've ever read. In a world where Windows Mobile fans are complaining that there aren't enough headsets, or support you come along to complain that there are too many new headsets coming out within 2 years? In a world of innovation and constantly upgraded tech, it should be good that you have some options for an OS that has .3% market share. What happens when you buy the Note 8, and then LG comes out with their updated headset to compete with that one? You going to feel ****** in the ass again? You make a choice to buy a product that has built in obsolesence, you can't be shocked when another one comes out.

Majority of people are ass backwards.

You sir, are not making any sense at all. You buy a new current-gen phone every year and you complain that it isn't priced the same as last year's model. If you want a cheaper phone, try buying midrange or last year's flagship.

Doesn't Samsung release new phones every year for similar prices? I'm confused...

Good luck on Android ;-) But you do know that that ecosystem gets a hot new phone basically everyday, right! Your Samsung Galaxy Note wil be outdated with in a month haha

I'm sure they'll be fine on Android.

Lmao. Before we were complaining there weren't enough rolling out.

I know. Windows 10 Mobile can't win for losing.

Never seen such a negative angry person as Pappale, dude that negativity will eat you up, every company changes their models every year. Samsung? good luck, enjoy the bonfire.

I hate to break it to you. There will be a Samsung Note/Galaxy 9. You'll be f*cked in the ass again....according to yourself.

iPhone, Galaxy...come out every year though.

No no wait for Note 9. Actually it will happen again too so better wait for Note 10. Wait there seems to be a pattern so hold out for the Note 20. No even better dont get another smartphone because you'll get burned when the AI implants come out so wait for that. Just dont get the first generation that comes out....

So if you buy the Note 8 will you be equally pissed when Samsung inevitably announce the Note 9 a year later?

HA
what kind of jackass doesn't know there's new phones coming out every few months this day in age Anyway this doesn't magically stop your current phones from working. Grow up.

Samsung releases a new phone every year, too. You'll buy your Note 8 and be just as upset when they release a Note 9 next year. Companies are always making new stuff to sell. Welcome to the world.

Hello Folks I hope you all are doing well . Hmm HP does not put an object at the WMC unless it means something. I think this means a new cheaper Continuum capable HP Windows 10 mobile smart phone is coming to the market place. I have seen demos of the Redstone 2 updates coming to "Windows 10 mobile Continuum smart phones and they will make the experience of using "continuum'" act more like using a Standard Windows Desktop PC with sizable apps windows and multitasking ect. so if you already have a Windows 10 mobile smart phone capable of using "Continuum" you will have a device that will act more like a Pocket PC which is cool.

Also no. I tried the Elite x3 with two SIMs - because that's one of my requirements for a phone - and found the following. 1. I liked the size. 2. It crashes. Not often but it does. 3. SMS functionality STILL dies without warning or notification. You don't find out until you hit "send" and then a reboot is the only fix. Whereupon you discover you've missed 25 important texts since it shat itself without telling you. 4. Wifi connections STILL frequently and seemingly at random claim "no internet connection", leaving you paying for data. Again, only a full reboot fixes this. These are basic things and I accept that they're not HP's doing but rather Microsoft's. And while the OS is still in this broken state, I can't justify using it or owning it. So I put SquareHome Launcher on an Android handset (Sony XZ) and it's not ideal - I like Windows settings, I like the design language, I like the security of it - it is not broken and it is, thanks to the loss of the app-gap, much, much more functional. I'd love to go back to a Windows phone but right now, it's not fit for purpose. Sorry.

Thank you for apologizing. Apology accepted

That doe slook nice and Snapdragon 835 with an upgradable path to 10 on arm would be interesting.

Please make the camera on par with the Lumia 950XL and include Glance.

The writers at Windows Central will get right on that. I'm certain of it

I think they will do both, it's obvious HP is listening to people. They see a market niche for themselves which is awesome.

Makes sense, since it will be harder and harder to keep getting the "old" components from last years model.

If it's on Verizon (a big if...), yes! My Icon is holding up pretty well but I can't see the battery lasting more than another 8 to 12 months.

THIS! My Icon is also holding up really well, but I've been off-contract for over a year and would love to see this updated X3 on Verizon. Or, really, almost anything new... :-)

I am on my third Icon, and I went looking for another but the supply of returns on Amazon has dried up. It's a three year old phone at this point, but there hasn't been a flagship on Verizon since. Hanging in there waiting for a surface phone but starting to get really concerned at what happens if my current Icon gives up the ghost... If the Idol was available with Verizon frequencies I would already have made a move. This old friend struggles sometimes to keep up with the OS and the camera is about worthless anymore. If I want to make sure I get the shot I almost certainly have to restart my phone first or something goes wrong...

The 735's batter lasts All-Stinking-Day with W10M / Insider builds. I couldn't get my iCon to last more than 6 hours on a full charge. Wondering Out Loud - is there someplace that will replace an iCon's Battery?
(db)

Basically this. My irrational hope is that the new antenna design means they did some work to support Verizon properly somewhere in there. Icon owners unite. :)

@ocdtrekkie, I share that hope, but it seems like Microsoft has done something (or failed to do something) that is preventing new handsets from qualifying for any of the CDMA carriers. I too want to upgrade from my Icon, but fear that opportunity may not come until 2018. At least so far, the Icon is still a great Windows 10 phone.


Microsoft, HP and Alcatel are not submitting their phones for CDMA certification. They don't want to spend the extra money to get their phones onto networks that will be obsoleted within a few years. Some smaller Android phone manufacturers are taking a similar stance. If phones running Windows sold well enough, the providers might be able to justify paying the increased costs to get CDMA certification. But, I'm not expecting any new Windows phones to be made available to customers of Verizon Wireless (such as myself) until, at least, 2019 which is when VZW is supposed to have its next generation network up & running.

@dexman335, great explanation. Makes good sense. Thanks! I do hope the upcoming ultramobile PC (effectively the next Windows "phone", possibly the Surface Phone) will be successful enough that it is worth the cost of putting it on Verizon.

Initially, I held put hope that the Surface Phone would offer a Verizon Wireless variant. As time has progressed and I saw how Microsoft, HP and Alcatel sidestepped Verizon Wireless, Sprint and US Cellular, my enthusiasm waned considerably. I'm at the point where I won't be expecting a device running Windows OS until CDMA networks are capped and the next generation networks are in production.

I have an icon and it's been doing great. Only problem is that it will occasionally not want to send a text, bit I'll take it since it's on t-mobile.

is HP becoming the new mama for windows phones? Well hopefully HP elite will be the new Nokia Lumia.

I hope it happens. I need a new phone, and there's nothing good to get.

HP X3 & Surface phone as the premium options should be great. However, neither HP or microsoft are interested in low margin devices so if there is still a market for windows phone out there it will likely have to come from other OEMs.

Warthon Brook's Cerulean might cover that somewhere in 2017

I gave up waiting on the Cerulean and ordered the Idols 4S (shipped US to Australia), but I wish them luck still and hope they finally release something.

Hey, @SimonMelb, you got the Alcatel! Well done. Let us know how it goes. Did you go with the Aust. Post Mate box in the States or just straight here?

You can still get the Cerulean later!! :) I will.

If they didn't want to talk about it, why even have it on display?

They want to show the device to their partners & enterprise consumers and tell them that they believe in Windows...

Yeah, what is this mysterious phone in the back with no information using a platform used by 0.3% of the market?? The buzz around that booth must be deafening.

To create interest. When most people see something unkown, they automatically want to know what it is.

This! And it looks to be working...

no because the last ones cameras were very bad, not gonna sugar coat it, front and rear cams were awful

The cameras just got updates.

Front camera was just fine. The main camera only had one issue and that was the focusing. Besides that the camera produced damn good imagines.

Not true. The camera is actually pretty good.

The camera is great actually, not sure what you're on about.

I came from a 950XL, using an elite x3 as my daily phone now. The camera in anything but bright light with a fast shutter speed stinks. Only thing I miss about the 950XL is its camera

I didn't even see a single x3 in my country. So curious to see the availability of this new spec

I'd like a smaller x3 with glance

I would probably buy if they made a smaller one as well.

Maybe only slightly smaller, perhaps 5.5???

I'd probably get the old x3 for cheap cuz that's what I do.

Maybe it's the supposedly consumer friendly version with Nokia goodies ie glance and proper dttw and maybe pureview

No windows mobile is available in India except 950.I have been holding on Lumia 1520 for 4 years now and i new need a new phone now.

The 950 is a good phone, I like it more than my idol 4S.

950/xl are awesome handsets.

Can't you get something online and shipped?

I didn't (and probably won't) buy the first x3, but I'm glad to see HP is still tinkering with W10m even if they haven't technically announced a new phone.

You are assuming this is running W10M and not WoA. I would bet the later. W10M is dead.

The phone was spotted in the booth, running W10M. Don't you get tired of trolling?


That would be lame. I wonder how much HP is getting from Microsoft to make these phones with a dead OS. It would make sense if it ships with WoA, but W10M is looking to be a dead end.

Wouldn't you think WoA would have the same ui when in phone mode as W10m?

Hopefully Microsoft will allow manufacturers to use their own UI when in phone mode. That will help get them more involved and dedicated to their devices. Microsoft currently has no hook for phone manufacturers, unlike Android.

There's no way they'd allow that. They wouldn't even let HP tinker with the lock screen when they were developing the original x3.

And they wonder why all the mainstream phone manufacturers have never been that interested in Windows phone.

Safe to say there's much more to it than UI.

Sure, but it is big part. Manufacturers cannot differentiate their devices at all. It is just another Windows phone with the same features, hardware, UI and limitations of every other Windows phone. Manufacturers are not going to be excited about that device compared to their Android that has their own custom features, UI, and hardware. Which device do you think they are going to market and push harder? Especially since the carriers, who really have the say in what sells, can do the same thing.

I am hoping it will be running WoA- thats where my next purchase will be

Put me down for one if Verizon offers it (not likely) but maybe

I'll take two on Verizon!

Sadly, I doubt that there will be any Windows mobile devices released for Verizon Wireless, Sprint and US Cellular until each provider caps their existing CDMA networks and lights up their next generation networks. Verizon Wireless is looking to be ready sometime in 2019.

Whether HP would release a 2nd version was one of the major questions last year. With no massive advertising budget required by selling direct to existing enterprise clients as well as backend revenue from service contracts increasing margins, they are most likely seeing success in the buisness markets they are targetting. Upgrading from the 4 core 820 to the 8 core 835 so it's Windows on arm capable as well as the camera are really all they need to do.

honestly No, when microsoft ready to be competitive again i'll give it a try again

Why doesn't MS show a little appreciation by handing over some of Nokia Pureview employees to its OEMs dedicated to make phones

They must be sitting hands folded since a year

Atleast we'll have no issues with the camera of some of phones which gets released

Because Nokia still owns that technology and is licensing it to Microsoft. Microsoft can't license it out to OEMs.

I wish they kept the speaker grille.

Love the speaker grille!! 🤓

Yes, if the spec's above are true and it includes full Wallet support. That is the only dissapointing thing for me about the current model.

Absolutely would move to updated version if it has the 835, 64 bit, easily upgraded to Windows on ARM.

If beter/faster cam definitely YES one of the best phones I got and better then fruit Company or candyshop ones ;)

You were literally telling everyone to buy an x3 yesterday and now look at you lol.

I meant in a positive way. Such a mentally negative community. I miss the community of WP7 and Mango update. Such a pleasant and helpful community then. Now I have to sift through the crying to find good information based on the article.

Right, i do foundly remember those WP7 days right after i switched from my nokia symbian phone. Ahh the good days for Win phone.

Hoping that a Verizon variant will be included this time around

I'll be a day-1 customer if it is (at any quasi-reasonable price)!

I'm doubtful that any CDMA variants will be created for any device running Windows. Equipment manufacturers are content to wait out CDMA and simply issue new devices that are compatible with the next generation networks.

It was HTC running the windows phone game, then Nokia took it to a new level and now HP seem to be the new king shining light onto windows phone.

I hope thaat the Windows Central Folks who went to WMC 2017 hunted down the Microsoft folks who were there to see what they have say about coming Microsoft products including the Surface smart phone or a revived ARMS CPU "Surface Mini tablet that runs Windows in emulation mode.

Soon I hope. My L1520 battery just died. Now I have to use my wifes old 950. It is just too small for me.

If they announce it before April, with an updated camera on par with the L950/XL and a Snapdragon 835, I might buy this instead of the Xperia XZ Premium or Galaxy S8. Otherwise, looks like I'll be taking a break from Windows on mobile for a little while.

Take the pureview 950xl camera and stick it in a hp phone, with an 835 and I am happy.

Can't Nokia still owns it

awww I was hoping for a mini and with more punch!

I hope someone else does a flagship. I continue to refuse to buy from HP, after they were so dishonest in customer support last time. I keep looking at a replacement for this 950, but no hardware from any OS is looking good.

I wonder if this will be one of the first devices with Windows on Arm?

Then we will still wait for quite some while ...
I do not expect the SnapDragon 835 to be available in sufficient volume to satisfy the demand. Which may also mean that the 835 will be quite expensive
and you may not really pay the price for a gadget that is powered by it. My guesstimation is the 835 will have a meaningful impact in the market in terms of volume happens sometime in 2018. Announcing 835-powered gadgets might not be such a good strategy for HP and other contenders
because people may be motivated to wait till they can get a 835-powered device
which is not available yet due to supply- and leadtime issues. -

Galaxy S8 will be out soon. The SD835 will be old news in 2018, like the SD820 now.

Maybe Interested but I will wait to see if the Surface Phone actually surfaces. Until then I will stick to my 950XL bugs and all.

You mean the "Surface Pocket";)

Sounds more like a forgotten misfit than a tease.

Any other pics or specs available?

Awesome news. Love it HP, well done. I think it's hilarious how HP could put themselves into an amazing position by getting every MS fan on board and selling to them thus creating a bigger market for themselves than other OS makers have already. It could springboard not only them but Windows popularity resurge. Just need Cerulean and Alcatel to push harder. I think HP is wanting to get this next phone 100% before release. Then it will drop the price for consumers of Elite x3.

How is HP in an"amazing position"? The X3 didn't have any impact, even among Windows fans. Windows sales are down and Windows 10 is barely growing even in relation to other Windows versions. I bet HP is getting some kickbacks from Microsoft. They don't seem that excited about theses devices.

It's called building a brand in a shifting market. Shifting, as in things are going to change drastically soon. Just like Samsung built their android brand. HP has also built a pretty good hybrid brand as they are one of the only ones that saw increase in share last quarter compared to year before. Though they say black friday may have been the reason.

Shifting market? What shifting market?

The hybrid device market with a natural progression to foldable devices.

Those are laptop replacements, not phones or tablets. Laptops cannot be replaced by folding phones. If you fold a 10" tablet, it is still huge. If you double the screen of a 6" phone, it is still tiny. It will be years before the folding thing is viable, and size will still be an issue.

It will be phone and tablets. It's possible with 3 way folding which each company has patented.

I'm bored with my 950XL, looking aged to me. Bring on any new hardware, gotta be a good thing right now.

Wish they have separate microSD slot and 2nd SIM card slot.

Hi Zac, did you see the handset yourself? based on the picture (it might be due too quality of the picture) it looks as thick as an X3 but it has a camera hump, the phone looks shorter then X3 makes it a 5.5 inch phone and the screen quality dosenot seem to be as good. Are you sure this is not the rumered consumer version of X3?

Other sites are reporting this is the consumer version.

I'd say it's definitely the consumer phone.

The question is what makes this different than the old elite X3 from HP. Can this run Continuum, probably the answer is yes, but can it emulate Win32 apps as promised by Microsoft?

Long live HP - Great laptops, still fighting for us 1%ers - I have new respect for them. Im also sure they are keeping Microsoft honest in terms of Surface development speed, the last thing MS want to see is HP stop pushing Windows Phone devices, that really would be a big negative.

Hopefully this is the consumer version of the Elite X3. I would be interested.

It's coming round to a good time to update our 950's and 950 XL's. I'm keen to see what this potential upgrade could be. =)

On the close up pic, the mic next to the main camera has moved. Probably to the top middle of the edge, that tiny hole. It's good to see they are putting new prototype publically. WOA is likely, since that is what business will like. Likely for 2018 I guess. On another note, I recently tried to find a spare part of the speaker grill on x3, I dropped my keys on it and dented it a bit. On the Hp parts finder, it says the part is no longer available.

No camera button, No purchase. I would buy the current version if it had a camera button. Either way, this phone will not be released, at least not this year. If it comes out, it will be Windows on ARM version and come out next year.

There are plenty of android phones with camera buttons. If this is the biggest factor for you then just get one of them.

hope it will be available in retail stores in india soon....waiting for it

I'd really like to see Microsoft do a licensing deal with Xiaomi for a Windows 10 Mobile powered Mi Mix. Imagine W10M on a borderless screen. 😍

I've got a L950 & recently purchased a L650,which was locked to cricket,no longer though,I've had the latter unlocked for approx. 4-5 days,and I tell ya what,I think it has a more fluid looking display than it's big brother,I absolutely love my 650,anyways a L950 or the XL version is plenty of power and phone for anything and anyone on earth,I mean for real,it is,thanks,good day

Just love my L650, works great and when I tell people how much I paid for it they can't believe it.

I tried out the first one and returned it, so sure, I'd be interested in an updated version, especially with a Snapdragon 835...

Waiting for this device cuz it's good looking Plus it might have the new snapdragon chip

It will have any app that runs on a Windows PC.

True. Yet windows 10 "cloud" as locked down as it is was seen allowing win32 apps (store approved) to run. We will have to wait and see.

HP is sending a message here, though apparently not in a loud fashion, that W10M is not dead. And once the right strategy for the mobile segment comes (W10 on ARM?), they should be the first manufacturer to do it (aside from MS of course).

Good point about W10 on ARM. They could be in a great position along with Alcatel.

Interested in the new X3?? ABSOLUTELY! The big question - will it run on Verizon? If no VZW, then the device is worthless to about half the phone community. About a third of the repeated questions, when they've done AMA(s) - "will it run on VZW, when will there be one on VZW". I'm not alone on the VZW W10M quest.
(db)

With Verizon Wireless working on getting it's next generation network ready for launch sometime in 2019 (current projection) Microsoft, HP and Alcatel are content to wait out CDMA and release only GSM variants.

If tech can learn anything - it's a two year avoidance, because of VZW's slow roll-out, will kill their opportunity to ever make a path. Microsoft, by not releasing a new phone in half a year (or more) - has absolutely KILLED any opportunity they have, outside their evangelists. If HP waits for VZW - they will lock themselves into a GSM Only, and limited, world. They need to expand their following (their tribe), now. ​ No other vendor is waiting on VZW - why should HP? If you could sell Handsets - you should sell handsets, regardless the carrier. Waiting for VZW's marketing ploy will delay their opportunity to grab a national foothold. ​If HP came out with a CDMA Handset, today, I would not postpone my purchase just because there is an possible infrastructure update in two years (how long did VZW delay their last CMDA LTE National Roll-Out - extensively). ​All this BS should simply say, "HP, if you want to make National Inroads within the US - your timing is NOW to explore VZW." If you wait, you will continue to experience the decline of Windows Phones. (db)

What I'd like to see is an open-market W10M device that works on at least the top 3 mobile carriers and at least supports Wifi-Calling and VoLTE on TMO. Those are the two big things that kept me from getting a 950/XL or an Elite X3. That being said, if someone in the ecosystem can put out such a device I might actually be able to upgrade my Fierce XL.

Yes - needs to have Windows Pro and a slightly smaller form factor.

I would like to see a new Win 10 phone that will work with Verizon. My Icon is nice, but I also want to upgrade and stay with Windows.

Hardware schmardware... Address the app gap and I'll come back. That is all.

I would if it was available here in the Philippines. Unfortunately the X3 was not released here even if at launch I think it said it would. Bought Xiaomi's Mi Mix instead.

Any time there is news of a new Windows Phone, I am happy. Even more, when it's a high end phone. Hopefully they have improved the camera, which I understood to fall behind the 950l in quality. Love it. I would buy this.

I would. Love phone OS. Just wish better apps.

Yes. Always loved Microsoft OS. Loved my 1520! Just wish common apps and better support of apps. Hopefully a Surface phone will eventually come out!

Apps. Or, more correctly, the LACK of apps. In my opinion, that's the one and ONLY problem with Windows 10 Mobile. I would LOVE to come back to Windows phone, and I would love to buy an HP Elite x3 - what a beautiful, gorgeous, huge phone (I had a Google Nexus 6 for almost two years - I could never go back to a phone with a small screen, again)! I know you can do a lot of the same things on the web that you can do in apps, but I'm worried that there'll be little things I'm used to doing in some app that i won't be able to do in the website. Plus, I drive a tractor-trailer for a living, and I have a dedicated truck GPS app on my Android phone that I use on a daily basis. I'm pretty sure I can't get that in Windows 10 Mobile. I wish to God Microsoft would've gone ahead with being able to run Android apps on Windows 10 Mobile - I'd have bought one in a heartbeat! Have always loved the tile interface since Windows Phone 7 came out in 2010. But, I moved away when Windows Phone 8 was released - what a hot mess that was!

It is great to see HP sticking with making windows 10 smart phones that have Continuum mode because the redstone 2 updates will make the HP Elite X3 loook and work likea Desktop PC with sizable Windows.Apps, Multitasking ect. it will be the closest thing to a Pocket PC on the Planet Earth I think that Microsoft has to bring out a Surface smart phone thisyear or else Windows 10 Mobile smart phones will be drastically hurt to near non existant status because sales will be so low because Microsoft seem to have less than 5 OEM partners making them. All microsoft has to do to stay in the game is make 2 Windows 10 mobile smart phones 1=a Surface lumia 650 specs smart phone for budget buyers and businesses to buy and Lumia 650 XL size type smart phone with qualcoms latest SnapDragon 835 CPU with a nice looking case. These 2 Windows 10 mobile smart phone will let the world know that Microsoft Really is still in the smart phone game. it been 16 months since Microsoft has debut a flagship smart Phone. damn Ex MS device head Elop hurt Windows smart phones really bad because he concentrated too much on low cost Windows smart phones and 18 months went by before the 950/950XL came out that is too long a wait in the fast smart phone world. I hope Microsoft does not break Elop record of no new flagship smart phone for a year and a half. folks the damage to Windows smart phone would be catastropic

Absolutely! I want to buy one now, but I feel the current x3 hardware is too old for the premium price. Similar price range and new updated hardware? I'll buy immediately

yes of cause 64-bit, which means more usable RAM
Windows Central Newsletter
Thank you for signing up to Windows Central. You will receive a verification email shortly.
There was a problem. Please refresh the page and try again.