HTC Eternity passing through FCC to AT&T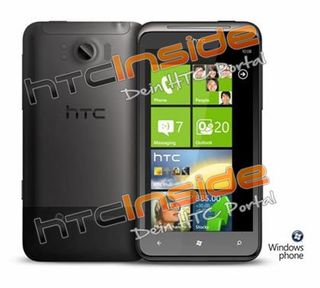 The HTC Eternity (or HTC Titan X310e as we now know it) has passed FCC testing. The handset was being tested on 850 and 1900MHz bands used by AT&T, but unfortunately that's all we have to go on for now.
Reminding ourselves of the upcoming HTC Eternity/Titan, this handset may sport a 4.7 WVGA Super LCD screen, 1.5GHz single-core processor, 8MP camera with dual-LED flash, 1.3MP front-facing camera and 16GB of storage. We also expect to see (and maybe get some hands on time with) the HTC Eternity tomorrow at the HTC Public Event in London.
Let's hope it lives up to the punch in terms of specification.
Source: PocketNow (opens in new tab)
Rich Edmonds is Senior Editor of PC hardware at Windows Central, covering everything related to PC components and NAS. He's been involved in technology for more than a decade and knows a thing or two about the magic inside a PC chassis. You can follow him over on Twitter at @RichEdmonds.
i really hope it's a unibody aluminum handset like the desireHD and inspire4g, as much as a love my focus, the build feel of my inspire blows it out of the water.

Hot diggity damn. That's going to be a monster phone! Can't wait to see it tomorrow!

so much for ur threat to goto android.

I haven't decided what phone I will get yet. But on a different subject, why do you give a fark weirdo.

don't see why one would goto android when the user experience in WP is so much better. maríca!

the user experience and stability of WP7 is almost too good. i bought an inspire 4g the other day to play with because my focus literally has zero issues and i need something to tinker with :Pafter using the inspire (which is an extremely **** piece of hardware) for about 2 days i couldn't stand android any longer and i popped my sim card back into my focus today and fell in love with wp7 all over again.but until the mango handsets come in, android def has nicer built phones (as well as a heck of a lot more to choose from)

I remember the hype over the render and ridiulous specs before the HD7 was revealed. Hope people havent got their hopes up too much.

As much as I want to go to Verizon, this phone looks KILLER. it would definitely keep me on att as I have an unlimited plan that I don't really want to give up. This phone looks SICK! its my dream phone .

I... Want... B I G G E R! ! ! ! (Im kidding just trying to get a kick out of eric746463729928273) lol. This is a great sign and means mango is closer than ever now! Lets see what everyone else brings... Especially Sprint.

especially sprint!, I hate/love sprint.

4.7" screen is fun to play with but definitely getting into the too big for a pocket range. The other specs are monster though.

4.7 inch is not bad i believe a 5 inch screen or 5.2 inch will be the biggest cell phones could go. I mean especially having netflix on phones now and youtube people want a phone with a big enough screen to enjoy but also very mobile and I believe 5 inch screen will be perfect. That's probably because I wear straight jeans and not skinny or girl pants like a lot of dudes wear out here in LA hahahah. Sorry not for me but back to topic I just wish this phone was coming to T-Mobile or Sprint because I have the cap on the internet for the other two big carriers.

This. Is my next phone. Screen may not be as good as a Sammy, but HTC sure builds some solid gear.

I want this phone, but I want it to have a 4" screen. Since WP7 only supports ONE screen resolution, all bigger screens do is increase pixel size, decrease pixel density, and generally decrease quality of the image on the screen. Why do you think that the HD7 had the worst screen of all WP's and needed updated before it went to AT&T with an original HD7 sitting next to a focus no one would have bough the HD7 even though the screen was larger. Plus 4.3" is on the verge of too big for one handed operation for me, and I am a guy with fairly average sized hands. My wife has a hard time with one handed operation of her HD7. Sure some people will want a 4.7" screen but I think for your average main stream consumer it will be too big.

putting the inspire 4g on top of my focus yields virtually the exact same footprint. if they can keep it under 9mm in thickness, i will be happy if it ends up being a little wider or taller.oh, and htc, PLEASE put at least a 1500mah battery in there.
Windows Central Newsletter
Thank you for signing up to Windows Central. You will receive a verification email shortly.
There was a problem. Please refresh the page and try again.