Hands-on photos of the new HTC One (M8) for Windows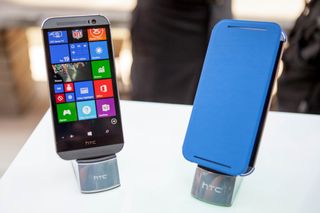 HTC just finished their press event here in NYC where they announced the new HTC One M8 for Windows smartphone. It features a 5-inch 1080p display, 2.3 GHz quad-core Snapdragon 801 processor, 2GB of RAM, 32 GB of storage and so much more! It's exclusive on Verizon, which might make you extremely jealous after checking out these photos of the HTC One M8 for Windows.
We'll have more coverage of the HTC One (M8) for Windows as the event stretches on. Look forward to a hands-on video coming up shortly. What do you aesthetically think of the HTC One (M8) for Windows?
I wanna see how the dot view works on this.

Just like how it does on Android. https://www.youtube.com/watch?v=rRo2k4BWdfY

Will have to see how the dot view works with cortana !

Me too and is it quirky like the live lock screen app...

Can I ask you some questions: Why would you expect live lockside to be perfect when it's clealy labeled, "Live Lock Screen BETA"? What is your definition of BETA?

What does it being in beta have to do with me wanting to know whether the HTC app has similar quirks as the live lock screen app??? I understand live lock screen is in beta and wouldn't expect it to be perfect even if it wasn't in beta. I actually use live lock screen and dont really have any issues except for a few hiccups every now and then...The point of my comment was that I wanted to see if HTC was able to make a lock screen app work without hiccups. Besides HTC probably has an advantage interfacing with one device rather than many.

The dotview is about the only interesting thing to me about this.

Dude, quit contradicting yourself lol..... you are starting sound like you have got dementia.

How am I contradicting myself? This phone is a has been to me.....and I have no interest in it. However I am curious about the dotview thing. Other than that it isn't anything special to me which I've said several times .

We can totally see that you've said it several times. I think 'several' is not enough to describe the moaning

@Gabriel Paiva2 I guess he is stuck on a binge whinge high :P and plus he is probably going to be on a constant loop now (I hope not as he is at risk of sounding better than a broken record), given there is going to be plenty of coverage of HTC's latest addition to windows phone for the next few days lol.

He seems upset that this phone has been the "talk of the town" for the past little while, and not Nokia.

Haha, that possibly could be the trigger :P.

"Micah Dawson says: "So aside from the camera features and speakers, I am not to wowed" Posted on Aug 19, 2014 at 10:51 am - 6 min ago " Must I say any more? :P lol.

And yet you took the time to not only read the article but to comment on it. Hmmmm.

It's beautiful. I really want one now.

lol, I want ''one'' too :D

I see what you did there.

With miserable support from the OEM, that is your gravest mistake Sam.

No Sam you are a traitor. Jk :)

It's not even highlighted on the Verizon website on launch day. And, it's locked in, so no one else can advertise it. The only HTC One they highlight at all is the Android version. Sad.

Maybe give them a few hours to update their site?

It is, only the front. I totally don't like the back.

Verizon/HTC did a great job with this. Announce the phone, and build up enough hype and momentum where you can get interested buyers to purchase the device on the spot. Microsoft needs to do this with Nokia phones. Hope this device does well enough where other carriers will say, "We want it, too." (I can dream)

While I think I will pass for now, I thing i look better in black from WP's earlier postings

Get me one Sam lol Posted via Windows Phone Central App

Yeah I am thinking about ditching my 920 for that since the 930 is not worth to be the sucessor of the 920 IMHO. But no word on int. availabilty. So either wait for that or hope for some guys at xda dev to figure out how to port WP to the android version.

My consensus as well, so far, it has been the phone that keeps on giving with every new update: Sensor core, aptX, Bluetooth low energy,camera improvements, 5.1 surround sound video recording, and so on & so forth.

You should try the 1520 if you can skip the bigger screen aspect. the phone is great. And about the 930, well I have bought one recently and I must say that I am satisfied with it. I also had 920,928,1520 in the past so...but again it's your opinion. If you really cannot go past the 6" screen on 1520, go and try the 930 in a store, you won't be disapp.

Unfortunately the 1520 is too big for me. I actually bought the 930 from different retailer three times and looked at even more devices in stores. But the display was on every device disappointing.

The 92x series died when the 930 came out.

Not quite :). I've seen many users in Romania who still use the 920 and are very happy about it. One of the reasons why most of them have not switched to 925 is the internal memory space: only 16GB except for the Vodafone exclusive which has 32GBs. But yes, the 920 is old and the most fun part is that it still takes better photos than many other new phones from other platforms :) The truth is, once you get used to the picture quality from Lumia, is kinda' hard to go somewhere else.I have recently had an iphone 5S, great phone, stable, no lags, very fast but the two major points that made me come back to WP are: screen size and battery life. Camera is ok on iphone 5S, it really is but it can't be compared to lumia's.

Why RIP anything? I still love my 925 and I'm not giving it up for the latest fad phone. This phone looks very nice but I'll wait. No need to constantly keep swapping phones. Not a damn thing wrong with my 925 and I'm running the WP 8.1 Dev Preview update. So... pfffttt.

Agreed. The Lumia 925 has been one of the best WP devices to date. I only wish there was Lumia 935 in the making...

Amen brother. We're in the same situation

I've gone from omnia 7, to Lumia 920, 925 now using Lumia1520 - the 1520 is night & day better than all of these other handsets (and also miles better than my g/f's Samsung Galaxy S5!)

Amen brother! Snap into a Slim Jim! The 1520 still rules....but I think ts going to get competition soon. Maybe, from itself, if the 1525 or whatever they call it comes out. Toss in an 805, 2k screen, OTG, and 3gb of ram for a few more background tasks.

You can't compare 1520 with GS5. Besides the camera which is far better on 1520, the OS itself is working without hiccups on 1520. On S5, after I took a photo the camera app just froze for about 6-7 seconds. Not to tell the lag from the OS even on the high specs that the S5 has, so you are lucky with your 1520. It's a great phone for someone who can accept the bigger screen. I have just aquired a 930 after pushing my iph5S to my wife :D.

+925, Although the lack of an SD slot kind of annoys me on my 925, it's a great phone and I don't see myself "upgrading" in the near future. Maybe if T-Mobile releases the 1525 I may pick up that, but that's pretty much it.

+925 it's one of the best windowsphones ever. The only defect tbh is the 16GB memory and the lack of SD card

Only takes one defect to ruin a device, like a defect in the hull of a ship or plane

Though what you say is true, I notice a prevalant defensive attitude toward the HTC M8. WP fans should be happy and not try to defend phones that came out before. HTC is trying and the more phone son the WP platform the better.

I like my 928. Faster than my 810, and potentially better support. Verizon is getting better, higher-end WP phones than T-Mobile is.

Well it ought to be faster than your 810, it is one class up.

Looks beautiful, wary of support. Sticking with Nokia\Microsoft until other vendors show better service\ platform support.

Smart. I had an 8x. Loved the phone, but did a lot of cussing over the lack of support.

Me too. I actually miss the old 8x i had, just was hard to keep and sit on the sidelines with all the nokia "exlcusives".

Did you have any issues with yours? I had 2 dead pixels on the screen, the SIM card error, and random reboots after gdr2. Still far less issues than my brother, mom, and friend had with their 928's

I got 920 day 1. Had overheat issue but Nokia Care was awesome and quickly replaced my phone. Other issues were pretty much resolved over time via software and firmware updates. Big fan of Nokia despite few hiccups.

I bought 2 920s day 1. My wife's has been pretty good. She smashed her screen and I was able to replace it. Mine, on the other hand, has been pretty bad. I'm very greatful for Nokia Care, because I'm on my third phone because of different malfunctions. Now, the power and volume button don't work. It's really easy to replace, but damn, this phone is high maintenance. Good thing it takes amazing pictures!

Wait the nav bar is on the bottom!?

the back start and search buttons

Wait never mind I thought it was the top bar sorry

What I noticed is that it actually goes away. And you swipe up to make it appear. That's not the way the Lumia 635 works. It's always there and I don't like it... The only time it doesn't display the nav bar is when watching video full screen from the web browser (like youtube).

It also disappears when watching video via "files" 630/5

Not gonna lie, jealous/10

Too bad it doesn't lay flat.

Neither does my 920 but it still is doing pretty well...

Most phones don't, what's your point? Posted via the Windows Phone Central App for Android

No, that is stupid. You realize that right? Posted via the Windows Phone Central App for Android

No it is not stupid. I want a phone that doesn't wobble when typing on it with one hand while it lays on a table when I reach over to check on a message.

WOW! It's the stupidest things people b!tch about. Smh

This. Posted via the Windows Phone Central App for Android

It's metal case is too shiny as well. Should be less shiny.

You officially just want to be petty about anything eh? Posted via the Windows Phone Central App for Android

Your post is too wordy. Please use less words.

And that's a non issue w/ mine. Posted via WPCentral App.

Not your forum. NIST can say absolutely anything he wants along as it doesn't break any rules. You're the one being petty.

Always nice to find out which is the right button to push. Why so serious?

I wanna see blinkfeed in action

Me 2. It could be a game changer in the WP battlefield. Could be...

Not really. It's already on Android

I clearly said "In the WP battlefield". Meaning, comparing it to other Windows Phones, this is something new and different. You would have to take a test before you are allowed to post anything online.

Can you turn off Blinkfeed and remove it from view entirely?

It is an app, so if you don't want it, don't use it.

Thanks, but isn't it still there on the home screen? You can't turn it off on the M8 for Android I don't think.

It's an App. It's not locked ont he Start. Also I believe you can turn it off on Android as well.

It would be a Live Tile on your Start Screen like any other app. Unpin it to remove it.

Actually you can turn it off on Android. http://www.androidheadlines.com/2014/05/android-disable-blinkfeed-htc-one-m8.html

Or because it's WP you can just uninstall the App :)

I love it ! I really want one ... but damn Verizon

Glad to see new flagships coming to WP. Lets just hope that people can become aware of this.

So with this release we can get an idea to see how a similar phone with similar specs would perform in speed tests and see if there are people willing to try out windows phone.

I would like to see benchmarks Daniel of these two phones android and windows!!!!

Of course it's going to happen

Is it able to load the Nokia exclusive apps (Mixradio, Transit, navigation, camera apps) now that Microsoft owns Nokia's devices business? But like others, the Verizon exclusivity is a deal breaker. Not changing carriers, from gsm to cdma, for any phone.

No MixRadio, but all the Here Drive and Navigation stuff can be downloaded. Posted via the Windows Phone Central App for Android

How about the Nokia Camera and editing apps, and the nokia YouTube video uploader? So no music app, that plays your stored music other than Xbox Music? :-/ XBM sucks.

There are other music players on the WP store. As Far as the Nokia camera apps, that can't be downloaded on this. Those are exclusive. Posted via the Windows Phone Central App for Android

I don't think xbm sucks. It's better than two months ago that's for sure. Is it perfect? Heck no, but I think it's at a stable place in its life cycle.

No Nokia Camera, but ProShot is available and HTC's camera app looks to be comperable.

I'm with you Johnny. CDMA makes any phone not worth it.

Need more quality apps and games on this quality piece

I don't think it is an attractive phone. Not particularly ugly, but not attractive to my sensibilities anyhow. That said, "Woohoo! more Windows Phones!!!!" Love my 1520 so much, hope this push by Microsoft brings the marketshare up, and people get tired of Android and iOS :)

The hinge is a deal breaker. Looks extremely annoying. It needs to lay flat against the back of the phone when fully opened.

any photos yet of the green Xbox dotview case? :)

So awesome! More than words can say!

HTC Rules! The savior for Windows Phone.

The current and previous owner of 3 htc phones finds this amusing...

I remember I had an HTC pure, memories.

Looks like a great device.

It nt only looks gorgeous but is power packed too.... I think it d most powerful windows phone available in the market

Let's hope HTC markets it as such, if they market it at all!

It's looking great. I like the dot view flip case...

I love my 1020, but this phone does make me jealous... Nice work HTC

I agree,the only phone that can compete with Lumias in terms of build quality and design,love what I'm seeing so far,I believe HTC will support this phone with updates,if they want to get back on top.

Same here. I'd love one, but after having a pureview camera, I can't use anything else...

I only want the HTC Exclusive Apps like HTC Blinkfeed, HTC Camera and Video highlights. You can take the phone.

Does it have wireless charging

Nope. Posted via the Windows Phone Central App for Android

Beautiful device. Almost everything one could want in a flagship WP device. But just a couple little niggles that will probably keep me from buying it (no Qi, questionable camera, questionable vendor commitment to platform, etc).

At least its compatible with the desktop charging dock for the Android version

Aesthetically I liked the M7 better. The metal looks gorgeous but on a day to day basis it's very scratch and dent prone.

While I agree with you that it might be prone to scratches, you should not forget that brushed metal can help hiding smaller scratches. Dents can happen on any material be it plastic oder metal.

Microsoft Mobile better release a high end "Nokia" phone this fall...

It's not looking like they will.

Ugh all we get is this....

Such a tiny little screen though, says the 1520 owner.

Love this. I got a 1520 a month ago but I was eyeing on a new HTC device since their designs are always top notch. I actually preferred the 8X design over the 920 but internal storage is always important to me more than anything else esp. for a device without an external card slot.

I really really hope this is a timed exclusive

Interested. Maybe, but I want to check out the BlackBerry Classic too. Posted via the Windows Phone Central App for Android

Welcome back HTC to the WP Family, it's been awhile.. :)

Yes but how long before htc stop the updates claiming there is a hardware problem?

Have you seen the hardware/specs? Better than any other WP. That excuse wouldn't happen. Posted via the Windows Phone Central App for Android

Specs never were the problem to begin with. Jrc just doesn't support their windows phones.

Who the hell is jrc? Posted via the Windows Phone Central App for Android

Anyone hear about the HTC one m8 yet?

I think I remember hearing something about it this morning..

Love it. Hopefully it will one day gwt a worldwide release. But at least this will force Nokia to come up with a good 93x Phone.

So with the digital capacitive buttons the screen size is acually something like 4.8, correct?

No, 5" the capacitive buttons appear when you swipe up from the bottom.

So I am assuming all the HTC apps are straight Android ports? I see Android's menu button on the blink feed app.
I'm glad we are getting a nice phone I guess.

Plain Ugly. No support, I will pass.

Seems you have experience.
Htc has not showing there best side with wp8.1 support on particular phones.
That risk is not worth the money.
Lessons learned.

HTC is the first in the new era of Windows Phone. I can see the shelfs in the stores now! Next to the 100 Android phones we will see more and more different Windows Phone devices. Making costomers see Windows Phone easier :D

How exactly is this a new era. If I were a random customer I would get confused as to why the same phone has two different os. A new era would have been building on the 8x

Really isn't confusing. Also, it would be nice to walk into a cell phone store and see every Android phone have the exact same phone next to it with WP on it. Not going to happenk but would be cool to see choice on every piece of hardware.

Or going back to their titan design

You would get confused by most things that don't have a "Nokia" brand on it.

Seems pretty clear to me. HTC One comes with your OS of choice: Android or Windows. Pick one.

Anyone know how difficult it is to remove the Verizon logo from the back?

You would have to try the old sugar cube trick.

http://www.instructables.com/id/EFHU5V6TKYERIE2SMP/?ALLSTEPS

Beautiful device. Wish it would have been available all over the world. Exclusivity is killing WP

So damn right, waiting for an international version.

Atleast this has an inbuilt panorama from HTC itself :)

Argh I am green with envy! :P... I want one now! (says the heart, my head is busy rationalising that decision - No Qi, On-Screen buttons, No Camera button etc..) How does the limited edition dot view case look like?

Six articles about that thing on the FrontPage :/

Makes you feel better doesn't it? /S lol. Damn exclusives...

Yes.....i miss a article about the great support htc did on the 8.1 update on a particular phone.
.....
Six articles about the same subject is just waste. Just make one large article. Tomorrow's news M8 has backlit buttons right after M8 camera is great but not fully supported.

6 articles about the newest Windows Phone after not having a major announcement since the 1520 & 1320...wah wah wah. Articles about Windows & Xbox...wah wah wah.

That is just really beautiful! So glad to see other great looking high end phones coming to Windows other than Lumias,different choices is always good!

Do you really need the dot case to get it to work? I kind of assume without the case it would be like glance.

Why do you have to be a Verizon exclusive!!!

That does look good, really good.

I loved my Titan and my 8X. Too bad the support from HTC was caca.

Nice phone with some flaws... 1. Same as the android version (looks the same) 2. No Physical buttons, Yea, some will say no big deal but, with out looking at my phone on my ICON, I hold the search button to bring up Cortana... When you have the buttons up, it's no longer a 5" display as it uses part of the screen for them 3, No camera button. 4. No wireless charging (is there a hack for the Android version to add it that could be applied to this phone ?) Nice phone but, not sure I can get over these flaws....but that 32gb WITH MicroSD is a big one that I wish the ICON came with..

Wireless charging doesn't work with metal phones. To me, on screen buttons aren't any different than capactive buttons. Both you can't "feel" for and are always going to be in the same place (once you swipe when dealing with on screen buttons).

the m8 is literally the coolest looking device period wonder if they would add blinkfeed to it

This phone is stunning and it really fits to Windows Phone very well, I almost forgot it has an Android version of this phone. Waiting for hands-on...

I want this device in Brazil! The frequency of 4G is the same here?

They will likely release a version for non-US markets at some point (much like Nokia/Microsoft did with the Lumia 930), which should come with the appropriate 4G frequencies.

Looks great. Another good Windows Phone device I can't get because Microsoft are incompetent.

It's good to see another high end windows phone device.

Camera comparison between 930 and this

Lol I'm seeing adds about this phone in newspapers already its available in Indian stores

You can hide the nav bar? You don't get that on the Lumia 630! :(

What Nokia apps can you use on this device?

Exciting times for Windows Phone. The best looking phone on the market is now rocking windows phone. :D
Any word on international availability though?

I have got android M8 in India and i am happy it now also available for windows but very sad not available worldwide

Looks cool, but no camera button on a high-end device? I love having it on my Lumia.

That's because it's literally the same hardware as the Android version. Microsoft removing the requirement for hardware buttons & a dedicated camera button in the reason why this HTC One (M8) for Windows even exists.

So is it worthwhile to stay with Lumia for its exclusive ecosystem anymore?

$99 on a two year contract or $30 a month on Edge for 20 months = $600.

Looks really nice and glad it's finally on the WP platform. But I'm not willing to give up Glance, wireless charging, or any of my Nokia apps so I'm sticking with my 920 for a while.

That's my problem as well. That and the camera. As long as I'm happy with my 928, I can't see giving those things up just yet, even though this phone looks really nice.

Wireless charging I can do without. But dang it. I didn't know Glance was a Lumia exclusive.

I'd personally not go anywhere near HTC ever again (I once had an HTC Magic years ago & a Google Nexus One) their product support is rubbish compared with MS/Nokia. I am fully in support of MS/Nokia hardware for the time being, the L920, L925 & current L1520 have all been fantastic handsets that have been far more enjoyable to use than Samsung/HTC android handsets. Having said all of the above, the HTC One W8 does look smart & hardware-wise it will be solid and reliable, and of course WP8.1 (gdr1) is a joy to use. I just think MS/Nokia innovation will stay ahead of any HTC developed products.

HTC has changed for the better. So I woudln't hold grudges over there old pratices from years ago. My HTC One (M7) still gets updates and will through at least Spring 2015.

Looks nice! The only thing that bothers me for some reason is that little arrow at the left of the nav bar.

And it has AWS support...! I really hope that WIND Mobile in Canada gets this soon, or that I can get one unlocked easily enough. Looks gorgeous, and I love the form-factor. (Love my Nokia 920, but tired of the sharp corners!)

Like my 1020 better. Nothing compelling about this phone. The next Lumias will blow this has been away

I would hope they'd blow it away----the next high end Lumias aren't rumored to come until a year from now, in 2015, with WP9.


Agreed Johnnie. I can wait a year as nothing competes with the 1020s camera and with 8.1 it kills my old iPhone

I just looked on Verizon, and the price is showing as $199 with 2 year agreement. Typo?

I think T-Mobile should really consider trying to get this device as well as a Lumia 1520 variant. It would bring them to 4 WP devices with a nice range of choices.

I like it but I honestly thought that the dot view case was a bit brighter. Any way to change the brightness level?

No glance ??!! It's shit !!

Gotta admit, the more I see of this phone so more it's looking like the one to beat (I'm simply not interested in the Lumia 930) for me right now. I'd miss glance horribly though, hopefully that feature just comes to all Windows Phones soon. I'd probably never bother with the dot case if it doesn't just attach magnetically, too much added bulk. I wonder when we'll see it internationally though? Hopefully very soon (and in those gorgeous red and blue varients!). Allowing OEMs to just shove Windows Phone on their Android devices is already paying off here: flagship worthy hardware and tailored accessories. Loads of third parties companies still make accessories for HTC's flagships so now we not only have the cool first party stuff from HTC but also loads of other cases etc. that were designed for the original M8. I wonder when Samsung is going to step up and throw Windows Phone on the S5 and Alpha etc? Still, I really hope MS have something awesome to show us at the high end before Christmas. So far the 530, 630, and 930 while each being great phones for their markets have been decidedly lackluster imo.

Wow, never been so much htc news in one day...

It looks like a loely piece of engineering but it lacks the one thing that keeps me using Windows Phone: a dedicated camera button. I don't think I'm alone in appreciating the user-friendliness of that shutter button, but I guess this is the price to pay when an OEM is simply repurposing one of their previous handsets.

A dedicated camera button that takes 10 secs to launch the camera?

Au contraire.
The camera on my Lumia 820 opens up pretty much immediately, two seconds maximum.
I have no idea what your experience has been with the camera app, but it appears that mine has been vastly better.

This thing is only $99 on contract! Man I hope they sell a bazillion! I need some people to share disappearing messages with! Promote this MS or die by your faulty decision. I need to see this on all NFL games.

Really nice looking, although I do prefer Nokia. But it's good that Windows Phone fans have yet another great choice for a flagship device!

I dont understand why it's only on Verizon! :(

Don't like the onscreen buttons. It makes the screen look a bit off balance and takes up screen space that could be used for the OS. The phone is very nice though. Too bad about the idiotic carrier exclusive and the poor camera. When is Microsoft and it's partners going to stop with the damn exclusives. At least put the phones on Verizon and AT&T.

And what about the rest of the world? Will it EVER arrive in other countries? :(

Agreed: This is the first flagship wp device for 2014 - the 930 is a rehash (ironically of the Verizon icon... Is the international market going to have to wait six months for this beauty? That would be a disaster!) And all the specs and an SD card. This is a proper flagship. Good on htc. I hope that category exclusive is just short term, or that the device can be released internationally. Whatever msft have to show in Sept, they need to bring to goods as the best sub 6" wp is a htc. The msftnokia team need to look at this and better it and don't skimp with things like the sd card. Lumia devices have an amazing competitor. Now if Sammy bring the s5 (or note 4!!!!) then things just got major!!!!

Were these put on display at the B&M MS stores today? If so, i will swing by and check them out.

Looks better as a windows phone. Look at the vibrant colors on that home screen

any plans for the Red version of the HTC One to become a M8 model? i want the red version soooooooooooo bad!!!!

Finally some competition for Lumia devices. This is the main thing I love about democracy...outside of freedom and free speech ;)

I hope MSFT remembers that if they forget that there are 4 majors carriers in the US, windows phone is still behind other OS... Sad it's not on t mobile

Checking the Verizon Wireless website, the $100 premium price over the Android M8 isn't going to help win over Joe Consumer (there's currently a $100 discount for the Android version). Will the Verizon sales people bother to explain why it costs more, i.e. it's a new release? Or will they say "yeah, you have to pay more up front for NO APPS! <snort>."

I'm sure that selling it for $100 more and only on Verizon will ensure record sales for the Windows Phone version. Microsoft and HTC clearly did their homework in figuring out how to get this handset to sell in the tens of millions. /s

just to correct myself, apparently if you go through the checkout process THEN it shows the $100 promo discount for the Windows Phone version and it's $99 on contract.. Hopefully Verizon will get that straightened out so it shows that from the outset like on Android.

How will it stand up to iPhone 6

The device is beautiful but I am not yet convinced with HTC

Looks slick. Shame about Verizon exclusivity.

Good stuff. Verizon needs more winpho love.
Now Att has a reason to offer something comparably good.

Blinkfeed app! Love it. Never understood why people try and avoid it. That's one of my favorite things about my HTC One (M7). I can flip through all the new sources I want in one dedicated location --- Windows Phone Central, Facebook, Instagram, BGR, The Verge, Fansided, ESPN, PCMag & more!

Does it wobble when you type on it while it is on its back? It looks like its convex with no lateral support.

Love this device good job htc

A real nice phone but a bad strategy by HTC to only sell it to Verizon. HTC would of made more coin if it was offered to all the major carriers.

This phone is damn sexy :3

No cyan colour? I'm pretty sure I saw one when the M8 first launched, but I'm not finding it anywhere now... :-/

Awesome! Another carrier-exclusive handset that is launched to hype but will register a virtual zero in sales volume because the vast majority of consumers in the USA and worldwide cannot buy one. You'd figure after the failure of all the other carrier-exclusive WP handsets to move significant volumes, they'd learn to make something that anyone could buy. But Microsoft and its partners seem absolutely determined to cling to the repeatedly-failed carrier exclusive model with white knuckles, as the Good Ship Windows Phone sinks under the icy waters. Glug glug glug.

Pocketnow is reporting it will be coming to AT&T

Anyone know if the android version can be flashed to windows?

Hmmm; I'm pretty sure that this may be the phone to finally make me ditch Android, sell my Note 3, and come back to Windows Phone. I've been looking for a reason to do just that.

Aesthetically is gorgeous! That full metal body is superb. Now the only thing that would keep users from buying this is the camera. I do not think that many Lumia 920/928/930/1520/1020 users would switch to this. New users to WP platform might...If you do not have high expectations for the camera this is one hell of a phone :). Let's hope that it will be available also globally, not only for Verizon.
Windows Central Newsletter
Get the best of Windows Central in in your inbox, every day!
Thank you for signing up to Windows Central. You will receive a verification email shortly.
There was a problem. Please refresh the page and try again.