HTC One (M8) for Windows is coming to AT&T, too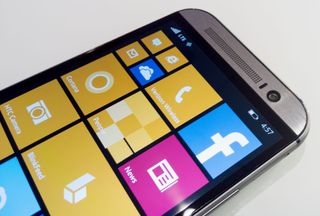 While we're all still basking in the glory that is the HTC One (M8) for Windows, AT&T has just announced that it, too, will be carrying the phone at some point. Though initial word with the announcement of the phone was that Verizon has tied up an exclusive, it seems as though there's a time limitation to it.
AT&T has announced that it will carry the phone with no further details, but official confirmation that it's coming to the other big U.S. carrier will be a relief to many. As an added bonus it seems AT&T isn't using a gigantic logo on the back like Verizon is, instead putting a small and simple globe logo at the bottom of the back.
AT&T isn't providing any pricing or date information (likely a part of the deal) for the release of the One (M8) for Windows, but it does have a simple sign-up page (opens in new tab) where you can drop your email address to get notified of future information.
Source: AT&T (opens in new tab)
Get the Windows Central Newsletter
All the latest news, reviews, and guides for Windows and Xbox diehards.
That's exactly what I'm thinking, T-Mobile only sells the 521 and the 635 now. They have no even mid range WP much less a higher end device. T-Mobile definately needs to start carrying some more Windows Phones!

Indeed they do. Would be awesome if they had the N8

I have the N8, excellent camera but the sub 1Ghz single core processor and Belle Refresh software hinders the performance....

Yes they do. Posted via Windows Phone Central App

Sadly, T-Mobile discontinued carrying the 925. I believe it's still possible to buy it from online sources like Newegg pretty cheap, though. I got it for $250 back in February. Love that phone!

They removed it to make room for the Lumia 635 (I guess they don't want more than two WP devices display in stores). I'm just hoping the 521 is replaced with a better device and not the 530 (like the rumored 830, which would come with a PureView 20MP camera)

This is interesting since ATT is replacing the 520 with the 635. It would seem to me that TMO would then replace the 521 with the 635...not the 925.

The 635 is the 521 replacement I read. The 925 is no longer sold on their website but can be found just about everywhere and that 925 also has an AT&T variant as well. I can find no mention anywhere of T-Mobile picking up the M8 for Windows. We can only hope the hardware under the hood of the AT&T variant is compatible with T-Mobile. I was sitting on the Lumia 1525 which no one has heard a peep out of it since an announcement went out July 7th, but we have a M7 in the house and the display is a thing of beauty and this thing is as gorgeous a device as I've seen in one good long time and the size is perfect; not too little, not too big, but T-Mobile and all the strides they've made in getting LTE up & running continues to disappoint me with one fundamental flaw; no coverage in places both Verizon Wireless and AT&T have HSPA+ and/or LTE; not EDGE, no towers! I'm sick of EDGE the moment I leave a city.

Paul Thurrott says it is getting replaced with the 530, they CAN have three though, so that doesn't mean they won't get the 830.

Metal is correct in February it was 250$ on new egg as I purchased one also with promo code. Then few months later 925 was off t-mobile site. T mobile needs a new flagship phone, and or phones.

While the 925 is a really nice phone, it is over a year old. My wife just picked up a 925. It's a really nice phone. She needed to because the smashed the screen on he HTC 8X. T-Mobile needs to get a mid - high end phone made in this year.

Wait until the 83x series is my guess, though I wish the McLaren came out too. :/

I'm gonna say what someone who works at Microsoft told me. Microsoft has given her a Lumia 920 on release day a surface rt, and a surface pro 2. I asked if she knew something about that 3d phone Nokia and Microsoft were making and she told me that there changing the CPU and its something to do with Kinect but wasn't sure but that it is coming.

Well, Kinect is designed to work with x86. Intel driven Surface phone might be nice.

Old news bud. Have one... Need better now

Not anymore. They sell the 635 and the 521 as a refurbished phone.

For some reason T-Mobile no longer sells the 925, that being said that device is showing its age and some nicer Windows Phone 8 devices are out now.

That's exactly why I'm leaving T-Mobile in the next few months.

Sorry, but it's really dumb to leave a good carrier with good service and great prices just for a specific phone. I too am frustrated by the lack of Windows Phone options on T-Mobile, but I'd leave them for AT&T just because they have a billion Windows Phones when hell freezes over.

Easier to change carriers than change platforms. It's kinda dumb not to get the phone you really want out of some blind unreciprocated loyalty to a stupid carrier.

Agree. There's a lot of hate for att for things that may have been true before, but may not be still valid today. And if you like windows phones, they have a better stable than most anyone else in the USA.

Thank you! That dude up top is crazy...lol

It's nice and warm here and they do have a lot of Windows Phones... I'm betting my glossy red 920 gets Cyan and OTA 8.1 this Thursday. Posted via the Windows Phone Central App for Android

First it's more than just the phones.. Second T-Mobile coverage is not that good in the area I'm in; it's ok but you are giving them to much credit. Third AT&T coverage is far better. Fourth that comment is stupid really, sorry but it's the truth. Fifth I get a discount because I have AT&T U-VERSE, Home Phone Internet, & AT&T Home Security. Sixth I also get a far better discount from my job that I do with T-Mobile, so what have we learned here today? Don't comment unless you know the whole story. Thanks!

T-Mobile's hipster douche of a CEO is hell bent on stealing Iphone users from AT&T and Sprint, so he couldn't care less about Windows Phone.

I wish U-Verse had a Xbox One app with integration with OneGuide.

I agree; I have AT&T DSL and if I had more than a zero bar; I'd have AT&T at the house. What I don't have is a smart phone with a LTE radio in it so for the moment I don't know if their LTE bands will reach me without setting up a repeater/amplifier which I'm beginning to lean on as an option. T-Mobile is terrific IF...IF you live in an area you have their HSPA+/LTE but if you don't EDGE simply doesn't cut it anymore and where my kids live they have Verizon Wireless 4G and AT&T HSPA+ and guess what, no T-Mobile whatsoever unless you have their top secret Wi-Fi calling on your phone and you don't mind being chained to your yard for service. Not a peep about the Lumia 1525 since July 7th either.

ATT has a larger network. SO, there are other reasons to switch. Since ATT lowered the family plan pricing, Tmobile hasn't really been appealing to me. Especially, since ATT still subsidizes phones.

Sort of true but T-Mobile has demonstrated a consisent lack of intrest in anything even moderately high end with the Windows platform and even a quick 5 minute check tells you Verizon and AT&T have network coverage and performance that is miles better... T-Mobile has great prices and thats about it... If the coverage and performance meets your needs and the lack of high end WP hardware is ok than by all means save the money but a combination of exellent network performance (I keep WiFi off because ATTs LTE network is honestly better and I am grandfathered), excellent coverage (my wife and I spend a lot of time dirt biking and otherwise adventuring in rural areas where only verizon can even come CLOSE to competing with ATT) and great hardware makes it worth paying ATTs, admittedly high, prices.

They also have alot less money than the other companies to be subsidizing 550$+ phones.

I have SUPER HIGH hopes Tmo is in line for the superior 830 of the bunch. That will replace my 925. It better be the variant with the 20 megapixel cam :|

Budget phones for a budget carrier

▶ I talked to the T-Mobile manager here in Lafayette, LA about the HTC One this morning and they are getting it in about two months, but arent supposed to talk about it for another two weeks he said.
I tipped WPC earlier on this, but I suppose since its not in a press release or verifiable leak they aren't planning on announcing it formally.

Unfortunately I would not trust a retail employee knowing that type of thing. Maybe I am wrong, but in my experience he was probably BSing you.

▶ He's always given me solid info. Plus I told him before I left that it would make our break me being a customer in the future. But now that att is getting it, I don't really need to switch

Lafayette, LA?!? Go Ragin Cajuns!!! :D

Lafayette, La huh? I live like 15 minutes from there and go to UL-Lafayette Geaux Cajuns!

What's your gamertag? Add me, NightMayor Zuka on XBL

Don't rat out your source with specifics, man!

;) quite a few tmobiles in the area ;)

I told you neutron heads it was❗❗
..........
I wonder if a Windows version of the "M9" will launch the same day as the Android version of HTC's next flagship device?

I think it will depend on how the HTC One M8 for Windows sells. If it does very well, I believe there is a distinct possibility that will happen, or perhaps a few weeks later than the Android version.

One can only hope HTC is setting the stage for the rest of the flagship phones. Posted via Windows Phone Central App

Same here. It took far too long for Microsoft just to come to specs somewhat in line with Android. Microsoft don't see the need to support specs like Android but the OEM would like to build with comparable specs. HTC now can dual launch two OS products with the same design specs hardware wise which can only help their sales.

Yeah wthell tmo please get some phones

yup, just turn the phone upside down like the 6 and you've got yourself a cheap 930 :P

I said the exact same thing when I read the headline

Lol I'm in there with you bro but our best bet is unlocked or whatever Microsoft announces next month. I hate it that we have to be behind in the high end selection like this. But the other things make up for it. I'm over my 3gb high speed data and the free music streaming services are not affected by it at all. Plus my unlocked 1020 runs without a hitch.

When I left T-Mobile for AT&T because I wanted the 1020, Tmo said I could always bring my 1020 to them to use on their network. I don't know how true that is.

You can definitely use the 1020 with Tmobile. I'm using one right now.

As long as your in a refarmed area you cab, tech can see which towers are on the 1900 refarm, its like at 90% rate

That's what's nice about the AT&T devices, you can use them on T-Mobile's 1900 band; but you can't use a T-Mobile device on AT&T's 1900; it's EDGE all the way. That might be our only hope with the M8 for Windows. T-Mobile's refarmed 1900 might not be LTE but it's breaking 10 to 12 megs down and that's as fast as any DSL or U-Verse line I'm aware of.

Of course it's true. You'd have to get the 1020 unlocked first, though. I've got an HTC One M7 that's an unlocked AT&T version (purchased from eBay) that works perfectly on T-Mobile. Gets great LTE speeds and everything.

They need this and a Lumia 1520 variant of some sort!!! Until then...im keeping my Lumia 925

We need some love! Posted via Windows Phone Central App

No need. If it works on AT&T it will work on T-Mobile. Buy it straight out and you're done. Also let's not forget the 830 is around the corner too.

I'm waiting for official specs on the 830. Rumors of a 20MP PureView camera and same screen size as the 92x make it very interesting (and if they keep the replaceable battery and micro SD card it's even better)

I agree. The only thing that makes me want the HTC more is the IR blaster. Believe it or not, I use it all the time. Not just at home. I'm always messing with my friends and changing channels on their tvs. Lol its the little pleasures in life that make it worth living :)

Seriously, the L925 is showing it's age plus managing 12 GB of space is a chore

Hearing ya, can't do without wireless charging now though :(

Since Verizon is the time limited exclusive here, T-Mobile would probably be able to get it at the same time or at least Microsoft can sell unlocked versions in their stores (and with the new unlocking law, maybe the AT&T version could be easily unlocked too). It would be better on T-Mobile's payments plan

So far Noone has given me a better deal that T-Mobile. I have a business line with them and I'm getting unlimited everything plus NO THROTTLEING on LTE. It's fantastic. And yes... I go over 15 gb every month!

Actually, you don't have to wait http://fortheloveoftech.com/2014/08/21/you-dont-have-to-wait-to-get-the-...

oh shoot just sent you a tip abou this

Exactly...T-Mobile! Legere needs to step it up with the phone selection!

At least T-Mobile has some Windows Phones and Nokias at that. Here's to hoping that Sprint will get it. I'm assuming that it will come to Sprint because it seems that Sprint only carry non Nokia Windows Phone.

Sprint.....i feel bad for those with sprint.

Ditto. When I got my first WP7, I went with Sprint because they had the phone I wanted. However, as soon as my contract was up, I was glad to be rid of them. Verizon XLTE is amazing.

What he said!!!!!!! Posted via Windows Phone Central App

My Android device a few years back was on Sprint. I had no complaints at the time. Service was good, price was good (I had a 25% UPS employee discount, I never worked for UPS, rep decided on a new career path for me). The biggest problem with Sprint is their wireless tech. If they were a GSM carrier I wouldn't care which devices they carried, I'll just buy what I want unlocked, same way I do with T-Mobile. Maybe the new CEO will change things (Legere was going to take over a merged T-Mobile/Sprint and Hesse was going home, I guess that last part stayed in place even after Softbank decided to terminate that deal)

Admitting to fraud on the internet? Bravo, sir...

Had a friend leave sprint last month due to no Nokia. She ended up at AT&T with a 1020.

Maybe thanks to my lifestyle, my Sprint service is really top notch. I really wish and wish it comes to us.

My Sprint service is amazing with fully unlimited 4G LTE Spark. Love my HTC 8XT and I assume Sprint will get the W8 after exclusivity ends. They love HTC.

Quite possibly my next phone. Well unless the 830 is irresistible.

Definitely getting this for my girl

Howis she going to play candy crush?

Maybe Super Sweet Crush or Candy Village? http://www.windowsphone.com/en-us/store/app/super-sweet-crush/906716ec-5eab-4a69-89dd-a62ea7f33421

Candy Crush???
As long as she has her instagram/6tag she'll be happy.

You haven't even seen it yet and I can guarantee you it probably won't even be available for another month or two after they announce it. I love Nokia too but HTC has done what's never been done in the WP community before. Announce and launch. I hope this catches on.

This! Wtf isn't this standard practice?

Most Nokia's device announcements don't include too much carrier specific info, which is why availability and actual pricing aren't usually mentioned (they give some price that's never the actual price once it gets released). HTC's move is good, but I think the best would be to announce a week before release. When HTC released the original HTC Evo on Sprint they had lines outside Sprint stores (at least in NYC). People discussing the new device for a week or so creates anticipation that leads to more demand o day 1. This is pretty much what Apple does. They make the announcement on a Tuesday with pre-order up on that Friday and release to stores on the next Friday. There's no logistic reason behind that, they could do next day in stores if they wanted, it's just to create some buzz around the new phone.

Still prefer Nokia over anything htc :) But at least it isnt samsung.

Yes, we know. Please keep reminding us in every non-Nokia article.

Matthew... You took the words right out of my mouth. MBH

Every time I see 830 I see Zoidberg eating out of a bowl. Emoticons.

I probably won't consider the phone if it is past the end of the year unless it comes with a decent discount (which I doubt).

It will have to maintain price parity with Android version. Unless, it's flying off the shelves which I don't see happening.

I'm afraid to give up my Lumia :(

Defiantly tmobile my current contract but I am switch to at&t holiday season so I will wait yay

I knew it would be in more than one carrier. Good work HTC Microsoft could learn from you.

I bet this has nothing to do with Microsoft and everything to do with carriers. I wouldn't be surprised if carriers demand exclusivity. I wouldn't be surprised if HTC had to pay Verizon extra money to allow a contract with ATT. Carriers are running the show right now. Not consumers, not manufacturers.

Not really, the One is an international best seller. US carriers have no leverage with that. Sell it or get left out.

It's Windows Phone that is the problem (the OS), not the hardware here. The One is a bestseller with Android, it could bomb with WP.

I don't think it will though... I'm hoping the premium hardware will pique people's interests and get some new users onboard.

Don't see it happening worldwide. US, perhaps. If it bombs worldwide may as well stick a fork in WP.

If great hardware that does well with Android bombs when it's sold with WP other Android OEMs who are preparing to release their WP variants of existing Android hardware might be scared off.

This might sway Android users though, it is a good jumping off point for them versus a full-dive Lumia experience with alien hardware.

What do you mean alien hardware? It's a block of metal. The thing that defines a person's attraction to the phone is how they perceive it's usability, which is derived from the layout of the OS. The actual usability is identical between the HTC and Icon because it is basically the same hardware with the same exact OS making the hardware a superficial factor in all of this. There only way this will help someone decide is if they are already coming from an M8. If they are coming from any other Android device, it will exclusively be their perception of the OS that makes or breaks their acceptance of WP. And I bet the M8 isn't the most popular phone being it is a high end phone.

For exclusives, you have it backwards. HTC doesn't pay Verizon, Verizon picks up the costs of advertising and in-store promotion (gives it a nice stand, front of the store), runs national ads on TV, etc. So for HTC, they save money by doing exclusives, since the carrier gets a special phone and HTC gets a "partner" to sell it. Without an exclusives, Verizon would just stock it, but no other special treatment, especially if AT&T got it too. Now, if WIndows Phone gets big/must have, then that would change.

So far, the carrier exclusivity has only hurted the WP sales rather than help. MS should do the ads and promotions. They should make all Lumia phones available on all carriers. You just can't rely on carriers to promote any WP phones. Half of our local AT&T stores don't even bother to stock Lumia phones for demo. I have never seen any AT&T reps to promote WPs. I don't see any AT&T ads to promote WP either. I just don't see anybody promoting WP phones except MS stores and occasional MS ads. So the carrier exclusive deals can only hurt as the market share number indicates. Lumia 930 is wonderful, but so what? It is only available on Verizon as Icon. Verizon has only 13.7% WP market share in US. It is tough luck for the rest of WP users. If MS don't drop carrier exclusivity soon, the WP phones will have even harder time ahead.

We get it but the windows phone central editors don't get it or they are too scared to bitch about carrier exclusive and worried they will be black listed. So many silly articles why not write an article about these useless exclusives and how they suck. Posted via the Windows Phone Central App

I'm not sure about the rest of your comment, but I can back up your claim about AT&T reps not promoting WP. I went with my girlfriend when she went to get her new iPhone (Yes, I was disappointed in her as well.), and while she and the rep were closing the sale, I was looking at the Lumia 925 on display (As I was considering upgrading from my 920). The rep noticed me and actually said "Oh, don't go Windows!" I just kinda looked at him funny and pulled my 920 out of my pocket. He quickly backtracked and was like "Oh, well if you already have it, it's okay. Just don't go from iPhone or Android to Windows." And, this is why WP can't get any traction in market share...

I made my girlfriend sell her iPhone as a condition of us dating. She got the 1020.. She thanks me every day

Lol that's true. It's so sad that the flagship Nokia phone is ONE us carrier..... pathetic

And with the head of the FCC being the ex head of the lobbyist group for the carriers, I don't see any of that changing anyone soon. I will have a little more faith if they actually read the comments they solicited from the public concerning net neutrality and actually listen to them. Then, maybe, there will be hope.

The unlocking law that was just passed is a good first step. Most high end devices on Verizon include GSM for travel. That's 3/4 of the big US carriers selling GSM phones that you should be able to unlock. That makes exclusives less valuable to carriers and can force them to find other ways to entice customers. T-Mobile is already finding other ways to do that. When that happens, exclusive devices could be a thing of the past

Wow. HTC stole the show. Look out Nokia. Awesome.

That's because it was HTC's show to begin with... but I agree, MS/Nokia really needs some new high-end hardware to show off.

I hope this hardware pushes all Windows Phones OEM's to another level. Nice.

Though perhaps Microsoft is hoping that other OEMs will produce high-end or comparable hardware so that they don't have to necessarily.

Be a waist of $7.5 billion if that's the case.

That's a bit over the top though. It can be argued they bought Nokia to pursue the Low End market. Which many sources agree that is the case. At least this year anyway.

I think they need to come out with one big hit and let the domino effect take its course, not do things on random urges.

They have the icon/930. They are comparable phones. Why does Nokia need something right this moment? Besides, there is supposed to be a new phone this fall. Calm your tits people. If every new phone that is barely better than the last one had to be usurped immediately, we would have way too much shit. It's wasteful and financially unsustainable to have a new phone coming out every 2 months.

Lol, cool your tits. What you said is true, but freaks like us are like race horses chomping at the bit for more....i miss the ducking swear words keyboard: Just thought I'd mention that.

"...a new phone coming out every two months." Just like the Android phone wars. Might be a reason for HTC to produce a WP device to begin with; hedging some bets and padding the next quarterly margin.

Nokia couldn't care less. Nokia isn't in the phone business anymore, at least for the time being. If anyone has to "look out" it's Microsoft Mobile...

People don't care about what Nokia is or isn't, most people just go with the fact that they still have Nokia written on the phones so therefore its still Nokia.

Chinese knock-off trainers also have things like "Nike" written in them. It doesn't make them a Nike product. Just a knock-off. Same thing applies to any Microsoft phone disguised as a "Nokia". Simple.

But it's not a knock off. Microsoft bought the phone division. It's the same people making the phones. Nokia allows MS to use the name. Therefore, it is an official nokia phone. Besides, all the phones out right now were designed and started to be built prior to the Microsoft sale.

If it's not made by Nokia, it's not a Nokia.
Also, Nokia's acquiescence to the use of the name has already been largely abused. Nokia isn't envolved with the phones anymore. That shows not only in the poor calibrations made to the 930 as well as in the appaling new consumer support from Nokia's former channels.
People matter very little. It's corporate spirit that makes a company. And Microsoft Mobile's is horrible. Nokia has nothing to do with this. So there's no point in saying that "Nokia must this or that". Nokia's concerns are with their remaining divisions and their present and future Android offerings. Microsoft is the one that should be concerned with their own phones...and not try to hide under a fake name to avoid responsibility.

You're a glutton for punishment. Posted via the Windows Phone Central App for Android

That's what they're doing huh? Hiding under a fake name to avoid responsibility? What other theories do you hold? Wait, never mind. Don't care.

Stop being so literal. People are going to keep calling them Nokia phones until the contract is up. Which I think is about a year until Nokia is no longer the "brand".

I hope most people get what you're saying with that! Haha

That's what I say. Posted via Windows Phone Central App

YESSSSSSS!!! i'm soooo importing one One

I am currently on ATT and I have one month left on my contracty paying like $98 for only 4GB data. I will probably jump on Verizon new deal at $60 for 3GB.

I will never go back to ATT. I've done ATT and Sprint. Will never go back to either. I left Verizon for ATT when I got my first smartphone, the iPhone. Then Sprint for my first WP7 phone. Then back to Verizon for the HTC 8x. I'm never going back. Was glad to get back to Verizon after 5 years of other carriers.

You're the first person I have seen actually say they like Verizon Wireless, seriously. All my neighbors and coworkers use them, complain and say they're the worst. I've been with AT&T since before SBC rebranded the company to AT&T. I think it was Cellular One, then Cingular and now AT&T. They've "always" taken care of me. That's why I stay. Sometimes I consider Verizon though.

Me too, that's a long time.

Weird. Most people who have Verizon like the service (they have the best coverage after all). They certainly aren't the cheapest, though.

Which is exactly why they have the most coverage and best speeds

I hate Verizon's prices and market practices but I love their service.

Verizon's coverage and bandwidth are great. Just kind of on the expensive side.

You people pay way too much in US. I pay around $15 for 4GB data and 600 SMS/minutes in Turkey. Granted phones are expensive here but still beats paying $100 a month.

I just want one ONE unlocked, so I can use on Bell in Canada.

The phone will very very very likely be launched internationally in the Fall (September/October). Unless Canada normally doesn't get HTC phones (the US doesn't get many Sony's for example), you should be fine and able to get it.

I'm in the same boat. I bet bell picks it up though!

I hope so, I actually bought my 8x from BELL (they are notorius for not giving a rat's ass about Windows Phone and options are limited)

I'm going to have a serious look at this phone in December when I can upgrade my phone! If its available by then.

Sure by then this phone will be forgotten and you can score a great deal. Carriers will sell you the 2 year contract and laugh it off. Posted via the Windows Phone Central App

Now if only we could start seeing more smart cases for all windows phones.

Hey, just like when Palm showed off the Pre, and it was such a huge hit at the show but was a Sprint exclusive, and then a Verizon exec assured everyone soon after that yes, they too would be getting the Pre! ... And look how well that turned out. :(

Nope, if you dont have one now you wont have one ever.

Never underestimate the power of eBay...

Now everyone can shut up about this phone not coming to AT&T and AT&T doesn't get devices.

I promise I will! I promise!!

Where's the pictures of the back? Lol

Verizon's branding is always ugly and obnoxious. However, if AT&T doesn't stop crippling the wireless charging on Nokia phones I'm very likely leaving...

Honest question. What makes Qi better? Thank you Robb and freak for the replies. That makes sense.

It's not that Qi is better, its that AT&T shouldn't get a say in what an OEM chooses to pit in their phone.

It's not that one is better than the other. It's that Qi is built-inn and integrated into phones, and AT&T removes the integration in favor of a PMA case. If you are going to take out Qi, put in PMA. Don't require a case!

There's also the fact that many of us already have multiple Qi chargers (which I purchased from AT&T btw) and don't want to invest in a while new standard for no reason. The whole thing is just nonsense.

Great! Even though I'm more of a Sammy fan, I'll be alright with at least having a high end option on AT&T.

I like cheap gimmicks too :P

We already had a high end option on AT&T... the 1520 :)

High end? Yes... as well as oversize for many people.

The Sammy is corner cutting crap.

Doesn't matter to me. I like 'em very much. As long as they don't corner cut what they have now on Verizon, I'll be swell. No one else offers Replaceable battery, SD Slot, IR Remote, high end Camera and specs, etc, etc on WP. They fit most of my wants, which is all that matters to me. If they had an Ativ SE vs HTC One on AT&T, there would be no contest in my decision.

The SD on the ATIV SE is an SDHC, not the standard SDXC we see on everything today. It's three or four years old, slow in reading and especially writing. The Bluetooth is gimped at 3.0 as well. They shined the parts people look for then cut corners in the fine print. They couldn't be bothered to code the notification light to work either. Be damn sure you don't put 8.1 on it until it's officially released. It's bug as hell.

First person who likes Samsung, most Samsung buyers are people who are clueless about phones and bend over back to carriers and buy anything they sell. Posted via the Windows Phone Central App

"Samsung buyers are people who are clueless about phones and bend over back to carriers " I actually haven't bought any carrier exclusive phones since 2008. I've bought them unlocked as you can see from the phone currently on my bio. Well, unless you count this 520 I currently have with ATT branding. The reason I haven't bought carrier exclusive phones was bc I was an AT&T customer and didn't want to pay those outrages fees for data usage. With Unlocked, I was kinda able to beat the system. Now that I'm on cricKet I am more interested in buying carrier branded phones because I no longer deal with those fees. "First person who likes Samsung" Don't know 'bout that. They are the number 1 phone manufacturer for a reason. And it's not due to me being the only one who likes them. Though I assume you are talking about WP fans. In that regard, I may as well could be, and if they keep making them, I'ma keep buying them regardless of what you or anyone else thinks. I like WP and Samsung. Would I want them to show more LOVE to the platform? You betcha! But I can't complain as for whatever reason they're showing more LOVE for WP than their own Tizen OS which will probably mever see the light of day on a phone.

I like Samsung too. I wish the ATIV SE came to AT&T.

Any word on any phones coming to Canada anyone?

|Insert Good Guy Steve Meme Here|

I've never understood why people care so much about whether there's a logo on the phone or not.

I would never buy a phone emblazoned with a carrier logo. Fortunately, in the UK, that is not a problem I have to concern myself with.
I guess I just dislike the idea of paying good money for a device that then has some corporate graffiti slung on it.
It's like buying a new car, and then having the dealership etch their name on the side. Ugly.

Except the logo is on the rear end.

Only on non luxury cars. If i'm paying $50k + for a car i better not see a damn dealer badge. My Audi has no such badge.

Tell your car dealer that every dealer logo on the car knocks $5,000.00 off the price you'll pay... After all, they should pay you if they want you driving their billboard all over.

Because they are anal retentive...

And I'm not hating on anyone in particular... Just saying it's a phone. Not that big of a deal. Put a case on it, or don't buy it. But everyone is entitled to their opinion so sorry if I offended anyone

You never understand design and aesthetics then. Posted via the Windows Phone Central App

Thank you Posted via the Windows Phone Central App for Android

ATT will probably butcher it: half the memory, half the cameras, maybe even without sdcard support. They must be designing the camera hole and sdcard slot covers as we speak.

I doubt it. AT&T at this point typically doesn't do that anymore. They especially wouldn't want to open themselves up to criticism for having a lesser version than Verizon.

This was my first thought too. 16 GB specs, no SD card slot and smart covers disabled so you can buy AT&T PMA charging cover instead.

Holy crap, this is a dream come true!!

I'm happy too that you're not leaving the platform. ;)
Now all we need is an international version...

Unstoppablekem I came to the comments section just to read your reaction on this.

You should've seen me reacted irl. I screamed like a little girl, LOL! Anyways, I'm so happy that I will be staying with WP. When I saw this morning this phone was Verizon only, I was about to get ready to switch to Android, then when I saw this, I had a sigh of relief.

Lol nice, good things come to those who wait.

I was getting ready, as in thinking how to transfer everything, as I would've gotten the x+1 when that came out. Anyways, I'm staying and getting the M8 WP on AT&T, but I also night get the X+1 too, if it is cheap unlocked/off-contract. If not, I'll get the next Nexus phone to complement my M8 WP. Although every member in my family who has a WP is switching back to iPhone. My brother has always been with iPhones, and is a sheep.

2 Q's 1) why are they jumping ship? 2) may I ask why you need 2 phones? Android/wp? Are you equally invested in each ecosystem?

And.... Bhatech is not my username. Weird. -wpeny

Yes!!!! Signing up RIGHT NOW!!

Come on Rogers, Canada needs this

Rogers, Telus, Bell I'm looking at you. What ^ said

Knowing AT&T it will have half the storage capacity and no SD card.

They wouldn't, as this phone doesn't have wireless charging, so they can't really strip much.

Yea because they took the SD card slot out of the 1520 right? /s dont get me wrong, it sucks what att did to the 1520 but come on lets not cry wolf

The 1520 on att has an SD card bro, just no wireless charging

It amazes me how much people love to be negative and dwell on negatives. Oh and repeat the same things over and over.

The Android version had sd card. I'm pretty sure the Windows version will have sd capabilities...

Thank you! I'll be waiting for it on ATT. Unless something else releases in a 5.5" display, I'll definitely jump on this one.

Well that's positive news. Give us att folk time to see how well HTC supports the damn thing before we commit

Yeah, let others get shafted before we bother with it.

This is great, if this is a trend its smart OEMs dont make so many variants more 3 rd party support

90 days exclusive on Verizon

Source? If it's only 90 days, then 91 days from now I'll have a new One for Windows.

I want a global version!!! HTC One (M8) for Windows, come to Brazil!

HTC has left Brazil back in 2011/2012. That's never gonna happens, unfortunately.

You will get it January 7th. See what I did there? ;)

Ok. I hope at some point, Rogers up here in Canada , latches on to this. Need a new "high end" WP device up here. Although for me, I'm hoping for a high end Lumia. Oh well......at least there's hoping that Rogers might opt for this at least.

Make it international as well!

I'm sick seeing the damn phone logo of these stupid carriers

To be honest, I've never noticed the att logo on my 920

This is great news for you guys on AT&T. This also means that there's likely to be an international release, this might just be my next phone. :D

Sweet, I want the orange cover

Where you at T-Mobile. Posted via the WPC App for Android!

Alright Microsoft, It's your turn now. Let's see a qualcomm 800 phone, 4.5 to 5 inch, with a 20 mp camera on AT&T.

You mean 801 like this HTC has right?

Could be filled by the Lumia 830? Haven't seen chipset details in leaks but assume it need to be higher end to support 20MP camera. We'll find out on 9/4 at latest...

If It's higher end, for the rumored 20 mp camera, and has the rumored SD card support I'll be ecstatic.

It will be probably 4.5 inch 720p screen. WPC said it is a mid ranged device.

I'd be okay with a 4.5" 720p screen if it has SD card support, 1gb of ram and an SD 800+ soc

I know I'll be meet with crickets but any chance of a romance with CricKet? They basically helped me realize the greatness of WP

Shouldn't the AT&T version work on Cricket?

Yeah, I gots an AT&T Lumia 520 on cricKet now. It works perfectly fine. The only phones that don't work straight out the bat as far as I know are iPhones. Everything else is fair game.

If you are on new Cricket plans, you are GSM/HSPA/LTE via AT&T. Any branded AT&T phone works on new Cricket, and vice versa. Posted via the Windows Phone Central App for Android

Cue T-Mo announcement as well.....I hope..

After owning a completely unbranded (carrier wise) phone I don't know if I can ever go back to having a phone with a carrier logo on it. Particularly when carriers go over the top!

My HTC 8XT has ZERO carrier branding on Sprint. And I love that. Don't know how they managed that.

That's all swell, however how can anyone take HTC seriously when they don't update other htc win phones? Only M8 has the gdr1...

First comment of reason. Never going back to HTC. HD2 was the last great phone they've made.

I'm just looking for a reason to go to T-mobile. At $100/month for 4 lines, I'll get 2 extra lines just to have them and save money.

I didn't think AT&T would sleep on offering this device. I'll miss the Lumia support for 12 months, but I need a new high-end device. Already told my wife I'm getting this because she keeps trying to convince me my 1020 is good enough. I'll ask my daughter if she wants the 1020 or still use her garbage 635 I bought because I was curious.

One step close to Telus and Rogers in Canada. :)

At&t gets a little payback

Wireless charging capable on this phone?

I'm probably picking this up in the next couple of weeks but I'm very disappointed in this being missing. Im pretty sure I'm getting a wireless charging adapter and putting it inside the case I get which will probably be that dot one.

Wireless charging doesn't work through metal casings.

Hey Novron, I considered that and assume that's why but I saw an article online that said you can buy an adapter that plugs into your microUSB port and folds onto the back of your phone and is held in place by the casing.
Here is the link: http://www.gottabemobile.com/2014/05/11/how-to-add-qi-wireless-charging-... My only other worry is the camera. all of the reviews are mixed. I can also get the Icon for free currently but I feel like I would have purchased already if I really was certain about it. I wish Microsoft would release a superphone already. I feel like Qi is a must and so is a good camera. This HTC apparently is lacking in the camera dept. So I'm still not sold.

Thanks for the link man, this will be useful for many here! ;)

Att gets all the good stuff.

I'll probably get it when it comes out on AT&T

i went by my local Verizon store to look at thiers and feel it, touch it...all i can say is...i know what my next phone will be!!!! this machine is AMAZING!!!!!!!!!!!!!!!!! and, and im on ATT

Love my 920... Hmm, HTC, never owned one. Definitely interested!

Okay Nokia/MS it's your turn. Show me something better or this is my L920 replacement.

Everyone who said they would buy it on att better have pics posted now of their new phones ;)

Ahhhhhhhhhhhhhhhhhhhh it's the bessst daaaaaay eeeeevvveeeerrrrr!!!!!

Also, "I told you so". Verizon had the HTC One m8 for a two week exclusive. They now have a limited exclusive on this. All the rage was for naught.

Excellent! Signing up! Thanks for the tip!

SSSSPPPPPRRRIIIIIINNNNTT,come on already,get a God damn New windows phone already! Posted via Windows Phone Central App

Sprint ? LOL, are they still around ?

Third place is still a bronze metal. So yeah they're doing alright. Especially with my actual unlimited data.

Great would be very happy with a new at&t HTC one. 920 needs a rest

Ooh and I have a line with an eligible upgrade ready on AT&T... But I think I'll wait and see what comes from Microsoft Mobile this fall. Right now, I'm very satisfied with my AT&T flagship Windows Phone, the amazing 1520.

This is what I think about AT&T users complaning about Verizon gettting it exclusivly.... Please read... http://forums.wpcentral.com/htc-one-m8-windows/305003-2.htm#post2719257

Nice! Can't wait until it comes to AT&T. This will be my new phone yo.

A lot of L920s and 8Xs coming up for contract in a few months... Lets hope exclusivity ends before 2015 ;) Could be a decent lineup with 830 and 1520

This would be perfect if it was 6 inches...

I should have known At&t was getting this phone. It needs to go to T-mobile though. Lets go!

Hey T-Mobile we want more windows phones

Can someone tell me why I would want this over a nokia lumia? Posted via Windows Phone Central App

Dude, this thing is amazing..in skinny!!!

It's thinner, lighter, has more storage options, arguably nicer looking, the really cool accessories that put most of the Lumia ones to shame, 100x better speaker... But that's just me.

Yep you took all the words out of my comment,also its great device to hold,any of you ever held the android version? I love Nokia and only support them,sad won't have Glance and +sms filter but HTC working as we can see with DOT view case,once it brings more people to WP ecosystem all the better

I hear ya, but its good for people who don't like Nokia... Or who have been told "HTC is the phone to buy" I've seen many people who like the WP OS but are too scared to leave their tried and true HTC for a "gone broke and brought by Microsoft" Nokia... This is great news for WP in general, but I'm hanging for the next high end Lumia myself :D

First off, Nokia hasn't made a new high end WP since the Icon, the 930 doesn't count. Second, the Icon is Verizon only. Third, not everyone on AT&T wants the 1520. Forth, this has better speakers, thinner and lighter, more efficient processor, has an IR Blaster for TV, microSD support, and plenty more. So yeah, some people want that, and some people want something new than just Lumias. Lumias can't monopolize WP...

T-mobile, get your $%#+ together!

I'm not even from USA and i can see T-Mobile ain't doing much for their subscribers

WOOHOO!!!! YES!!!!! I'M SO HAPPY!!!! I'm definitely going to get it now!

I meant now as in this helped me decide whether or not to get it.

This could well be the successor to my beloved 920!

I was about to get a different phone with my upgrade, but this has kept me with windows phone.

If this is the start of HTC making their flagship phones for android and windows, and Samsung follows suit, then the OS will be what differentiates the purchase for consumers, not hardware, and more might be likely to switch when they see how sweet WP really is!

Yup, future is looking brighter ;)

Tmobile need better phones. My goo

F*** YES! So glad they announced this now... I had called ATT today, got set up to cancel my 5 line plan, budgeted for $600+ of ETFs and priced service with Verizon... I was going to pull the trigger tomorrow and end a 7 year relationship with ATT who's service I was very happy with JUST to get this phone to replace my aging 1520... Now that ATT has a worthy successor I can stick with them and all will be well.

Aging 1520? Da fak? You realize many have older phones, like the 920? The 1520 isn't old compared to the 920. :P

I got an upgrade soon.... Idk its this or whatever nokias high end.... If im not happy with those i might jump ship for a little and comeback later

Dude hell yeah, gonna get this phone when it comes out! I've been wanting a new phone to replace my 920

Might mean t mobile will get it too, they're both GSM.

Does anyone think that windows phone can take off if the take high end android phones put the wp software on it and sell it cheaper? The carriers can suggest it to new comers to the smart phone market and then wp gets market share apps get made ecosystem gets better and then wp is a great seller ^.^. I think that will work

That's y we need xiaomi in WP market. They sales are getting finished within 5 seconds.

Here everybody thought Samsung would be 1st to do this(in a non modified way) & its the Android partner that struggles the most HTC(probably because of their ui)

Tmobile is annoying me. Two windows phones with no flash and no front facing camera. If it weren't for the best international roaming plan I'd leave for Verizon right away. Legere is obviously not a fan of WP8!

Hah I'm lucky to have gotten my Lumia 925 a year ago!

Meh. I never liked HTC products, and this one is just another boring looking, indistinct device. Yawn.

Unless I'm incorrect regarding the definition of the word: Indistinct, this phone is the polar opposite, it stands out and is distinctive amongst Windows Phones due to it's full metal chassis and distinguishing features/peripherals (dot view case) however much it hurts to say Nokia/Microsoft have competition, unless they bring out a high end device of the same caliber in consumers eyes (sd card, non-gigantic screen, decent gimmicks and premium aesthetics)... Then they do

Nice move HTC, you've made windows mobile phones in glad to see you back in the game. I love my Nokia but I think I will be getting this device and adding it to my collection.

Support LTE bands 2, 4, 7, 12, & 17, and HSPA bands 2, 4, & 5, and I'll buy it! The frequencies it supports are what I'm interested in. No one phone I've found so far supports every band I need for Rogers in Canada and T-Mobile in the U.S.

What about the rest of the world?

I think we may get the HTC One (M8) for Windows between one to three months after the AT&T release seeing that AT&T's getting it means that the international release for this phone may be planned by HTC, so all we gotta do is wait for HTC's announcement on the international release on this phone.

Glad to see nor windows phone options beside Nokia. I just hope mobile carries the new HTC windows phone.

Then people who used to know that this is Android will be quite surprised...

This might be my next upgrade since Nokia's not bringing out any new high end phones. Project McLaren is out of the picture....

Wondering if Samsung follows suit and makes a WP8 Galaxy 5? Anyway, I'll be happy when TMOBILE wakes up and gets a high end windows phone. Tired of these low end Lumias!

Um... "Bhatech" is not my username. It's Wpeny Really weirding me out that my comments are showing this.

Now, when I'm looking at it with WP on, it's not even close to Lumia 925 or 930 or 720 design. It doesn't fit with rectangular UI.

Htc would never just bring out the m8 windows phone just for one small us network ,expect in the coming weeks news of an international version.T-mobile is a worthless network ,its just a money grabbing network that's always up for sale ,god knows why the yanks worship that joke of a network .if I sign a 2year contract I want to know the network I have won't become something else.one day the us will wake up lke its European friends have to see its the worst network around.

Windows Phone is an amazing and evolving Phone OS and I have been using Windows Phone through Lumia range of Phones .. Looking forward to this edition from HTC

The only thing I find cool about this M8 is the Dot View Case

I prefer Glance but the phone feels good in hand to hold no doubt

So many of them I want on this carrier, that carrier. WTF? We need an unlocked model without carrier logo crap. Not some ATT, Verizon useless carrier version. Posted via the Windows Phone Central App

Hallelujah! That is a relief lol, looks we might have an unlocked model for the international markets coming sometime in the future.

Yes! Hopefully it won't take six months... Still hoping for a high end lumia at the beginning of September ;)

That is what I am hoping for, it must get released internationally before the Christmas sales. I have a little inkling AT&T might not be able to resist gimping this as well lol, (hope I'm wrong though).

Hopefully. Really don't see why they can't be open about it. People upgrading between now and release could wait if they knew that it was coming.

My hunch is probably afraid they will upset Verizon, as it would mean potential customers would opt to wait until AT&T gets it (not to say they aren't going to do that now, after AT&T's subtle announcement). Once the timeframe is confirmed, people will know how long they will have to wait however since it is not confirmed, It is open to speculation as it could be 12 months, 6 months etc until AT&T gets it. I reckon AT&T is going to wait about 10 working days (2 weeks) before confirming when they will start selling it.

Hopefully the Verizon exclusivity runs for thirty days, after which it gets out to all markets, including international ones. Or else just release it worldwide and the American market can deal with itself as it will.

Microsoft must rethink WinPho. I want a phone where I can open atleast 2 Apps at a time without the other getting frozen up. Opening side by side like on modern/metro Windows it's a nice gimmick, but not productive at all compared to the ability to open as many windows and Applications on a Desktop Windows. Micosoft, when would I be able to send file as I wish from any folder of my choice. If Google did not offend me by force to get a a google accout, although I was already an old member of Youtube, I wouldn't hate Android so much. I would have gotten myself an Android phone. Using Windows Phone is becoming less and less interesting, and Microsoft is to blame. The file management on WP is very redundant. Iam tired of Microsoft after decades of using mobile Windows. I think my next will be a Blackberry. It's terrible to write and edit with IE11 for WP on this site, so pardon my mistakes. I don't have the nerve to trying to place the cursor at words I would like to edit, and cursor constantly going back to the end of the article.

What about the rest of the planet?

HTC One M8 for Windows needs to be sold internationally!

Nice to see something other than Nokia making it big on the windows phone market.

Well we haven't seen sales yet but it's good to know another high end WP device from different manufacturer is around

Any news on UK availability?

whats all the fuss about ? Microsoft had to pay HTC zillions to get WP onto this hardware, and to subsidise the retail price. Unless this is a roaring sucess, the experience will be just like HTC 8X, no long term support or promotion. Great Phone, but Can we trust HTC ?

More desperation than anything because there are no other high end devices on Windows out recently or coming soon. The most recent Windows device on my network in the UK for example is the 1020.

Every Lumia ever made is available on every single UK network. It's called unlocked phone + sim-only carrier plan. Your existing sim will work with any unlocked wp handset of your choosing. If its the wrong sized sim you can usually order another free and covert your number across

Zillions, eh? That is alot of monopoly money.

THANK YOU AT&T!!! Nice job with the non garish branding.... Posted via the Windows Phone Central App for Nexus 7

Come to the UK and take my money please.

What you mean what about the 1020,this is about the HTC One M8 for WindowsPhone

Is it illegal in the states to sell unlocked phones on us lte bands or something? Why is it always about stupid carrier deals? Most devices eu are unlocked

Exactly people here in the US are clueless, they are always when does it come to my carrier instead of having it unlocked and work on gsm carriers. They are happy to sign in useless 2 year contract pay crazy monthly fees, continue paying even after contract is over and phone subsidy of paid off. Luckily we have T-Mobile where bringing unlocked phones makes sense and you pay just for the service. Posted via the Windows Phone Central App

Unfortunately, I don't see this model changing for all carriers in the US. Lock-in is just a fact of life out here. An unlocked device won't necessarily open up LTE on different carriers. Then there are the contracts. At times, I wonder whether LTE is worth it. I'm off contract with Verizon and using a paid in full Icon. I've been considering one of their, "pre-paid" plans. But at the same time, I would consider another carrier. It just takes so much effort to figure out how to move it to another network. There has to be a better way.

As an AT&T customer, I'm very happy for this news. Hopefully it's not too long a wait.

Should I get this or the Nokia Lumia 1520?

Both great phones, very similar specs. Biggest difference is simply size, so try out both and see which you prefer. I was skeptical about the 1520 at first but now find it hard to go back to something smaller. The other tradeoff there being significantly extra weight as well. Smaller factors will be importance of camera (better in 1520 likely but test shots are not so conclusive). Also polycarbonate body with colors vs metal construction. Can't really go wrong with either IMO.

Good to see this. Hopefully it will not be too long in coming. As it stands, it has pretty much everything I am looking for and may very well end up being my new daily driver, replacing my 920. My only real annoyance here is the lack of wireless charging.

Microsoft/ Nokia better get on the ball with a New highend Phone and stop with all these Low and Mid range phones.

Yesssssssssssssssssssssssssssss....

Interesting enough the local Verizon Wireless store has no nada zero zip Windows Phones on display

Interesting is one word for that. I haven't been in a Verizon store for a long time. I would pick one up at the Microsoft store instead. I go out of my way to make sure that Verizon doesn't register a sale on my behalf.

Yeah Verizon don't get a dime from me,a buddy of mine wanted a ride there. I am a T-Mobile customer,I love my service, love the improvements they've made just really hope they get a better Windows Phone. So far the only phone I will upgrade my Lumia 521 for is the Lumia 635. Only to get LTE and quad core processor.

Admittedly, I am a Verizon customer. I just buy my hardware directly through Microsoft. When Verizon and other carriers start to support these devices and services more cohesively, that may change. But for now, none of them will register a sale for hardware on my behalf. I don't want them to see a dime for anything other than their network. They probably do anyway but it is clear that the Microsoft Store was a necessity when you consider the shoddy training and support from carriers.

About a 1520 ? There is two version even my att unlocked 1520 picks up tmo lte where I live in fl fort Lauderdale and miami lte

I will have to look into that one, I'm just so nervous of getting a phone that doesn't work on the network

The Microsoft Store can sign you up or renew your contract with any of the supported carriers. It's great for cross shopping device to networks and it is infinitely better than carrier store support. Every device, every carrier and all displayed with plenty of accessories that you won't find in a carrier retail store.

Well, considering that I own an Icon, I am more likely to go with one of their pre-paid LTE plans. All I really want is monthly billing without the subsidy. Hell, I would be fine with a carrier unlocked device that uses cellular network providers like toll roads. If I use your network, you send me a bill. Basically, it could be like roaming without the inflated fee.

The Lumia 1520 will only work in refarmed areas, otherwise only get 2g

Exactly! It's a load of shit. Lock-in is where its at. They might as well do away with contracts. Even if you are off contract, mobility is severely diminished because of network and device lock-in.

Preach it brother, make cellular technology uniform, imagine if you owned a car that would only run on shell gas

I looked the Lumia 1520 will only work in refarmed areas, if it isn't then will not get LTE, just 2g

I am all in when it comes to AT&T.

The timing for this could be very fortuitous for HTC when you consider all the 920's out there waiting for contract renewal on AT&T.

Nice. I guess I need to go read all of those reviews now :-)

This is a sleek looking phone but it needs a better camera. My next phone will be 5" with a great camera. Don't care who makes it.

This phone is cool enough, I might even switch to Verizon to get it.

Ok, this is the One I want to win

*HTC One M8 coming to AT&T. Now featuring 16GB storage, no Micro SD slot, and Dot View Case will be unsupported.*