HTC Touch Pro inches closer to release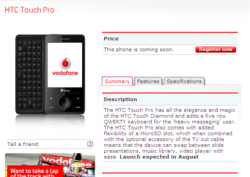 And now for a little non-Treo Pro news ...
Chris over at Mobile Tech Addicts in the U.K. notes that the HTC Touch Pro has appeared on Vodaphone's business Web site, with a launch date in August, which is most assuredly winding down.
Add to that the appearance last week of some cryptic "HTC Fuze" sites (opens in new tab), possibly alluding to the stateside AT&T launch, and it looks like we all might finally get to stop writing about the Touch Pro (opens in new tab), and finally get down to using the bloody thing.
Windows Central Newsletter
Get the best of Windows Central in your inbox, every day!
It appears to be available on August 18th, which is already past but whatever:
http://www.selectgsm.com/htc-touch-pro-unlocked-GSM-mobile-phone-c-303-p...