HTC Vive Pro headset now available for pre-order at $799
That $799 price includes just the headset.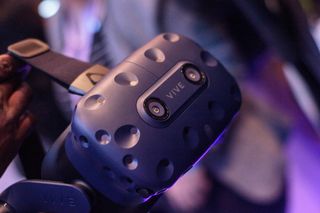 During CES 2018, HTC introduced us to the Vive Pro – a new and improved version of its Vive VR headset. The Vive Pro comes equipped with an updated design, higher-resolution displays, and improved audio quality, and now it's officially available for pre-order.
You can reserve your Vive Pro from the official Vive website right now, and as you can tell by the title of this article, it'll cost you a whopping $799. That's $300 more than the new $499 price of the regular HTC Vive, and it comes with only the Vive Pro headset.
HTC's assuming that you already have the tracking equipment and controllers that come with the standard Vive, and if you don't, you'll need to buy those separately. That's a lot of money to spend on just the headset itself, but considering this is pretty much the most powerful consumer virtual reality hardware to-date, it's somewhat expected.
To help offset the high cost, HTC is also throwing in a free six-month trial of its Viveport subscription service. Viveport lets you pick up to 5 VR titles to play each month from a library of 400+ games, and a six-month subscription usually costs $40 on its own.
HTC will begin shipping the Vive Pro on April 15, and the above Viveport promo is available for anyone that buys a Vive Pro between now and June 3.
See at Vive (opens in new tab)
Get the Windows Central Newsletter
All the latest news, reviews, and guides for Windows and Xbox diehards.
Wow that doesn't include the controllers and towers?!

erm... "most powerful consumer VR hardware to date"?
it's the same spec as the Samsung WMR

Thank you! Was going to say the same. I suppose the Vive2 has better headphones, but that's about it. How can WMR take off if sites like WC can't even get it right?!

Not even sure, the Samsung has great headphones by AKG

Maybe it's just the ad-material?
And I'd actually prefer WMR. There's no need to setup cameras and you can lift the eye piece up, code, flip it down, test. It's also easier when you want to interact with your environment / someone. But, nah...
VR we have today, is suitable for amusement park (not even arcade). It's not ready for most living room yet (esp without spatial mapping or body signal hijacking).

The HTC Vive Pro is more of an upgraded version of the Vive than a second Gen product,

Viveport sub? lol.... no thanks. how about including, you know, the other things that you need to buy in order for this thing to work, or at least a discount accessories package. I'll skip the viveport sub.... It cheaper to buy the old $499 package, plus the Vive pro, than to buy the Vive pro + accessories...